If you've been following the leaks the shape of Oppo Find X3 Pro's camera bump should be pretty familiar by now. But did you know that the whole back panel is made from a single sheet of glass? The complex shapes of the camera bump and curved sides start life as a flat piece of glass.
A lengthy 40 hour process heat treats and models the glass following over 2,000 design control points. For a better surface finish the glass undergoes "OC0 process" that creates a porcelain glaze.
Then it's off to get painted with a dye Oppo calls "shine-through mirror black" (wouldn't it be cool if some Find X3 Pros were left with a transparent back?). The video above offers a quick glimpse of the whole process.
The Oppo Find X3 series will be unveiled on March 11 (this Thursday). It is already available for pre-order in China, but it's coming to Europe as well. The company teased its 10-bit color engine that covers the imaging process from start to finish – capturing, storing and displaying images.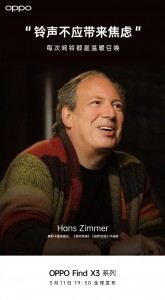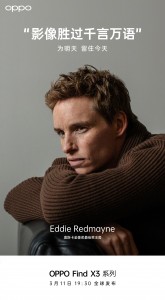 Hans Zimmer will compose custom ringtones for the Oppo Find X3 • Eddie Redmayne will be at the event
Meanwhile, Oppo is bringing in a lot of star power to promote the Find X3 series. Oscar-winning composer Hans Zimmer will create custom ringtones for the phones and Oscar-winning actor Eddie Redmayne will be featured at the event as well.
R
Imagination blooms here
ADVERTISEMENTS