5" 1080p TFT with the Mobile BRAVIA Engine 2
Surprisingly, we found that the Sony Xperia ZL in an improvement over the Xperia Z in the screen department. Given that that the two are identical on paper (FullHD resolution on a 5" diagonal, 441ppi) and come from the same manufacturer we'd suggest this is due to unit variances, rather than Sony having designed a second panel of this type.
The TFT screen is backed by the Mobile BRAVIA Engine 2, which enhances contrast and sharpness, brings down noise and saturates colors to make them more pleasing to the eye. The reds in particular tend to really pop out.
The one area that Sony has improved here is contrast and we all know that that an upgrade was due here. However, the likes of the HTC One, LG optimus G Pro and HTC Butterfly still hold an advantage here, not to mention the Super AMOLED unit on the Samsung Galaxy S4, which has virtually infinite contrast.
Here's a closer look at the Xperia ZL's screen.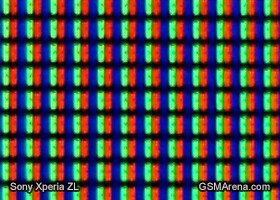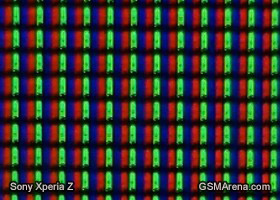 The Sony Xperia ZL and Xperia Z screens under a microscope
Display test
50% brightness
100% brightness
Black, cd/m2
White, cd/m2
Contrast ratio
Black, cd/m2
White, cd/m2
Contrast ratio
Sony Xperia ZL
-
-
-
0.44
575
1294
Sony Xperia Z
-
-
-
0.70
492
705
HTC One
0.13
205
1580
0.42
647
1541
HTC Butterfly
0.14
173
1200
0.45
501
1104
Samsung I9505 Galaxy S4
0
201
∞
0
404
∞
Oppo Find 5
0.17
176
1123
0.51
565
1107
Samsung N7100 Galaxy Note II
0
215
∞
0
402
∞
LG Optimus G Pro
-
-
-
0.41
611
1489
Nokia Lumia 920
-
-
-
0.48
513
1065
LG Optimus G
0.14
197
1445
0.33
417
1438
Apple iPhone 5
0.13
200
1490
0.48
640
1320
There are also the subjects of viewing angles. The Sony Xperia ZL display isn't terribly poor in that regard, but compared to just about every high-end smartphone out there it's clearly inferior. We've got used to the printed look that these ultra-wide viewing angles give, so we are not particularly fond of the treatment the Xperia ZL is giving us.
Some quote narrower viewing angles as an advantage as it helps your privacy in public places, but it certainly takes away some of the high-end vibe of the display.
Finally, the sunlight legibility on the Sony Xperia ZL is decent, if not quite up there with the best. You will normally be able to operate the smartphone trouble-free outdoors, but in brighter environments you might need to work a bit harder to find a proper angle.
Sunlight contrast ratio
Nokia 808 PureView
4.698
Apple iPhone 5
3.997
Samsung I9300 Galaxy S III
3.419
Samsung Galaxy S4
3.352
Samsung Omnia W
3.301
Samsung Galaxy S
3.155
Nokia N9
3.069
Samsung Galaxy Note
2.970
HTC One S
2.901
Samsung Galaxy S II
2.832
Samsung Galaxy S II Plus
2.801
Huawei Ascend P1
2.655
Nokia Lumia 900
2.562
HTC One
2.504
Sony Xperia Z
2.462
Samsung Galaxy S III mini
2.422
Motorola RAZR i
2.366
Sony Xperia ZL
2.352
Samsung Galaxy Note II
2.307
Apple iPhone 4S
2.269
HTC One X
2.158
Nokia N8
2.144
Oppo Find 5
2.088
BlackBerry Z10
2.051
Apple iPhone 4
2.016
Sony Ericsson Xperia ray
1.955
Samsung Galaxy Camera
1.938
HTC Butterfly
1.873
Sony Xperia V
1.792
Sony Xperia U
1.758
LG Optimus 4X HD
1.691
HTC One V
1.685
LG Optimus Vu
1.680
HTC Desire V
1.646
LG Optimus G Pro
1.552
LG Optimus 3D
1.542
Nokia Asha 302
1.537
Nokia Lumia 610
1.432
Gigabyte GSmart G1355
1.361
HTC Desire C
1.300
LG Optimus L7
1.269
LG Optimus L9
1.227
Meizu MX
1.221
Sony Xperia E dual
1.203
Samsung Galaxy Pocket
1.180
Sony Xperia tipo
1.166
Samsung Galaxy mini 2
1.114
You can find all about our display testing routines here.
Controls
The on-screen keys of the Sony Xperia ZL are always on except when you're viewing photos, watching video, browsing the web or playing a game. Even in these scenarios the keys easily come back up with a quick tap on the screen.
The grey strip at the bottom of the screen isn't the best background for the virtual controls. The Xperia ZL screen has a decent contrast but a black background would've still been a better choice.
The 2MP front-facing camera is capable of 1080p video recording and is placed in the bottom right corner. The location clearly favors landscape orientation when making video calls.
The left side of the phone features the microUSB port, which is exposed, unlike on the water-resistant Xperia Z.
On the right, you'll find the volume rocker near the top, the prominent power/lock button (placed dead center) and a two-step camera button.
We always appreciate a dedicated camera button on a phone, even more so when the camera is worth its salt. The shutter button on the Sony Xperia Zl has great overall feedback and distinct half-press. It's also light on the finger so you won't get blurry shots trying to push the button all the way down.
The top of the Sony Xperia ZL only features the 3.5 mm headphone jack.
There's a lanyard eyelet in the bottom left corner of the Sony Xperia ZL.
Sony has done well to make the Xperia ZL quite comfortable to use. The controls are comfortably placed and very responsive.
Battery life test
The Sony Xperia ZL comes with a 2370mAh battery, which is 40mAh more than the Xperia Z offers. Somewhat surprisingly, it is officially rated to last for just 13 h of 3G talk time and up to 500 h of stand-by (vs 14h and 530h, respectively for the Xperia Z). Perhaps the different display unit used here is part of the explanation, but our dedicated battery test also found the Xperia ZL to have a slightly shorter endurance than the Xperia Z.
The Sony Xperia ZL managed an overall endurance score of 44h, which comes 4h short of the achievement of its sibling. That's still a decent score, suggesting that you will only need to charge the smartphone every other day if you an hour of talking, an hour of browsing and an hour of video playback per day.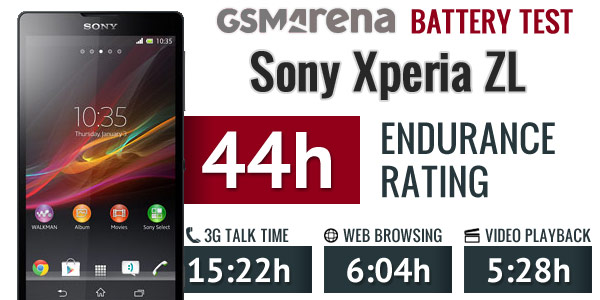 You should also keep in mind that the Sony Xperia ZL comes with the company's home-brewed Stamina mode, which has great effect on the stand-by efficiency and if you stick to it, you will get much better power autonomy.
You can learn more about our testing procedures here. If you are interested how these results compare to other tested devices, check out our battery life test result table.
You can find a more detailed look at the battery performance of the Sony Xperia Zl here.