Best phablet display
We've kept the best of the hardware tour till last. The Xperia Z Ultra comes with a 6.4" 1080p Triluminos display, backed up by the company's X-Reality engine. Sony are keen to show that there's nothing holding the screen back this time around.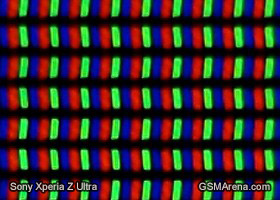 Sony Xperia Z Ultra display under a microscope
The pixel density breaks down to 344ppi, which isn't quite as good as 1080p on a 5" diagonal that became the flagship standard this year, but it's still sharper than the iPhone 5's Retina display. You'd need to look from way closer than comfortable to spot the sharpness difference between the Xperia Z Ultra and the Xperia Z.


The Triluminos display is quite impressive
What you will notice far more easily is the improvement in viewing angles, which have been the Achilles' heel of the Sony smartphone screens lately. This time the viewing angles are quite wide, with color shift and contrast loss only spotted at extreme tilt. It's not quite as perfect as the HTC One LCD panel for example, but at this point the difference is only marginal. Great job!
The native contrast of the Sony Xperia Z Ultra display is great with colors nicely rendered. If you'd like a bit of extra punch to your images and videos you should enable the X-Reality engine, which is the successor of the Mobile Bravia Engine. It aims to improve sharpness, reduce noise, while also boosting contrast and saturation and it does a pretty decent job of it.
Display test
50% brightness
100% brightness
Black, cd/m2
White, cd/m2
Contrast ratio
Black, cd/m2
White, cd/m2
Contrast ratio
Sony Xperia Z Ultra
-
-
-
0.47
467
1001
Sony Xperia Z
-
-
-
0.70
492
705
Huawei Ascend Mate
0.23
222
982
0.67
711
1053
Samsung Galaxy Mega 6.3
0.12
160
1364
0.32
440
1379
Samsung I9505 Galaxy S4
0
201
∞
0
404
∞
HTC Butterfly S
0.15
165
1117
0.43
451
1044
HTC Butterfly
0.14
173
1200
0.45
501
1104
HTC One
0.13
205
1580
0.42
647
1541
Oppo Find 5
0.17
176
1123
0.51
565
1107
Apple iPhone 5
0.13
200
1490
0.48
640
1320
Unfortunately, the Xperia Z Ultra's screen is fairly reflective, so it only managed an average score in our dedicated sunlight legibility test. The phablet is decently usable in bright sun, but it's not the best experience.
Sunlight contrast ratio
Nokia 808 PureView
4.698
Apple iPhone 5
3.997
Samsung I9300 Galaxy S III
3.419
Nokia Lumia 925
3.402
Samsung I9505 Galaxy S4
3.352
Samsung Omnia W
3.301
Samsung Galaxy S
3.155
Samsung Galaxy S4 mini
3.127
Samsung Galaxy S4 zoom
3.118
Nokia N9
3.069
Samsung Galaxy Note
2.970
HTC One S
2.901
Samsung Galaxy S II
2.832
Samsung Galaxy S II Plus
2.801
Huawei Ascend P1
2.655
Sony Xperia ZR
2.672
Nokia Lumia 900
2.562
Nokia Lumia 720
2.512
HTC One
2.504
Sony Xperia Z
2.462
Samsung Galaxy S III mini
2.422
Motorola RAZR i
2.366
Samsung Galaxy Note II
2.307
Apple iPhone 4S
2.269
HTC Desire 600 dual sim
2.262
HTC One X
2.158
Nokia N8
2.144
Oppo Find 5
2.088
BlackBerry Z10
2.051
Apple iPhone 4
2.016
HTC One mini
2.003
Sony Ericsson Xperia ray
1.955
Samsung Galaxy Camera
1.938
HTC Butterfly
1.873
Huawei Ascend P6
1.865
Sony Xperia V
1.792
Sony Xperia U
1.758
LG Optimus 4X HD
1.691
HTC One V
1.685
BlackBerry Q5
1.682
LG Optimus Vu
1.680
LG Optimus GJ
1.666
HTC Desire V
1.646
Sony Xperia Z Ultra
1.578
Samsung Galaxy Core
1.563
LG Optimus G Pro
1.552
LG Optimus 3D
1.542
Nokia Asha 302
1.537
Sony Xperia M
1.473
Nokia Lumia 610
1.432
Gigabyte GSmart G1355
1.361
HTC Desire C
1.300
Nokia Asha 501
1.270
LG Optimus L7
1.269
LG Optimus L9
1.227
Meizu MX
1.221
Sony Xperia E dual
1.203
Samsung Galaxy Pocket
1.180
Sony Xperia tipo
1.166
Samsung Galaxy mini 2
1.114
All things considered, the Sony Xperia Z Ultra certainly has the best screen on a phablet at this point. The sheer size and the resolution advantage, combined with the decent to great performance in all other important aspects, see the Z Ultra inch ahead of the LG Optimus G Pro.
Battery life
The Sony Xperia Z Ultra is impressively thin at 6.5mm but such vanity usually comes at the expense of the battery. Still, a 3,050mAh doesn't sound too bad, especially when you consider that the Snapdragon 800 is supposed to improve overall power efficiency compared to the Snapdragon 600. There's still that massive 6.4" screen to power up though.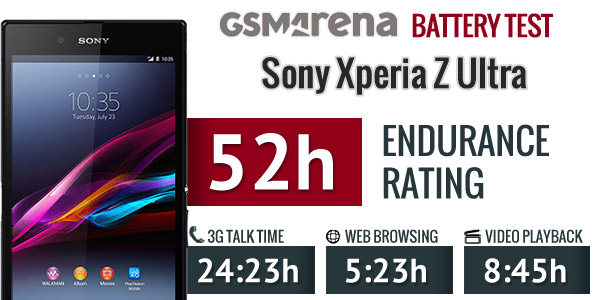 When it's off, the Xperia Z Ultra easily comes close to the top of our talk test chart with about 24 and a half hours. However, web browsing was dismal at about 5 and a half hours and video playback was just okay at a just under 9 hours.
That's not so good as we guess the Z Ultra will be used a lot more for web browsing and watching videos than talking. Still, we gave an even weight to all three disciplines and came up with a rated battery life of 52h, given you use the phone for one hour of talking, one hour of web browsing and one hour of video playback per day and leaving the phone in standby for the rest of the time.