Album
We should all be familiar with Sony's custom gallery - Album. It organizes images into groups of thumbnails and sorted by date. You can change the thumbnails size by pinching.
Unlike previous versions there isn't a homepage that hosts all of your albums, instead you get the same swipe-able menu the app drawer offers. There you can find all of your online and offline albums.
The gallery can connect to online albums (PlayMemories, Facebook, Picasa, Flickr) and also to other devices on the local network. Maps and Globe albums are also available, which use geotagging info to sort photos by the location where they were taken, and faces, which groups photos by the faces of the people in them.
Editing can also be done from within Album app. It pops up a minimalist interface very similar to Google's Photos app, offering the ability to enhance your photos with a verity of filters, as well as adjust from a slew of settings including hue, levels, curves, and many more.
Images can also be cropped or rotated directly in the gallery. Quick sharing via Picasa, Email apps, Facebook, Bluetooth or MMS is also enabled.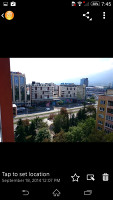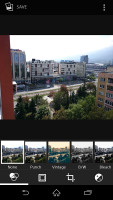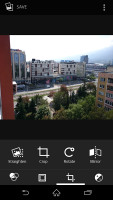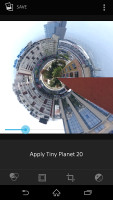 Viewing an image • Editing is compact yet powerful
There's a slideshow using the SensMe brand and much like the music player feature, this one scans files and groups similar photos together.
Walkman and FM Radio
The Walkman music player is part of the equipment of all recent Xperia smartphones. It now features wider audio support - in addition to popular formats such as MP3, AAC, WAV, the Walkman player also handles ALAC and FLAC.
It features Music Unlimited integration and is not above trying to sell you songs, but you can hide the Music Unlimited stuff.
The Walkman interface is based on a hidden swipe-able menu that sorts your music collection by Artist, Albums, Playlists, all songs and even the songs your friends are listening to (via a connected Facebook account). You can pop up the menu the same way you'd do it in the app drawer or the gallery - just swipe from the left edge of the screen.
The Music Unlimited stuff includes ways to discover new music - Charts, New releases and Channels. Those can be hidden individually (same goes for the artist/album/playlist tiles) or you can disable the service altogether.
The Infinite button is available in the Now Playing screen (just tap the album art) - it will help you find the track's video on YouTube, look up info about the artist on Wikipedia and search for lyrics on Google. Gracenote is used here too and it can automatically download information about your tracks and album art.
Digging into the settings your can select custom presets for a wide range of Sony headsets, including the bundled NC31E/EM noise cancelling headset, which takes advantage of the built-in noise cancelling features of the Xperia Z3.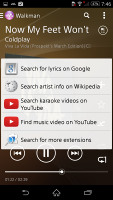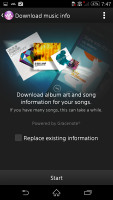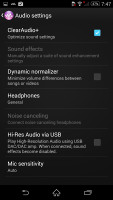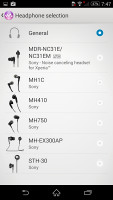 Downloading track info • Selecting a headset preset
The Walkman player offers a variety of audio settings - ClearAudio+ option is here, which determines the best audio quality settings depending on the song you're listening to. We liked how it changed the music and carefully accentuated various details. Dynamic normalizer evens out the differences in volume between tracks, which is great if you've mixed multiple albums from multiple sources.
The Sound enhancements contain yet more settings. There's an equalizer with presets and manual settings (including tweaking Clear Bass). Then there's Surround sound mode, which imitates the Studio, Club or Concert Hall experience. The Clear stereo mode enhances the perceivable stereo channel separation. Dynamic normalizer minimizes the difference in volume between songs (great if you're playing a shuffled mix).
The Xperia Z3 also includes Sony's Digital Sound Enhancement Engine (DSEE), which upgrades the quality of compressed music files by using upsampling, but as can be expected from such an operation the results are hardly spectacular. We'd suggest you steer away from it as the added artifacts don't justify the benefits.
Speaker settings include Clear Phase, which adjusts the quality, while xLOUD boosts up the internal speaker.
There's also an FM Radio. The app features multiple visualizations and integrates with TrackID to recognize the currently playing song. You can even directly send an "I'm listening to..." post to Facebook.
Movies
The video playing app is dubbed Movies and it too has a great custom UI. It's connected to Gracenote, which helps you find additional information about the movies and TVs you have on the phone. It will even download posters for them and for movies, it will download metadata like genre, synopsis, director and cast.
Unfortunately, this doesn't work very well for TV shows - it doesn't recognize the S01E02 format and won't pull info about individual episodes. It gets worse, Gracenote seems to be lacking info on TV shows in general, we couldn't find even popular shows like The Big Bang Theory.
The Sony Xperia Z3 was able to play most of the video files we threw at it but had some issues with AC3 audio and videos that combined AAC audio with the AVC video codec. MOV files played without problem, a rarity on an Android device. In any event, you can always download a more capable (codec-wise) third-party app from the Google Play store.
The video player supports subtitles, and you can customize their looks. Unfortunately, you cannot manually pick the subtitle file, it has to reside in the video folder to load up.
Clean audio output
The Sony Xperia Z3 did well in the first part of our audio quality test, which is where we plug it into an active external amplifier. The smartphone produced excellent scores all over the field as befits its flagship status. Volume levels however were rather disappointing so we can' give it full marks here.
Plugging in a pair of headphones leads to a moderate spike in stereo crosstalk, but the rest of the readings remain pretty good. Loudness deficiency hasn't been addressed, though, preventing the Xperia Z3 from matching its rivals despite a solid showing.
| | | | | | | |
| --- | --- | --- | --- | --- | --- | --- |
| Test | Frequency response | Noise level | Dynamic range | THD | IMD + Noise | Stereo crosstalk |
| Sony Xperia Z3 | +0.02, -0.08 | -86.4 | 86.4 | 0.014 | 0.021 | -86.6 |
| Sony Xperia Z3 (headphones attached) | +0.29, -0.10 | -85.7 | 85.7 | 0.035 | 0.064 | -50.8 |
| Sony Xperia Z2 | +0.02, -0.08 | -88.2 | 90.1 | 0.0063 | 0.013 | -88.9 |
| Sony Xperia Z2 (headphones attached) | +0.08, -0.04 | -84.7 | 87.6 | 0.120 | 0.066 | -60.2 |
| LG G3 | +0.02, -0.08 | -99.4 | 98.9 | 0.0016 | 0.035 | -100.0 |
| LG G3 (headphones attached) | +0.02, -0.09 | -93.7 | 93.3 | 0.0060 | 0.032 | -78.5 |
| Samsung Galaxy S5 | +0.02, -0.08 | -96.3 | 93.3 | 0.0017 | 0.0089 | -95.2 |
| Samsung Galaxy S5 (headphones) | +0.01, -0.08 | -96.3 | 93.3 | 0.0095 | 0.018 | -61.9 |
| HTC One (M8) | +0.04, -0.10 | -95.4 | 93.4 | 0.0012 | 0.010 | -93.2 |
| HTC One (M8) (headphones attached) | +0.04, -0.08 | -94.9 | 93.9 | 0.0014 | 0.018 | -79.7 |
| Oppo Find 7a | +0.03, -0.16 | -92.7 | 92.6 | 0.0057 | 0.072 | -92.0 |
| Oppo Find 7a (headphones) | +0.05, -0.07 | -91.5 | 92.7 | 0.0042 | 0.054 | -15.7 |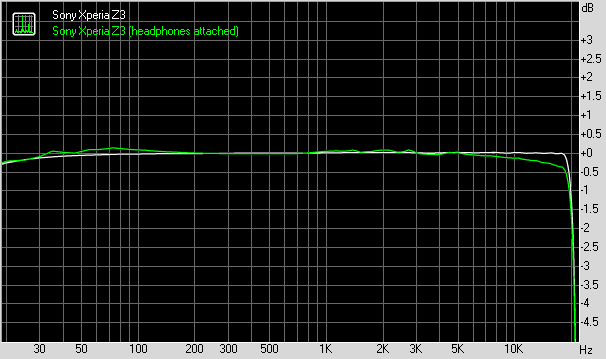 Sony Xperia Z3 frequency response
You can learn more about the tested parameters and the whole testing process here.