Display comes with improved sunlight legibility
The Sony Xperia Z3 has a 5.2" IPS LCD of 1080p resolution so on paper the screen doesn't seem to bring any improvements. However the company has actually used a brand new panel, which brings a few key improvements.
The color temperature has been adjusted, but more importantly the battery draw has been reduced, which has allowed Sony to push the maximum brightness here.
The secret behind these improvements lies in the Live Color LEDs that Sony has incorporated into the TRILUMINOS display technology found in previous Xperia mobiles. Live Color LED combines red and green phosphor with blue LEDs to produce brighter and more uniform light without consuming extra power.
Here's how the display looks under our digital microscope: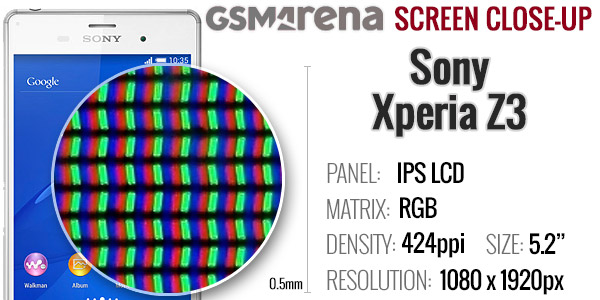 The Sony Xperia Z3 posted great scores in our display test. Its brightness was among the highest we have seen, while the blacks were deep enough to secure great contrast.
Display test
50% brightness
100% brightness
Black, cd/m2
White, cd/m2
Contrast ratio
Black, cd/m2
White, cd/m2
Contrast ratio
Sony Xperia Z3
-
-
-
0.65
866
1333
Sony Xperia Z2
-
-
-
0.41
488
1195
Nokia Lumia 930
0
149
∞
0
347
∞
Oppo Find 7
0.22
248
1135
0.40
448
1123
LG G3
0.14
109
763
0.72
570
789
Samsung Galaxy S5
0
274
∞
0
529
∞
Samsung Galaxy S4
0
201
∞
0
404
∞
HTC One (M8)
0.20
245
1219
0.46
577
1256
Apple iPhone 5
0.13
200
1490
0.48
640
1320
The brightness also helped the smartphone in the outdoor visibility test, where it posted a very respectable score. We have seen phone do better, but the Xperia Z3 is easily good enough to be usable outdoors and that's what matters the most.
Sunlight contrast ratio
Nokia 808 PureView
4.698
Apple iPhone 5
3.997
Samsung Galaxy Note 3
3.997
Samsung Galaxy K zoom
3.675
Nokia Lumia 930
3.567
Apple iPhone 5s
3.565
Samsung Galaxy S5
3.549
Alcatel Idol X+
3.527
Apple iPhone 5c
3.512
Samsung Galaxy Alpha
3.509
Samsung Galaxy Note 3 Neo
3.487
Motorola RAZR MAXX
3.42
Samsung I9300 Galaxy S III
3.419
Nokia Lumia 925
3.402
Gionee Elife S5.5
3.386
Samsung I9505 Galaxy S4
3.352
Samsung Omnia W
3.301
Samsung Galaxy S5 mini
3.174
Samsung I9000 Galaxy S
3.155
Samsung Ativ S
3.129
Samsung I9190 Galaxy S4 mini
3.127
Samsung Galaxy S4 zoom
3.118
Nokia N9
3.069
Samsung Galaxy Note
2.97
Samsung Galaxy Premier
2.958
Sony Xperia Z1
2.95
HTC One S
2.901
Samsung I8730 Galaxy Express
2.861
BlackBerry Q10
2.856
Samsung I9100 Galaxy S II
2.832
Samsung Galaxy S II Plus
2.801
BlackBerry Z30
2.79
Sony Xperia ZR
2.672
Huawei Ascend P1
2.655
Sony Xperia Z3
2.618
Sony Xperia Z3 Compact
2.616
Sony Xperia T3
2.609
Nokia Lumia 900
2.562
Motorola Moto G 4G
2.546
HTC One Max
2.537
Nokia Lumia 720
2.512
HTC One
2.504
Motorola Moto G
2.477
Sony Xperia Z
2.462
Xiaomi Mi 4
2.424
Samsung Galaxy S III mini
2.422
LG G Flex
2.407
HTC One (M8)
2.371
Motorola RAZR i
2.366
Sony Xperia ZL
2.352
Samsung Galaxy Note II
2.307
Oppo Find 7a
2.279
Alcatel One Touch Hero
2.272
Apple iPhone 4S
2.269
HTC Desire 600 dual sim
2.262
Nokia Asha 311
2.25
LG Nexus 5
2.228
Nokia Lumia 820
2.193
HTC One (E8)
2.185
Nokia Lumia 920
2.17
HTC One X
2.158
Nokia N8
2.144
Nokia Lumia 620
2.142
Nokia 515
2.134
HTC Desire 500
2.129
Sony Xperia acro S
2.119
Nokia Lumia 1020
2.103
Oppo Find 5
2.088
Sony Xperia SL
2.078
Nokia Lumia 630
2.056
BlackBerry Z10
2.051
Samsung I9295 Galaxy S4 Active
2.022
Apple iPhone 4
2.016
HTC One mini
2.003
Xiaomi Mi 3
2.001
Huawei Ascend P7
1.992
LG G2
1.976
OnePlus One
1.961
Oppo R819
1.957
Sony Ericsson Xperia ray
1.955
Sony Xperia Z2
1.944
Nokia Lumia 1320
1.941
HTC One mini 2
1.94
Samsung Galaxy Camera
1.938
Sony Xperia J
1.932
Acer CloudMobile S500
1.931
LG Nexus 4
1.926
LG G Pro 2
1.922
Samsung Galaxy Mega 6.3
1.913
Nokia Asha 308
1.911
Sony Xperia T
1.894
HTC Desire X
1.878
HTC Windows Phone 8X
1.873
HTC Butterfly
1.873
HTC Butterfly S
1.867
Huawei Ascend P6
1.865
Huawei Ascend Mate
1.845
LG G2 mini
1.838
LG G3
1.82
Nokia Lumia 1520
1.813
HTC Desire 616 dual sim
1.797
Sony Xperia V
1.792
HTC Desire 816
1.783
Sony Xperia Z1 Compact
1.772
HTC Desire 700 dual sim
1.769
Sony Xperia U
1.758
Meizu MX3
1.754
LG Optimus G
1.753
Sony Xperia T2 Ultra
1.74
Sony Xperia SP
1.733
Oppo Find 7
1.691
LG Optimus 4X HD
1.691
HTC One V
1.685
BlackBerry Q5
1.682
LG Optimus Vu
1.68
Xiaomi Mi Pad 7.9
1.672
LG Optimus GJ
1.666
LG Optimus 3D Max
1.658
HTC Desire V
1.646
Samsung Galaxy Xcover 2
1.632
Samsung Galaxy Ace 3
1.622
Jolla Jolla
1.605
Sony Xperia Z Ultra
1.578
Sony Xperia go
1.577
Samsung Galaxy Ace 2 I8160
1.566
Samsung Galaxy Core
1.563
LG Optimus G Pro
1.552
Motorola Moto E
1.545
LG Optimus 3D
1.542
Nokia Asha 302
1.537
BlackBerry Curve 9320
1.488
Sony Xperia M
1.473
Oppo N1
1.47
Meizu MX 4-core
1.462
Nokia Lumia 610
1.432
Samsung Galaxy S Duos
1.4
Sony Xperia M2
1.393
Samsung Galaxy Grand Neo
1.393
Samsung Galaxy Grand 2
1.38
Sony Xperia E1
1.372
Nokia Lumia 625
1.371
Gigabyte GSmart G1355
1.361
Sony Xperia L
1.351
Samsung Galaxy Mega 5.8
1.35
Xiaomi Redmi 1S
1.35
Sony Xperia M2 Aqua
1.331
Sony Xperia miro
1.324
Samsung I9082 Galaxy Grand
1.321
Samsung I8530 Galaxy Beam
1.315
HTC Desire C
1.3
Nokia X
1.291
Sony Xperia C
1.283
Nokia Asha 503
1.281
Nokia Asha 501
1.27
LG Optimus L7
1.269
Nokia Lumia 510
1.268
Samsung Galaxy Fame
1.245
LG Optimus L9
1.227
Meizu MX
1.221
Samsung Galaxy Young
1.22
Sony Xperia E
1.215
Nokia XL
1.204
Sony Xperia E dual
1.203
Samsung Galaxy Pocket
1.18
Nokia Asha 305
1.178
Nokia Asha 306
1.175
Sony Xperia neo L
1.169
Sony Xperia tipo
1.166
Nokia Lumia 520
1.161
Samsung S6802 Galaxy Ace Duos
1.148
Samsung Galaxy mini 2
1.114
Overall the Sony Xperia Z3 screen is a solid performer, delivering excellent sharpness and image quality. The company decided not to jump on the QHD bandwagon with the smartphone, which might be seen as its only weakness.
At this size the benefits of QHD resolution would have certainly been small (and only visible by people with perfect eyesight) so we can't say we are too mad about it. On the other even minimal advantages and the bragging rights that come with them are important to quite a few people shopping in this rather expensive market bracket, so it might cost the company a few upgraders.
Battery life test
The Sony Xperia Z3 saw a comes with an ample 3,100mAh battery, but compared to its predecessor's 3,200 mAh juice pack that is actually a downgrade. Yet Sony is adamant that it has improved the power accuracy enough so the Xperia Z3 can match the power autonomy of the Xperia Z2.
As our dedicated battery tests completed we found that was exactly the case. The Sony Xperia Z3 came out with an excellent 85h endurance rating, but that was just short of the Xperia Z2's 89h. For purposes practical these two scores are identical and mean that you will be getting three and a half days of battery life if you use the smartphone for an hour of web browsing, calling and video watching per day.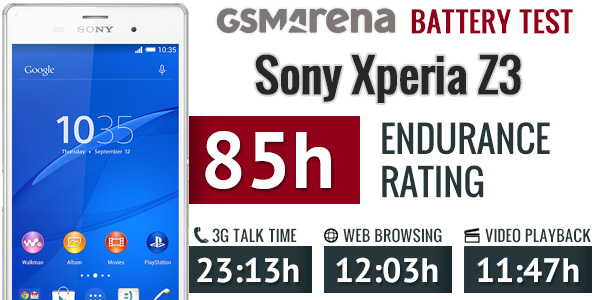 Naturally, power users, which are be the main target of the Xperia Z3 will be getting far less time between charges, but they should still only need to charge every other day.
And if you absolutely must extract the longest endurance out of your new Sony smartphone, you should check out the Stamina mode. It helps extend your battery life by toggling things like Wi-Fi, GPS, Bluetooth screen brightness, auto sync and background data on and off automatically when the battery charge falls below a certain user-defined threshold. You can also turn off the Wi-Fi receiver if there is no saved Wi-Fi network in range or turn off mobile data when the screen is off, among other things.
Our proprietary score also includes a standby battery draw test, which is not featured in our battery test scorecard but is calculated in the total endurance rating. Our battery testing procedure is described in detail in case you want to learn more about it.
Check out our detailed battery life test for the Sony Xperia Z3 here.
Connectivity
The Sony Xperia Z3 comes in both single SIM and dual SIM versions only and both of those have quad-band GSM 850 / 900 / 1800 / 1900 and penta-band 3G support. LTE is available too with its bands depending on the region.
The rest of the connectivity features include dual-band Wi-Fi a/b/g/n/ac and Wi-Fi Direct. There is also support for Bluetooth 4.0 with apt-X, GPS and GLONASS, plus an FM radio with RDS. There is also NFC connectivity with support for Android Beam for sending files to other Android devices.
The ultra-low power ANT+ connectivity protocol handles connections to various sports accessories such as heart rate monitors or bicycle speed & cadence meters.
There is a microUSB 2.0 port for charging and data connections. Media transfer mode is supported for accessing the phone's built-in memory and microSD card over USB.
The microUSB 2.0 port can also be used in USB On-the-go mode for connecting USB peripherals such as pen drives, keyboards or real USB hard drives. There is also MHL support for tethering the Xperia Z3 to your TV, and if you own a compatible HDTV, you can output your phone's screen wirelessly via the Miracast protocol.