The showstopper
Sony Xperia XZ Premium review: The showstopper
Low-light photography
Our first batch of samples shows how the Xperia XZ Premium performs at capturing different landscapes scenes at night when you shoot hand-held, using the onscreen shutter to reduce shake as possible, and relying on Intelligent Auto mode.
The samples are hardly inspiring, with plenty of detail lost to heavy-handed noise reduction, which ironically isn't doing all that good of a job of masking the noise itself. Now it's not a terrible performance by any means, but it's just lagging behind the vast majority of competitors.
Then we pointed the Xperia XZ Premium towards buildings and the camera handled the scenes very well. There is enough detail, and while the ISO could have been lower (and thus the noise levels), the pictures turned out very pleasant and with nice contrast even when zoomed at 100%.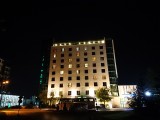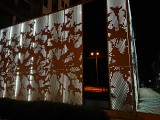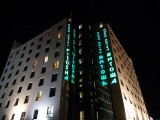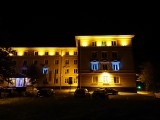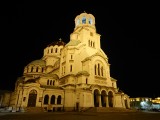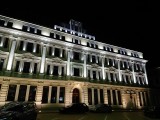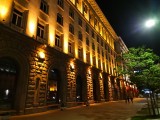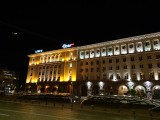 Sony Xperia XZ Premium low-light samples (Intelligent Auto)
Switching to Manual mode allows you to choose a lower ISO setting, adjust the focus, the shutter speed, and the exposure compensation. But if you want to use lower ISO and shutter speed, you should have the XZ Premium stabilized. And if you do, the Intelligent Auto will actually do a great job at getting a nice picture without requiring you to figure out the manual settings.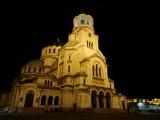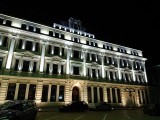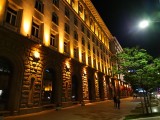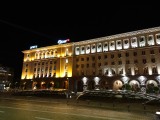 Manual mode, handheld, with lower ISO - 160, 250, 500, 640
And here are some samples shot with the Intelligent Auto mode and the phone mounted on a tripod. The first shot was taken at 0.8s shutter speed, which was decided automatically by the algorithm.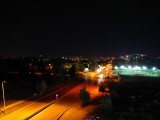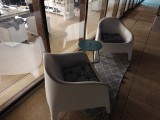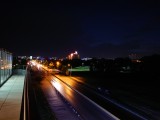 Low-light shots taken on a tripod (Intelligent Auto)
We also snapped a few dusk samples, hand-held. Those turned out very good and you won't need a tripod for any dusk shooting - the XZ Premium is well equipped to handle those scenes.
Selfies
On the front of the Xperia XZ Premium is the same selfie camera found on the original XZ and XZs, but this time it features autofocus. It's based on a 13MP sensor (1/3.06") with a f/2.0 lens.
Bear in mind that in Intelligent Auto the camera seems to have some sort of beutification enhancement constantly on so if you don't fancy the effect it has on your face, you might have to switch to Manual mode for your selfies.
The images produced by it are somewhat noisy. However, we're quite happy with how detailed selfies come out and we appreciate the excellent dynamic range.
When it gets dark, however, quality takes a serious dip just like the main camera.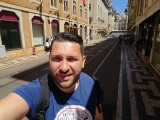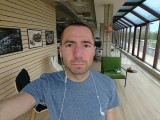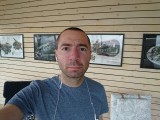 Sony Xperia XZ Premium selfie samples
Picture Compare Tool
Naturally, we shot our test posters with the Sony Xperia XZ Premium, and here's how it fared next to Xperia XZs and Xperia XA1. Of course, our tool allows you to compare it against any other smartphone we have there.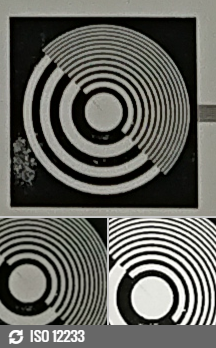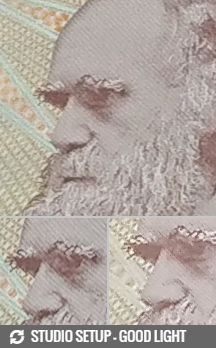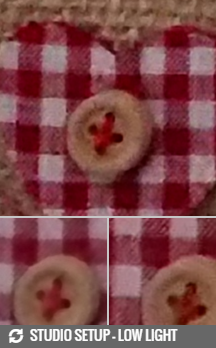 Sony Xperia XZ Premium vs. Xperia XZs vs. Xperia XA1 in our photo compare tool
Video recording
The Xperia XZ Premium features 4K video recording, which supports SteadyShot video stabilization. Of course, you get the standard 1080p/30fps and high-speed 1080p/60fps options. There is also a 120fps recording in 720p, and finally, there is the headline 960fps slow motion video recording - that's recorded again in 720p.
The 2160p recording is still a separate shooting mode after all these years, instead of being a setting in video recording.
Historically, flagship Xperias have had no optical image stabilization, and neither does the XZ Premium. Sony's SteadyShot with Intelligent Active offers 5-axis image stabilization. We're not too comfortable with the term 'axis' that's become all too popular for describing what is a 'degree of freedom,' but the point is that Sony's system can compensate for translation along two axes and rotation around all three.
The 1080p/60fps mode also gets the SteadyShot Standard variety. In contrast, shooting in 1080p/30fps mode gives you a choice between Standard and Intelligent Active options. It's this last mode that gets the headline 5-axis stabilization (still digital), but only when recording close-up subjects.
Bitrates are 54Mbps for 4K, 30Mbps for 1080p/60fps and 17.5Mbps for 1080p/30fps. Audio is recorded in 156Kbps in all cases.
Finally, you can choose to save the 4K videos in H.264 or H.265 containers. The latter have a smaller storage footprint - a 3 minute 4K video is 1.24GB in H.264 but only 790MB in H.265. However, in the H.265 video, you can see the compression takes its toll on foliage. YouTube also doesn't support H.265 so that's why we prefer sticking with the widespread H.264 format.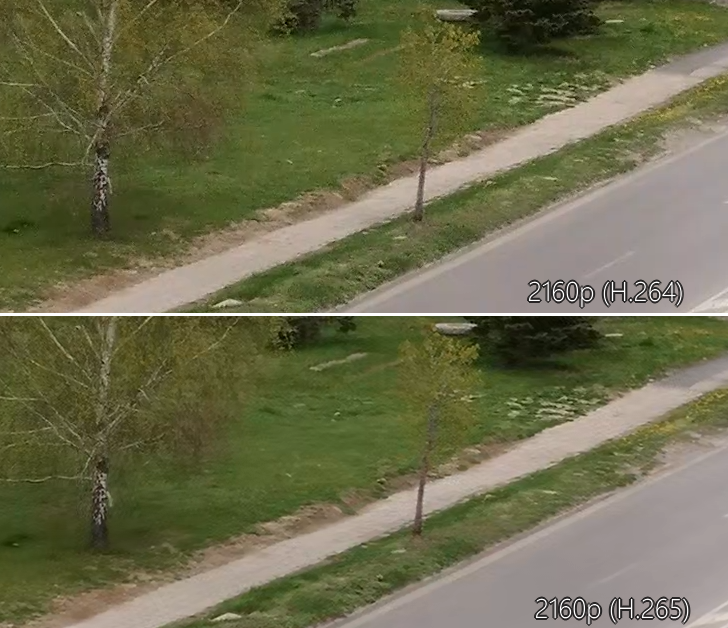 4K videos have plenty of detail, great contrast, and accurate colors. There is no corner softness. They may not look super sharp overall, but that's due to the laid back processing which doesn't involve much sharpening. The footage is practically noise-free, and it looks natural. We can also praise the dynamic range.
Sony offers SteadyShot software video stabilization for all videos, however for 4K videos it's only the Standard Steadyshot mode (3-axis) that's available. The better (5-axis) Intelligent mode is limited only to the 1080p videos. That's a shame as it does a great job.
The 1080p videos are equally impressive and even better - they came out sharper. No matter if you opt for 30 or 60fps, the frame rate is smooth, and the quality is excellent.
The playlist below has 4K videos shot with and without SteadyShot Standard, and 1080p samples taken with and without SteadyShot Intelligent Active stabilization.
The most fun feature of this camera surely has to be the 960fps slow motion video recording. The videos are recorded at 720p resolution and run at normal speed until you press the on-screen button that slows down time for a split second. The camera's buffer is enough for only a blink of an eye (0.18s), but a lot can happen in that tiny window when time slows to a crawl, and you catch the right moment.
Unfortunately, the steps required to get to this video recording mode are far too many to do quickly for capturing a spontaneous event that happens to unfold before you. You have to switch to video recording, then hit the slow motion button, then start recording the video and then hit the slow motion button again at the most appropriate moment.
Even if you go through the sequence, nailing the right moment is still quite hard as the camera doesn't start a special process when you hit the button. Instead, it offloads what's already in its buffer, so it shows you the recording of the events that have already happened when you press the button. Once you get the hang of this, it becomes much easier, but getting the timing just right is still a hit-or-miss affair.
The camera also has another mode where you can record a 5sec slow-mo video directly with the press of the shutter, but it's not nearly as striking when you can't see the normal speed of the process you are recording for comparison.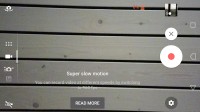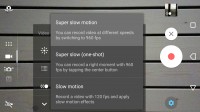 Slow-motion video mode • settings
The quality of the videos is very good for HD resolution, but for such high-speed shooting, you need plenty of light. We can't stress this enough. If there is not enough, the camera will increase the ISO, and you get very noisy footage.
Despite these limitations, we had a lot of fun recording these sample videos in the playlist below. You can certainly find far more creative uses for this camera mode with time and patience.
You can download short untouched samples if you like - 4K (10s, 65MB), 1080p at 30fps (10s, 22MB), and 1080p at 60fps (10s, 37MB).
Finally, we give you the opportunity to compare the quality of the regular video recording modes of the Xperia XZs to any of the numerous phones and tablets we've tested. We've pre-selected the Xperia XZ and LG G6 to get you started.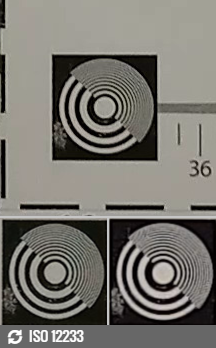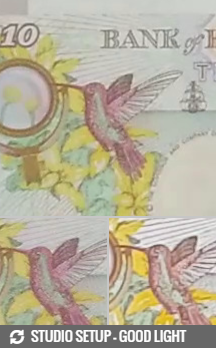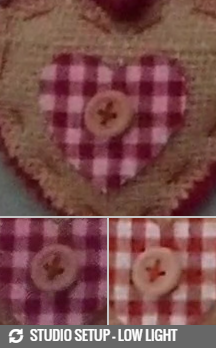 Sony Xperia XZ Premium vs. Xperia XZs vs. Samsung Galaxy S8 in our video compare tool: 2160p