The showstopper
Sony Xperia XZ Premium review: The showstopper
Display
The Sony Xperia Z5 Premium was the first phone to come with a 4K display. Now, the Xperia XZ Premium is adding HDR video support. Unlike the ultra high resolution, which had its pros and cons, HDR has no shortcomings - highlights and shadows are rendered better, gradients are smoother, colors are richer.
Below you will see a comparative shot of how the 4K HDR and the 4K SDR video looks on the screen of the XZ Premium. Before you jump to quick conclusions, bear in mind that this comparison has an illustrative purpose only - the only way to appreciate an HDR video playing on an HDR-capable screen is in person with your own eyes. Everything else is an approximation and the end result will more or less be affected by the camera settings we used and your own computer screen.
Our entire point however is that both the 4K SDR and HDR videos, which we used, looked perfectly good in real life and you can't really tell any difference between the two unless you have them side by side.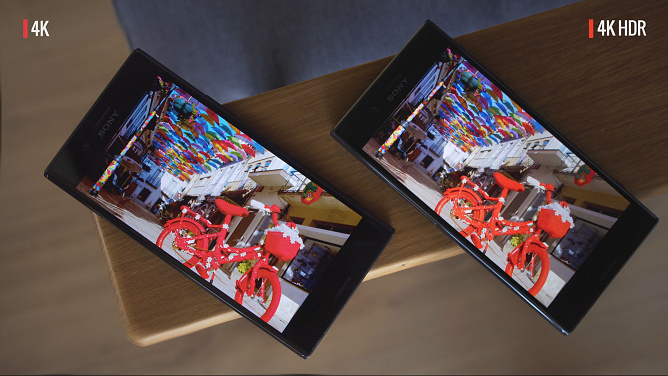 4K SDR vs 4K HDR video (click to expand)
4K resolution on a small screen is not without its benefits, too, take virtual reality, for instance. Sony however still hasn't found a way to put the insanely high resolution on that screen to good use in VR. None of the current VR headsets have enough resolution, especially the mobile units. With a 4K screen and a powerful GPU (courtesy of Qualcomm), the Sony Xperia XZ Premium is perfectly poised to rule the mobile VR market but we guess the PlayStation division did not want any sibling rivalry.
At the normal distance that we use our phone, 4K resolution on the Xperia XZ Premium seems like an overkill simply because your eyes can't really tell the difference compared to the QHD resolution, which we've seen on most high-end phones.
In this case, however, it does not affect the performance as the phone runs in 1080p mode most of the time. That's until you feed it with quality 4K footage where it really starts making use of all the pixels. A side benefit from that screen is that YouTube will now offer you 4K quality setting on the Xperia XZ Premium. There is no HDR support for YouTube, but even 4K on its own is good enough by our books.
HDR video content is still scarce but subscription video streaming services such as Amazon and Netflix are already offering HDR content, so you should be able to find some high-quality material to feast your eyes on right out of the box.
Sony Xperia XZ Premium's screen is HDR10 compliant, which is another way of saying that there is no Dolby Vision support - these two HDR video standards are the most popular right now. The phone also offers Adaptive Tone Mapping to ensure the bright screen contents don't get clipped when the screen brightness goes up in bright ambient light. Sony has the same feature on its BRAVIA TVs.
As usual, we looked at the screen under a microscope and it revealed the same RGB pixel arrangement we saw on the Xperia Z5 Premium. Even at the maximum magnification that our microscope allows, the individual pixels are just barely visible - the screen is that pixel-dense!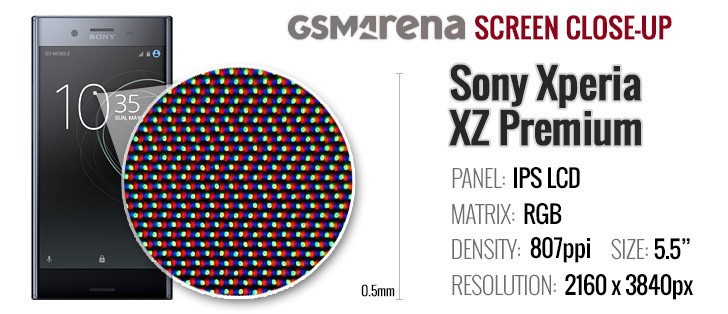 The maximum brightness of the screen (573nits) turned out quite in line with what we got from the Xperia Z5 Premium (566nits). The level of blacks is deeper, though, which works out to a much better contrast ratio of 1238:1, as opposed to the Z5's 963:1.
Display test
100% brightness
Black, cd/m2
White, cd/m2
Contrast ratio
Sony Xperia XZ Premium
0.463
573
1238
Sony Xperia Z5 Premium
0.59
566
966
Sony Xperia XZ
0.37
502
1349
Sony Xperia XZs
0.461
564
1223
Samsung Galaxy S8
0
440
∞
Samsung Galaxy S8 Max auto
0
618
∞
LG G6
0.228
468
2053
LG G6 max auto
0.277
564
2036
HTC U Ultra
0.539
428
794
HTC U Ultra (max auto)
0.564
507
899
Apple iPhone 7 Plus
0.41
573
1398
Apple iPhone 7 Plus (max auto)
0.50
681
1362
In terms of sunlight legibility, the XZ Premium brings improvements over the Z5 Premium yet again. Both get decent scores, and while there is still a lot of room for improvement, the XZ Premium is better suited for use outdoors. The relatively high reflectivity of both screens limits their practicality in this respect.
Sunlight contrast ratio
Samsung Galaxy S8
4.768
Samsung Galaxy S8+
4.658
Samsung Galaxy S6 edge+
4.615
Samsung Galaxy S7 edge
4.439
OnePlus 3
4.424
Samsung Galaxy S7
4.376
HTC One A9
4.274
Samsung Galaxy Note7
4.247
Samsung Galaxy A3
4.241
OnePlus 3T
4.232
Google Pixel XL
4.164
ZTE Axon 7
4.154
Samsung Galaxy A7 (2017)
4.124
Samsung Galaxy S6 edge
4.124
Samsung Galaxy Note5
4.09
Huawei Nexus 6P
4.019
OnePlus X
3.983
Vivo Xplay5 Elite
3.983
Oppo R7s
3.964
Apple iPhone 7
3.964
Huawei P9 Plus
3.956
Meizu Pro 6 Plus
3.935
Lenovo Moto Z
3.931
Samsung Galaxy A7 (2016)
3.918
Samsung Galaxy C5
3.911
Samsung Galaxy C7
3.896
Samsung Galaxy A5
3.895
Samsung Galaxy J7 outdoor
3.879
Samsung Galaxy J2 outdoor
3.873
Samsung Galaxy A8
3.859
Sony Xperia XZs
3.818
Samsung Galaxy A9 (2016)
3.817
Motorola Moto X (2014)
3.816
Samsung Galaxy A5 (2017)
3.804
Samsung Galaxy J7 (2016) outdoor mode
3.802
LG V20 Max auto
3.798
Xiaomi Redmi Pro
3.798
Sony Xperia XZ
3.795
Samsung Galaxy A5 (2016)
3.789
Apple iPhone 6s
3.783
Meizu Pro 5
3.781
Microsoft Lumia 650
3.772
Samsung Galaxy J7 (2016)
3.756
Oppo F1 Plus
3.709
Vivo X5Pro
3.706
Samsung Galaxy A3 (2017)
3.688
Apple iPhone SE
3.681
Huawei Mate 9
3.68
Samsung Galaxy A7
3.679
Meizu PRO 6
3.659
BlackBerry Priv
3.645
Apple iPhone 7 Plus
3.588
LG G6
3.556
Apple iPhone 6s Plus
3.53
Motorola Moto Z Play
3.526
Samsung Galaxy J3 (2016)
3.523
Samsung Galaxy J3 (2016) outdoor mode
3.523
Acer Jade Primo
3.521
Microsoft Lumia 950
3.512
Oppo R7 Plus
3.499
nubia Z11
3.466
Huawei P10 Plus
3.456
HTC U Ultra
3.453
Samsung Galaxy J7
3.422
Meizu MX5
3.416
LG V20
3.402
Huawei P10
3.379
Oppo R9s
3.352
Honor 8 Pro
3.341
Oppo R7
3.32
Lenovo P2
3.316
Xiaomi Mi 5s
3.276
Nokia 6 (Chinese version)
3.244
Samsung Galaxy J2
3.235
Sony Xperia X Performance
3.234
Xiaomi Mi Note 2
3.228
Motorola Moto X Play
3.222
Oppo F3 Plus
3.218
Huawei Mate 9 Pro
3.206
Huawei P9
3.195
Lenovo Vibe Shot
3.113
Motorola Moto X Force
3.105
LG Nexus 5X
3.092
Huawei Mate S
3.073
Microsoft Lumia 640 XL
3.065
Sony Xperia XA1
3.012
Sony Xperia X
2.989
Huawei Mate 8
2.949
Xiaomi Redmi 3S
2.913
Sony Xperia XA Ultra
2.906
LG G5
2.905
HTC One S
2.901
Xiaomi Redmi 3s Prime
2.893
Xiaomi Mi 5s Plus
2.884
Sony Xperia XZ Premium (sRGB)
2.877
Sony Xperia XZ Premium
2.877
Sony Xperia Z5
2.876
Microsoft Lumia 550
2.851
Lenovo Moto M
2.813
Xiaomi Redmi 3 Pro
2.803
Sony Xperia Z5 compact
2.784
Meizu MX6
2.751
LG V10
2.744
Xiaomi Redmi 3
2.735
Xiaomi Redmi Note 4 (S625)
2.714
Meizu M5
2.71
Sony Xperia M5
2.69
Huawei P9 Lite
2.679
Xiaomi Redmi 4 Prime
2.679
Vivo V3Max
2.659
Xiaomi Mi Mix
2.658
Xiaomi Mi 4i
2.641
Sony Xperia XA
2.609
Motorola Moto G4 Plus
2.582
Motorola Moto G4 Plus (max auto)
2.582
Meizu M5s
2.58
Xiaomi Mi 4c
2.574
LeEco Le Max 2
2.567
Microsoft Lumia 640
2.563
Asus Zenfone 3 ZE552KL
2.563
Lenovo K6 Note
2.544
Lenovo Moto G4
2.544
Oppo F1
2.528
Sony Xperia Z5 Premium
2.525
Huawei Honor 7 Lite / Honor 5c
2.506
Sony Xperia M4 Aqua
2.503
Oppo F1s
2.481
Motorola Moto G
2.477
Lenovo Vibe K5 Plus
2.473
Huawei G8
2.471
Huawei nova
2.467
Sony Xperia Z
2.462
Lenovo Vibe K5
2.459
Meizu m3 max
2.447
HTC 10 evo
2.407
Huawei Honor 7
2.406
Sony Xperia E5
2.386
ZUK Z1 by Lenovo
2.382
Samsung Galaxy J5 (2016)
2.378
HTC 10
2.378
Oppo F3
2.376
vivo V5 Plus
2.371
Meizu m1 note
2.362
Huawei nova plus
2.329
HTC One E9+
2.305
Alcatel One Touch Hero
2.272
Lenovo Vibe K4 Note
2.254
Sony Xperia C5 Ultra
2.253
Xiaomi Redmi Note 3 (MediaTek)
2.249
Sony Xperia C4 Dual
2.235
Xiaomi Mi Note
2.234
Motorola Moto G (2014)
2.233
Huawei P8
2.196
Meizu M5 Note
2.189
Huawei Honor 6
2.169
Xiaomi Redmi Note 2
2.166
OnePlus Two
2.165
HTC One X
2.158
LG Aka
2.145
Xiaomi Redmi Note 4 (X20)
2.145
Archos 50 Diamond
2.134
Xiaomi Redmi Note
2.119
Xiaomi Mi 4S
2.095
Acer Liquid X2
2.084
Huawei P8lite
2.078
vivo V5
2.059
Moto G 3rd gen max manual
2.026
Xiaomi Mi 3
2.001
Xiaomi Mi Max
1.996
Sony Xperia E4g
1.972
OnePlus One
1.961
Meizu m3 note
1.923
BlackBerry Leap
1.892
Meizu m2 note
1.892
ZTE Nubia Z9 mini
1.759
Sony Xperia U
1.758
Asus Zenfone Selfie
1.68
Motorola Moto E (2nd Gen)
1.675
ZTE Nubia Z9
1.659
Jolla Jolla
1.605
Motorola Moto E
1.545
Sony Xperia M
1.473
Sony Xperia L
1.351
HTC Desire C
1.3
Meizu MX
1.221
Sony Xperia E
1.215
The Sony Xperia XZ Premium does not only improve the 4K display in terms of contrast and HDR video support, but it also comes with an sRGB color mode. The feature caters to professionals who would need accurate color reproduction and it's not turned on by default. The sRGB mode scored an average DeltaE of 4.9 in our color reproduction test, which is decent but not ideal. Even though the screen indeed complied to the sRGB color space (unlike the regular mode), there is a noticeable bluish tint in the white and gray hues.
The Normal display mode exceeds the sRGB color space and even though it produced more juicy colors, it still provided an average DeltaE of 4.6, which is better than the sRGB mode. The whites and grays still have a noticeable bluish tint though.
There is also a Vivid screen mode, which would over-saturate pretty much every color.
Previously, the Triluminos screen enhancement only worked in the Albums and Movies app but on the Xperia XZ Premium, it's also applicable to the homescreen and 3rd party apps. You can't turn it on or off, it's a built-in enhancement, which is part of the Normal screen mode.
Sony additionally offers the X-reality for Mobile engine, which only works on videos and makes them perceivably sharper by improving clarity on the fly as the video plays back on the phone. This feature, however, you can toggle either on or off.
Battery life
The Xperia XZ Premium relies on a 3,230mAh battery to keep it powered, 200mah down from the Xperia Z5 Premium. The phone is Quick Charge 3.0 enabled and will fill a depleted battery up to 42% in 30 mins. However, the Premium does not ship with a QC-compatible charger, you should pay some premium for that, pun intended.
In our tests the Xperia XZ Premium proved to be very good at voice calls and an otherwise balanced performer in the other disciplines. Web browsing over Wi-Fi depletes the Xperia XZ Premium battery in just over 10 hours. In looping our test video until the battery is down to 10%, the Xperia XZ lasts for north of 8 hours, which is a very good endurance but it trails behind the flagship competition.
Coupled with frugal standby power consumption, the above numbers add up to a combined endurance rating of 72 hours.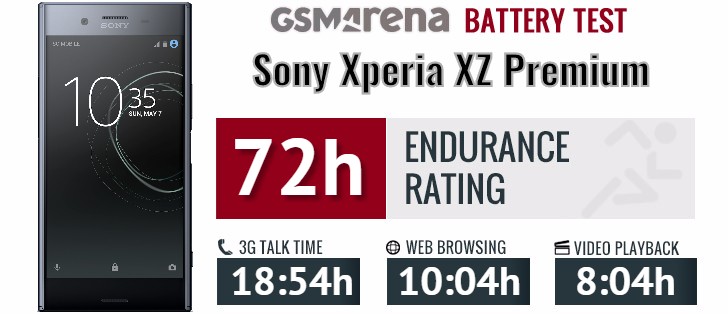 Our endurance rating denotes how long a single battery charge will last you if you use the Xperia XZ Premium for an hour each of telephony, web browsing, and video playback daily. We've established this usage pattern so our battery results are comparable across devices in the most common day-to-day tasks. The battery testing procedure is described in detail in case you're interested in the nitty-gritties. You can also check out our complete battery test table, where you can see how all of the smartphones we've tested will compare under your own typical use.
The Qnovo Adaptive Charging tech built inside recent Sony Xperia phones allows the smartphone to monitor the cell's electrochemical processes in real time and adjust charging parameters dynamically to minimize cell damage and extend the battery unit's lifespan.
Qnovo claims the battery should last hundreds of charge cycles more than a conventionally charged battery. This potentially means a year or so of extra longevity as the battery performance should hopefully deteriorate more slowly and should be able to hold more charge once it gets older.
Battery Care is another proprietary Sony feature, which further increases the battery lifespan. It may not be available in every market, so you should explore that possibility before buying an Xperia XZ Premium.
So what does Battery Care do? Say you charge your phone overnight, and you regularly plug it in at midnight and unplug it at 8 in the morning. In time, the phone will recognize the pattern, charge the battery to 90% and then stop charging. And then at, say, 7:30 in the morning it will pick up where it left off and top it all up to 100% at a slower pace. If it hasn't picked up your routine, it'll do a standard charge.
The handset also supports the Qualcomm QuickCharge 3.0, but we're not sure if it will come bundled with a charger to match. As usual for Sony, this decision will most probably be a regional thing so check with your retailer of choice.
We used QC3.0 charger with the XZ Premium and it charged 42% of the 3,200mAh battery in 30 mins which is not terribly fast but it's alright.
On the software side of things, Sony has also baked in their prorprietary Stamina battery saving feature. It has two modes: regular Stamina, and Ultra Stamina. The first disables non-essential features like GPS and vibration, and takes performance down a notch.
Ultra Stamina is for absolutely dire occasions when you don't expect to be able to find a power outlet for a long period of time. Enable that and it's back to basics where you get a single homescreen with access to the dialer and contacts, text messages, camera, clock - just the basics. Going out of Ultra Stamina requires a restart.
Connectivity
The Xperia XZ Premium is well-stocked of connectivity options. Our review unit is the single-SIM variety (G8141 model name), but there's also a dual-SIM model (G8142) available. The SIM tray in that case takes two nano-SIM cards, while you can still use the dedicated microSD slot.
LTE is Cat. 16 with impressive 1Gbps of download, courtesy of the latest Qualcomm modem with 3x carrier aggregation. The Xperia XZ Premium utilizes a 4x4MIMO antenna design and packs a total of 8 antennas, which improves the signal reception and allows the device to switch antennae depending on the phone's orientation.
The Xperia XZ Premium also comes equipped with dual-band Wi-Fi a/b/g/n/ac with 2x2 MIMO antennas for speeds up to 867Mbps (if you have a compatible capable router). The local connectivity list goes on with Bluetooth 5 with aptX and Low Energy, and NFC.
The Wi-Fi connection can be used for screen casting - be it Miracast, Google Cast, or DLNA. If you connect a DualShock controller, the Xperia XZ Premium can even double as a portable console, streaming your Playstation 4 games via PS4 Remote Play. It can also connect to your car audio via MirrorLink.
GPS, GLONASS, BeiDou and Galileo satellite positioning are supported, unless you're in the US, where it's just GPS and GLONASS.
The Xperia XZ Premium has no FM radio.
The USB port is Type-C with support for USB 3.1. It lets you hook up USB storage and accessories and charge other devices.
Sony has dropped MHL support, so you have no wired means of image and video output. You do get a 3.5mm audio jack.