5.2-inch FullHD IPS display
Sony is confident it nailed the flagship display size and resolution with the Xperia Z2 and has been sticking with it ever since, now including the Xperia XZ. A 5.2-inch FullHD display means a density of 424ppi, which is plenty sharp. However, the likes of LG and Samsung have moved to QHD for similarly sized displays, and Sony is trailing in the specs race.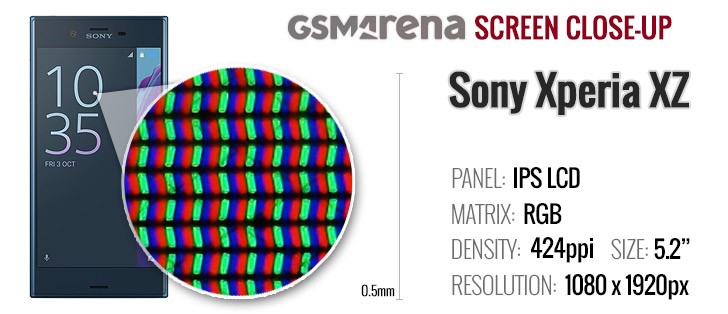 The display posted very good scores across the board with the only exception of color accuracy. The maximum brightness of 502nits in manual mode goes as high as 608 nits in auto mode, with bright light shining into the XZ.
Blacks are nicely dark and contrast ratio is excellent - higher than the X Compact, but not as high as the X Performance.
At the lowest setting, brightness is easy on the eyes at 5.2 nits.
Display test
100% brightness
Black, cd/m2
White, cd/m2
Contrast ratio
Sony Xperia XZ
0.37
502
1349
Sony Xperia XZ (max auto)
0.46
608
1336
Sony Xperia X Performance (max auto)
0.39
595
1526
Sony Xperia X Performance
0.33
482
1461
Sony Xperia Z5
0.59
583
986
Sony Xperia X Compact
0.44
534
1225
Samsung Galaxy S7 edge
0.00
392
∞
Samsung Galaxy S7 edge max auto
0.00
610
∞
HTC 10
0.29
428
1543
LG G5
0.17
306
1855
LG G5 max auto
0.20
378
1881
Huawei P9
0.46
500
1094
Apple iPhone 7
0.35
561
1225
Apple iPhone 7 (max auto)
0.40
656
1225
Color reproduction is not great, though. The average DeltaE of 5.8 is decent, but there is a pronounced blue cast to white and gray. Other than that, out of the primaries, green is off the most (DeltaE around 10), and cyan is far from the truth as well.
Sunlight legibility, on the other hand is superb. High quality LCD displays have been getting near AMOLEDs in this respect, even if they can't quite match the best of them. The Xperia XZ is on par with the iPhone 6s, and a little short of the iPhone 7 in contrast under direct light, but the LG G5 and especially the HTC 10 are far behind.
Sunlight contrast ratio
Samsung Galaxy S6 edge+
4.615
Samsung Galaxy S7 edge
4.439
OnePlus 3
4.424
Samsung Galaxy S7
4.376
HTC One A9
4.274
Samsung Galaxy Note7
4.247
Samsung Galaxy A3
4.241
Samsung Galaxy S6 edge
4.124
Samsung Galaxy Note5
4.09
Huawei Nexus 6P
4.019
OnePlus X
3.983
Vivo Xplay5 Elite
3.983
Oppo R7s
3.964
Apple iPhone 7
3.964
Huawei P9 Plus
3.956
Samsung Galaxy A7 (2016)
3.918
Samsung Galaxy C5
3.911
Samsung Galaxy C7
3.896
Samsung Galaxy A5
3.895
Samsung Galaxy J7 outdoor
3.879
Samsung Galaxy J2 outdoor
3.873
Samsung Galaxy A8
3.859
Samsung Galaxy A9 (2016)
3.817
Motorola Moto X (2014)
3.816
Samsung Galaxy J7 (2016) outdoor mode
3.802
Xiaomi Redmi Pro
3.798
LG V20 Max auto
3.798
Sony Xperia XZ
3.795
Samsung Galaxy A5 (2016)
3.789
Apple iPhone 6s
3.783
Meizu Pro 5
3.781
Microsoft Lumia 650
3.772
Samsung Galaxy J7 (2016)
3.756
Oppo F1 Plus
3.709
Vivo X5Pro
3.706
Sony Xperia X Compact
3.694
Apple iPhone SE
3.681
Samsung Galaxy A7
3.679
Meizu PRO 6
3.659
BlackBerry Priv
3.645
Apple iPhone 6s Plus
3.53
Samsung Galaxy J3 (2016) outdoor mode
3.523
Samsung Galaxy J3 (2016)
3.523
Acer Jade Primo
3.521
Microsoft Lumia 950
3.512
Oppo R7 Plus
3.499
Samsung Galaxy J7
3.422
Meizu MX5
3.416
LG V20
3.402
Oppo R7
3.32
Samsung Galaxy J2
3.235
Sony Xperia X Performance
3.234
Motorola Moto X Play
3.222
Huawei P9
3.195
Lenovo Vibe Shot
3.113
Motorola Moto X Force
3.105
LG Nexus 5X
3.092
Huawei Mate S
3.073
Microsoft Lumia 640 XL
3.065
Apple iPhone 6 Plus
3.023
Sony Xperia X
2.989
Samsung Galaxy Note
2.97
Huawei Mate 8
2.949
Sony Xperia XA Ultra
2.906
LG G5
2.905
HTC One S
2.901
Sony Xperia Z5
2.876
Microsoft Lumia 550
2.851
Xiaomi Redmi 3 Pro
2.803
Sony Xperia Z5 compact
2.784
LG V10
2.744
Xiaomi Redmi 3
2.735
Sony Xperia M5
2.69
Huawei P9 Lite
2.679
Vivo V3Max
2.659
Xiaomi Mi 4i
2.641
Sony Xperia XA
2.609
Xiaomi Mi 4c
2.574
LeEco Le Max 2
2.567
Microsoft Lumia 640
2.563
Lenovo Moto G4
2.544
Oppo F1
2.528
Sony Xperia Z5 Premium
2.525
Huawei Honor 7 Lite / Honor 5c
2.506
Sony Xperia M4 Aqua
2.503
Oppo F1s
2.481
Motorola Moto G
2.477
Lenovo Vibe K5 Plus
2.473
Huawei G8
2.471
Huawei nova
2.467
Sony Xperia Z
2.462
Lenovo Vibe K5
2.459
Huawei Honor 7
2.406
Sony Xperia E5
2.386
ZUK Z1 by Lenovo
2.382
HTC 10
2.378
Samsung Galaxy J5 (2016)
2.378
Huawei nova plus
2.329
HTC One E9+
2.305
Alcatel One Touch Hero
2.272
Apple iPhone 4S
2.269
Lenovo Vibe K4 Note
2.254
Sony Xperia C5 Ultra
2.253
Xiaomi Redmi Note 3 (MediaTek)
2.249
Sony Xperia C4 Dual
2.235
Motorola Moto G (2014)
2.233
LG Nexus 5
2.228
Huawei P8
2.196
Xiaomi Redmi Note 2
2.166
OnePlus Two
2.165
HTC One X
2.158
LG Aka
2.145
Archos 50 Diamond
2.134
Xiaomi Redmi Note
2.119
Acer Liquid X2
2.084
Huawei P8lite
2.078
Moto G 3rd gen max manual
2.026
Xiaomi Mi Max
1.996
Sony Xperia E4g
1.972
OnePlus One
1.961
Meizu m3 note
1.923
Meizu m2 note
1.892
BlackBerry Leap
1.892
HTC Butterfly
1.873
ZTE Nubia Z9 mini
1.759
Sony Xperia U
1.758
Asus Zenfone Selfie
1.68
Motorola Moto E (2nd Gen)
1.675
ZTE Nubia Z9
1.659
Jolla Jolla
1.605
Motorola Moto E
1.545
Sony Xperia M
1.473
HTC Desire C
1.3
Sony Xperia C
1.283
Meizu MX
1.221
Sony Xperia E
1.215
Connectivity
The Xperia XZ is well stocked on connectivity options. Our review unit is the single-SIM version (F8331 model name), but there's also a dual-SIM one (F8332). The slot in that case is of the hybrid variety though - it's either a second SIM or a microSD card - you can't have all three.
LTE Cat. 9 (450Mbps down, 50Mbps up) is supported. The phone also comes equipped with dual-band Wi-Fi a/b/g/n/ac with 2x2 MIMO antennas for speeds up to 433Mbps (if you have an 802.11ac capable router). Local connectivity goes on with Bluetooth 4.2 with aptX and Low Energy, and NFC.
The Wi-Fi connection can be used for screen casting - be it Miracast, Google Cast, or DLNA. If you connect a DualShock controller, the Xperia XZ can even double as a portable console streaming your Playstation 4 games vis PS4 Remote Play. It can also connect to your car's stereo system via MirrorLink.
GPS, GLONASS and BeiDou satellite positioning is supported, unless you're in the US, where it's just GPS and GLONASS.
The Xperia XZ has no FM radio though. Funnily, to get that you'll need to look lower in the lineup - the Xperia X has it.
The USB port is Type-C, but it only conforms to USB 2.0 spec and not 3.0 or 3.1. It lets you hook up USB storage and accessories and charge other devices. Every time you connect it to a PC, you'll need to select the data transfer mode, as it defaults to charge only. That makes sense when you have a form of screen lock enabled to protect the contents of the device. However, on the XZ defaulting to charging is also the case when no security is set up, which is somewhat annoying. Also, on other phones, unlocking the handset immediately identifies it as a media device without the extra intermediate step required.
Sony has dropped MHL support, so you have no wired way to output an image to a TV. You do get 3.5mm analog output to your choice of headphones.
Sony Xperia XZ battery life
The Xperia XZ relies on a 2,900mAh battery to keep it powered. That's the same capacity as the Xperia Z5 before it, while the Xperia X Performance has a 2,700mAh power pack. The majority of current Android flagships are around that number too, with the HTC 10 and Samsung Galaxy S7 having a smidgen more juice to work with (3,000mAh), and the LG G5 - slightly less (2,800mAh). The iPhone 7, on the other hand, makes do with a substantially smaller capacity - 1,960mAh.
In our tests the Xperia XZ proved to be excellent at voice calls and an otherwise balanced performer in the other disciplines. In 3G calls the smartphone not only delivered on Sony's promised endurance - but actually even exceeded it. The 23:39h voice call endurance is an hour behind the Galaxy S7 edge, but no match for any of the other competitors, with the iPhone 7 not capable of lasting even half that. The XZ's result is also 3 hours longer than the X Performance's.
Web browsing over Wi-Fi depletes the Xperia XZ's battery in just over 9 hours - not spectacular, but a tangible improvement over the Z5's 7:40h. The XZ matches the HTC 10 in this test (9:08h) and outlasts the LG G5 (7:38h). The Galaxy S7 edge, however, will let you wander the web for 5 and a half hours after the XZ has called it quits.
In looping our test video until the battery is down to 10%, the Xperia XZ lasts for 8 and a half hours, pretty much the same as the X Performance. Compare that to the 4 hours the Z5 barely squeezes out of its same capacity battery. Outside the Sony realm, the HTC 10 is in the same ballpark (8:42h), the iPhone 7 lasts a little longer (9:15h) and the LG G5 beats them all (10:21h). Well, except for the Galaxy S7 edge and its crazy 20 hours of video playback.
Coupled with frugal standby power consumption, the above numbers add up to a combined endurance rating of 72 hours. Of the above competitors only the Galaxy S7 edge manages to top that (98h), the HTC 10 stands at 66h, while the iPhone 7 and LG G5 score 61h and 60h, respectively. The Xperia X Performance's overall results is 61h, while the Z5's 48h look pretty bad in this company.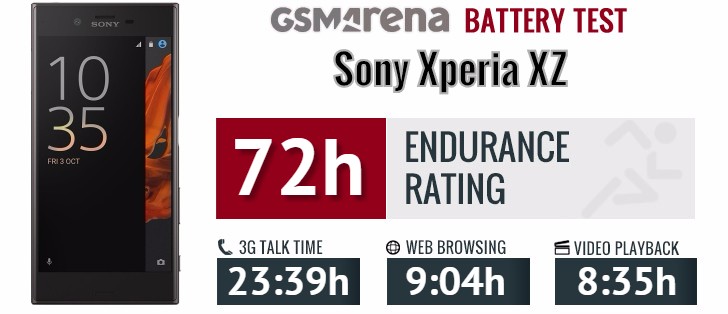 Much like the previous X-series phones, the Xperia XZ has the Qnovo adaptive charging technology built-in. The technology allows the phone to monitor the cell's electrochemical processes in real time and adjust charging parameters accordingly to minimize cell damage and extend the battery unit's lifespan.
Qnovo claims the battery should last hundreds of charge cycles more than a conventionally charged battery. This means a year or so of extra longevity as in theory if the battery ages better, it should hopefully be able to hold charge better in time (an important aspect for a phone that has its battery sealed-in).
Battery Care is another proprietary Sony feature, which however is introduced with the Xperia XZ. It won't be available on all markets though, so if it sounds like something you might be interested in, check back with your local Sony rep.
So what does Battery Care do? Say you charge your phone overnight, and you regularly plug it in at midnight and unplug it at 8 in the morning. In time, the phone will recognize the pattern, charge the battery to 90% and then stop charging. And then at, say, 7:30 in the morning it will pick up where it left off and top it all up to 100% at a slower pace. If it hasn't picked up your routine, it'll do a standard charge.
The handset also supports the Qualcomm QuickCharge 3.0 (and, of course, 2.0), but we're not sure if it will come bundled with a charger to match. It will most probably be a regional thing.
On the software side of things, there's Sony's Stamina battery saving feature. It has two modes: regular Stamina, and Ultra Stamina. The first disables non-essential features like GPS and vibration, and takes performance down a notch.
Ultra Stamina is for absolutely dire occasions when you don't expect to be able to find a power outlet for a long period of time. Enable that and it's back to basics where you get a single homescreen with access to the dialer and contacts, text messages, camera, clock - just the basics. Going out of Ultra Stamina requires a restart.
The battery testing procedure is described in detail in case you're interested in the nitty-gritties. You can also check out our complete battery test table, where you can see how all of the smartphones we've tested will compare under your own typical use.