Lord of the selfies
Sony Xperia XA Ultra review: Lord of the selfies
Display
The Sony Xperia XA Ultra comes with a 6" screen - even by today's standards that's big! And it has 1080p resolution, giving it a pixel density of 367ppi, sharper than the 720p screen of the small XA (294ppi). We are really happy with how fine details look on the screen and we think this sort of resolution is quite adequate for pretty much anyone - not to mention the power efficiency and graphics performance benefits.
The panel used is an IPS LCD and it has great viewing angles. It doesn't have Sony's Triluminos panel tech like on the Xperia X lineup but honestly, we can't tell just by looking at it and without comparing it directly to another display that has it.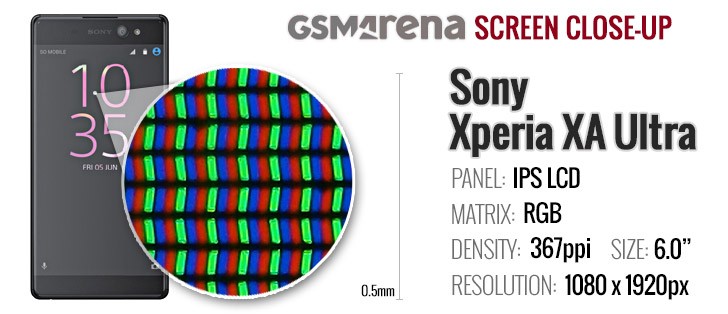 Color accuracy is average with an average deltaE of 7.4 and a maximum of 13.4. Those are similar readings to the Xiaomi Mi Max, for example, but worse than some large AMOLEDs (e.g. Samsung Galaxy A9 (2016) or Oppo R7 Plus).
The main culprits are the white balance, which is on the cool side, and the red channel. There are sliders to adjust the screen's RGB channels separately, but eyeballing a more accurate result is next to impossible. Just get a color balance you like and stick with it.
Two additional screen modes are Mobile Bravia 2 and Super Vivid. Bravia applies image processing - noise reduction, sharpening, etc. in the gallery and video player - while Super Vivid boosts the gamma curve to make images pop. Neither screen mode affected the maximum achievable brightness or the color accuracy.
Speaking of brightness, the Sony Xperia XA Ultra screen is very bright, brighter than most screens its size. It went up to 530 nits while keeping the contrast relatively high at just over 1,000:1.
Display test
100% brightness
Black, cd/m2
White, cd/m2
Contrast ratio
Sony Xperia XA
0.38
523
1376
Sony Xperia XA Ultra
0.50
531
1071
Sony Xperia C5 Ultra
0.37
422
1144
Oppo F1 Plus
0.00
351
∞
Oppo R7 Plus
-
351
∞
Samsung Galaxy A9 (2016)
0.00
427
∞
Samsung Galaxy A9 (2016) max auto
0.00
609
∞
Xiaomi Mi Max
0.46
424
922
LeEco Le Max 2
0.30
426
1444
When you go the other way, push the brightness slider to minimum, the display put out 6.7 nits - low enough that you can use it in the middle of the night.
Sunlight legibility is surprisingly good. AMOLEDs still offer a slightly better performance, but most LCDs in this price range - and several flagships among which the Xperia Z5 - don't do quite as well on a bright sunny day. Sony gets top marks for the XA Ultra display.
Sunlight contrast ratio
Samsung Galaxy S6 edge+
4.615
Samsung Galaxy S7 edge
4.439
OnePlus 3
4.424
Samsung Galaxy S7
4.376
HTC One A9
4.274
Samsung Galaxy A3
4.241
Samsung Galaxy S6 edge
4.124
Samsung Galaxy Note5
4.09
Huawei Nexus 6P
4.019
OnePlus X
3.983
Vivo Xplay5 Elite
3.983
Oppo R7s
3.964
Samsung Galaxy A7 (2016)
3.918
Samsung Galaxy A5
3.895
Samsung Galaxy J7 outdoor
3.879
Samsung Galaxy J2 outdoor
3.873
Samsung Galaxy A8
3.859
Apple iPhone 6
3.838
Samsung Galaxy A9 (2016)
3.817
Motorola Moto X (2014)
3.816
Samsung Galaxy J7 (2016) outdoor mode
3.802
Samsung Galaxy A5 (2016)
3.789
Apple iPhone 6s
3.783
Meizu Pro 5
3.781
Microsoft Lumia 650
3.772
Samsung Galaxy J7 (2016)
3.756
Oppo F1 Plus
3.709
Vivo X5Pro
3.706
Apple iPhone SE
3.681
Samsung Galaxy A7
3.679
Meizu PRO 6
3.659
BlackBerry Priv
3.645
Apple iPhone 6s Plus
3.53
Samsung Galaxy J3 (2016) outdoor mode
3.523
Samsung Galaxy J3 (2016)
3.523
Acer Jade Primo
3.521
Microsoft Lumia 950
3.512
Oppo R7 Plus
3.499
Samsung Galaxy J7
3.422
Meizu MX5
3.416
Oppo R7
3.32
Samsung Galaxy J2
3.235
Sony Xperia X Performance
3.234
Motorola Moto X Play
3.222
Huawei P9
3.195
Lenovo Vibe Shot
3.113
Motorola Moto X Force
3.105
LG Nexus 5X
3.092
Huawei Mate S
3.073
Microsoft Lumia 640 XL
3.065
Apple iPhone 6 Plus
3.023
Sony Xperia X
2.989
Samsung Galaxy Note
2.97
Huawei Mate 8
2.949
Sony Xperia XA Ultra
2.906
LG G5
2.905
HTC One S
2.901
Sony Xperia Z5
2.876
Microsoft Lumia 550
2.851
Sony Xperia Z5 compact
2.784
LG V10
2.744
Xiaomi Redmi 3
2.735
Sony Xperia M5
2.69
Huawei P9 Lite
2.679
Vivo V3Max
2.659
Xiaomi Mi 4i
2.641
Sony Xperia XA
2.609
Xiaomi Mi 4c
2.574
LeEco Le Max 2
2.567
Microsoft Lumia 640
2.563
Lenovo Moto G4
2.544
Oppo F1
2.528
Sony Xperia Z5 Premium
2.525
Sony Xperia M4 Aqua
2.503
Motorola Moto G
2.477
Huawei G8
2.471
Sony Xperia Z
2.462
Huawei Honor 7
2.406
Sony Xperia E5
2.386
ZUK Z1 by Lenovo
2.382
HTC 10
2.378
Samsung Galaxy J5 (2016)
2.378
HTC One E9+
2.305
Alcatel One Touch Hero
2.272
Lenovo Vibe K4 Note
2.254
Sony Xperia C5 Ultra
2.253
Xiaomi Redmi Note 3 (MediaTek)
2.249
Sony Xperia C4 Dual
2.235
Motorola Moto G (2014)
2.233
LG Nexus 5
2.228
Huawei P8
2.196
Xiaomi Redmi Note 2
2.166
OnePlus Two
2.165
HTC One X
2.158
LG Aka
2.145
Archos 50 Diamond
2.134
Xiaomi Redmi Note
2.119
Acer Liquid X2
2.084
Huawei P8lite
2.078
Moto G 3rd gen max manual
2.026
Xiaomi Mi Max
1.996
Sony Xperia E4g
1.972
OnePlus One
1.961
Meizu m3 note
1.923
Meizu m2 note
1.892
BlackBerry Leap
1.892
HTC Butterfly
1.873
ZTE Nubia Z9 mini
1.759
Sony Xperia U
1.758
Asus Zenfone Selfie
1.68
Motorola Moto E (2nd Gen)
1.675
ZTE Nubia Z9
1.659
Jolla Jolla
1.605
Motorola Moto E
1.545
Sony Xperia M
1.473
Xiaomi Redmi 2
1.311
Sony Xperia C
1.283
Meizu MX
1.221
Sony Xperia E
1.215
Connectivity
The Sony Xperia XA Ultra comes in single and dual-SIM variants. It has LTE connectivity, Cat. 4 150Mbps/50Mbps, and HSPA+. Other Internet connectivity options include Wi-Fi a/b/g/n (150Mbps speed, there's no ac).
Bluetooth 4.1 has both the Low Energy option and the high-quality aptX audio streaming codec. NFC is on board as well.
The microUSB 2.0 port handles charging and data, obviously, but it also supports USB OTG so you can hook up external hardware. If you're going to use flash drives, make sure to install a file browser first as there isn't one out of the box.
Sony's Video & TV SideView app shows an electronic program guide and can control Bravia TVs via Wi-Fi (there's no IR blaster to control regular TVs or other appliances).
FM radio is available for old-school entertainment. Like with TV, Sony has added some Internet smarts and built TrackID into the radio app.
Battery
The Sony Xperia XA Ultra has a tiny battery - just 2,700mAh. We're not being overly harsh, the C5 Ultra is about this size (a bit thinner, actually) and it has a 2,930mAh battery. Hell, even the Xperia Z5 Compact has a 2,700mAh battery. Yes, the 4.6" phone!
Considering that battery life was the major weak point of the Xperia XA, which had a similar-sized battery (2,300mAh), the same chipset and a smaller screen, we just didn't expect much before we started the following battery tests.
It turns out things are better than expected, a decent step up from the 5" XA (not so much the endurance as the performance in the web and video tests). However, endurance hasn't improved since the C5 Ultra and is fairly average for 2016. Other recent 6" phones (and bigger) push up against the 100h endurance rating mark and can last close to 20 hours of browsing the web. We're not afraid to take those to even the longest tech conventions, but with the XA Ultra we will pack an external battery.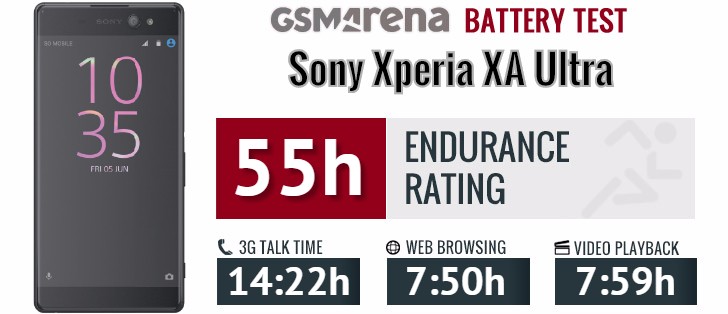 The battery testing procedure is described in detail in case you're interested in the nitty-gritties. You can also check out our complete battery test table, where you can see how all of the smartphones we've tested will compare under your own typical use.