Sony's great Album is on the Ultra as well
The Album app that handles image viewing on the Xperia XA1 Ultra is among the most comprehensive and feature-rich gallery apps we've seen, and it's fast and easy to use.
At the very top of the list is a slideshow, showing off your photos. Lower down, the first photo of each month is shown at twice the size of other images.
Photos are organized by month, and you can use pinch-zoom to change the size of thumbnails (then they smoothly animate into the grid).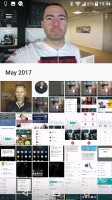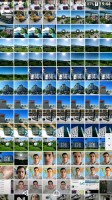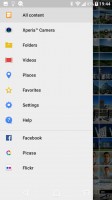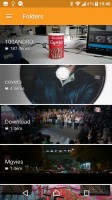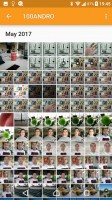 The Album app is beautiful and functional
You can also browse photos on a map (you can manually add geotag info too) or by folder. This includes network storage so that you can view photos from a DLNA server (your home computer, for one). Then there's integration with online albums - Facebook, Flickr, and Google Photos (someone should tell Sony engineers this is no longer called Picasa).
Image editing is handled by several apps, including the default Image Editor, Sketch and Sticker creator (so you can create your own custom stickers to send to your friends).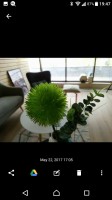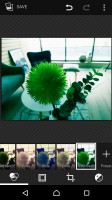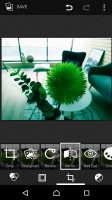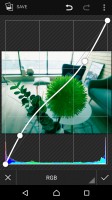 Viewing an image • The image editor is quite powerful
Sketch lets you fingerpaint over a photo or a paper-like texture, add text, stickers, photos and so on. If you're talented, (the below screenshot reveals our mediocrity), you can share your creations on the Sketch mini-social network. We stuck with just browsing through what others drew.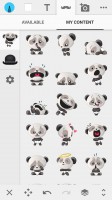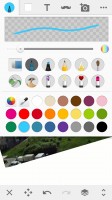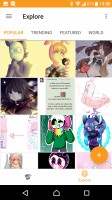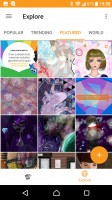 Sketch is a fun image editor with a mini social network for sharing art
Movie Creator is similar to the Google Photos Assistant. It automatically creates short videos from the photos and videos you've shot. You can do it manually too: pick photos and videos, change their order, and add color effects and music (you get a small audio collection to start off with, but you can use custom files too). Then tap the Share button and send out your animated slideshow.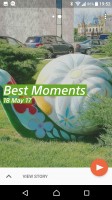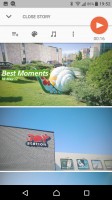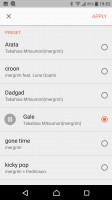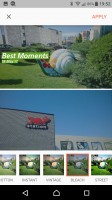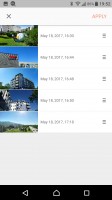 The Movie Creator can automatically or manually make shareable slideshows
Music app
The Music app is Sony's custom player that comes pre-installed on the XA1 Ultra, and it feels like part of the same software package. The contextual side menu offers many of the same browsing options - by folder, network folder, and online services like Spotify (it's just a link to the Spotify app though). You can share music from the phone to compatible players.
The app can find the track's video on YouTube, look up info about the artist on Wikipedia, and search for lyrics on Google.
The Music app offers a variety of audio settings - ClearAudio+ determines the best audio quality settings depending on the track you're listening to. Then there's DSEE HX, which uses an almost wizardly algorithm that is supposed to restore or rather extrapolate compressed music files, like MP3s into high-res audio. According to Sony, the result is near Hi-Res Audio Quality, but it only works with wired headphones. It also helps with streaming audio but not Spotify.
Dynamic normalizer evens out the volume differences across tracks, which is great if you've mixed multiple albums from multiple sources.
FM Radio with TrackID
The Xperia XA1 Ultra comes with an FM radio receiver and an app to go with it - and Sony's is probably the best one we've seen. It has nice visuals, pulls the stations' names over RDS, and you can pick favorites. You can also assign colors to group the stations - say blue for news, yellow for rock music, or purple for house stations.
TrackID doesn't come pre-installed for some odd reason, but it's such a perfect fit for the FM radio, that we downloaded it anyway. TrackID is Sony's trusted song identification software which has since evolved way past simple recognition. It can now show you music charts by country, give you live updates on recent searches across the world, and store your search history as well.
Video
Named simply Video, the app does little than what it says on the tin. It can play your local videos and videos on your home network, plus it has extensive subtitle settings. Unfortunately, the TV guide functionality has been removed (pretty much since yesterday - they pulled the plug on May 30).
Impressively loud audio
When plugged into an active external amplifier, the Sony Xperia XA1 Ultra truly impressed us. It delivered the excellent clarity we've come to expect from smartphones these days, but its loudness was higher than anything we've tested for years now.
Sadly, plugging in a pair of headphones did some noticeable damage to the output with the stereo separation and the frequency response suffering a moderate amount and some distortion creeping in. It's certainly not a poor showing and considering the volume levels, which were again impressive, we'd actually call it good, but with that kind of a start, we were really hoping for perfect in both tested use cases.
| | | | | | | |
| --- | --- | --- | --- | --- | --- | --- |
| Test | Frequency response | Noise level | Dynamic range | THD | IMD + Noise | Stereo crosstalk |
| Sony Xperia XA1 Ultra | +0.02, -0.18 | -93.9 | 94.0 | 0.0053 | 0.0089 | -91.3 |
| Sony Xperia XA1 Ultra (headphones attached) | +0.65, -0.18 | -93.2 | 93.3 | 0.176 | 0.485 | -51.9 |
| Oppo F3 Plus | +0.03, -0.01 | -93.5 | 93.3 | 0.0010 | 0.0066 | -92.0 |
| Oppo F3 Plus (headphones attached) | +0.55, -0.02 | -92.4 | 92.5 | 0.0090 | 0.315 | -58.1 |
| Huawei Honor 8 Pro | +0.04, -0.01 | -93.3 | 95.0 | 0.0018 | 0.0075 | -93.3 |
| Huawei Honor 8 Pro (headphones attached) | +0.15, -0.02 | -92.6 | 94.2 | 0.0023 | 0.100 | -63.9 |
| Samsung Galaxy A7 (2017) | +0.05, -0.28 | -91.9 | 92.2 | 0.0037 | 0.051 | -90.3 |
| Samsung Galaxy A7 (2017) (headphones attached) | +0.18, -0.05 | -91.0 | 91.6 | 0.019 | 0.230 | -57.9 |
| OnePlus 3T | +0.03, -0.01 | -94.3 | 94.3 | 0.0034 | 0.0063 | -93.4 |
| OnePlus 3T (headphones attached) | +0.53, -0.30 | -92.9 | 93.0 | 0.017 | 0.434 | -49.7 |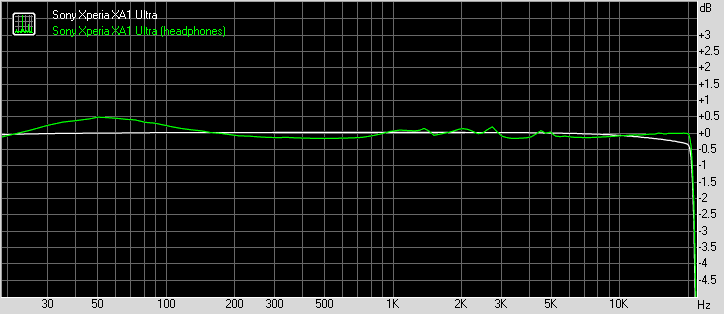 Sony Xperia XA1 Ultra frequency response
You can learn more about the tested parameters and the whole testing process here.