Ultra-sized 6-inch display doesn't disappoint
To deserve the Ultra moniker, a Sony Xperia needs to be 6 inches or more, and the XA1 Ultra qualifies. It's also a FullHD resolution panel, as anything less would've been too coarse on that diagonal, while more won't make the budget. The resolution is good for 367ppi, perfectly adequate for the class.
Under a microscope, we see a conventional RGB arrangement with an equal number (of equally-sized) subpixels for each primary color.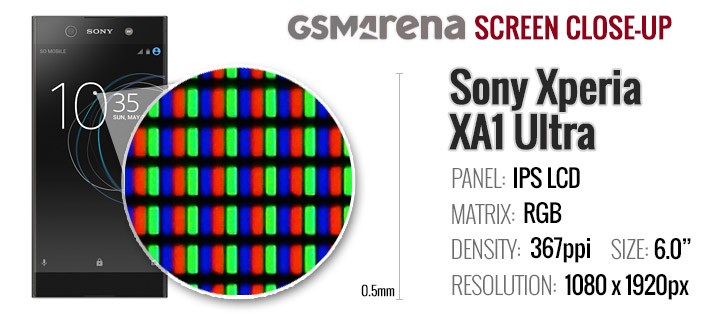 The XA1 Ultra is very bright at its maximum setting making it past the 600-nit mark, if only just. There's no boost when you enable auto brightness. Blacks are kept in check for what turned out as an excellent contrast, verging on 1600:1. The XA1 Ultra is superior to both last year's XA Ultra and the current smaller XA1 in all three disciplines. Not only that, but the XA1 Ultra outperforms Sony's current flagships as well.
Among potential competitors, few can match the XA1 Ultra's peak brightness, and only AMOLEDs offer better contrast.
Display test
100% brightness
Black, cd/m2
White, cd/m2
Contrast ratio
Sony Xperia XA1
0.512
537
1049
Sony Xperia XA1 Ultra
0.382
603
1579
Sony Xperia XA Ultra
0.50
531
1071
Sony Xperia XZs
0.461
564
1223
Sony Xperia XZ Premium
0.463
573
1238
Oppo F3 Plus
0.343
509
1485
Samsung Galaxy A7 (2017)
0
425
∞
Samsung Galaxy A7 (2017) Max auto
0
533
∞
Xiaomi Mi 5s Plus
0.44
637
1448
OnePlus 3T
0
447
∞
Samsung Galaxy A9 (2016)
0
427
∞
Samsung Galaxy A9 (2016) max auto
0
609
∞
Motorola Moto Z Play
0
371
∞
Motorola Moto Z Play (max auto)
0
526
∞
Huawei nova plus
0.31
397
1281
Outdoor visibility is great as well, the XA1 Ultra edges out the iPhone 7 Plus in this respect (hit the 'Expand' button above the chart to see it). Even the AMOLED display on the Moto Z Play is no match for the Ultra, though Samsung's own Galaxy A7 (2017) does have the upper hand - not all AMOLEDs are equal.
Sunlight contrast ratio
Samsung Galaxy S8
4.768
Samsung Galaxy S8+
4.658
Samsung Galaxy S6 edge+
4.615
Samsung Galaxy S7 edge
4.439
OnePlus 3
4.424
Samsung Galaxy S7
4.376
HTC One A9
4.274
Samsung Galaxy Note7
4.247
Samsung Galaxy A3
4.241
OnePlus 3T
4.232
Google Pixel XL
4.164
ZTE Axon 7
4.154
Samsung Galaxy S6 edge
4.124
Samsung Galaxy A7 (2017)
4.124
Samsung Galaxy Note5
4.09
Huawei Nexus 6P
4.019
Vivo Xplay5 Elite
3.983
OnePlus X
3.983
Apple iPhone 7
3.964
Oppo R7s
3.964
Huawei P9 Plus
3.956
Meizu Pro 6 Plus
3.935
Lenovo Moto Z
3.931
Samsung Galaxy A7 (2016)
3.918
Samsung Galaxy C5
3.911
Samsung Galaxy C7
3.896
Samsung Galaxy A5
3.895
Samsung Galaxy J7 outdoor
3.879
Samsung Galaxy J2 outdoor
3.873
Samsung Galaxy A8
3.859
Sony Xperia XZs
3.818
Samsung Galaxy A9 (2016)
3.817
Motorola Moto X (2014)
3.816
Samsung Galaxy A5 (2017)
3.804
Samsung Galaxy J7 (2016) outdoor mode
3.802
LG V20 Max auto
3.798
Xiaomi Redmi Pro
3.798
Sony Xperia XZ
3.795
Samsung Galaxy A5 (2016)
3.789
Apple iPhone 6s
3.783
Meizu Pro 5
3.781
Microsoft Lumia 650
3.772
Xiaomi Mi 6
3.767
Samsung Galaxy J7 (2016)
3.756
Oppo F1 Plus
3.709
Vivo X5Pro
3.706
Samsung Galaxy A3 (2017)
3.688
Apple iPhone SE
3.681
Huawei Mate 9
3.68
Samsung Galaxy A7
3.679
Meizu PRO 6
3.659
BlackBerry Priv
3.645
Sony Xperia XA1 Ultra
3.597
Apple iPhone 7 Plus
3.588
LG G6
3.556
Apple iPhone 6s Plus
3.53
Motorola Moto Z Play
3.526
Samsung Galaxy J3 (2016) outdoor mode
3.523
Samsung Galaxy J3 (2016)
3.523
Acer Jade Primo
3.521
Microsoft Lumia 950
3.512
Oppo R7 Plus
3.499
nubia Z11
3.466
Huawei P10 Plus
3.456
HTC U Ultra
3.453
Samsung Galaxy J7
3.422
Meizu MX5
3.416
LG V20
3.402
Huawei P10
3.379
Oppo R9s
3.352
Honor 8 Pro
3.341
Oppo R7
3.32
Lenovo P2
3.316
Xiaomi Mi 5s
3.276
Nokia 6 (Chinese version)
3.244
Samsung Galaxy J2
3.235
Sony Xperia X Performance
3.234
Xiaomi Mi Note 2
3.228
Motorola Moto X Play
3.222
Oppo F3 Plus
3.218
Huawei Mate 9 Pro
3.206
Huawei P9
3.195
Lenovo Vibe Shot
3.113
Motorola Moto X Force
3.105
LG Nexus 5X
3.092
Huawei Mate S
3.073
Microsoft Lumia 640 XL
3.065
Sony Xperia XA1
3.012
Sony Xperia X
2.989
Huawei Mate 8
2.949
Xiaomi Redmi 3S
2.913
Sony Xperia XA Ultra
2.906
LG G5
2.905
HTC One S
2.901
Xiaomi Redmi 3s Prime
2.893
Xiaomi Mi 5s Plus
2.884
Sony Xperia XZ Premium
2.877
Sony Xperia XZ Premium (sRGB)
2.877
Sony Xperia Z5
2.876
Microsoft Lumia 550
2.851
Lenovo Moto M
2.813
Xiaomi Redmi 3 Pro
2.803
Sony Xperia Z5 compact
2.784
Meizu MX6
2.751
LG V10
2.744
Xiaomi Redmi 3
2.735
Xiaomi Redmi Note 4 (S625)
2.714
Meizu M5
2.71
Sony Xperia M5
2.69
Xiaomi Redmi 4 Prime
2.679
Huawei P9 Lite
2.679
Vivo V3Max
2.659
Xiaomi Mi Mix
2.658
Xiaomi Mi 4i
2.641
Sony Xperia XA
2.609
Motorola Moto G4 Plus
2.582
Motorola Moto G4 Plus (max auto)
2.582
Meizu M5s
2.58
Xiaomi Mi 4c
2.574
LeEco Le Max 2
2.567
Microsoft Lumia 640
2.563
Asus Zenfone 3 ZE552KL
2.563
Lenovo Moto G4
2.544
Lenovo K6 Note
2.544
Oppo F1
2.528
Sony Xperia Z5 Premium
2.525
Huawei Honor 7 Lite / Honor 5c
2.506
Sony Xperia M4 Aqua
2.503
Oppo F1s
2.481
Motorola Moto G
2.477
Lenovo Vibe K5 Plus
2.473
Huawei G8
2.471
Huawei nova
2.467
Sony Xperia Z
2.462
Lenovo Vibe K5
2.459
Meizu m3 max
2.447
HTC 10 evo
2.407
Huawei Honor 7
2.406
Sony Xperia E5
2.386
ZUK Z1 by Lenovo
2.382
HTC 10
2.378
Samsung Galaxy J5 (2016)
2.378
Oppo F3
2.376
vivo V5 Plus
2.371
Meizu m1 note
2.362
Huawei nova plus
2.329
HTC One E9+
2.305
Alcatel One Touch Hero
2.272
Lenovo Vibe K4 Note
2.254
Sony Xperia C5 Ultra
2.253
Xiaomi Redmi Note 3 (MediaTek)
2.249
Sony Xperia C4 Dual
2.235
Xiaomi Mi Note
2.234
Motorola Moto G (2014)
2.233
Huawei P8
2.196
Meizu M5 Note
2.189
Huawei Honor 6
2.169
Xiaomi Redmi Note 2
2.166
OnePlus Two
2.165
HTC One X
2.158
Xiaomi Redmi Note 4 (X20)
2.145
LG Aka
2.145
Archos 50 Diamond
2.134
Xiaomi Redmi Note
2.119
Xiaomi Mi 4S
2.095
Acer Liquid X2
2.084
Huawei P8lite
2.078
vivo V5
2.059
Moto G 3rd gen max manual
2.026
Xiaomi Mi 3
2.001
Xiaomi Mi Max
1.996
Sony Xperia E4g
1.972
OnePlus One
1.961
Meizu m3 note
1.923
BlackBerry Leap
1.892
Meizu m2 note
1.892
HTC Butterfly
1.873
ZTE Nubia Z9 mini
1.759
Sony Xperia U
1.758
Asus Zenfone Selfie
1.68
Motorola Moto E (2nd Gen)
1.675
ZTE Nubia Z9
1.659
Motorola Moto E
1.545
Sony Xperia M
1.473
Sony Xperia L
1.351
HTC Desire C
1.3
Meizu MX
1.221
Sony Xperia E
1.215
Hardly a first for a Sony phone, the Xperia XA1 Ultra puts a bluish tint to whites with a grayscale DeltaE of around 9, and an average DeltaE of 6.0, when compared against the sRGB color space.
You can tweak the color reproduction with the RGB sliders in the white balance section of the display settings. You'd need a colorimeter and dedicated software to calibrate it, though. Our trial-and-error attempts led to an average DeltaE of 2.6 with RGB values of 197, 83, 0. That, however, results in a massive dip in maximum brightness - with these white balance settings, the phone only pumped out 380nits. The blue and green pixels are brighter than the red ones and taking away some of the bluish cast lowers the screen's maximum brightness. That's not a glitch as it can be observed with any LCD out there but the dip on the XA1 Ultra after the calibration is more serious than usual.
Connectivity
The Sony Xperia XA1 Ultra comes in single and Dual SIM flavors. Ours is the single SIM version, so we can't comment on how the Dual SIM variety handles the two cards. Cat.6 LTE is supported by the Helio P20's modem for download speeds of up to 300Mbps.
Wi-Fi b/g/n over 2.4GHz and a/n over 5GHz is supported, but not ac. You can stream video wirelessly over Miracast but the XA1 Ultra isn't DLNA certified.
The supported Bluetooth is now v4.2 LE, as opposed to the XA Ultra's 4.1. Bluetooth comes with the audio-focused aptX protocol as well.
NFC is available too, and so is an FM radio receiver.
For positioning, you get GPS and GLONASS, but no BDS or Galileo.
Peripherals can be connected via the USB-C port, but USB 2.0 limits transfer speeds to 480Mbps. There's a good old 3.5mm jack for attaching headphones too.
Sony Xperia XA1 Ultra battery life
Just like the small XA1, the Xperia XA1 Ultra relies on the same capacity battery as the model it replaces - that's 2,700mAh. Our skepticism was proven unfounded on the XA1, which posted quite respectable endurance results out of its tiny 2,300mAh cell, so we dived into our testing without worrying all that much.
And that turned out to have been the right attitude as the the Xperia XA1 Ultra's endurance is anything but disappointing. Let's start with what matters most - the tests we carry out with the display on are particularly demanding on the 6-inch Ultra, and 10 hours of video playback is admirable, even if the competition might be capable of more. Almost 12 hours of browsing the web over Wi-Fi is even more praiseworthy.
That's hardly a word to describe the phone's longevity in voice calls, where it couldn't make it to the 13-hour mark. Apparently, Mediatek's modem isn't as efficient in this use case as the competing solutions. But we still think talk time comes a distant second after all the other screen-on activities that you are bound to carry out on your big-screen smartphone.
The less than exciting showing in voice calls means, however, a lower overall endurance rating. Dialing in the numbers from the individual tests into our formula results in an overall endurance rating of 68 hours - not bad, but certainly not class-leading.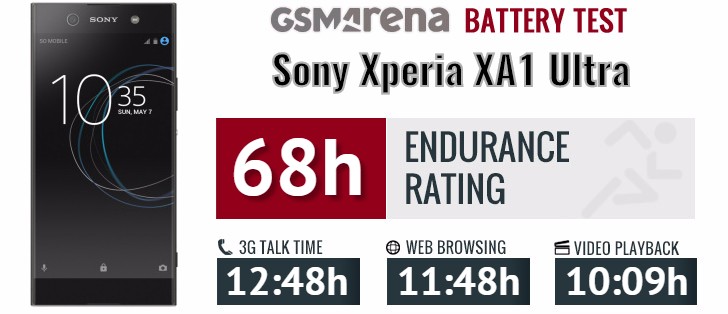 Our endurance rating stands for how long a single battery charge will last you if you were to use the smartphone for an hour each of telephony, web browsing, and video playback daily. We've established this usage pattern as they are common day-to-day tasks and it allows our battery results to be comparable across devices. The battery testing procedure is described in detail in case you're interested in the nitty-gritties. You can also check out our complete battery test table, where you can see how all of the smartphones we've tested will compare under your own typical use.
On the software side of things, Sony has also baked in their proprietary Stamina battery saving feature. It has two modes: regular Stamina, and Ultra Stamina. The first disables non-essential features like GPS and vibration, and takes performance down a notch.
Ultra Stamina is for absolutely dire occasions when you don't expect to be able to be near a power outlet for a long period of time. Enable that and it's back to basics where you get a single homescreen with access to the dialer and contacts, text messages, camera, clock - just the basics. Going out of Ultra Stamina requires a restart.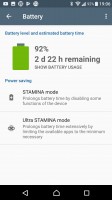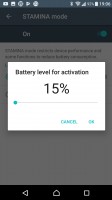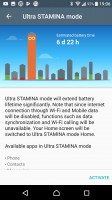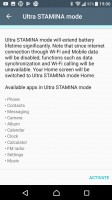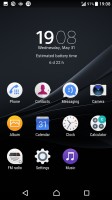 Stamina modes • Engage at... • Ultra Stamina • Available apps • Homescreen