Chief of staff
Sony Xperia X Performance review: Chief of staff
Top-class 5-inch FullHD IPS display
The Xperia X Performance has a 5-inch FullHD dislpay of 441ppi. There's a host of proprietary technologies on board. Triluminous is Sony's trademark for what is essentially a Quantum dot display, a variation of LCD panels that delivers a wider color gamut. The X-reality engine dynamically enhances images and video to provide higher contrast and improved sharpness when viewing multimedia content.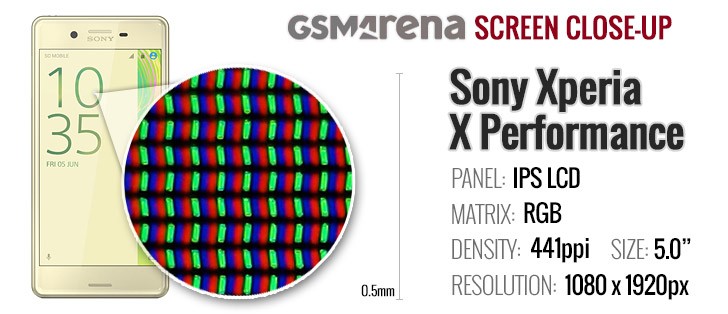 600 nits of brightness Sony claimed, and our tests very much confirm that it is indeed possible when Adaptive brightness is enabled and the phone is exposed to bright sunlight. High brightness and deep blacks make for excellent contrast in the 1500:1 ballpark, regardless of auto on or off.
The maximum brightness is about the same as on the Xperia Z5 but the screen's contrast ratio has definitely been improved and by a wide margin at that.
Display test
100% brightness
Black, cd/m2
White, cd/m2
Contrast ratio
Sony Xperia X
0.44
539
1219
Sony Xperia X Performance (max auto)
0.39
595
1526
Sony Xperia X Performance
0.33
482
1461
Xiaomi Mi 5
0.51
628
1227
Huawei P9
0.46
500
1094
Samsung Galaxy S7
0.00
391
∞
Samsung Galaxy S7 max auto
0.00
563
∞
LG G5
0.17
306
1855
LG G5 max auto
0.20
378
1881
HTC 10
0.29
428
1543
Meizu Pro 5
0
321
∞
Meizu PRO 6
0.01
360
40000
Apple iPhone 6s
0.36
536
1481
Color reproduction is fairly accurate, with an average DeltaE of 5.7, similar to the LG G5's 5.6, and better than the Huawei P9 (7.4) and Samsung Galaxy S7 (7.1) in their default modes. A common feature of Sony displays, the bluish whites seem to be here to stay but you won't really notice it unless you have a reference. Overall, it's unlikely to bother you unless you need perfect color reproduction.
A high-quality IPS panel, the Xperia X Performance's display does very well in the sunlight too. It's not in AMOLED territory, but is one of the better LCD's in this respect, according to our tests.
Sunlight contrast ratio
Samsung Galaxy S6 edge+
4.615
Samsung Galaxy S7 edge
4.439
Samsung Galaxy S7
4.376
HTC One A9
4.274
Samsung Galaxy A3
4.241
Samsung Galaxy S6 edge
4.124
Samsung Galaxy Note5
4.09
Huawei Nexus 6P
4.019
OnePlus X
3.983
Oppo R7s
3.964
Samsung Galaxy A7 (2016)
3.918
Samsung Galaxy A5
3.895
Samsung Galaxy J7 outdoor
3.879
Samsung Galaxy J2 outdoor
3.873
Samsung Galaxy A8
3.859
Apple iPhone 6
3.838
Samsung Galaxy A9 (2016)
3.817
Motorola Moto X (2014)
3.816
Samsung Galaxy A5 (2016)
3.789
Apple iPhone 6s
3.783
Meizu Pro 5
3.781
Microsoft Lumia 650
3.772
Oppo F1 Plus
3.709
Vivo X5Pro
3.706
Apple iPhone SE
3.681
Samsung Galaxy A7
3.679
Meizu PRO 6
3.659
BlackBerry Priv
3.645
Apple iPhone 6s Plus
3.53
Acer Jade Primo
3.521
Microsoft Lumia 950
3.512
Oppo R7 Plus
3.499
Samsung Galaxy J7
3.422
Meizu MX5
3.416
Oppo R7
3.32
Xiaomi Mi 5
3.24
Samsung Galaxy J2
3.235
Sony Xperia X Performance
3.234
Motorola Moto X Play
3.222
Huawei P9
3.195
Lenovo Vibe Shot
3.113
Motorola Moto X Force
3.105
LG Nexus 5X
3.092
Huawei Mate S
3.073
Microsoft Lumia 640 XL
3.065
Apple iPhone 6 Plus
3.023
Sony Xperia X
2.989
Samsung Galaxy Note
2.97
Huawei Mate 8
2.949
LG G5
2.905
HTC One S
2.901
Sony Xperia Z5
2.876
Microsoft Lumia 550
2.851
Sony Xperia Z5 compact
2.784
LG V10
2.744
Xiaomi Redmi 3
2.735
Sony Xperia M5
2.69
Vivo V3Max
2.659
Xiaomi Mi 4i
2.641
Xiaomi Mi 4c
2.574
LeEco Le Max 2
2.567
Microsoft Lumia 640
2.563
Oppo F1
2.528
Sony Xperia Z5 Premium
2.525
Sony Xperia M4 Aqua
2.503
Motorola Moto G
2.477
Lenovo Vibe K5 Plus
2.473
Huawei G8
2.471
Sony Xperia Z
2.462
Huawei Honor 7
2.406
ZUK Z1 by Lenovo
2.382
HTC 10
2.378
Samsung Galaxy J5 (2016)
2.378
HTC One E9+
2.305
Alcatel One Touch Hero
2.272
Lenovo Vibe K4 Note
2.254
Sony Xperia C5 Ultra
2.253
Xiaomi Redmi Note 3 (MediaTek)
2.249
Sony Xperia C4 Dual
2.235
Motorola Moto G (2014)
2.233
LG Nexus 5
2.228
Huawei P8
2.196
Xiaomi Redmi Note 2
2.166
OnePlus Two
2.165
HTC One X
2.158
LG Aka
2.145
Archos 50 Diamond
2.134
Xiaomi Redmi Note
2.119
Acer Liquid X2
2.084
Huawei P8lite
2.078
Moto G 3rd gen max manual
2.026
Xiaomi Mi Max
1.996
Sony Xperia E4g
1.972
OnePlus One
1.961
Meizu m3 note
1.923
Meizu m2 note
1.892
BlackBerry Leap
1.892
HTC Butterfly
1.873
ZTE Nubia Z9 mini
1.759
Sony Xperia U
1.758
Asus Zenfone Selfie
1.68
Motorola Moto E (2nd Gen)
1.675
ZTE Nubia Z9
1.659
Jolla Jolla
1.605
Motorola Moto E
1.545
Sony Xperia M
1.473
Xiaomi Redmi 2
1.311
Sony Xperia C
1.283
Meizu MX
1.221
Sony Xperia E
1.215
Connectivity
The Xperia X Performance is well stocked on connectivity options. Our review unit is the single-SIM version (F8131 model name), but there's also a dual-SIM one (F8132). The slot in that case is of the hybrid variety though - it's either a second SIM or a microSD card - you can't have all three.
LTE Cat. 9 (450Mbps down, 50Mbps up) is an upgrade over the Xperia X's Cat6. Sony also states that signal reception has gotten 25% more stable than on the Z5 - with better call quality and data throughput at any given distance from the cell tower.
The phone also comes equipped with dual-band Wi-Fi a/b/g/n/ac with 2x2 MIMO antennas. Local connectivity goes on with Bluetooth 4.2 with aptX and Low Energy, and NFC.
The Wi-Fi connection can be used for screen casting - either via Miracast or Google Cast. If you connect a DualShock controller, the Xperia X Performance can become a portable console. It can also connect to your car's stereo system via MirrorLink.
The microUSB 2.0 port lets you charge the phone as well as hook up USB storage and accessories. You'll need to select the data transfer mode every time you connect it to a PC, as it defaults to charge only. Sony has dropped MHL support, so you have no wired way to output an image to a TV.
The Xperia X Performance has no FM radio though, which the plain Xperia X offers.
Sony Xperia X Performance battery life
The Sony Xperia X Performance is powered by a 2,700mAh battery - a modest 80mAh boost over the Xperia X. Last year's Xperia Z5 had a 2,900mAh cell, but a larger 5.2-inch display, while the Xperia Z5 Compact stood at 4.6 inches and 2,700mAh. It looks like Sony isn't too keen on putting excessively large batteries, focusing on efficiency instead.
Premium FullHD 5-inchers with top notch chipsets aren't too common anymore to make a direct comparison. The Huawei P9 has the same resolution as the X Performance, but on a marginally larger diagonal (5.2") and Huawei has fitted a 3,000mAh battery inside. The same goes for the Xiaomi Mi 5 if you round up its 5.15-inch diagonal. Then again the 5.2-inch FullHD Nexus 5X also relies on a 2,700mAh capacity.
The QHD screen resolution camp is represented by the Samsung Galaxy S7 (5.1"), the HTC 10 (5.2") and the LG G5 (5.3"), which all have similar screen sizes. The first two are powered by 3,000mAh batteries, with the G5, which has the largest screen in the group, packing the smallest battery (2,800mAh).
Capacity and screen area alone don't tell us the full story though, that's why we have our own tests. Well, we carried them out on the Xperia X Performance and the results are in.
The Xperia X Performance shows a balanced performance in all our tests with average to good results across the board. The smartphone made it just short of 21 hours on a 3G voice call, around 7 and half hours browsing the web over Wi-Fi and a little more than 8 hours in video playback. The fact that its numbers are so consistent shows that it simply could have benefited from a larger battery.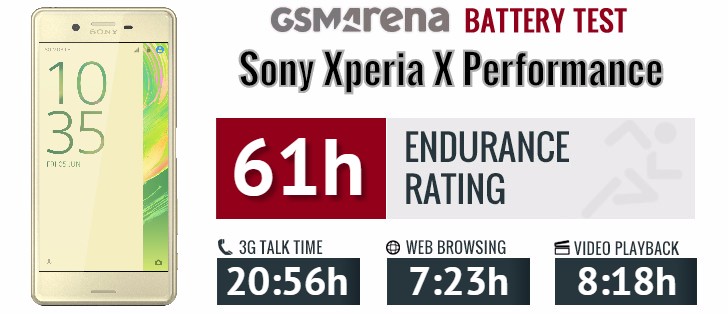 What that means is that the Xperia X Performance will last you about 2 hours less than the plain X in both screen-on tests. With the displays being identical, we'd guess the powerful Snapdragon 820 is also more power-hungry, at least more so than the S650 found in the Xperia X.
The quick flagship comparison reveals that the Xperia X Performance is tied with the HTC in voice calls, both comfortably ahead of the G5 (17:37) and the P9 (14:53h).
In the web browsing department, the Xperia X is the one that dies first, but the G5's 12 minutes more don't make a world of difference. Only the Mi 5 goes into double-digit hours (okay, well into double-digit hours at 12:50).
There is a bit more of the same for the Xperia X Performance in the video playback test, where it ends up last in the flagship short list. The Huawei P9 (8:46h) and HTC 10 (8:42) don't fare any better, and the Galaxy S7 is the clear winner here (14:50h).
On a positive note, the Xperia X Performance supports Quick Charge 2.0. Strangely, it's not the latest Quick Charge 3.0 seen on the other flagship phones with the Snapdragon 820 but perhaps the reason for that is another new technology the phone comes equipped with. The Xperia X Performance comes with the Qnovo adaptive technology for smart control of the battery charging process much like the rest of the phones in Sony's current smartphone generation.
Qnovo's technology monitors the cell's electrochemical processes in real-time, allowing for minimizing of cell damage and extending the battery lifespan. Qnovo claims the battery should last hundreds of charge cycles more than a conventionally charged battery. This means a year or two of extra longevity and if the battery ages better it will hopefully be able to hold charge better down the line (and this is potentially important for a phone that has its battery sealed).
Sony's Stamina battery saving feature also comes standard here. It has two modes: regular Stamina, and Ultra Stamina. The first disables non-essential features like GPS and vibration, and takes performance down a notch, but the Xperia does remain a smartphone.
Ultra Stamina is for absolutely dire occasions when you don't expect to be able to find a power outlet for a prolonged period of time. Enable that and it's back to basics where you get a single homescreen with access to the dialer and contacts, text messages, camera and clock.
The battery testing procedure is described in detail in case you're interested in the nitty-gritties. You can also check out our complete battery test table, where you can see how all of the smartphones we've tested will compare under your own typical use.