Unboxing the Xperia M
The Sony Xperia M comes in an old-fashioned box - big and colorful - which contains the phone itself, the battery, a compact charger and a microUSB cable. A single-piece headset is also in the bundle (though our review unit came without the full set of accessories so we didn't have one).



Sony Xperia M retail box, sans the headset
360-degree spin
The Sony Xperia M measures 124 x 62 x 9.3 mm and weighs 115g. Overall it's more compact than most Android phones we've encountered recently, though the screen bezel could've been thinner. For the sake of comparison, an iPhone 5 (also with a 4" 16:9 display) measures 123.8 x 58.6 x 7.6 mm and weighs 112g.
Design and handling
The Sony Xperia M closely follows the design guidelines of the Xperia family, without being too similar (like the Galaxy line). It has the trademark round, metal power key (the so-called OmniBalance design), slightly recessed sides of contrasting material like on the Xperia Z, an RGB light below the screen and a shutter key. The end result is one very attractive phone, despite being low on the totem pole.



Xperia M follows the OmniBalance design language
The front holds the 4" LCD screen, surrounded by relatively big bezels (especially top and bottom, considering there are no physical buttons). Even so, the Xperia M is not a large device.
The back has a slight curve like Xperias of the Sony Ericsson era. It's made of plastic that wraps around the sides of the phone, giving it a nice unibody impression, but is actually removable so you can access the battery and the card slots.
Another plus about the back is the material - it's a matte plastic with a soft touch finish, making it very pleasant to the touch and fingerprint-resistsant (but can be a bit hard to clean once it inevitably gets smudgy in the end).
It all culminates in a great in-hand feel for the Xperia M - it's small and fits easily in the hand, the materials are pleasant and it's pretty light. At 9.3mm it's not the thinnest phone around but slips very easily into pockets and, again considering its price tag, the M is very well proportioned having an overall impression of a pricier phone.
Display
The Sony Xperia M has a 4" LCD display of FWVGA resolution (480 x 854). That makes it relatively sharp at 245ppi. It's protected by a scratch-resistant glass of undisclosed make.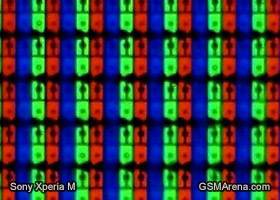 Sony Xperia M display under a microscope
Color rendering looks okay, but the white balance is on the cold side meaning there is a subtle bluish tint. Typical for Sony smartphones, viewing angles are not impressive at all, with a visible loss of contrast and even a color shift when you are not looking at the phone head on.


4" LCD screen with FWVGA resolution
While the overall image quality is okay, the biggest problem with the display is that it's not very bright. We kept it at almost full brightness most of the time.
Display test
50% brightness
100% brightness
Black, cd/m2
White, cd/m2
Contrast ratio
Black, cd/m2
White, cd/m2
Contrast ratio
Samsung Galaxy Core
0.29
236
811
0.51
430
842
Sony Xperia M
0.17
150
865
0.57
569
983
HTC One mini
0.15
177
1197
0.50
685
1361
HTC Desire 600
0.18
200
1106
0.46
532
1161
Samsung Galaxy S4 mini
0
166
∞
0
396
∞
Samsung I9505 Galaxy S4
0
201
∞
0
404
∞
Oppo Find 5
0.17
176
1123
0.51
565
1107
Samsung N7100 Galaxy Note II
0
215
∞
0
402
∞
LG Optimus G Pro
-
-
-
0.41
611
1489
Nokia Lumia 920
-
-
-
0.48
513
1065
LG Optimus G
0.14
197
1445
0.33
417
1438
Nexus 4
0.22
314
1447
0.45
608
1341
Samsung I9300 Galaxy S III
0
174
∞
0
330
∞
Apple iPhone 5
0.13
200
1490
0.48
640
1320
The front display glass is quite reflective too, making the screen hard to read in the sunlight.
Sunlight contrast ratio
Nokia 808 PureView
4.698
Apple iPhone 5
3.997
Samsung I9300 Galaxy S III
3.419
Nokia Lumia 925
3.402
Samsung I9505 Galaxy S4
3.352
Samsung Omnia W
3.301
Samsung Galaxy S
3.155
Samsung Galaxy S4 mini
3.127
Samsung Galaxy S4 zoom
3.118
Nokia N9
3.069
Samsung Galaxy Note
2.970
HTC One S
2.901
Samsung Galaxy S II
2.832
Samsung Galaxy S II Plus
2.801
Huawei Ascend P1
2.655
Sony Xperia ZR
2.672
Nokia Lumia 900
2.562
Nokia Lumia 720
2.512
HTC One
2.504
Sony Xperia Z
2.462
Samsung Galaxy S III mini
2.422
Motorola RAZR i
2.366
Samsung Galaxy Note II
2.307
Apple iPhone 4S
2.269
HTC Desire 600 dual sim
2.262
HTC One X
2.158
Nokia N8
2.144
Oppo Find 5
2.088
BlackBerry Z10
2.051
Apple iPhone 4
2.016
HTC One mini
2.003
Sony Ericsson Xperia ray
1.955
Samsung Galaxy Camera
1.938
HTC Butterfly
1.873
Huawei Ascend P6
1.865
Sony Xperia V
1.792
Sony Xperia U
1.758
LG Optimus 4X HD
1.691
HTC One V
1.685
BlackBerry Q5
1.682
LG Optimus Vu
1.680
LG Optimus GJ
1.666
HTC Desire V
1.646
Samsung Galaxy Core
1.563
LG Optimus G Pro
1.552
LG Optimus 3D
1.542
Nokia Asha 302
1.537
Sony Xperia M
1.473
Nokia Lumia 610
1.432
Gigabyte GSmart G1355
1.361
HTC Desire C
1.300
Nokia Asha 501
1.270
LG Optimus L7
1.269
LG Optimus L9
1.227
Meizu MX
1.221
Sony Xperia E dual
1.203
Samsung Galaxy Pocket
1.180
Sony Xperia tipo
1.166
Samsung Galaxy mini 2
1.114