Purebred Xperia launcher on top of Nougat
The Xperia L1 is running Android 7.0 Nougat at launch - not quite the latest 7.1.1, but still more recent than the majority of its competitors. And you'd be hard-pressed to tell the difference between the different Nougat releases anyway, so we won't be deducting any points here.
Sony's customizations are consistent between devices and OS versions, so if you ever owned an Xperia smartphone you will feel right at home. And if you haven't, chances are that you will like what Sony has done with the place.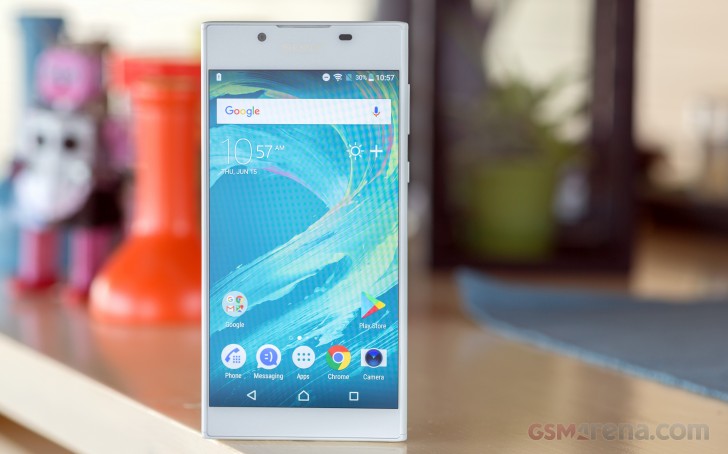 Smart Lock gives you conditional security - trusted nearby devices, locations, faces, or voices can allow you to skip the security unlock protocol that you have set up on the phone.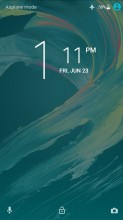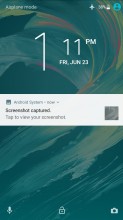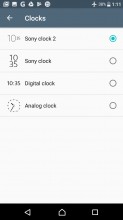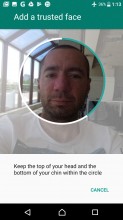 Lockscreen • A notification • Clock styles • Smart lock with face detection
The homescreen offers a cool feature: on swiping down it shows a screen of the apps you use the most, along with recommendations for new apps to install. The search field is selected so that you can start typing the app's name immediately.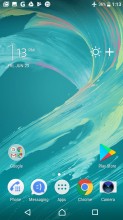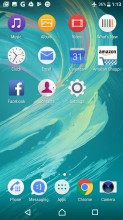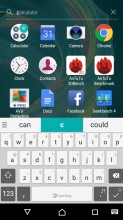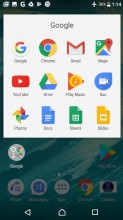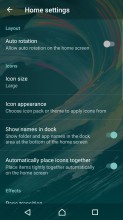 Homescreen • Homescreen • App search and suggestions • Folder view • Homescreen settings
The traditional app drawer is present, and you'll find a number of proprietary apps pre-installed. Sony takes great pride in the A/V prowess of their devices, and the multimedia apps are all custom and feature-rich. We'll visit them more thoroughly in their dedicated section.
The app drawer can be sorted by frequency of use, name, date installed, or a custom arrangement. The app search works here too, and you can go into a management state which allows you to uninstall multiple apps instead of having to drag each one to a virtual waste bin.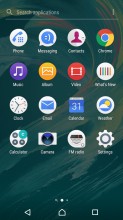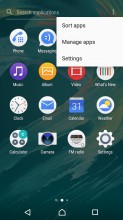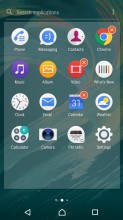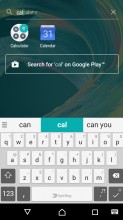 App drawer • Sorting options • App management • App search
Themes are available (both free and paid) that can customize the look and sound of the Xperia L1. Some themes are even interactive, with their wallpapers reacting to your touch.
The notification area features rearrangable quick toggles and a brightness slider. What's missing is a toggle for Auto brightness- you still need to go into the settings for that.
The app switcher is vanilla Android, with the familiar 3D rolodex look and a Close-All button. The native Nougat multi-window is present; in Sony's implementation, if a running app supports split screen, you will be able to snap it at the top or bottom of the screen right from the rolodex. It's easy to use the split screen mode, but there is no way to know which apps support it - you have to start the app first and then try to snap it.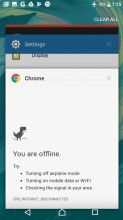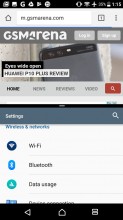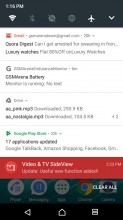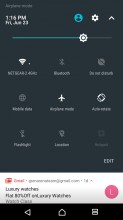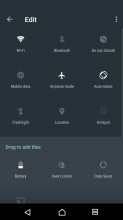 No-nonsense task switcher • Split screen apps • Notification area is vanilla Android • No auto brightness toggle
The Smart cleaner feature will periodically close apps you haven't used in a while. You can switch this off, or just manually tell it not to mess with certain apps.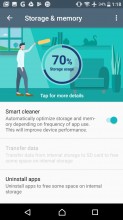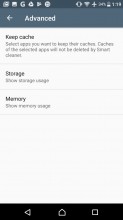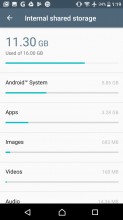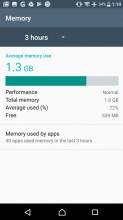 Smart cleaner frees up memory of both kinds
Sony has a proprietary backup solution built-in on its latest Xperias. It can back up applications, contacts, messages, and phone settings. The backup info itself can be stored in the cloud under your Sony online account, or locally on the microSD card or an external USB device. Backups can be scheduled, including conditions like "Connected to Wi-Fi" and "Charging device", depending on your preferences.