Album gallery
The Sony Xperia L comes with the custom Sony gallery, called Album. Images are organized into stacks of thumbnails and sorted by date. You can opt to show all of your albums in one place, and there are three tabs above the stacks - Pictures, Map and Online.
Pictures is the main tab and one of its features managed to impress us: you can use pinch gestures to make the image thumbnails bigger or smaller. The whole thing is super responsive and hundreds of thumbs fall in and out of differently sized grids in a nifty animation.
Map reminds us of the iOS gallery, where all geotagged pictures are shown on a world map.
The Online tab displays pictures from Google Picasa and Facebook. You have options to tag, like and comment on Facebook photos much like you did in the previous Xperia Gallery.
Images can be cropped or rotated directly in the gallery. Quick sharing via Picasa, Email apps, Facebook, Bluetooth or MMS is also enabled.
Finally, the LED strip below the display lights up with different color (similar with the image on the screen) every time you scroll through the pictures.
Eye-candy video player, plays everything but struggles with AC3
The video player is dubbed Movies and it too has a new interface. It's connected to Gracenote, which helps you find additional information about the movies you have preloaded.
The Xperia L did a great job with almost any file type and video codec we threw at it, including DivX and XviD. The only exceptions were MKV files and videos using the AC3 audio support - videos with this audio codec played but returned no sound whatsoever.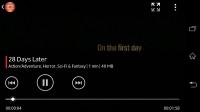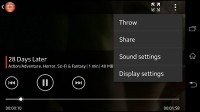 Watching a video on the Xperia V
Walkman music player
The Walkman music player we saw in Sony Xperia smartphones from the second half of 2012 is also on board. It offers the same cool interface as before, but this time it has more options for sound enhancement.
The Walkman is divided into Playing and My music panels. In the My music section, you can update your album art and music information like album, year released, and more. SensMe is included, meaning you can filter your songs by mood - upbeat, energetic, mellow, dance, etc. Creating playlists is enabled and you can also view your Facebook friends' activity if they too use the Walkman player.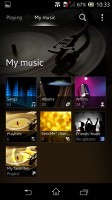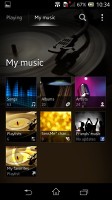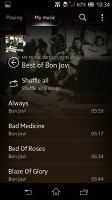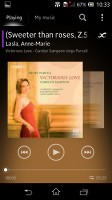 The music player is decent looking and snappy
The Now Playing screen offers the standard music controls, shortcuts to the library, "Infinity" key and the song cover art. The Infinity key lets you quickly look up a song on YouTube or browse for the lyrics, among others.
Sony has improved on the Walkman player's settings. There's a new ClearAudio+ option, which determines the best audio quality settings depending on the song you're listening to. We liked how it changed the music when listening on the pre-bundled Sony headset.
There's Surround sound mode, which imitates the Studio, Club or Concert Hall experience. The Clear stereo mode enhances the perceivable stereo channel separation.
Speaker settings include Clear Phase, which adjusts the quality, while xLOUD enhances the loudness of the internal speaker.
And audio fans will be pleased as there is a configurable 5-band equalizer with bass adjustment. However dedicated audiophiles might want to consider alternatives off the Play Store, with support for a 10 or even 20-band equalizer.
There are music controls on the lockscreen. Swiping them to either side brings back the clock. The notification area also offers the now playing screen with music controls and the option to jump into the Walkman player.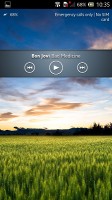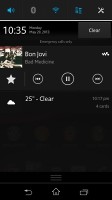 Music player controls on the lockscreen and notification area
The Sony Xperia L also features an FM Radio aboard complete with RDS support. The app automatically seeks and bookmarks stations in range, although you'll need to have a set of headphones attached to use as an antenna.
Google's own music player called Play Music is on board as well. It went through a major UI overhaul and is now snappier and more beautiful. It features the spanking New Listen Now feature which tries to determine what you like and the sequence of your track-changing so that it can start offering you music you might like to play next.
The Now Playing screen uses the song album art and gives you a quick shortcut to the rest of the artist's songs along with the play controls.
Solid audio output
The Sony Xperia L performed excellently in the first part of our traditional audio quality test and was about on par with the mid-range Xperia SP and even high-flying Xperia Z. The smartphone got great scores all over, and if it wasn't for its below-average volume levels, it would have been pretty great.
There's some degradation when you plug in a pair of headphones, but things certainly aren't too bad. The stereo crosstalk rises notably and some distortion creeps in. Volume levels remain pretty low, but the overall performance is still quite good.
And here go the results so you can see for yourselves.
| | | | | | | |
| --- | --- | --- | --- | --- | --- | --- |
| Test | Frequency response | Noise level | Dynamic range | THD | IMD + Noise | Stereo crosstalk |
| Sony Xperia L | +0.11, -0.10 | -87.0 | 87.1 | 0.0085 | 0.047 | -88.0 |
| Sony Xperia L (headphones attached) | +0.58, -0.12 | -86.7 | 86.8 | 0.010 | 0.169 | -58.5 |
| Sony Xperia SP | +0.11, -0.10 | -86.9 | 89.2 | 0.059 | 0.047 | -88.3 |
| Sony Xperia SP (headphones attached) | +0.38, -0.16 | -86.7 | 88.9 | 0.107 | 0.232 | -55.8 |
| Sony Xperia Z | +0.11, -0.10 | -81.9 | 82.1 | 0.043 | 0.041 | -81.3 |
| Sony Xperia Z (headphones attached) | +0.62, -0.09 | -81.7 | 81.5 | 0.204 | 0.249 | -56.4 |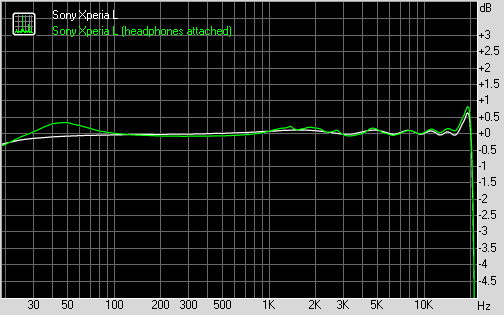 Sony Xperia L frequency response
You can learn more about the whole testing process here.