Display
There's a 4.3" FWVGA (480 x 854) LCD on the Sony Xperia L, and no budget for Mobile BRAVIA. It's the same resolution as what the Xperia U has, but with the size increased by nearly an inch, the pixel density has dropped to just 228 ppi. It's clearly not the best you can get, but overall, the screen is reasonable for the price.
Brightness is adequate and the contrast looks good even without the Bravia engine optimizations - the colors look punchy and, all things considered, the screen is less likely to disappoint you than that of the flagship Xperia Z.
Display test
50% brightness
100% brightness
Black, cd/m2
White, cd/m2
Contrast ratio
Black, cd/m2
White, cd/m2
Contrast ratio
Sony Xperia L
0.30
321
1085
0.50
542
1077
Sony Xperia ZL
-
-
-
0.44
575
1294
Sony Xperia Z
-
-
-
0.70
492
705
HTC One
0.13
205
1580
0.42
647
1541
HTC Butterfly
0.14
173
1200
0.45
501
1104
Samsung I9505 Galaxy S4
0
201
∞
0
404
∞
Oppo Find 5
0.17
176
1123
0.51
565
1107
Samsung N7100 Galaxy Note II
0
215
∞
0
402
∞
LG Optimus G Pro
-
-
-
0.41
611
1489
Nokia Lumia 920
-
-
-
0.48
513
1065
LG Optimus G
0.14
197
1445
0.33
417
1438
Apple iPhone 5
0.13
200
1490
0.48
640
1320
Using the Sony Xperia L in bright outdoor conditions isn't the best experience. The glass on top of the display is reflective and the brightness isn't really enough to make up for it, so finding a proper angle for working with the Xperia L can be a bit tricky at times.
Sunlight contrast ratio
Nokia 808 PureView
4.698
Apple iPhone 5
3.997
Samsung I9300 Galaxy S III
3.419
Samsung Galaxy S4
3.352
Samsung Omnia W
3.301
Samsung Galaxy S
3.155
Nokia N9
3.069
Samsung Galaxy Note
2.970
HTC One S
2.901
Samsung Galaxy S II
2.832
Samsung Galaxy S II Plus
2.801
Huawei Ascend P1
2.655
Nokia Lumia 900
2.562
HTC One
2.504
Sony Xperia Z
2.462
Samsung Galaxy S III mini
2.422
Motorola RAZR i
2.366
Sony Xperia ZL
2.352
Samsung Galaxy Note II
2.307
Apple iPhone 4S
2.269
HTC One X
2.158
Nokia N8
2.144
Oppo Find 5
2.088
BlackBerry Z10
2.051
Apple iPhone 4
2.016
Sony Ericsson Xperia ray
1.955
Samsung Galaxy Camera
1.938
HTC Butterfly
1.873
Sony Xperia V
1.792
Sony Xperia U
1.758
LG Optimus 4X HD
1.691
HTC One V
1.685
LG Optimus Vu
1.680
HTC Desire V
1.646
LG Optimus G Pro
1.552
LG Optimus 3D
1.542
Nokia Asha 302
1.537
Nokia Lumia 610
1.432
Gigabyte GSmart G1355
1.361
Sony Xperia L
1.351
HTC Desire C
1.300
LG Optimus L7
1.269
LG Optimus L9
1.227
Meizu MX
1.221
Sony Xperia E dual
1.203
Samsung Galaxy Pocket
1.180
Sony Xperia tipo
1.166
Samsung Galaxy mini 2
1.114
You can find all about our display testing routines here.
Controls
The prominent power button is a signature Sony accent that makes an appearance on the Xperia L as well. But the control that makes an even stronger statement is the hardware shutter key. The 8MP camera is central to the marketing of the Xperia L and Sony is genuinely trying to deliver the complete imaging experience. We tend to agree that a proper shutter key, half-press and all, is an important part of that.
So, all the physical buttons on the Xperia L are on the phone's right side: volume rocker at the top, the power/lock key not far below and the camera key near the bottom. A long press of the shutter key unlocks the screen and launches the camera.
The left side of the Sony Xperia L is where the microUSB port is.
The 3.5 mm headphone jack is centrally placed at the top of the Xperia L and there's a secondary noise-cancellation microphone right above the camera lens.
At the bottom we find nothing but a lanyard eyelet.
Undoing the back panel is a bit tricky as you need to undo the top part and pop the phone out of its wrap. The risk of breaking the panel is minimal but it's still worth the caution.
The NFC transmitter is integrated within the back panel, under which we find the SIM card slot, microSD card slot and the 1750 mAh Li-Ion battery. You'll need to remove the battery to get to the SIM compartment.
The Sony Xperia L scored an endurance rating of 39 hours, meaning an hour of calls, video playback and web browsing a day will require you to recharge every 39 hours or so. You can check out the detailed breakdown here.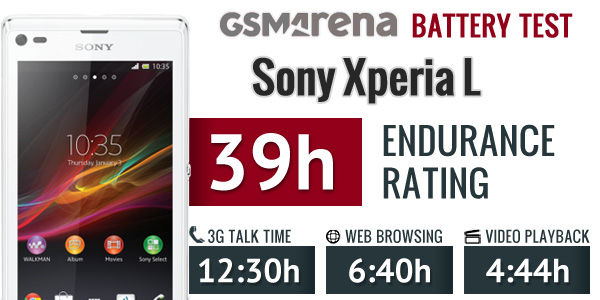 Sony Xperia L battery test