Let me take a selfie
Sony Xperia C3 and C3 Dual review: Let me take a selfie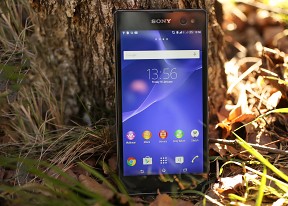 Display
The Sony Xperia C3 flaunts a 5.5" IPS Triluminos display of 720p resolution, which works out to 267ppi. While this is nowhere near the 400+ pixel density of current flagships, the C3 is in an entirely different price range.


Sony Xperia C3 5.3" IPS display
The Xperia C3's display is enhanced by Sony's Mobile BRAVIA 2 engine. It aims to improve sharpness, reduce noise, while boosting contrast and saturation, and it does a pretty good job of it.
The Triluminous display tech means expanded color gamut with supposedly more vivid reds and natural-looking greens and blues.
The pixel arrangement is standard RGB with an equal amount of green, red and blue pixels in line.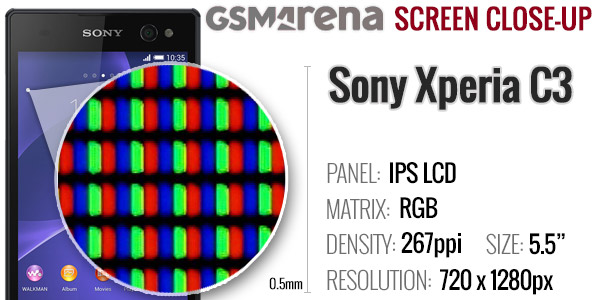 The screen contrast and brightness are very good, and so is color reproduction, all adding up to excellent image quality.
The viewing angles, thanks to the IPS matrix, are better than average. There is no significant loss of contrast or color washing when you look the screen at an angle, though there is noticeable color shift from some directions.
Display test
50% brightness
100% brightness
Black, cd/m2
White, cd/m2
Contrast ratio
Black, cd/m2
White, cd/m2
Contrast ratio
Sony Xperia C3 Dual
0.13
152
1207
0.56
642
1153
Sony Xperia T3
-
-
-
0.82
790
963
Xiaomi Redmi Note
0.3
305
1001
0.52
536
1016
HTC Desire 816
0.15
164
1087
0.46
478
1032
Lenovo Vibe X2
0.16
188
1196
0.38
447
1188
Nokia Lumia 820
0
260
∞
0
422
∞
Samsung I9190 Galaxy S4 mini
0
166
∞
0
396
∞
Nokia Lumia 720
-
-
-
0.69
813
1172
Using the Sony Xperia C3 outdoors in the brief but bright winter daylight turned out quite a trouble-free experience. It isn't among the best we've seen, but it does well indeed.
Sunlight contrast ratio
Nokia 808 PureView
4.698
Samsung Galaxy Note 4
4.033
Samsung Galaxy Note 3
3.997
Apple iPhone 5
3.997
Apple iPhone 6
3.838
Samsung Galaxy Note Edge
3.799
Oppo R5
3.678
Samsung Galaxy K zoom
3.675
Nokia Lumia 930
3.567
Apple iPhone 5s
3.565
Samsung Galaxy S5
3.549
Nokia Lumia 735
3.547
Alcatel Idol X+
3.527
Apple iPhone 5c
3.512
Samsung Galaxy Alpha
3.509
Samsung Galaxy Note 3 Neo
3.487
Motorola RAZR MAXX
3.42
Samsung I9300 Galaxy S III
3.419
Samsung Galaxy S5 Active
3.406
Nokia Lumia 925
3.402
Gionee Elife S5.5
3.386
Samsung I9505 Galaxy S4
3.352
Samsung Omnia W
3.301
Samsung Galaxy S5 mini
3.174
Samsung I9000 Galaxy S
3.155
Samsung Ativ S
3.129
Samsung I9190 Galaxy S4 mini
3.127
Samsung Galaxy S4 zoom
3.118
Nokia N9
3.069
Apple iPhone 6 Plus
3.023
Samsung Galaxy Note
2.97
Samsung Galaxy Premier
2.958
Sony Xperia Z1
2.95
HTC One S
2.901
Samsung I8730 Galaxy Express
2.861
BlackBerry Q10
2.856
Samsung I9100 Galaxy S II
2.832
HTC Desire Eye
2.815
Gionee Elife S5.1
2.812
Samsung Galaxy S II Plus
2.801
BlackBerry Z30
2.79
Meizu MX4 Pro
2.765
Sony Xperia ZR
2.672
Huawei Ascend P1
2.655
Sony Xperia Z3
2.618
Sony Xperia Z3 Compact
2.616
Sony Xperia T3
2.609
BlackBerry Passport
2.595
Nokia Lumia 900
2.562
Motorola Moto G 4G
2.546
HTC One Max
2.537
Nokia Lumia 720
2.512
HTC One
2.504
Motorola Moto G
2.477
Sony Xperia Z
2.462
Xiaomi Mi 4
2.424
Samsung Galaxy S III mini
2.422
Lenovo Vibe Z2 Pro
2.416
LG G Flex
2.407
HTC One (M8)
2.371
Motorola RAZR i
2.366
Meizu MX4
2.366
Sony Xperia ZL
2.352
Samsung Galaxy Note II
2.307
HTC One (M8) for Windows
2.291
Oppo Find 7a
2.279
Alcatel One Touch Hero
2.272
Apple iPhone 4S
2.269
HTC Desire 600 dual sim
2.262
Nokia Asha 311
2.25
LG Nexus 5
2.228
Nokia Lumia 820
2.193
HTC One (E8)
2.185
Oppo N3
2.181
Nokia Lumia 920
2.17
HTC One X
2.158
Nokia N8
2.144
Nokia Lumia 620
2.142
Nokia 515
2.134
HTC Desire 500
2.129
Sony Xperia C3 Dual
2.12
Sony Xperia acro S
2.119
Xiaomi Redmi Note
2.119
Nokia Lumia 1020
2.103
Oppo Find 5
2.088
Sony Xperia SL
2.078
Nokia Lumia 630
2.056
BlackBerry Z10
2.051
Huawei Ascend Mate7
2.024
Samsung I9295 Galaxy S4 Active
2.022
Apple iPhone 4
2.016
HTC One mini
2.003
Xiaomi Mi 3
2.001
Huawei Ascend P7
1.992
LG G2
1.976
OnePlus One
1.961
Oppo R819
1.957
Sony Ericsson Xperia ray
1.955
Lenovo Vibe X2
1.952
Sony Xperia Z2
1.944
Sony Xperia E3
1.943
Nokia Lumia 1320
1.941
HTC One mini 2
1.94
Samsung Galaxy Camera
1.938
Samsung Galaxy Grand Prime
1.935
Sony Xperia J
1.932
Acer CloudMobile S500
1.931
LG Nexus 4
1.926
LG G Pro 2
1.922
Samsung Galaxy Mega 6.3
1.913
Nokia Asha 308
1.911
HTC Butterfly 2
1.905
Sony Xperia T
1.894
Nokia Lumia 830
1.887
HTC Desire X
1.878
HTC Butterfly
1.873
HTC Windows Phone 8X
1.873
HTC Butterfly S
1.867
Huawei Ascend P6
1.865
Huawei Ascend Mate
1.845
LG G2 mini
1.838
LG G3
1.82
Nokia Lumia 1520
1.813
HTC Desire 616 dual sim
1.797
Sony Xperia V
1.792
HTC Desire 816
1.783
Sony Xperia Z1 Compact
1.772
HTC Desire 700 dual sim
1.769
Sony Xperia U
1.758
Meizu MX3
1.754
LG Optimus G
1.753
Sony Xperia T2 Ultra
1.74
Sony Xperia Z3 Tablet Compact
1.735
Sony Xperia SP
1.733
LG Optimus 4X HD
1.691
Oppo Find 7
1.691
HTC One V
1.685
BlackBerry Q5
1.682
LG Optimus Vu
1.68
Xiaomi Mi Pad 7.9
1.672
LG Optimus GJ
1.666
LG Optimus 3D Max
1.658
HTC Desire V
1.646
Samsung Galaxy Xcover 2
1.632
Samsung Galaxy Ace 3
1.622
Jolla Jolla
1.605
Sony Xperia Z Ultra
1.578
Sony Xperia go
1.577
Samsung Galaxy Ace 2 I8160
1.566
Samsung Galaxy Core
1.563
LG Optimus G Pro
1.552
Motorola Moto E
1.545
LG Optimus 3D
1.542
Nokia Asha 302
1.537
Samsung Galaxy Core Prime
1.507
BlackBerry Curve 9320
1.488
Sony Xperia M
1.473
Oppo N1
1.47
Meizu MX 4-core
1.462
Nokia Lumia 610
1.432
Samsung Galaxy S Duos
1.4
Sony Xperia M2
1.393
Samsung Galaxy Grand Neo
1.393
Microsoft Lumia 535
1.393
Samsung Galaxy Grand 2
1.38
Sony Xperia E1
1.372
Nokia Lumia 625
1.371
Gigabyte GSmart G1355
1.361
Sony Xperia L
1.351
Xiaomi Redmi 1S
1.35
Samsung Galaxy Mega 5.8
1.35
HTC Desire 510
1.34
Sony Xperia M2 Aqua
1.331
Sony Xperia miro
1.324
Samsung I9082 Galaxy Grand
1.321
Samsung I8530 Galaxy Beam
1.315
HTC Desire C
1.3
Nokia X
1.291
Sony Xperia C
1.283
Nokia Asha 503
1.281
Nokia Asha 501
1.27
LG Optimus L7
1.269
Nokia Lumia 510
1.268
Samsung Galaxy Fame
1.245
LG Optimus L9
1.227
Meizu MX
1.221
Samsung Galaxy Young
1.22
Sony Xperia E
1.215
Nokia XL
1.204
Sony Xperia E dual
1.203
Asus Memo Pad 7 ME176C
1.198
Samsung Galaxy Pocket
1.18
Nokia Asha 305
1.178
Nokia Asha 306
1.175
Sony Xperia neo L
1.169
Sony Xperia tipo
1.166
Nokia Lumia 520
1.161
Samsung S6802 Galaxy Ace Duos
1.148
Samsung Galaxy mini 2
1.114
Battery
Sony has put a 2,500mAh battery inside the Xperia C3 Dual. We ran our battery test routine with the battery-saving STAMINA mode off. The handset scored 91 hours, which means you can count on just shy of 4 days if you do an hour each of talk-time, web browsing and playing video per day.
We re-ran our battery test with just a single SIM card to test the singe-SIM Xperia C3 battery endurance - and the result it managed was also 91 hours. The standby endurance was very close to what we've measured with two active SIM cards that it wasn't enough to make an impact on our final endurance rating.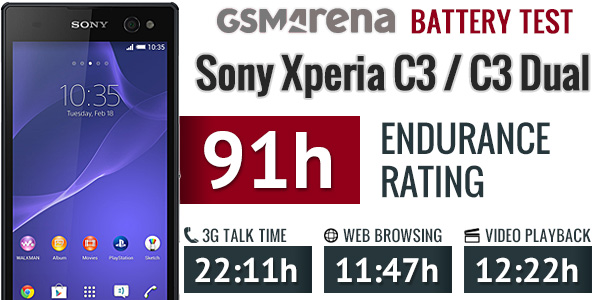 The Power Saver - now part of the settings menu - helps you extend your battery life by toggling things like Wi-Fi, GPS, Bluetooth screen brightness, auto sync and background data on and off automatically, as soon as the battery charge falls below a certain user-defined threshold. You can also choose to automatically turn Wi-Fi off if there is no known Wi-Fi network in range or switch off mobile data when the screen is off, and more.
Our proprietary score also includes a standby battery draw test, which is not featured in our battery test scorecard but is calculated in the total endurance rating. Our battery testing procedure is described in detail in case you want to learn more about it.
Connectivity
The Sony Xperia C3 comes in single and dual SIM flavors. Both models offer quad-band GSM/GPRS/EDGE support. LTE is the single SIM model's key strength and comes in penta-band options. The Dual SIM model only has 3G on SIM1, SIM2 is GSM/EDGE-capable only.
Contrary to what advertisements claim, our Xperia C3 dual lacked the promised dual-call support. The phone only supported dual stand-by. While you are in a call on one of the SIM cards, the other one is inaccessible for incoming calls. You can setup the phone to forward calls from the inaccessible card to the active one, but that's not Dual Call functionality. We certainly hope it's a regional thing and not a malfunction or anything.
The rest of the connectivity features include single-band Wi-Fi b/g/n and Wi-Fi Direct. There is also support for Bluetooth 4.0, GPS and GLONASS, plus an FM radio with RDS.
There is also NFC connectivity with support for Android Beam for sending files to other Android devices. There's no IR port, though.
The ultra-low power ANT+ connectivity protocol handles connections to various sports accessories such as heart rate monitors or bicycle speed & cadence meters.
There is a microUSB 2.0 port for charging and data connections. Media transfer mode is supported for accessing the phone's built-in memory and microSD card over the USB cable.
The microUSB 2.0 port can also be used in On-the-go mode for connecting USB peripherals such as keyboards or USB flash drives.
The microUSB port doesn't have any TV-out functionality, but if you own a compatible HDTV, you can output your phone's screen wirelessly via the Miracast protocol or Sony's Xperia Connectivity Throw option. The app allows you to share your media through DLNA by creating a media server and connect to a PlayStation DUALSHOCK 3 (or 4) wireless controller.