Unique 4K 120Hz HDR10 OLED panel
The Sony Xperia 1 V relies on a display we've already experienced on the Xperia 1 IV, 1 III and Pro-I, one that still feels ahead of its time. The 6.5-inch OLED panel on the Xperia 1 V has a 4K resolution in 21:9 aspect ratio, 3,840 x 1,644 px or 643ppi to be specific. And, of course, it's a screen without any cutouts!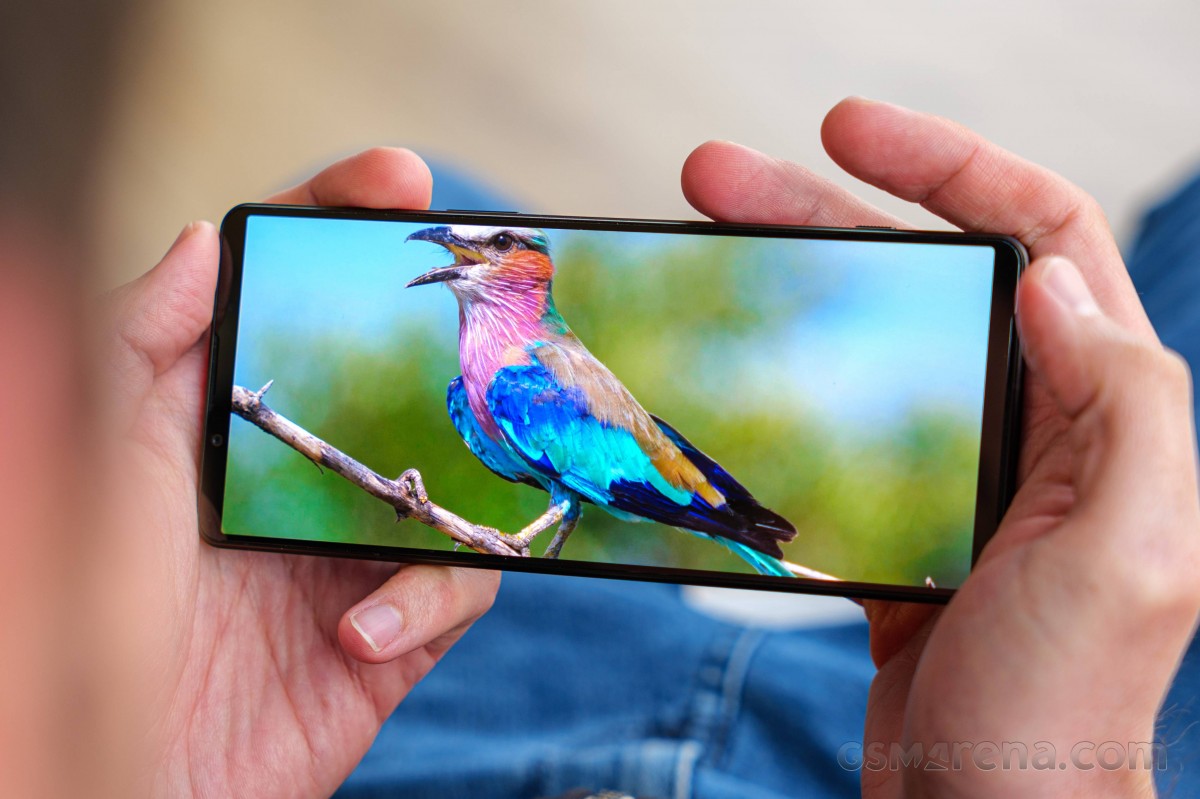 Just like on the previous models, the 4K resolution is not always active - that would be both a battery and app compatibility nightmare. Instead, the Xperia 1 V is rendering most of the content at extended Full HD resolution (2,560 x 1,096 px). The full 4K resolution is used primarily in multimedia apps such as Photos and video playback/streaming across different services.
The OLED panel supports 10-bit color depth and a wide color gamut. It is also HDR10 certified.
The screen also supports a 120Hz refresh rate, but it doesn't go easy on the battery. When enabled, the phone uses 120Hz most of the time and reverts back to 60Hz only for video playback and incompatible apps (like the camera apps, Google Maps, etc.).
We've completed our display tests, and the numbers are great.
The screen can be as bright as 866 nits with the sunlight auto brightness boost, or about 590 nits when manually controlling the brightness.
The Creator mode allows for a minor brightness boost, specifically in the default (Medium) White Balance option. Here we captured 936 nits of maximum automatic and 640 nits of maximum manual brightness.
The minimum brightness at point white was just 1.9 nit - an excellent one.
Max display brightness test
White test pattern, 75% fill (nits)
Sort by
Manual mode
Auto mode
iPhone 14 Pro Max

1760

828

Oppo Find X6 Pro

1318

803

Galaxy S23 Ultra

1274

517

Xiaomi 13 Pro

1253

527

Xiaomi 13 Ultra

1207

492

Huawei P60 Pro

1135

582

Sony Xperia 1 V (Creator)

936

640

Sony Xperia 1 V

866

589

Sony Xperia 1 III

620

354

Sony Xperia 1 IV

N/A

602

Sony Xperia 1 IV (Creator)

N/A

600
Color accuracy
The Xperia 1 V offers plenty of color settings.
The first one is 'Image quality' - it lets you pick between Creator and Standard modes, while further tweaking is possible in the 'White balance' section - options include Warm/Medium/Cool presets, custom color temperature, as well as RGB sliders for extra granular tweaking.
Creator mode is intended for 4K resolution in HDR with BT2020 color gamut with 10-bit color. This is the mode you should use when working with such content, and it will provide a faithful presentation of colors. And indeed, we captured great color accuracy here.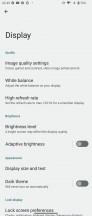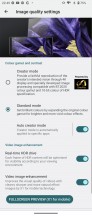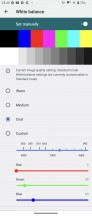 Display options • Image Quality • White Balance
Meanwhile, Standard mode (the out-of-the-box setting), delivers a punchier output that doesn't necessarily aim for accuracy. It is still fairly accurate, though the white and gray hues are bluish, and the blue colors are punchier. That is because the Standard Mode uses Cool white balance by default, changing it to Medium or Warm will remove the blue tinge.
There's an option for auto Creator mode engagement in Standard mode, so that phone can switch accordingly when presented with compatible content.
Refresh rate
There is only one refresh rate option - enabled or disabled. When active, the display will always use a 120Hz refresh rate, even when showing a static picture. The usual exceptions like Google Maps, video playback, and the camera viewfinder apply, of course.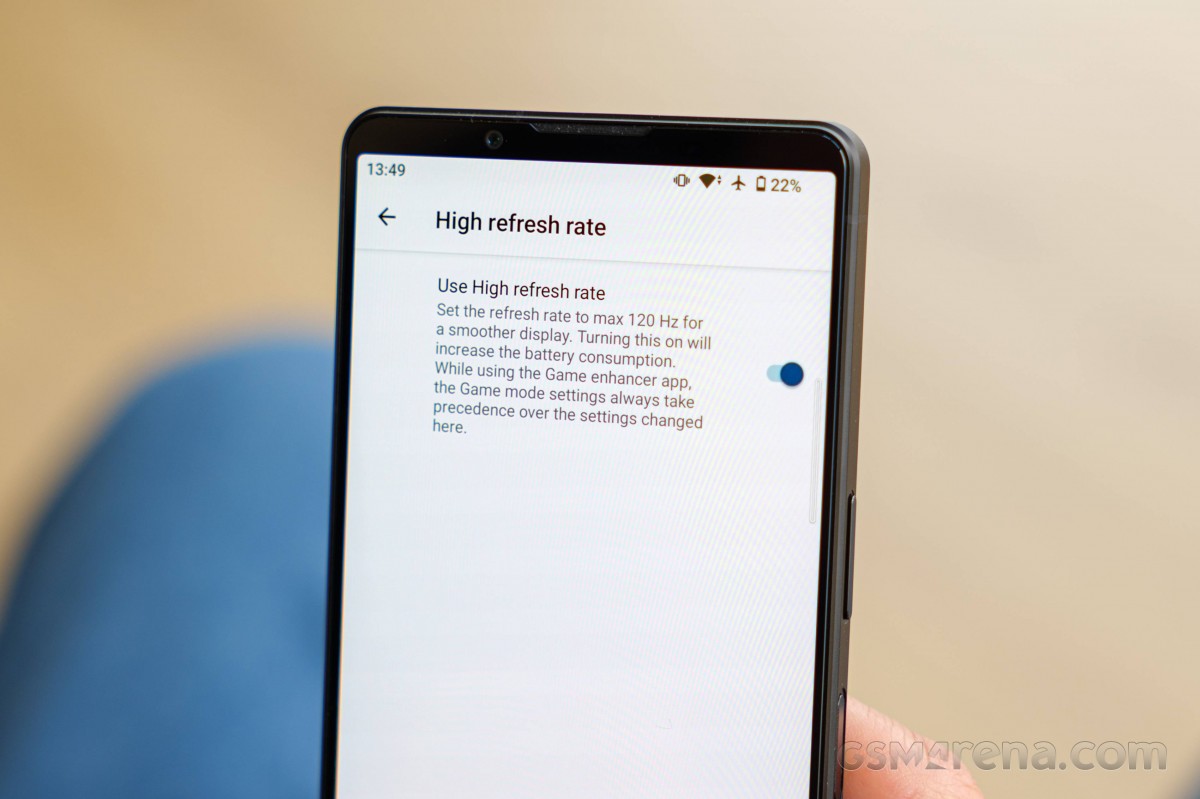 Sony is way behind the competition when handling the refresh rate behavior, and we are sad to see it has passed yet another year without any sort of improvement.
But on a positive note, Sony has improved the Xperia 1 V thermals, and we no longer noticed display throttling as on the Xperia 1 IV. When 120Hz was selected, the screen remained at 120Hz even after long benchmark testing.
Game Enhancer
Games have their own way of handling the refresh rate. From the Game Enhancer app, you can switch the refresh rate for the display to 120Hz for titles that can go above 60fps - it's at 60Hz by default. You can also force it to 120Hz regardless of whether you know for a fact that the game itself supports a higher frame rate - just to be sure. That's done on a per-game basis.
While using Game Enhancer, you may notice there is a 240Hz option, too. Sony calls this blur reduction, and it uses frame interpolation to reduce blur when using 120Hz mode, and 120Hz is supported by the game.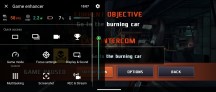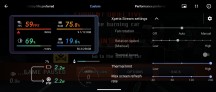 Game Enhancer refresh rate settings
HDR and streaming
The Sony Xperia 1 V OLED has the ideal screen for movie streaming - 21:9 aspect ratio, 1B colors, HDR10, 4K resolution. Dolby Vision is not supported, unfortunately.
Netflix has yet to support the Xperia 1 V, and it offers 1080p SDR streaming, but don't forget the Xperia 1 V is not out for at least another month.
YouTube and Prime Video do recognize the screen as 4K HDR10 and offer streaming in such high-resolution.
Finally, there is this option in Image Quality Settings called Video Image Enhancement (X1 for Mobile). This is enabled by default, and it improves the quality of videos via Sony's proprietary X1 engine.
There is also support for a real-time HDR drive, which analyzes HDR videos frame by frame and applies the proper tone curve.
Haptic feedback
We just want to dedicate a few words to the screen's haptic feedback - it's one of the best we've used, with lovely haptics you can feel at the exact spot where you've tapped.
Dynamic Vibration is supported, too, which syncs with your audio/video, but we've never been fans of the feature.
Battery life
The Sony Xperia 1 V is powered by a 5,000mAh battery, just like the one inside the Xperia 1 IV.
The Sony Xperia 1 V aced our battery life test and posted an outstanding endurance rating of 115 hours. It did marvelously on the call, web and video tests.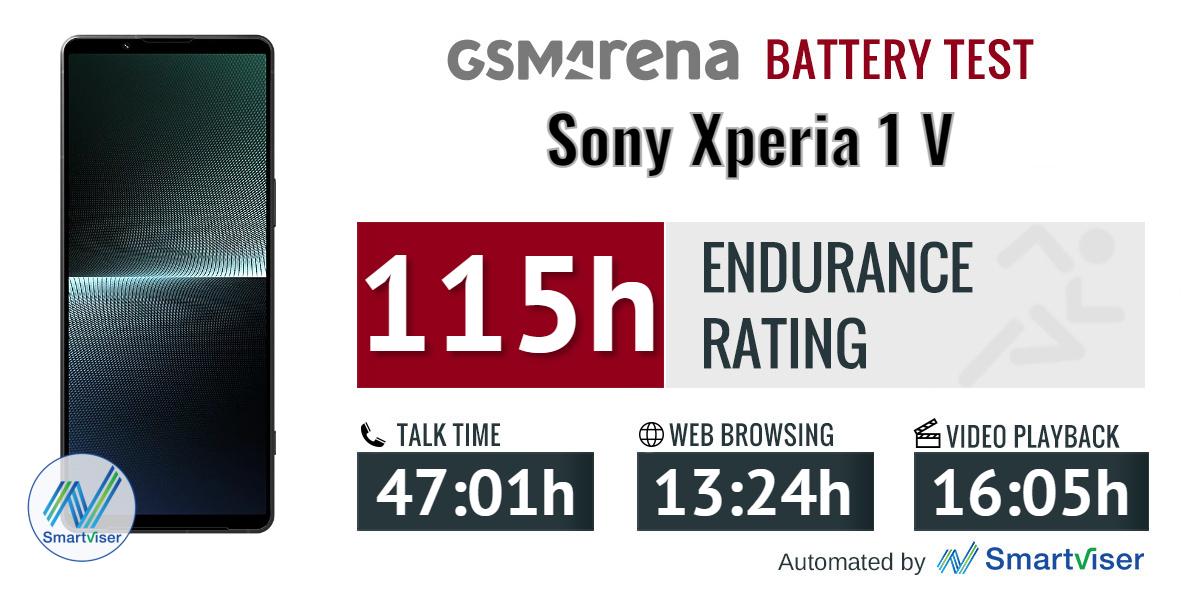 Our battery tests were automated thanks to SmartViser, using its viSerDevice app. The endurance rating denotes how long the battery charge will last you if you use the device for an hour of telephony, web browsing, and video playback daily. More details can be found here.
The standby power consumption is on par with the previous Xperia 1 IV model - meaning quite frugal and above average performance.
Video test carried out in 60Hz refresh rate mode. Web browsing test done at the display's highest refresh rate whenever possible. Refer to the respective reviews for specifics. To adjust the endurance rating formula to match your own usage patterns check out our all-time battery test results chart where you can also find all phones we've tested.
Charging speed
The Sony Xperia 1 V supports 30W fast wired charging, and there is also support for wireless and reverse wireless charging.
The Xperia 1 V ships with no charger and no cable. If you don't own a Power Delivery charger, Sony will happily sell you its own 30W XQZ-UC1 PD charger/cable bundle. You can also get any third-party charger that supports at least 30W USB Power Delivery, of course.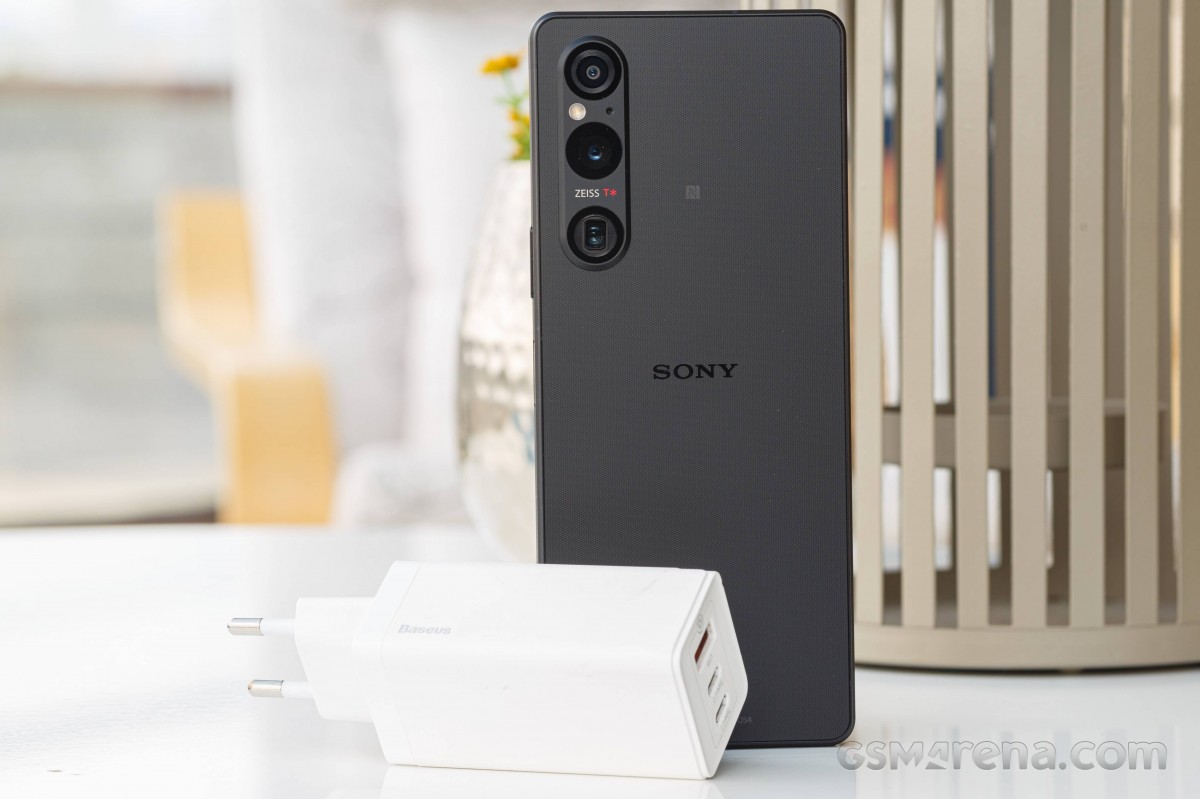 Sony is advertising 50% charge in half an hour when using a compatible 30W power adapter.
We have completed our charging test with a 65W Baseus charger with a dedicated 30W USB-C port.
Starting from 0% the Xperia 1 V recharged up to 27% on the said charger. And we captured 50% charger on the 30 min mark, exactly as promised.
15min/30min charging test (from 0%)
Higher is better
Sort by
15 min time
30 min time
Xiaomi 13 Pro

100%

81%

vivo X90 Pro

100%

79%

OnePlus 11

100%

77%

Oppo Find X6 Pro

100%

64%

Huawei P60 Pro

95%

58%

Xiaomi 13 Ultra

91%

58%

Huawei P50 Pro

73%

42%

Galaxy S23 Ultra (45W)

68%

40%

Sony Xperia 1 V

50%

27%

iPhone 14 Pro Max

48%

27%
* Tap/hover over the device names for more info
A full charge took 97 minutes, but you should know that the charging process slows significantly after the 80% marker (which took exactly 60 minutes to reach).
Time to full charge (from 0%)
Lower is better
| | |
| --- | --- |
| Xiaomi 13 Pro | 0:22h |
| OnePlus 11 | 0:22h |
| vivo X90 Pro | 0:24h |
| Oppo Find X6 Pro | 0:30h |
| Huawei P60 Pro | 0:35h |
| Xiaomi 13 Ultra | 0:40h |
| Huawei P50 Pro | 0:50h |
| Galaxy S23 Ultra (45W) | 0:59h |
| Sony Xperia 1 V | 1:37h |
| iPhone 14 Pro Max | 1:52h |
* Tap/hover over the device names for more info
Sony is advertising the battery inside the Xperia 1 V as capable of lasting for three years in peak condition before you start seeing and feeling traces of deterioration in the battery life performance. This means it will retain above 80% of its usable capacity for those three years.
The Battery Care option as part of the Battery settings will allow you to further extend your battery lifespan. You can either rely on the Auto process or set the time and percentage charging limits by yourself.
And the Battery Share option is what enables reverse wireless charging. You can set % for the remaining charge and time limits here, too.
Speaker loudness and quality
Sony has been famous for its stereo speaker setups, and the Xperia 1 V brings one of those iconic front-facing combos just like the previous models. Those appear to be of equal size and of perfect balance.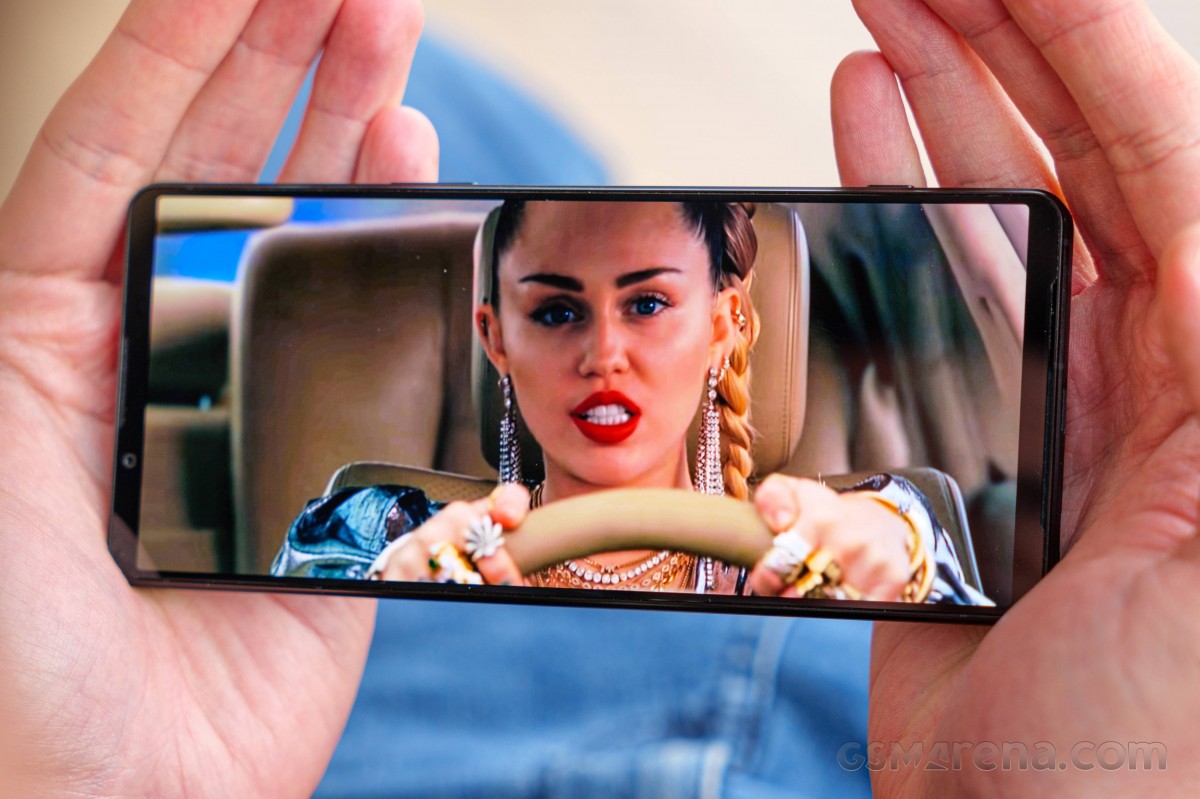 There has been an improvement since the Xperia 1 IV - a new amplifier is at play here, and it should offer a fuller sound with more bass.
Let's talk about the audio options first.
The Xperia 1 V speakers support Dolby Atmos, and it makes for a bit louder and richer sound. We tested it both ways, and we can confirm the Dolby Atmos output is better, and you should keep this feature ON.
The Sony Xperia 1 V also supports 360 Reality Audio for immersive sound. It works with headphones; you can fully personalize your experience and manually pick the apps it should be working with.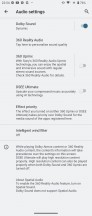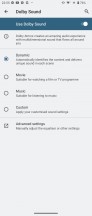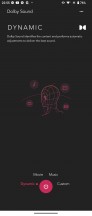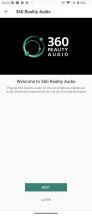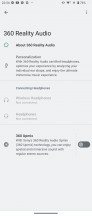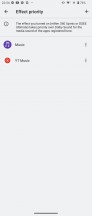 Audio options • Dolby Atmos • Dolby Atmos • 360 Reality Audio
There are other cool options like DSEE Ultimate audio uplifting - this uses AI technology to upscale your compressed music. An intelligent wind filter for the microphones is available, too. And there is Spatial Audio support right out of the box.
We've completed our loudness test, and the Xperia 1 V speakers scored a Very Good mark (Good without Dolby Atmos). We can confirm the audio is nicely loud at 100%, and the sound is incredibly rich - from bass, voice, all the way to the higher frequencies. But don't just take our word for it; grab a pair of headphones and listen to the sample below.
Use the Playback controls to listen to the phone sample recordings (best use headphones). We measure the average loudness of the speakers in LUFS. A lower absolute value means a louder sound. A look at the frequency response chart will tell you how far off the ideal "0db" flat line is the reproduction of the bass, treble, and mid frequencies. You can add more phones to compare how they differ. The scores and ratings are not comparable with our older loudspeaker test. Learn more about how we test here.