Android 11, Xperia style
The Xperia 1 III boots Android 11, and as is customary for Sonys, the user interface has a very stock feel. Looking deeper, though, there are several touches from Sony that add extra functionality.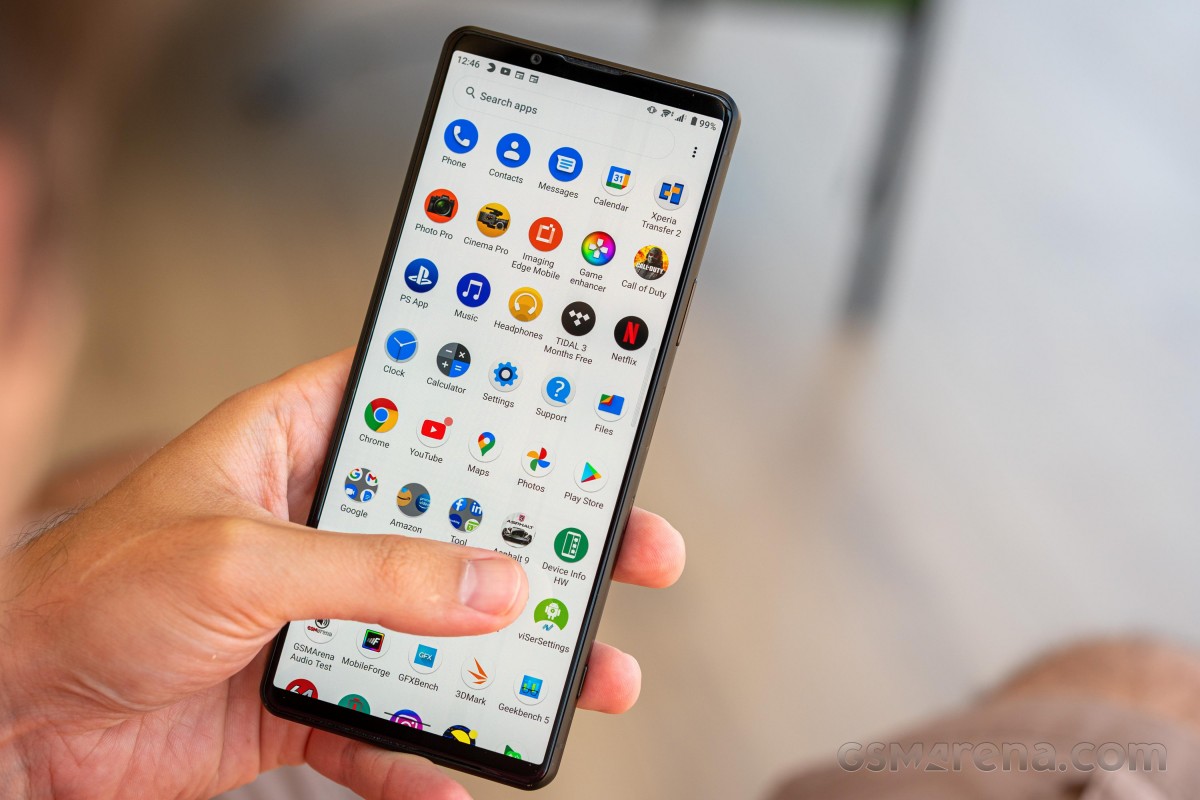 Starting with some of the basics, there's an Always-on display feature (AOD) with a limited set of customization options. The lockscreen is business as usual with a clock (that you can customize), a shortcut to the camera and another one for Google Assistant (a bit redundant when there's a hardware key for that already).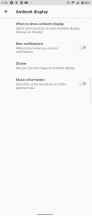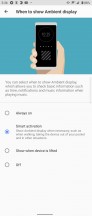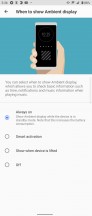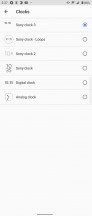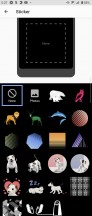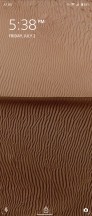 Always on display • Lockscreen
The homescreen, too, is as standard as they come. The Google feed is the leftmost pane, but you can disable it if it's not your thing. The quick toggles/notification area is Google's stock too. With this version of Android, you get Notification history and the Bubbles shortcuts as part of the Conversations features - both available on the Xperia, unlike some more heavily customized UIs.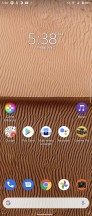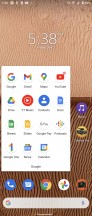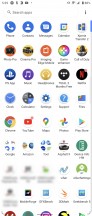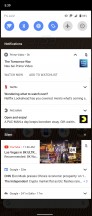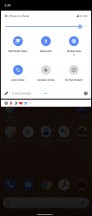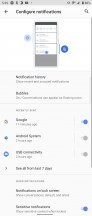 Homescreen • Folder view • App drawer • Notification shade • Quick toggles • Notification settings
This brings us to one of the Sony exclusives, already available on the previous generation, the Multi-window switch. Split-screen multi-window implementation is one of the bits Google changes most often, but the current one has stuck for a couple of years, and it's a really clunky one, so Sony intervened.
You access Multi-window switch from the task switcher or from the dedicated shortcut icon on the homescreen, and you get sort of like two stacked task switcher rolodexes with your currently opened apps to pick one for the top half and one for the bottom half of the screen. The rightmost pane in each half lets you launch another app, not just pick from the already running ones. The phone remembers three previously used pairs so you can access them directly, though we couldn't find a way to save custom app pair presets. It's worth mentioning that the window split can be done in almost any arbitrary ratio, not just 50/50.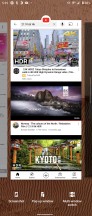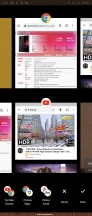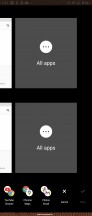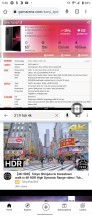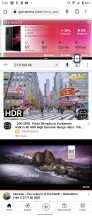 Task switcher • Multi-window switcher
Side sense is another of the in-house Sony features. A bar shortcut on either side of the phone opens up a menu of shortcuts to apps and features, most of them user-configurable. The 21:9 multi-window pairs can be customized here, but they don't go into the three pair shortcuts in the regular task switcher. A new addition to the menu a widget to control the Sony headphones app - handy if you have Sony headphones.
There's a fairly standard set of gestures for call handling, as well as a one-handed mode and smart backlight control. It's in this menu that you'll find the navigation options with the two basic types available - gestures or a navbar.
Missing on the midrange Xperia 10 III, Sony's Game Enhancer is part of the 1 III's software package. It's a comprehensive utility for dealing with.. well, games, and comprises of two interfaces - a game hub/launcher, and an overlay you pull out from the side while in a game.
Performance profiles (or Game Mode) can be set on a per-game basis, and it's in here that you get to set the screen refresh rate and lock it at 120Hz regardless of whether the game supports it (though, obviously, it would make sense on the games that do). Additional sliders let you select Touch response speed and touch tracking accuracy.
H.S. power control is the setting that deals with power management, and it won't charge the battery but will only essentially meet your current power consumption to avoid unnecessary heat generation - H.S. stands for Heat Suppression.
The Focus settings is an array of toggles that let you disable pesky notifications, turn off adaptive brightness, disable the camera button and the side sense functionality - limit distractions.
There are also screenshot and video capture features.
Synthetic benchmarks
The Xperia 1 III is powered by the Snapdragon 888 - no surprises there. Qualcomm's current top-level chipset comes with tons of raw power in both the CPU and graphics departments and has a built-in 5G modem, plus all the efficiency benefits of the 5nm manufacturing process.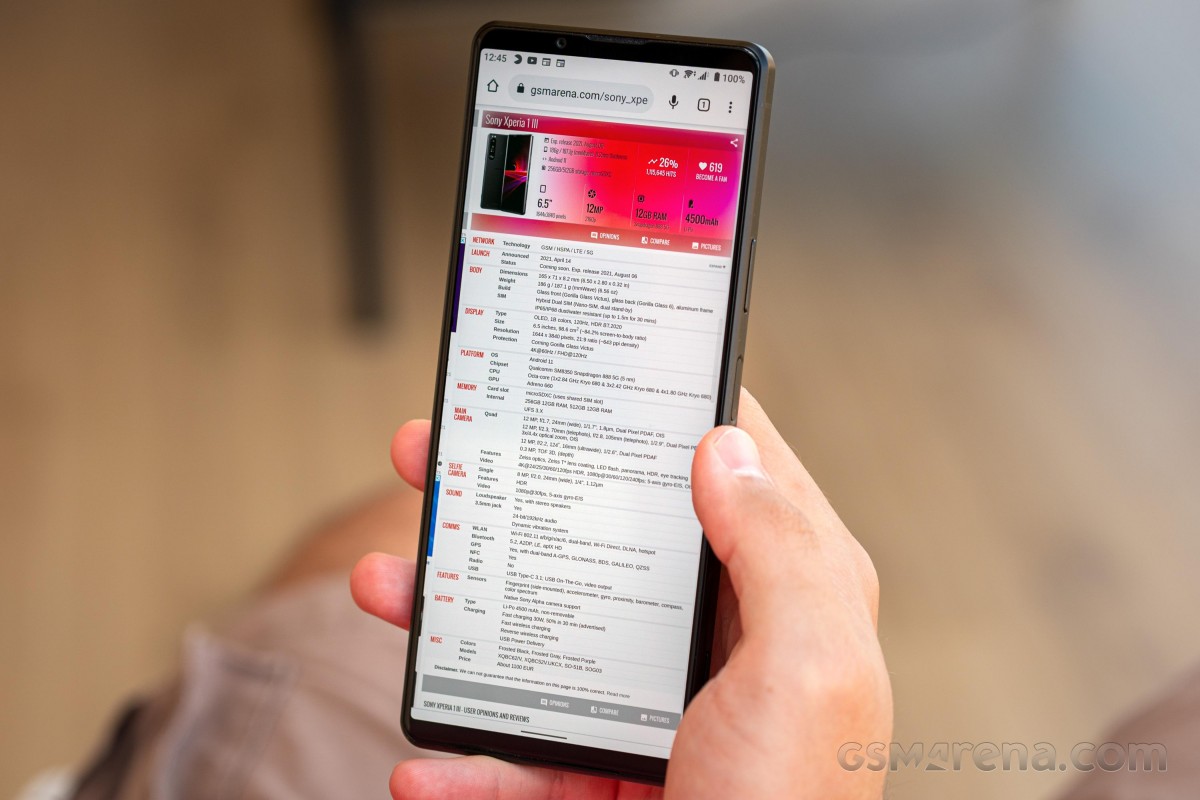 Having said that, the Xperia 1 III put out low to average results, with the notable exception of single-core GeekBench, where it was towards the top of the chart.
GeekBench 5 (multi-core)
Higher is better
vivo X60 Pro+
3749
Huawei Mate 40 Pro (perf. mode)
3704
Asus Zenfone 8 Flip
3673
OnePlus 9 Pro
3636
ZTE Axon 30 Ultra 5G
3582
Galaxy S21 Ultra 5G
3518
Sony Xperia 1 III
3515
Xiaomi Mi 11
3489
Galaxy S21+ 5G
3476
Sony Xperia 1 II
3318
Oppo Find X3 Pro
3316
Huawei Mate 40 Pro
3275
Galaxy S21 Ultra 5G (Snapdragon)
3244
Xiaomi Mi 11 Ultra
3191
GeekBench 5 (single-core)
Higher is better
vivo X60 Pro+
1143
Sony Xperia 1 III
1130
OnePlus 9 Pro
1126
Xiaomi Mi 11 Ultra
1126
Asus Zenfone 8 Flip
1126
ZTE Axon 30 Ultra 5G
1124
Galaxy S21 Ultra 5G (Snapdragon)
1109
Galaxy S21 Ultra 5G
1107
Galaxy S21+ 5G
1091
Xiaomi Mi 11
1085
Huawei Mate 40 Pro (perf. mode)
1020
Oppo Find X3 Pro
926
Huawei Mate 40 Pro
920
Sony Xperia 1 II
897
Antutu didn't show the Xperia 1 III in the best possible light, with both v8 and v9 of the benchmark placing it at the bottom of the current pack of flagships.
AnTuTu 8
Higher is better
vivo X60 Pro+
734811
ZTE Axon 30 Ultra 5G
703270
OnePlus 9 Pro
691055
Xiaomi Mi 11 Ultra
688720
Huawei Mate 40 Pro (perf. mode)
686835
Asus Zenfone 8 Flip
675851
Xiaomi Mi 11
668722
Galaxy S21 Ultra 5G (Snapdragon)
657273
Galaxy S21 Ultra 5G
657150
Oppo Find X3 Pro
656467
Galaxy S21+ 5G
622276
Sony Xperia 1 III
607423
Sony Xperia 1 II
534701
Huawei Mate 40 Pro
531270
AnTuTu 9
Higher is better
vivo X60 Pro+
836826
ZTE Axon 30 Ultra 5G
804626
Asus Zenfone 8 Flip
797484
Xiaomi Mi 11 Ultra
794016
Sony Xperia 1 III
749132
Graphics benchmarks treat the Xperia a bit more favorably thanks in part to the 1080p resolution which the phone renders onscreen benchmarks in. The Xperia even manages to snach a narrow victory in the 3DMark Wild Life benchmark.
GFX Manhattan ES 3.1 (offscreen 1080p)
Higher is better
OnePlus 9 Pro
119
vivo X60 Pro+
119
Asus Zenfone 8 Flip
118
ZTE Axon 30 Ultra 5G
118
Xiaomi Mi 11 Ultra
116
Oppo Find X3 Pro
113
Sony Xperia 1 III
111
Xiaomi Mi 11
111
Galaxy S21+ 5G
111
Galaxy S21 Ultra 5G (Snapdragon)
109
Galaxy S21 Ultra 5G
107
Huawei Mate 40 Pro
97
Sony Xperia 1 II
84
GFX Manhattan ES 3.1 (onscreen)
Higher is better
vivo X60 Pro+
105
Asus Zenfone 8 Flip
104
Galaxy S21+ 5G
100
ZTE Axon 30 Ultra 5G
93
Sony Xperia 1 III
91
Huawei Mate 40 Pro
64
Xiaomi Mi 11 Ultra
60
Sony Xperia 1 II
59
Galaxy S21 Ultra 5G (Snapdragon)
58
Galaxy S21 Ultra 5G
58
Xiaomi Mi 11
57
OnePlus 9 Pro
57
Oppo Find X3 Pro
55
GFX Car Chase ES 3.1 (offscreen 1080p)
Higher is better
vivo X60 Pro+
71
OnePlus 9 Pro
70
Oppo Find X3 Pro
70
Xiaomi Mi 11 Ultra
69
Asus Zenfone 8 Flip
69
ZTE Axon 30 Ultra 5G
69
Sony Xperia 1 III
68
Xiaomi Mi 11
67
Galaxy S21 Ultra 5G (Snapdragon)
66
Galaxy S21+ 5G
66
Galaxy S21 Ultra 5G
64
Huawei Mate 40 Pro
56
Sony Xperia 1 II
51
GFX Car Chase ES 3.1 (onscreen)
Higher is better
vivo X60 Pro+
62
Asus Zenfone 8 Flip
62
Sony Xperia 1 III
54
ZTE Axon 30 Ultra 5G
54
Galaxy S21+ 5G
54
Sony Xperia 1 II
39
OnePlus 9 Pro
36
Xiaomi Mi 11 Ultra
34
Galaxy S21 Ultra 5G (Snapdragon)
33
Xiaomi Mi 11
33
Oppo Find X3 Pro
33
Galaxy S21 Ultra 5G
33
Huawei Mate 40 Pro
25
GFX Aztek Vulkan High (onscreen)
Higher is better
Asus Zenfone 8 Flip
45
vivo X60 Pro+
44
ZTE Axon 30 Ultra 5G
41
Galaxy S21+ 5G
37
OnePlus 9 Pro
27
Galaxy S21 Ultra 5G (Snapdragon)
25
Xiaomi Mi 11 Ultra
25
Sony Xperia 1 III
24
Xiaomi Mi 11
24
Galaxy S21 Ultra 5G
23
Sony Xperia 1 II
20
Huawei Mate 40 Pro
17
GFX Aztek ES 3.1 High (onscreen)
Higher is better
vivo X60 Pro+
43
Galaxy S21+ 5G
43
Asus Zenfone 8 Flip
41
ZTE Axon 30 Ultra 5G
39
Sony Xperia 1 III
36
Sony Xperia 1 II
27
Huawei Mate 40 Pro
26
OnePlus 9 Pro
24
Galaxy S21 Ultra 5G
24
Galaxy S21 Ultra 5G (Snapdragon)
23
Xiaomi Mi 11 Ultra
23
Xiaomi Mi 11
22
3DMark Wild Life Vulkan 1.1 (offscreen 1440p)
Higher is better
Huawei Mate 40 Pro
6170
Sony Xperia 1 III
5807
Galaxy S21+ 5G
5757
ZTE Axon 30 Ultra 5G
5714
OnePlus 9 Pro
5701
vivo X60 Pro+
5695
Galaxy S21 Ultra 5G
5691
Asus Zenfone 8 Flip
5677
Xiaomi Mi 11 Ultra
5676
Xiaomi Mi 11
5673
Oppo Find X3 Pro
5653
Galaxy S21 Ultra 5G (Snapdragon)
5547
These numbers you see above are obtained on the first benchmark runs on a cool phone. However, scores drop rapidly with repeated runs and drop pretty badly - by 20%, even 25%, in Antutu. We ran a couple of throttling/stability tests only to confirm the significant decline in performance under sustained load.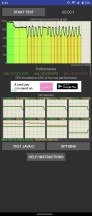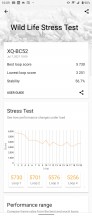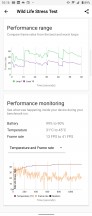 CPU throttling test • 3DMark Wild Life stress test
The phone also heats up to uncomfortable levels - that's good in a way because it means heat is being dissipated, but it's apparently not being dissipated efficiently enough. All in all, the Xperia 1 III's performance leaves us wanting.