4K vs HRR, which is better?
The Sony Xperia 1 II is equipped with a 6.5-inch OLED display and is the only current big-name smartphone with a 4K resolution panel. Its particular flavor of 4K has a 3840x1644px resolution in a 21:9 aspect ratio making for a 643ppi density - the highest by a huge margin.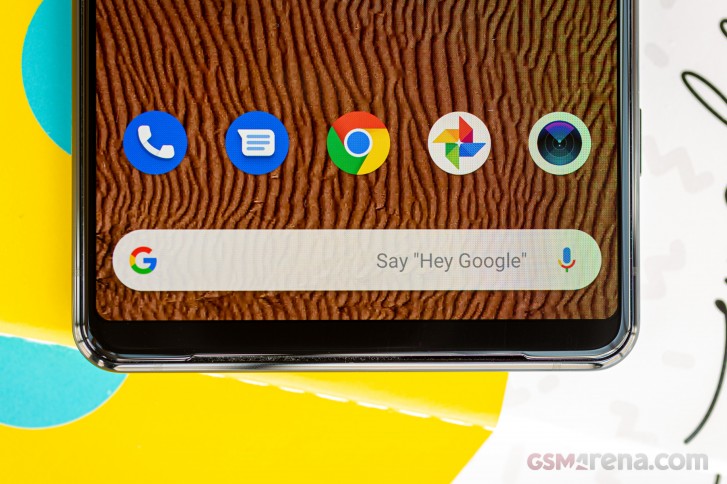 One major omission on the latest Sony is a high refresh rate which is currently one of the most trendy features when it comes to display specs. The Xperia 1 II remains at 60Hz in a marketplace saturated with 90Hz and 120Hz displays. While the practical benefits of an HRR display are debatable, not to mention some people just can't appreciate the difference, those of us who can and do will find the Xperia lacking in this respect.
Sony does include a Motion blur reduction feature, which they say reduces the time needed for pixels to switch from an off to on state, thus potentially improving the tearing effect on fast moving objects - as per their press materials. We can't say we saw any appreciable difference with the feature turned on and it's certainly in no way a replacement for a high refresh rate panel.
Anyways, we measured a brightness of 333nits on the Xperia 1 II when adjusting the slider manually all the way to the right, with a bump to 540-ish nits under direct light with Adaptive brightness enabled. That's for the Standard display mode, which comes preset out of the box.
Switching to Creator mode, those values got bumped some 10% to 373nits and 611nits respectively. Update: To better reflect this behavior, we've updated the brightness table with these max numbers.
In any case, Sony has apparently dialed back the maximum brightness compared to the previous generation. A bunch of competitors can push out more than 800nits in auto mode with only the P40 Pro and the Motorola Edge+ still left in the Xperia's ballpark. None of them has the 4K resolution, for what it's worth.
Back on the Xperia 1, the phone would only boost its brightness to the 665nits we have in the table in the proprietary Album and Video apps but not within the testing software. We figured we'd check how that works on the Xperia 1 II, only to discover there are no proprietary Album and Video apps on the Xperia 1 II. Okay then, how about Google Photos? Nope, same values.
Display test
100% brightness
Black,cd/m2
White,cd/m2
Contrast ratio
Sony Xperia 1 II
0
333
∞
Sony Xperia 1 II (Max Auto, Creator mode)
0
611
∞
Motorola Edge
0
416
∞
Motorola Edge (Max Auto)
0
595
∞
Huawei Mate 30 Pro
0
464
∞
Huawei Mate 30 Pro (Max Auto)
0.028
683
24393:1
vivo NEX 3
0
415
∞
vivo NEX 3 (Max Auto)
0
610
∞
Samsung Galaxy S20+
0
379
∞
Samsung Galaxy S20+ (Max Auto)
0
797
∞
Oppo Find X2 Pro
0
536
∞
Oppo Find X2 Pro (Max Auto)
0
871
∞
Oppo Find X2
0
518
∞
Oppo Find X2 (Max Auto)
0
850
∞
Xiaomi Mi 10 Pro
0
510
∞
Xiaomi Mi 10 Pro (Max Auto)
0
858
∞
Huawei P40 Pro
0
425
∞
Huawei P40 Pro (Max Auto)
0
531
∞
OnePlus 8 Pro
0
538
∞
OnePlus 8 Pro (Max Auto)
0
888
∞
vivo iQOO 3 5G
0
518
∞
vivo iQOO 3 5G (Max Auto)
0
848
∞
LG V60 ThinQ 5G
0
511
∞
LG V60 ThinQ 5G (Max Auto)
0
622
∞
We touched upon Standard and Creator modes and let's try and clarify what's what. Creator mode is the one that is designed for a wide color gamut and should faithfully reproduce content in the BT.2020 color space. It's the mode you want for displaying HDR videos too.
Standard mode, the default one out of the box, is more frivolous with colors and will expand the color gamut of otherwise plain content to make for a more vivid reproduction. There's an 'Auto Creator mode' option for Standard mode, which will engage Creator mode when it detects an app that should best be viewed that way such as Netflix. You can't just pick any app, the phone will offer you a selection of apps it deems Creator mode worthy.
That's one level of color settings, but there's another one. Outside of the two main modes, you also get a White balance menu, where you can pick between Warm, Medium and Cool settings, a Custom slider with white point adjustment between 5000K and 9300K, as well as separate RGB sliders.
The white point adjustment is not really intended for regular use. Most users will be happy with the default setting, Sony has added the other options for professional users who will like to match the screen's white point to that of their professional printer so they can see how graphics or photos look before printing.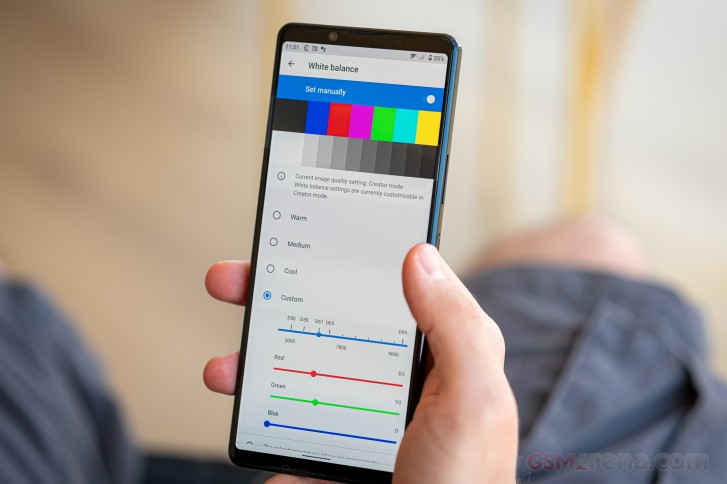 We're happy to share that Creator mode with white point set at the D61 gave us very accurate results for our sRGB test sequence - an average deltaE of 2.0 and spot-on whites.As for the DCI-P3 color space, our testing software can't trigger Creator mode to switch to wide color gamut, so the results for the DCI-P3 test swatches are not representative of real life use. We've been told by Sony that apps that do need the P3 color space can, in fact, activate the correct mode.
Our best shot at the DCI-P3 color space came from Standard mode, D61, where we got an average deltaE of 3.0 and once again very accurate white point.
So if you are after absolute color accuracy, you are free to choose your preferred Display mode based on the color space your content comes in.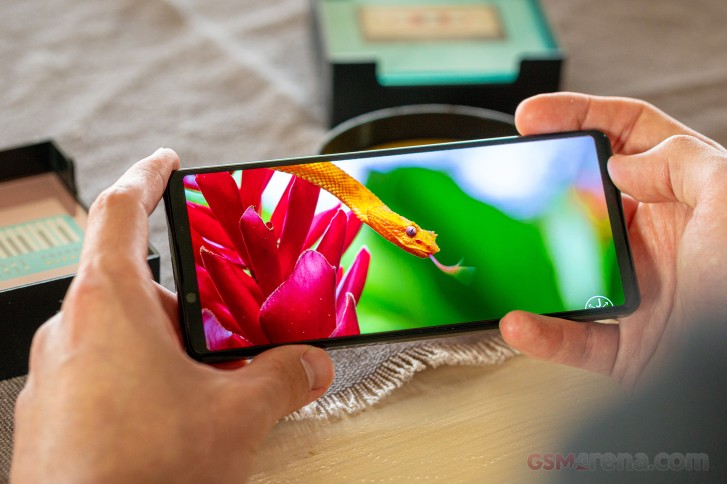 We were able to play HDR content from all major sources like Netflix, Amazon Prime Video and YouTube. Netflix in particular served HDR10 but was capped at 1080p, and we were expecting 4K. We did get the UHD resolution on the Xperia 1 back when we reviewed it, though it's limited to FullHD now as well.
As for Amazon Prime, that remained in 720p.
YouTube, on the other hand, could go all the way up to 4K60, though the phone continued to report it's rendering in 2560x1096px. Odd. It's not inconceivable that all of these peculiarities get addressed by a firmware update or app updates from the respective vendors in time for the actual market launch. We'll be sure to check and update you if there are new developments on this front.
Sony Xperia 1 II battery life
The Sony Xperia 1 II has gotten a battery upgrade compared to the previous generation. Even so, with a 4,000mAh powerpack inside it's on the low end of the spectrum on today's flagship scene. The Huawei P40 Pro is the next lowest capacity at 4,200mAh, the Find X2 Pro's battery is marginally bigger at 4,260mAh, while the Mi 10 Pro and OnePlus 8 Pro are in the 4,500mAh ballpark. Admittedly, most of these have bigger displays, high-refresh rate too, though the Xperia does have the highest resolution.
Update, 7 July: We received the final firmware and carried out our battery tests. The numbers we got out of the Xperia 1 II are better than what we clocked on the previous generation, though it's not a huge difference. We measured 10 hours of Wi-Fi web browsing, up from the Xperia 1's 9 hours and twelve and half hours of offline video playback, another 1:30h increase. Neither result is great by today's standards, particularly when you account for the 60Hz refresh rate display, but we do appreciate the improvement.
We also measured an increase in voice call endurance, a sizeable one - the Xperia 1 II lasted for 31 hours in our testing, compared to the 25h result of the older phone. Standby battery draw turned out okay by the standards of the day, and adding everything up the Xperia 1 II posted an overall endurance rating of 83 hours.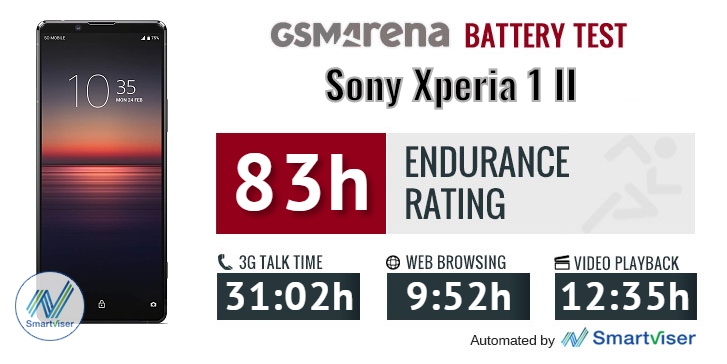 The Xperia 1 II supports USB PowerDelivery up to 21W but it ships with an 18W charger in the box. It's then not among the quickest to top up and we clocked 1:51h from flat to full - the better ones in the business do it in around one hour, the best ones are under 40 minutes.
Starting from an empty battery we got to a 46% charge in half an hour, more or less the same number as other phones with 4,000mAh batteries and 18W charging. For what it's worth, the Xperia is quicker than the Motorola Edge+.
With a third-party PD adapter capable of outputting up to 65 watts, we measured 53% in half an hour and 1:44h for a full charge. It's a minor improvement, so the lack of a 21W adapter in the Xperia 1 II's box or Sony's portfolio is hardly a big deal.
The Xperia 1 II supports wireless charging too, a return of the feature from the XZ3 which was removed from the Xperia 1 for one reason or another. It's certified for compliance with the Qi Extended Power Profile for up to 11W of power transfer.
Sony itself makes the WCH20 charging pad which we saw all the way back in XZ2 times and it outputs 9W. It's kinda old and pretty hard to come by if you want to purchase one, not to mention pricey. Third-party is the way to go with wireless chargers.
As usual, the Xperia 1 II comes with Sony's Battery care feature. It aims to minimize the time your battery spends above 90% charge, a state which could be detrimental to its health in the long run. It does so by learning your charging habits and only topping it up immediately before you need the phone. It works best with overnight charging and a well-established daily (nightly) routine, obviously, though you could set a custom time frame yourself. Sony's research says that by employing this procedure on the Xperia 1 II it would take twice as long for the battery capacity to degrade down to 80% of the original value when this feature is used regularly.
A new feature this year, as part of the Game Enhancer suite, is H.S. power control. When enabled, if you're gaming and the phone is plugged in the charger, it won't actually charge the battery but will only meet your current power consumption. The idea is to limit heat generation (H.S. stands for Heat Suppression) and in turn battery degradation.
Speaker test
The Sony Xperia 1 II has a stereo speaker system that's one better than competing efforts, Sony insists. The reason for the claim is that both speakers are directed towards the viewer as opposed to the prevailing downward-firing/front-firing combos, and thus achieve a more balanced reproduction. Allegedly, the speakers are now larger too, so it should make a difference in sound quality.
One peculiarity with the Xperia 1 II is that the top speaker is always the left channel and the bottom speaker is always the right channel. Rotating the phone in landscape the other way around won't make it switch. The thing is, though, the Xperia has a correct side up determined by the placement of the shutter release button. You shouldn't be holding it upside down, you know.
In its out of the box state, the Xperia 1 II posted a Good score for loudness in our speaker test. Switching on the Dolby Atmos feature (to its default Dynamic mode), we got improved readings for our 7-track test suite and a Very good result for loudness.
Neither mode has much thump in the low register, but we can say with confidence that with Dolby Atmos enabled we got a livelier reproduction of the mid and high tones and an overall wider soundstage.
Use the Playback controls to listen to the phone sample recordings (best use headphones). We measure the average loudness of the speakers in LUFS. A lower absolute value means a louder sound. A look at the frequency response chart will tell you how far off the ideal "0db" flat line is the reproduction of the bass, treble, and mid frequencies. You can add more phones to compare how they differ. The scores and ratings are not comparable with our older loudspeaker test. Learn more about how we test here.
The Xperia 1 II has that Dynamic vibration system feature that's meant to enhance the perception of bass by actuating the vibration motor in tune with the sound output. Much like on previous instances, we didn't feel like it added much to the experience - you just don't experience sound with your fingertips. If anything, it's more irritating than pleasant.
Audio output quality
We've recently discontinued our audio output quality test.
The reason for that is that most phones that arrived for testing were already excellent in this regard and whatever difference there was, it was marginal and probably indistinguishable to anything but our lab equipment.