A 6.1-inch, 21:9 HDR display, still locked at 60Hz
Sony continues to stubbornly refuse to bring any meaningful upgrades to the display of its Xperia 10 family. The Xperia 10 V is still stuck at a 60Hz refresh rate, which is hardly competitive on a 2023 midranger.
On the positive side, the display still has some great aspects to impress with, including quite literally, its 21:9 aspect ratio. This one is pretty hard to come by, particularly on a midranger. Of course, it has its pros and cons, but it is undoubtedly a unique feature.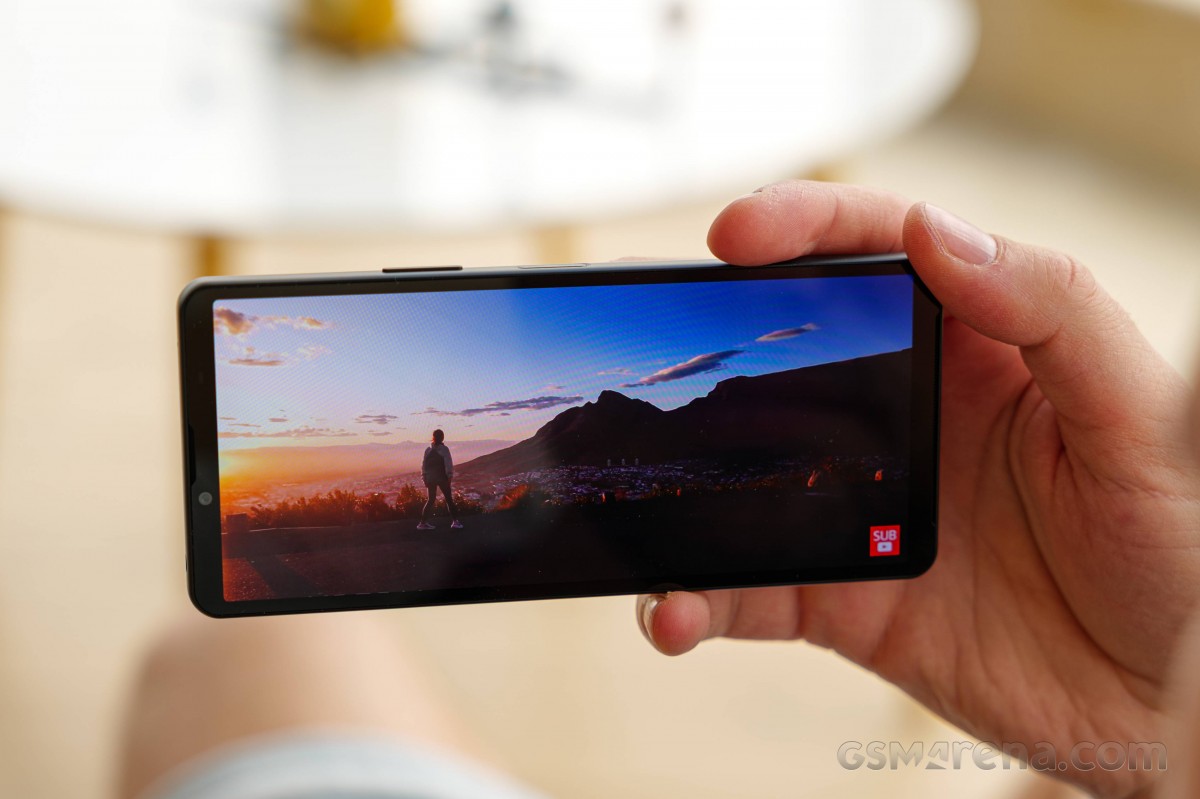 The display is slightly larger this year with a 6.1-inch diagonal but still has the same 1080 x 2520-pixel resolution as before. This technically makes it less sharp than the panel on the Xperia 10 IV, but the picture is still very crisp and clean in person. Speaking of which, we appreciate the fact that the panel is 10-bit and comes with HDR support. Also, the lack of a punch hole or notch makes for a great, uninterrupted multimedia viewing experience.
One thing Sony explicitly claims to have improved with the Xperia 10 V is the display's maximum brightness. As per official specs, it should now be 1.5x brighter than the previous generation. We managed to measure 624 nits of maximum brightness on the slider and a max auto value of 947 nits. This makes the phone perfectly usable outdoors in sunny conditions.
One thing potentially worth noting is how the Xperia 10 V triggers its maximum auto brightness mode and automatically boosts brightness. Not only do you have to enable automatic brightness adjustment in settings and be in a bright enough environment, but you have to avoid triggering the phone's proximity sensor at the same time. That is to say that you can't have anything close to the top frame of the phone. It's a bit odd to include that in the overall display behavior logic, so we are pointing it out.
Max display brightness test
White test pattern, 75% fill (nits)
Sort by
Manual mode
Auto mode
vivo V27

1055

497

Galaxy A34

1009

476

Galaxy A54

980

457

Sony Xperia 10 V

947

624

Poco X5 Pro

912

491

Redmi Note 12 Pro

890

490

Pixel 6a

876

505

Sony Xperia 1 V

866

589

Realme 10 Pro+

809

484

Samsung Galaxy S21 FE 5G

792

385

Redmi Note 12

706

447

Sony Xperia 10 IV

N/A

683

Nothing phone (1)

663

466

Realme C55

659

546

Realme 10

610

427

Sony Xperia 1 IV

N/A

602

Sony Xperia 10 III

559

343

Sony Xperia 10 II

520

379

Galaxy A14 5G

N/A

519
The Xperia 10 V only has two color modes available in settings - Standard and Original. There are, however, custom white balance adjustments as well, which add some versatility to the mix. The default standard color mode aims for the DCI-P3 color space and delivers good accuracy. The default white balance is very cold and blue, though. If you want a more accurate picture, just use the warm preset in settings.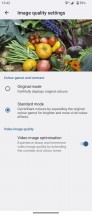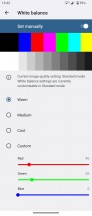 Color mode settings • White balance settings
Original, as the name suggests, is meant to cover the sRGB color space and nails that task perfectly with deltaE values low enough to be considered color-accurate.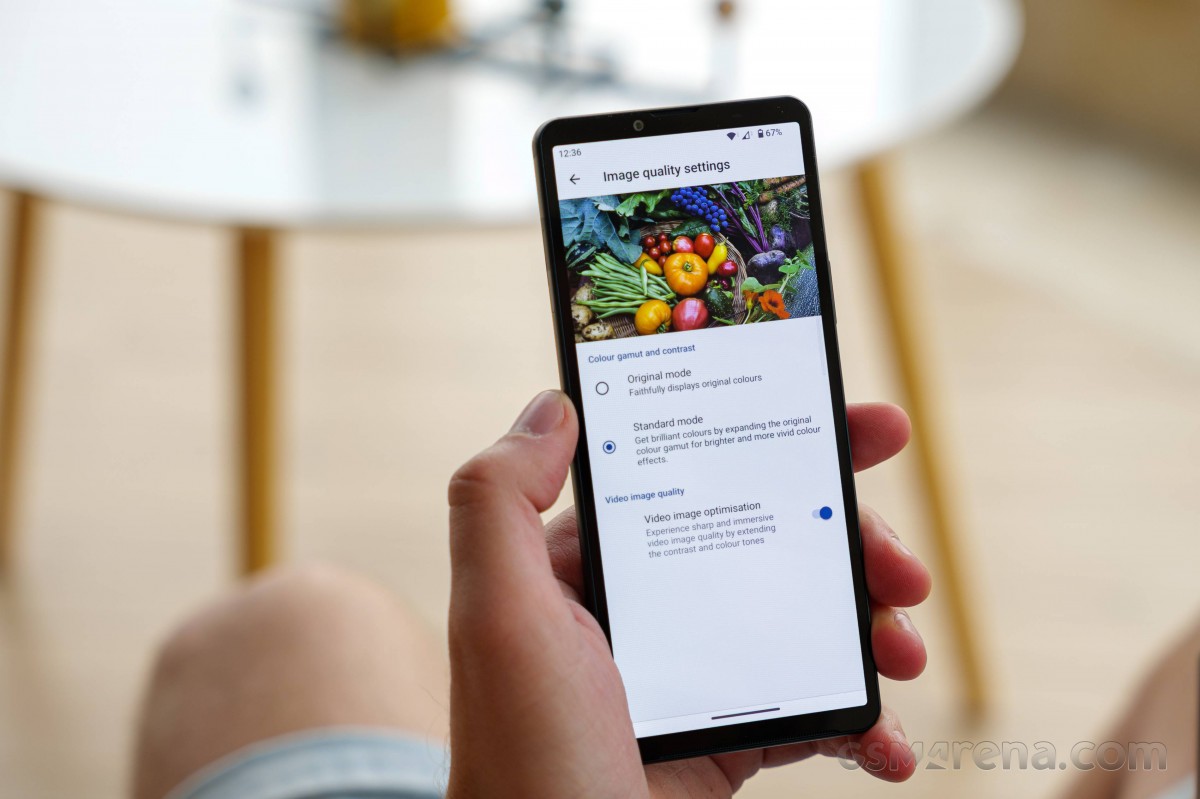 The display on the Xperia 10 V is 10-bit, which means it can reproduce more colors and shades than a standard 8-bit display, resulting in smoother color transitions and less banding.
The Xperia 10 V has HDR support on its display. Regarding HDR decoder support, the phone reports compatibility with HDR10 and HLG. No HDR10+ or Dolby Vision.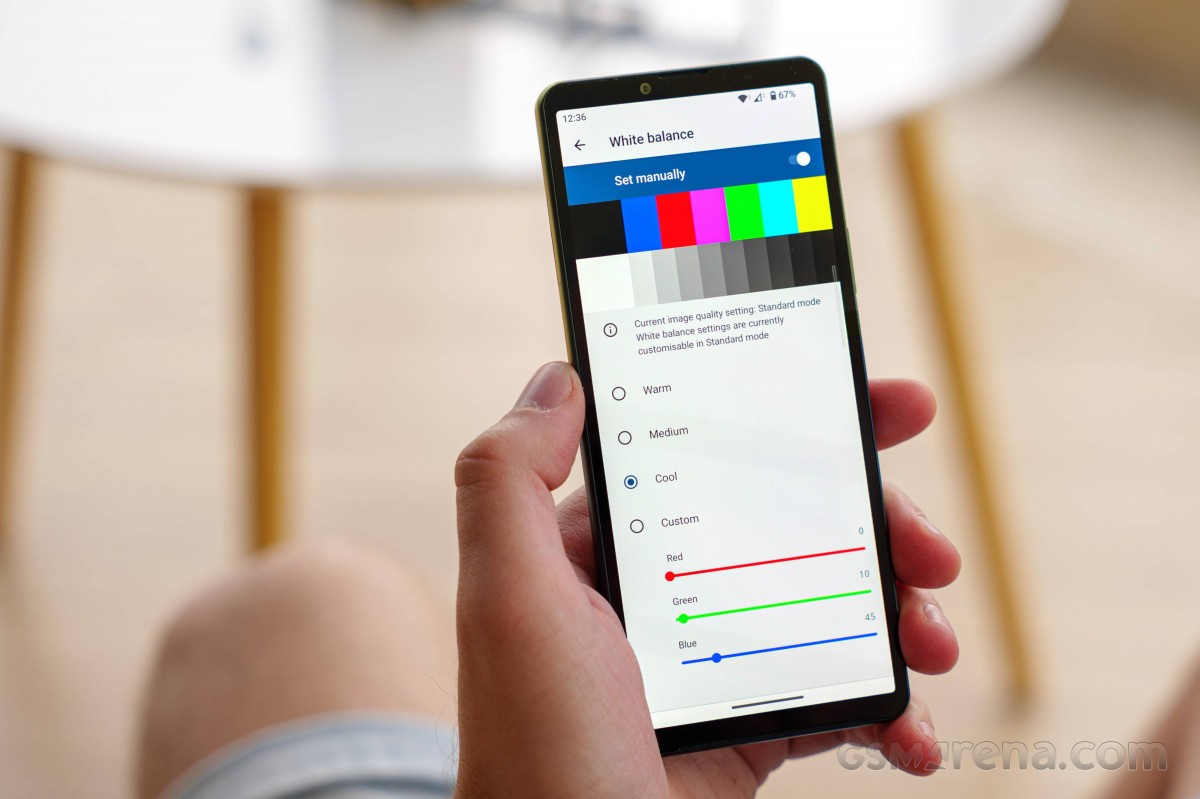 The Xperia 10 V also has the highest possible Widevine L1 DRM protection, which allows streaming services such as Netflix to offer up FullHD streams. At the time of writing, Netflix recognized no HDR support on the phone, though that will likely change since the streamer operates its own device whitelist.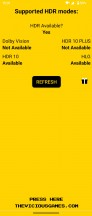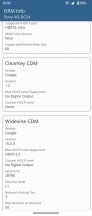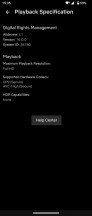 HDR decoding • Widevine DRM • Netflix playback capabilities
As we already mentioned, the Xperia 10 V is, unfortunately, still stuck with a 60Hz refresh rate, so there is no high refresh rate behavior to discuss. This is a real shame and a drawback on a 2023 midranger.
Battery life
The Xperia 10 V has a hefty 5,000 mAh battery. Since it uses the same chipset as its predecessor, has the same battery capacity, and has a very similar, albeit slightly larger 60Hz OLED display, we expected to see similar battery endurance numbers between the two devices.
To our pleasant surprise, the Xperia 10 V managed to do even better than its predecessor in terms of battery endurance, probably thanks to some software optimization on Sony's part and earned an excellent endurance rating of 175 hours in our proprietary test. It scored better than its predecessor across the board.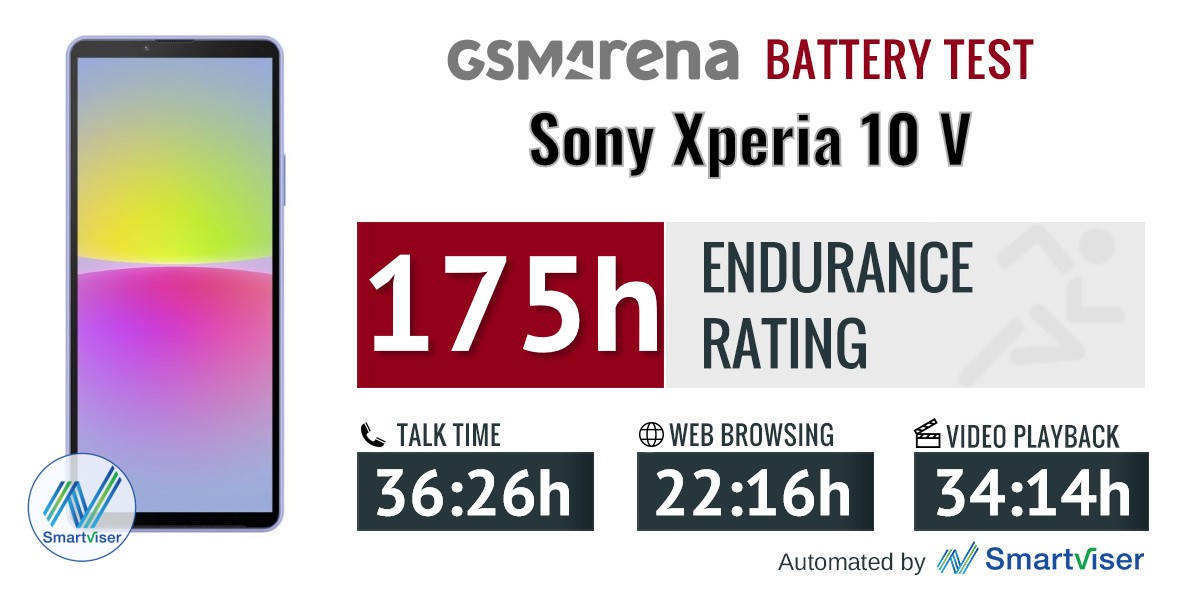 Our battery tests were automated thanks to SmartViser, using its viSerDevice app. The endurance rating denotes how long the battery charge will last you if you use the device for an hour of telephony, web browsing, and video playback daily. More details can be found here.
Video test carried out in 60Hz refresh rate mode. Web browsing test is done at the display's highest refresh rate whenever possible. Refer to the respective reviews for specifics. To adjust the endurance rating formula to match your own usage - check out our all-time battery test results chart.
Charging speed
The Xperia 10 V is not a particularly fast-charging device. Sony doesn't officially provide a wattage number for the charging rate, and unofficially the phone supposedly tops out at a rate of 21W via PD or Quick Charge.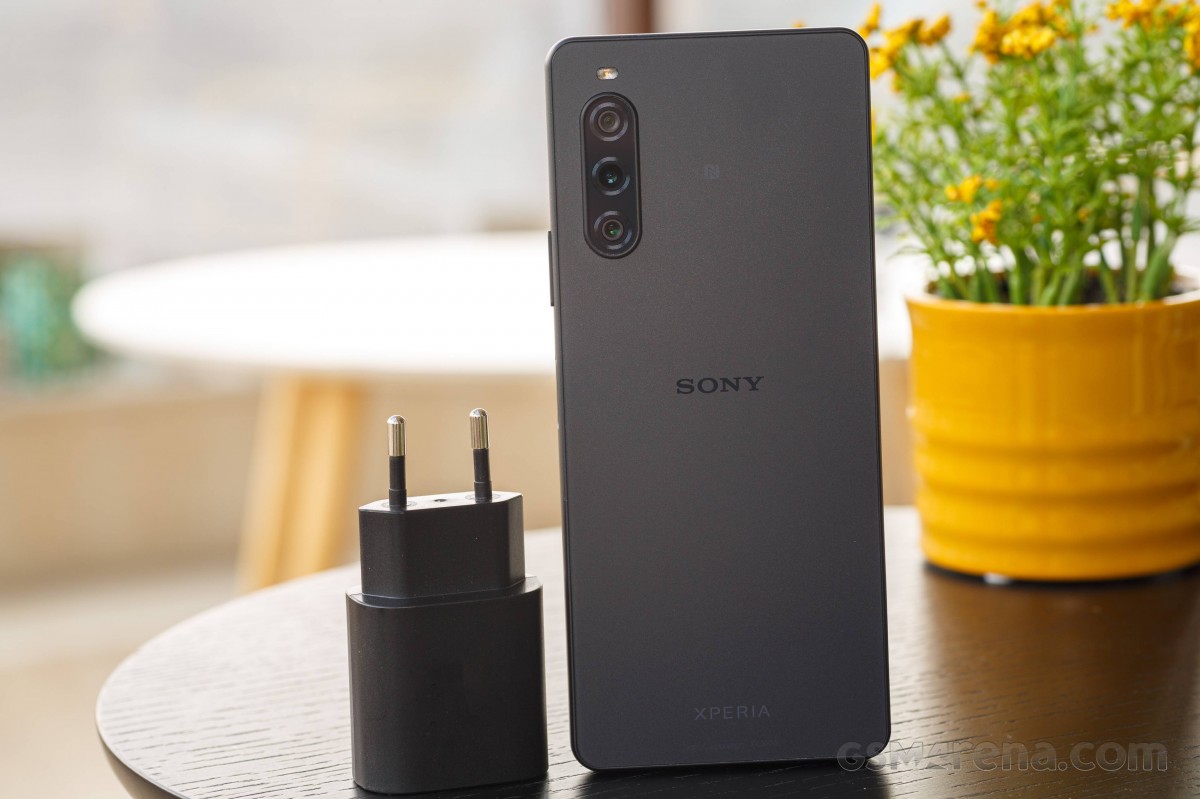 We tested the Xperia 10 V with a known good 65W third-party charger and got from fully dead to 37% in thirty minutes. A full charge took just shy of two hours. While these are hardly impressive numbers in the grand scheme of things, we are at least happy to see that the Xperia 10 V charges notably quicker than its predecessors.
30min charging test (from 0%)
Higher is better
| | |
| --- | --- |
| Redmi Note 12 Pro+ | 100% |
| Realme 10 Pro+ | 86% |
| Poco X5 Pro | 82% |
| vivo V27 | 82% |
| Redmi Note 12 Pro | 78% |
| Poco X5 | 63% |
| Galaxy A54 | 56% |
| Redmi Note 12 | 56% |
| Galaxy A34 | 51% |
| Galaxy S21 FE 5G | 51% |
| Sony Xperia 1 V | 50% |
| Realme C55 | 50% |
| Realme 10 | 48% |
| Nothing phone (1) | 48% |
| Google Pixel 6a | 42% |
| Sony Xperia 10 V (65W PD) | 37% |
| Sony Xperia 10 IV (65W PD) | 28% |
| Sony Xperia 10 III (Sony 30W PD) | 28% |
* Tap/hover over the device names for more info
Time to full charge (from 0%)
Lower is better
| | |
| --- | --- |
| Redmi Note 12 Pro+ | 0:23h |
| Realme 10 Pro+ | 0:41h |
| Poco X5 Pro | 0:50h |
| vivo V27 | 0:53h |
| Redmi Note 12 Pro | 0:55h |
| Galaxy A54 | 1:03h |
| Poco X5 | 1:06h |
| Redmi Note 12 | 1:08h |
| Realme C55 | 1:09h |
| Galaxy S21 FE 5G | 1:15h |
| Realme 10 | 1:16h |
| Galaxy A34 | 1:24h |
| Nothing phone (1) | 1:31h |
| Sony Xperia 1 V | 1:37h |
| Google Pixel 6a | 1:51h |
| Sony Xperia 10 V (65W PD) | 1:58h |
| Sony Xperia 10 IV (65W PD) | 2:30h |
| Sony Xperia 10 III (Sony 30W PD) | 2:30h |
* Tap/hover over the device names for more info
Speakers
Front-facing stereo speakers are one of the few new additions to the Xperia 10 V this year. The feature has finally trickled down from the more expensive Sony phones.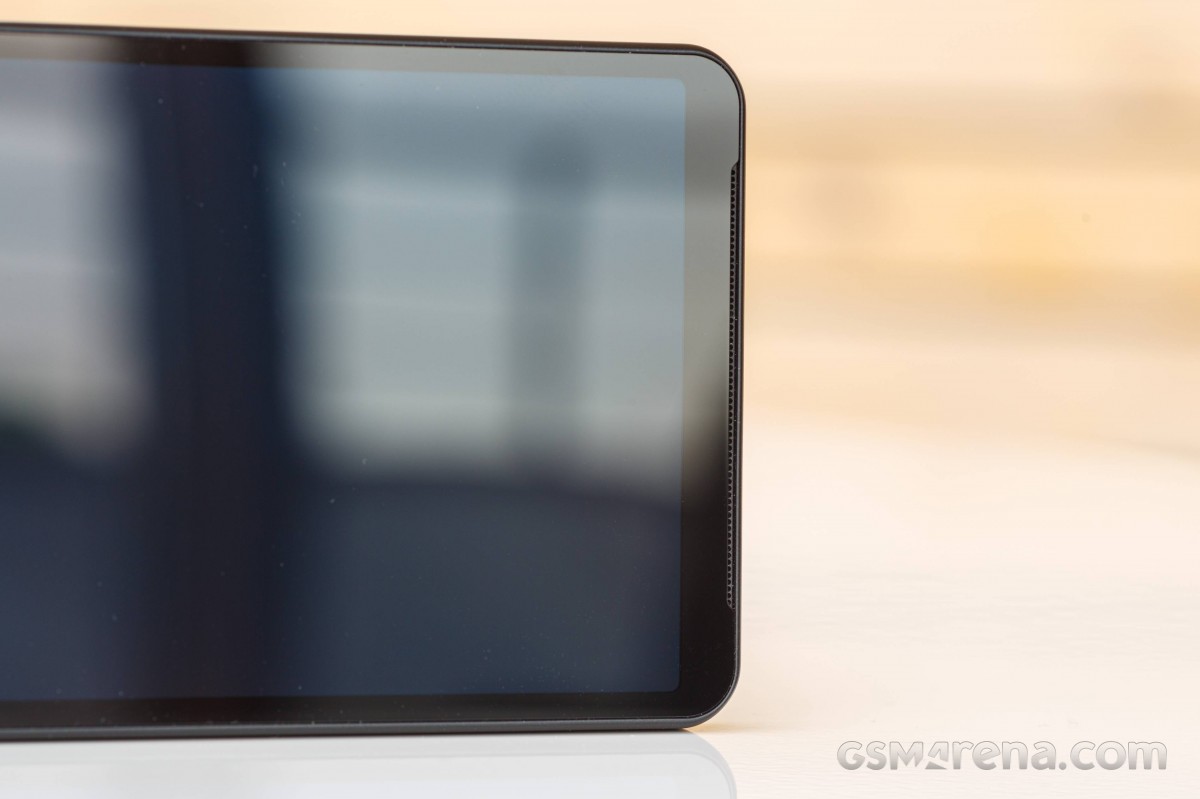 To be fair, it is not a proper symmetrical stereo speaker setup but rather a hybrid one with an amplified earpiece as the second channel. Even so, the two sound sources are surprisingly well-balanced, and the fact that they both face forward only adds to the immersive multimedia experience.
The new stereo speaker setup is also noticeably louder than what the Xperia 10 IV offered in terms of output. Said output is also notably cleaner, especially in the mids. Highs are very well contained as well, and there is no noteworthy distortion even at high volumes.
Overall, Sony has crafted a very respectable stereo setup for the Xperia 10 V. Users also get a few software extras on top of the audio hardware, like 360 Reality Audio, which unfortunately only works with a limited selection of audio player apps. There is even a complementary feature that claims in can upmix regular stereo audio into a 360-degree compatible one. Sony's DSEE Ultimate general audio upscaler is also on board.
Use the Playback controls to listen to the phone sample recordings (best use headphones). We measure the average loudness of the speakers in LUFS. A lower absolute value means a louder sound. A look at the frequency response chart will tell you how far off the ideal "0db" flat line is the reproduction of the bass, treble, and mid frequencies. You can add more phones to compare how they differ. The scores and ratings are not comparable with our older loudspeaker test. Learn more about how we test here.