Android 11, Xperia style
The Xperia 10 III boots Android 11 in what appears a very stock state. Looking deeper, though, there are several touches from Sony that add extra functionality.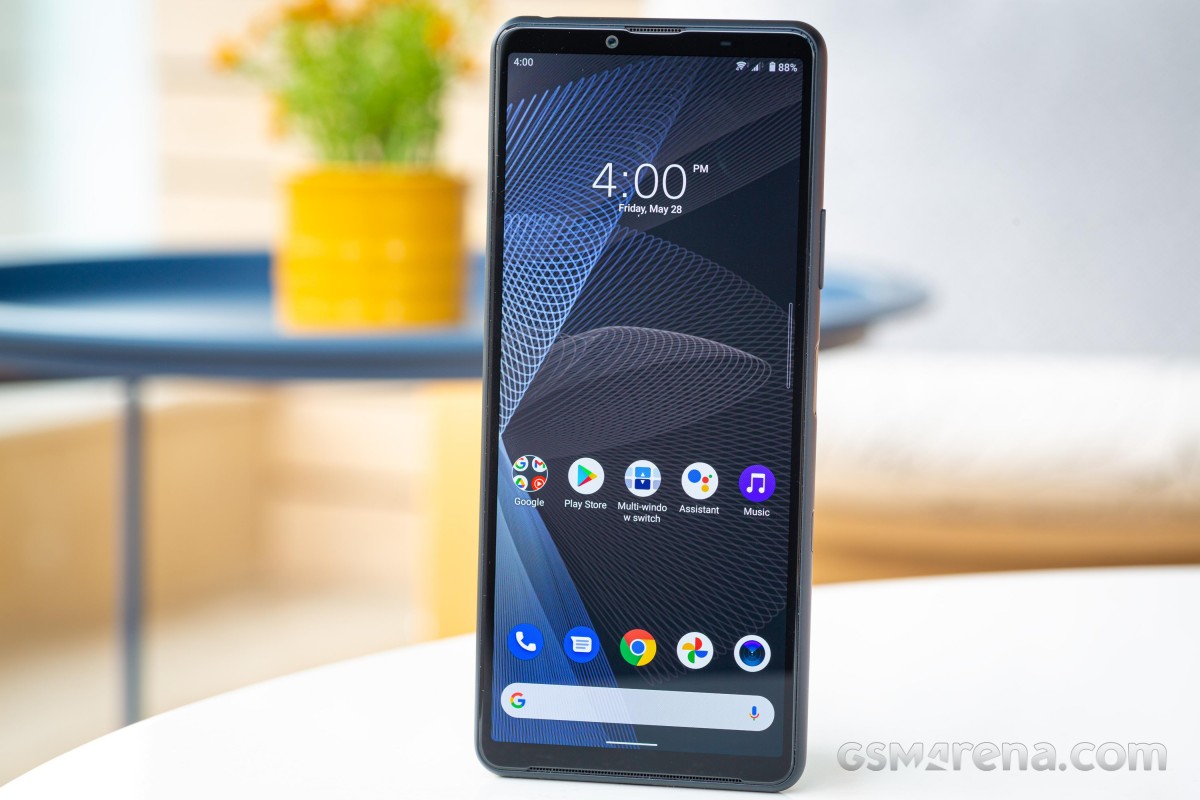 Starting with some of the basics, the lockscreen is business as usual with a clock (that you can customize), a shortcut to the camera and another one for Google Assistant (a bit redundant when there's a hardware key for that already). The homescreen, too, is as standard as they come. The Google feed is the leftmost pane, but you can disable it if it's not your thing. The quick toggles/notification area is Google's stock too.
With this version of Android, you get Notification history and the Bubbles shortcuts as part of the Conversations features - both available on the Xperia, unlike some more heavily customized UIs.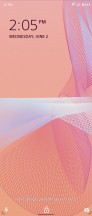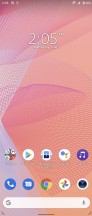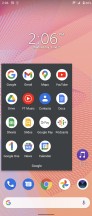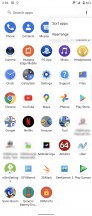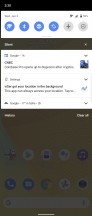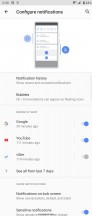 Lockscreen • Homescreen • Folder view • App drawer • Notification shade • Notification settings
This brings us to one of the Sony exclusives, already available on the previous generation, the Multi-window switch. Split-screen multi-window implementation is one of the bits Google changes most often, but the current one has stuck for a couple of years, and it's a really clunky one, so Sony intervened.
You access it from the task switcher or from the dedicated shortcut icon on the homescreen, and you get sort of like two stacked task switcher rolodexes with your currently opened apps to pick one for the top half and one for the bottom half of the screen. The rightmost pane in each half lets you launch another app, not just pick from the already running ones. The phone remembers three previously used pairs so you can access them directly, though we couldn't find a way to save custom app pair presets. It's worth mentioning that the window split can be done in almost any arbitrary ratio, not just 50/50.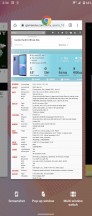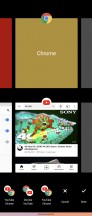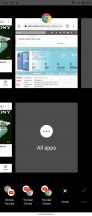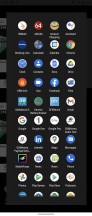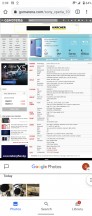 Task switcher • Multi-window switcher
Side sense is another of the in-house Sony features. A bar shortcut on either side of the phone opens up a menu of shortcuts to apps and features, most of them user configurable. The 21:9 multi-window pairs can be customized here, but they don't go into the three pair shortcuts in the regular task switcher. A new addition to the menu a widget to control the Sony headphones app - handy if you have Sony headphones.
There's a fairly standard set of gestures for call handling, as well as a one-handed mode and smart backlight control. It's in this menu that you'll find the navigation options with the two basic options - gestures or a nav bar.
Just in case you were wondering, the feature-rich Game enhancer, as seen on the Xperia 1 II and 5 II, is not present on our Xperia 10 III review unit, just as it was missing on the Mk 2. Sony's in-house Album gallery is long gone, but Music still persists.
Synthetic benchmarks
The Xperia 10 III is powered by the Snapdragon 690 chipset, a mid-tier chipset with 5G capability, and it's manufactured on an 8nm process. It's a significant step up from the Snapdragon 665 of last year's model (in both performance and, obviously, next-gen connectivity), but in the context of 2021 5G midrangers, it's still not among the chart-toppers.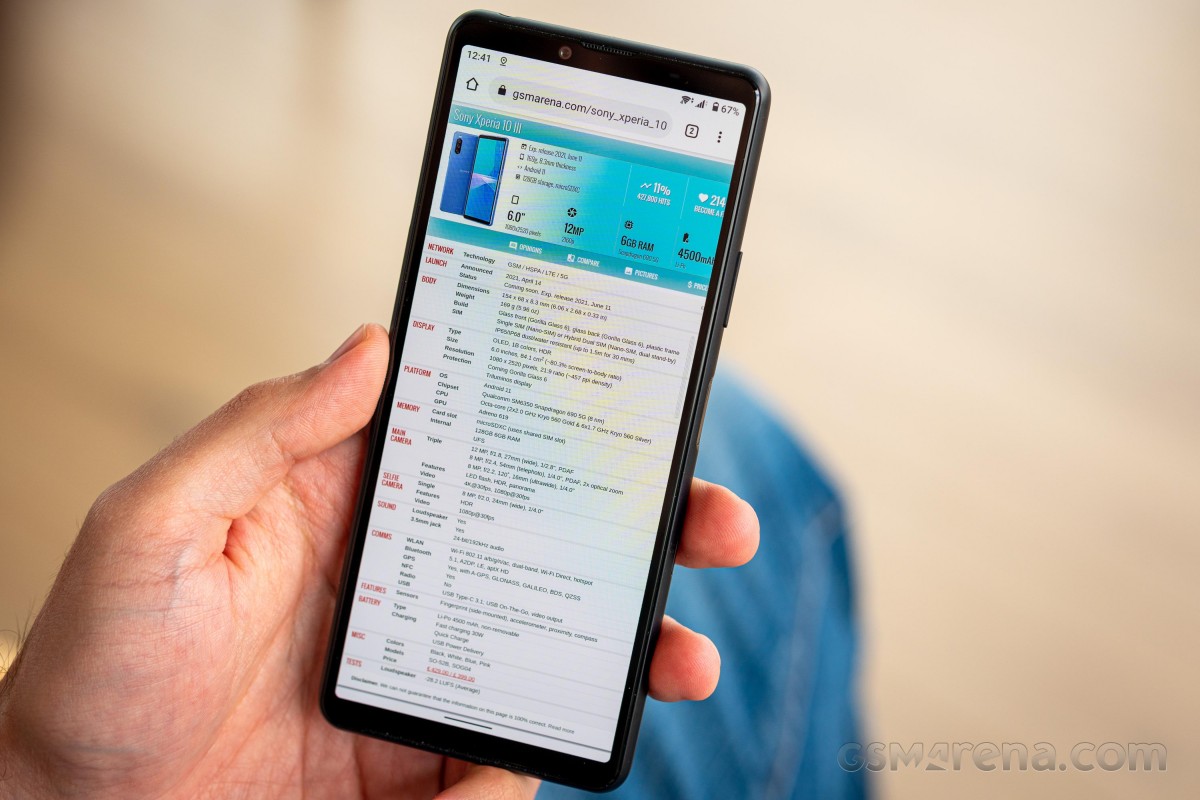 The SD690 has an octa-core CPU in a 2+6 arrangement (2x2.0 GHz Kryo 560 Gold & 6x1.7 GHz Kryo 560 Silver) and uses the Adreno 619 for graphics. A single 128GB/8GB RAM and storage configuration is available.
In GeekBench, the Xperia is roughly comparable with other mid-tier 5G-capable handsets using the SD690 (the OnePlus Nord N10 5G is the one we've seen), while the SD750 and SD765 devices do have a small if largely inconsequential advantage. The Xperia, in turn, is slightly more powerful than a Dimensity 800U device such as the vivo V21 5G. You might be able to squeeze a Xiaomi Mi 10T Pro within the same budget as the Xperia, and its SD865 is a notably scarier beast.
GeekBench 5 (multi-core)
Higher is better
Xiaomi Mi 10T Pro
3311
Oppo Reno5 Pro 5G
3091
Xiaomi Mi 10T Lite
2009
Motorola Moto G 5G
1980
OnePlus Nord
1953
Samsung Galaxy A42 5G
1910
OnePlus Nord N10 5G
1848
Oppo Reno5 5G
1813
Oppo Reno4 Pro 5G
1805
Realme 8 5G
1784
vivo V20 Pro 5G
1768
Sony Xperia 10 III
1738
Google Pixel 5
1647
vivo V21 5G
1600
Samsung Galaxy A52
1577
Sony Xperia 10 II
1413
GeekBench 5 (single-core)
Higher is better
Xiaomi Mi 10T Pro
901
Oppo Reno5 Pro 5G
712
Xiaomi Mi 10T Lite
661
Motorola Moto G 5G
659
Samsung Galaxy A42 5G
643
Oppo Reno4 Pro 5G
615
vivo V20 Pro 5G
611
OnePlus Nord
610
OnePlus Nord N10 5G
608
Oppo Reno5 5G
608
Google Pixel 5
594
Sony Xperia 10 III
592
vivo V21 5G
574
Realme 8 5G
569
Samsung Galaxy A52
525
Sony Xperia 10 II
315
Over in Antutu, the Xperia 10 III maintains its position behind the bulk of 5G midrangers - it's within 10%, but not quite a match for the Snapdragon 700s.
AnTuTu 8
Higher is better
Poco F3
631850
Xiaomi Mi 10T Pro
563961
Oppo Reno5 Pro 5G
435166
vivo V21 5G
336699
Realme Narzo 30 Pro 5G
333952
Samsung Galaxy A42 5G
324686
Xiaomi Mi 10T Lite
318882
Oppo Reno5 5G
317762
Oppo Reno4 Pro 5G
317139
vivo V20 Pro 5G
314978
OnePlus Nord
312794
Motorola Moto G 5G
312461
Realme 8 5G
302059
Google Pixel 5
289261
Sony Xperia 10 III
286216
OnePlus Nord N10 5G
279579
Samsung Galaxy A52
261282
Sony Xperia 10 II
196545
It's a wider gap in graphics benchmarks where the higher-series Snapdragons are more heavily equipped. The Xperia is a good 30% behind in fps numbers in GFXBench, when compared against the SG750 Moto G 5G or the SD765 OnePlus Nord.
GFX Manhattan ES 3.1 (offscreen 1080p)
Higher is better
Xiaomi Mi 10T Pro
87
Oppo Reno5 Pro 5G
74
OnePlus Nord
38
Oppo Reno4 Pro 5G
37
vivo V20 Pro 5G
37
Oppo Reno5 5G
36
Realme Narzo 30 Pro 5G
35
Motorola Moto G 5G
34
vivo V21 5G
34
Xiaomi Mi 10T Lite
33
Samsung Galaxy A42 5G
33
Samsung Galaxy A52
29
OnePlus Nord N10 5G
26
Sony Xperia 10 III
26
Realme 8 5G
25
Google Pixel 5
22
Sony Xperia 10 II
13
GFX Manhattan ES 3.1 (onscreen)
Higher is better
Xiaomi Mi 10T Pro
77
Oppo Reno5 Pro 5G
57
Samsung Galaxy A42 5G
56
Realme Narzo 30 Pro 5G
51
OnePlus Nord
34
vivo V20 Pro 5G
33
Oppo Reno5 5G
31
Oppo Reno4 Pro 5G
31
vivo V21 5G
31
Motorola Moto G 5G
30
Xiaomi Mi 10T Lite
28
Samsung Galaxy A52
26
OnePlus Nord N10 5G
23
Realme 8 5G
22
Google Pixel 5
22
Sony Xperia 10 III
21
Sony Xperia 10 II
10
GFX Car Chase ES 3.1 (offscreen 1080p)
Higher is better
Xiaomi Mi 10T Pro
51
Oppo Reno5 Pro 5G
43
OnePlus Nord
21
Oppo Reno4 Pro 5G
21
vivo V20 Pro 5G
21
Oppo Reno5 5G
20
vivo V21 5G
20
Realme Narzo 30 Pro 5G
20
Xiaomi Mi 10T Lite
19
Motorola Moto G 5G
19
Samsung Galaxy A42 5G
19
Samsung Galaxy A52
17
Realme 8 5G
15
OnePlus Nord N10 5G
14
Sony Xperia 10 III
14
Google Pixel 5
13
Sony Xperia 10 II
7.1
GFX Car Chase ES 3.1 (onscreen)
Higher is better
Xiaomi Mi 10T Pro
46
Oppo Reno5 Pro 5G
36
Samsung Galaxy A42 5G
33
OnePlus Nord
19
Oppo Reno4 Pro 5G
18
vivo V20 Pro 5G
18
Realme Narzo 30 Pro 5G
18
Motorola Moto G 5G
17
Oppo Reno5 5G
17
vivo V21 5G
17
Xiaomi Mi 10T Lite
16
Samsung Galaxy A52
15
OnePlus Nord N10 5G
13
Realme 8 5G
13
Sony Xperia 10 III
12
Google Pixel 5
12
Sony Xperia 10 II
5.6
Things are no different in 3D Mark where the Xperia is, again, not quite up to the standard of other phones you can get for the money.
3DMark SSE ES 3.1 (offscreen 1440p)
Higher is better
Xiaomi Mi 10T Pro
7101
Oppo Reno5 Pro 5G
6436
vivo V21 5G
3331
Oppo Reno4 Pro 5G
3288
vivo V20 Pro 5G
3286
OnePlus Nord
3285
Oppo Reno5 5G
3208
Realme Narzo 30 Pro 5G
3167
Samsung Galaxy A42 5G
2819
Motorola Moto G 5G
2810
Xiaomi Mi 10T Lite
2789
Samsung Galaxy A52
2529
Google Pixel 5
2318
OnePlus Nord N10 5G
2166
Sony Xperia 10 III
2135
Sony Xperia 10 II
1125
3DMark SSE Vulkan 1.0 (offscreen 1440p)
Higher is better
Xiaomi Mi 10T Pro
6412
Oppo Reno5 Pro 5G
5345
vivo V20 Pro 5G
3127
OnePlus Nord
3067
Oppo Reno4 Pro 5G
3062
vivo V21 5G
3050
Realme Narzo 30 Pro 5G
3035
Oppo Reno5 5G
3008
Samsung Galaxy A42 5G
2609
Motorola Moto G 5G
2608
Xiaomi Mi 10T Lite
2595
Samsung Galaxy A52
2406
Google Pixel 5
2267
OnePlus Nord N10 5G
2012
Sony Xperia 10 III
2002
Sony Xperia 10 II
1121
3DMark Wild Life Vulkan 1.1 (offscreen 1440p)
Higher is better
Oppo Reno5 Pro 5G
2713
Oppo Reno4 Pro 5G
1668
Oppo Reno5 5G
1658
vivo V21 5G
1605
Realme Narzo 30 Pro 5G
1556
Samsung Galaxy A42 5G
1105
Realme 8 5G
1104
Motorola Moto G 5G
1099
Xiaomi Mi 10T Lite
1098
Samsung Galaxy A52
1040
Google Pixel 5
1033
Sony Xperia 10 III
825
OnePlus Nord N10 5G
811
The Xperia 10 III continues in the footsteps of its predecessor when it comes to raw performance - in that it's generally no match for its rivals of the day. It's not exactly underpowered and can stand its ground under CPU loads, but much better GPUs can be had for about the same asking price (of course, with inevitable concessions in other areas).
For what it's worth, the Xperia showed no signs of heat build-up or thermal throttling and maintained the same benchmark scores over repeated runs.