6.0" OLED with a tall aspect, standard refresh rate
The Xperia 10 III is equipped with a 6-inch OLED display with a 1080x2520px resolution in a 21:9 aspect - Sony likes the cinematic ratio. A notable omission here is a high refresh rate capability. At least a 90Hz panel feels like a must in a world where even midrangers with the standard 60Hz are rare - well, the 10 III is one.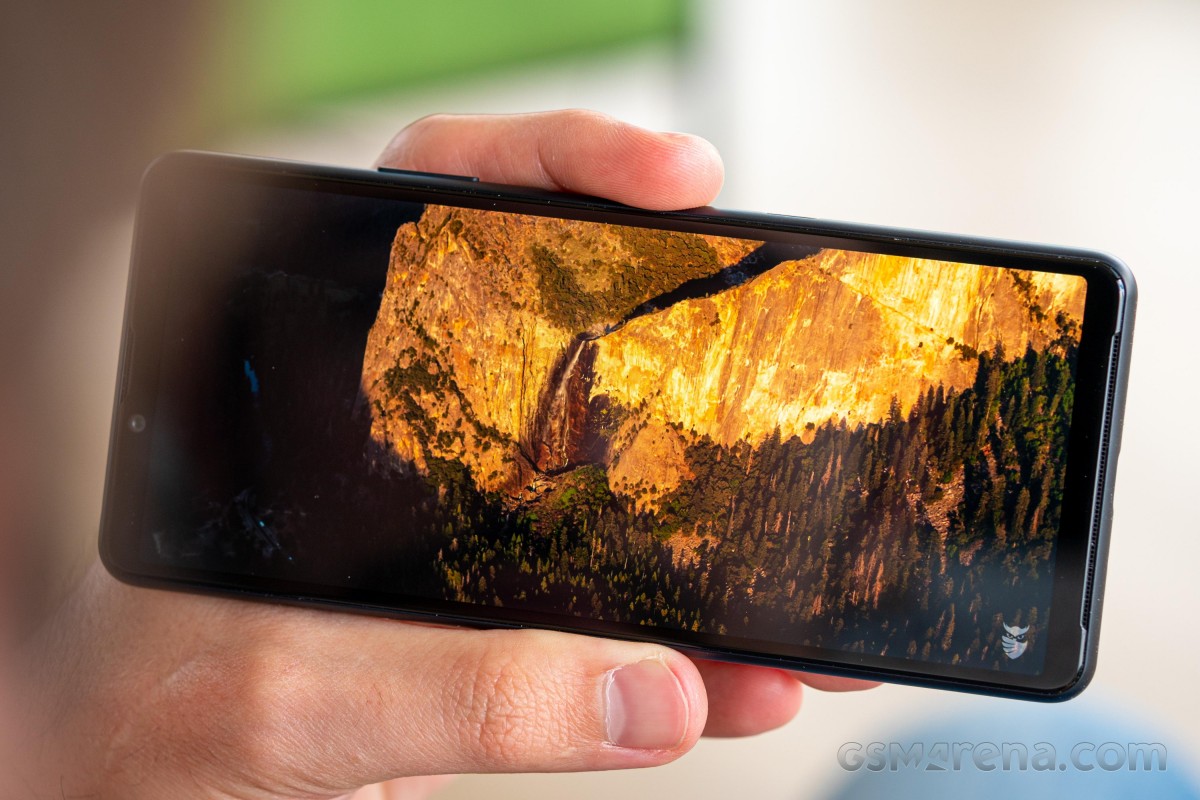 It's not overly bright either, this Xperia's display. We measured 345nits when operating the slider manually and 559nits with the Adaptive brightness. Competing OLEDs can comfortably put out 200nits more than that when the ambient light calls for it.
Display test
100% brightness
Black,cd/m2
White,cd/m2
Contrast ratio
Sony Xperia 10 III
0
343
∞
Sony Xperia 10 III (Max Auto)
0
559
∞
Sony Xperia 10 II
0
379
∞
Sony Xperia 10 II (Max Auto)
0
520
∞
Samsung Galaxy A42 5G
0
395
∞
Samsung Galaxy A42 5G (Max Auto)
0
570
∞
Samsung Galaxy A52
0
386
∞
Samsung Galaxy A52 (Max Auto)
0
794
∞
OnePlus Nord
0
323
∞
OnePlus Nord (Max Auto)
0
756
∞
Xiaomi Mi 11 Lite 5G
0
514
∞
Xiaomi Mi 11 Lite 5G (Max Auto)
0
846
∞
Xiaomi Mi 10T Pro
0.432
512
1185:1
Xiaomi Mi 10T Pro (Max Auto)
0.541
630
1165:1
Poco F3
0
511
∞
Poco F3 (Max Auto)
0
716
∞
The display covers 97% of the DCI-P3 color gamut, carries the Triluminous branding and supports HDR10. The phone has 2 'Color gamut and contrast' modes - Original and Standard, with an additional Video image optimization toggle. Then there's the White balance submenu, where you get warm, medium, and cool presets, plus RGB sliders for further custom tweaking.
Original mode is the one better suited to sRGB content. This one defaults to the warm white balance, and while there is a minor green shift, colors are generally fairly accurate.
Standard mode is on by default, and it will get you more vibrant colors and almost-DCI-P3 coverage. White balance defaults to Cool, and indeed there's a fairly strong shift towards blue, evident on white and gray backgrounds. Switching to warm improves the overall color accuracy and brings the white point a lot closer to target, though there's still a faint green shift now.
While in this mode, you get the option to enable Video image optimization. We wouldn't. It makes for a downright blue rendition in video streaming apps like YouTube, Netflix and Prime Video - you see the display drastically switch colors, and it's not pretty. In YouTube, for HDR videos, it'll switch once more to a different, warmer color palette. In Prime video, we didn't get HDR, nor did we see the blue shift disappear, though we were getting 1080p streams.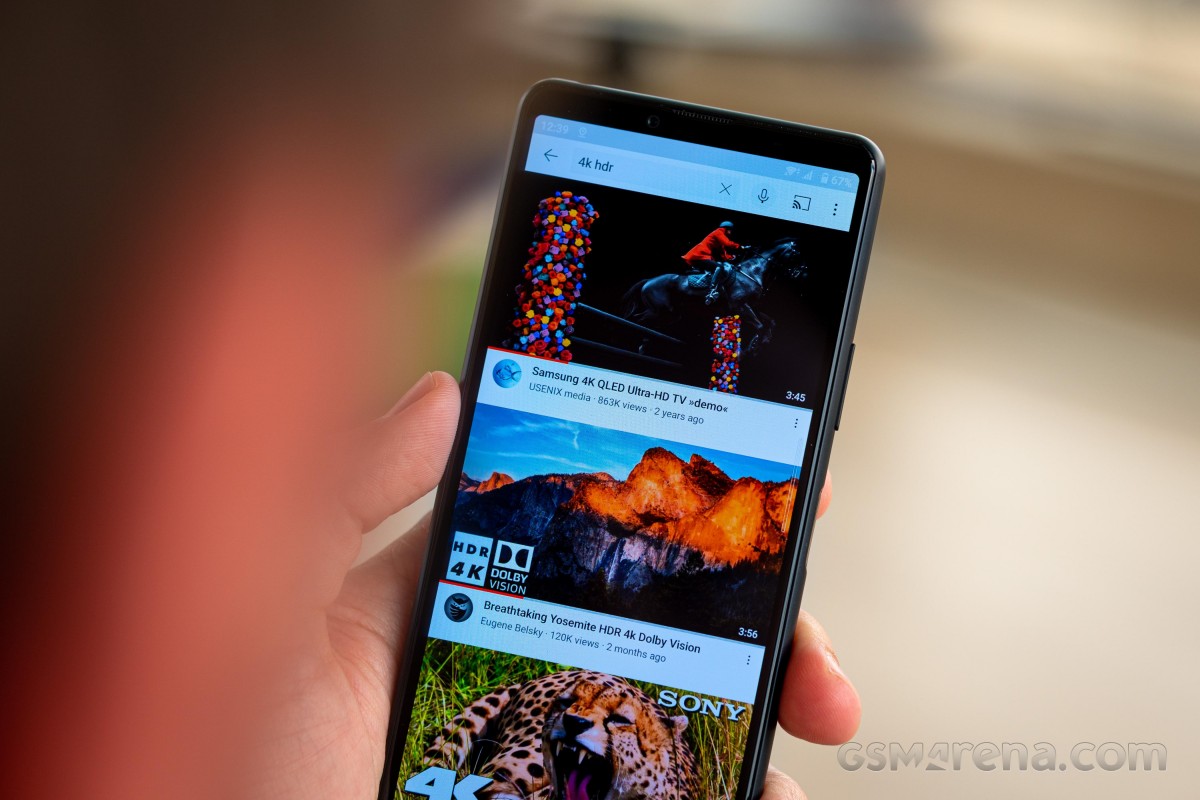 Netflix, meanwhile, wouldn't run past a (not very welcoming) welcome screen telling us to update the app, which takes us to the Google Play Store, only for us to find out that we are, in fact, using the latest version, and the phone simply isn't compatible with Netflix for the time being. That will likely change in the future as the phone hits the market and the streaming service updates its supported devices list. Still, just launching the app was enough to send the Xperia into blue mode.
Sony Xperia 10 III battery life
The Xperia 10 III packs a 4,500mAh battery, a healthy increase over the 3,600mAh capacity of last year's model. The Galaxy A52 5G and the Poco F3 have the same capacity cells, yet the OnePlus Nord stands at 4115mAh, while the Xiaomi Mi 10T Pro 5G relies on a 5,000mAh power pack.
Thanks to the combination of big battery, frugal chipset, and relatively small display, which is also 60Hz only, the Xperia 10 III put out impressive, class-leading battery endurance results. The over 26 hours of offline video playback in our test is perhaps the most striking number, but the 15:36h of Wi-Fi web browsing is properly great too. We also got more than 31h of voice calls out of the 10 III.
Top that up with excellent results in standby, and the Endurance rating of the Xperia 10 III works out to 137h - an impressive result, indeed.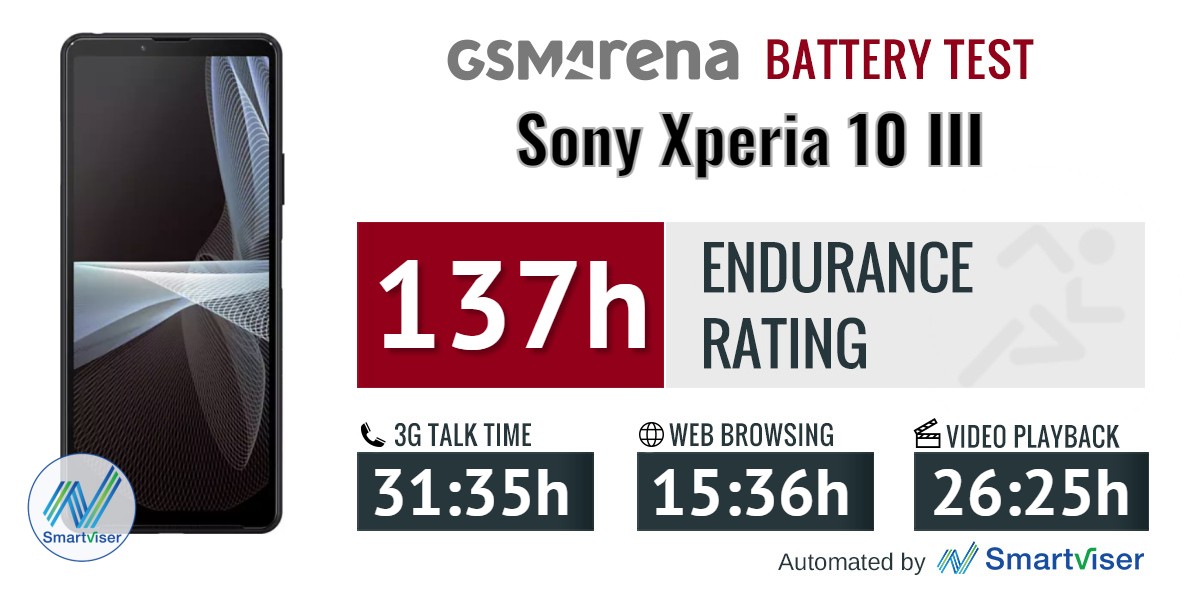 Our battery tests were automated thanks to SmartViser, using its viSerDevice app. The endurance rating denotes how long the battery charge will last you if you use the device for an hour of telephony, web browsing, and video playback daily. More details can be found here.
Video test carried out in 60Hz refresh rate mode. Web browsing test done at the display's highest refresh rate whenever possible. Refer to the respective reviews for specifics. To adjust the endurance rating formula to match your own usage - check out our all-time battery test results chart.
Charging speed
One of our main beefs with the Xperia 10 III ever since we opened its box has been with the bundled 7.5W (5V/1.5A) charger. It's the weakest adapter we've seen in a good while - even the Redmi 9 that costs a little over €100 comes with a 10W unit in the box.
The phone does support USB PowerDelivery, and Sony does make and sell a 30W PD adapter now. That XQZ-UC1 unit supports both the PDO and PPS extensions of the PD standard, which is great. The only trouble is that it has an MSRP of €50/£50, and that's more than a little too steep.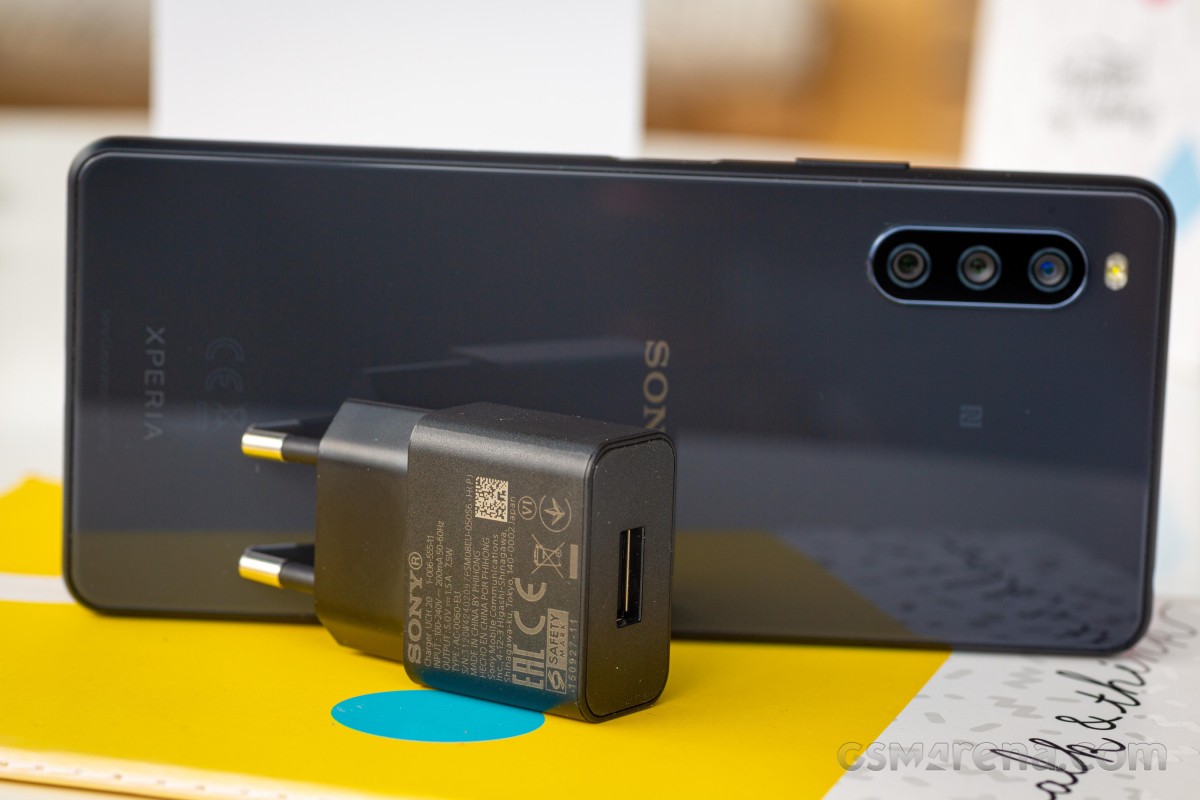 We timed the Xperia 10 III's charging speeds with both the bundled adapter and a good third-party one that maxes out at 65W and supports PPS as well. The included unit took three full hours from flat to full, with just 20% showing in the battery indicator at the half-hour mark. Things got a little better with the PD adapter - it got us to 37% in half an hour and needed 2:10h for a full top-up. In any case, the Xperia is the slowest-charging phone in its class, be it with its bundled adapter or a third-party one.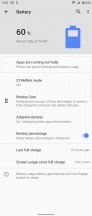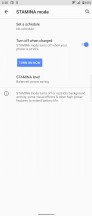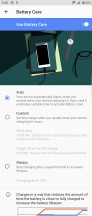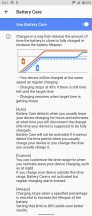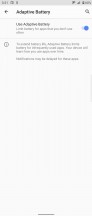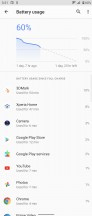 Battery settings • Stamina • Battery care
Update, 9 July: We received Sony's 30W charger as part of the Xperia 1 III review unit bundle and tried it on the Xperia 10 III as well. Somewhat surprisingly, we clocked lower speed with that one that we got with the third-party unit. While the Sony 30W charger did shave half an hour off of the total charging time and resulted in a marginal increase in battery charge at the 30-minute mark, it's ultimately not a game-changer when compared to the stock 7.5W adapter and hardly worth its asking price. You're very likely to be better off getting a good aftermarket charger for half the price instead.
Mind you, we carried out these tests with the Battery care feature turned off to avoid any potential effects of that slowing down the process.
30min charging test (from 0%)
Poco F3
67%
Xiaomi Mi 10T Pro
61%
Sony Xperia 10 II
60%
OnePlus Nord
60%
Xiaomi Mi 11 Lite 5G
58%
Samsung Galaxy A52 (25W)
52%
Sony Xperia 10 III (65W PD)
37%
Samsung Galaxy A52
34%
Sony Xperia 10 III (Sony 30W PD)
28%
Samsung Galaxy A42 5G
27%
Sony Xperia 10 III
20%
Time to full charge (from 0%)
Poco F3
0:56h
Xiaomi Mi 10T Pro
0:58h
Xiaomi Mi 11 Lite 5G
1:04h
OnePlus Nord
1:05h
Sony Xperia 10 II
1:30h
Samsung Galaxy A52 (25W)
1:30h
Samsung Galaxy A42 5G
2:01h
Samsung Galaxy A52
2:03h
Sony Xperia 10 III (65W PD)
2:10h
Sony Xperia 10 III (Sony 30W PD)
2:30h
Sony Xperia 10 III
2:58h
Speaker test
The Xperia 10 III has a single speaker on the bottom - the same setup, in principle, to the Mk 2. Similarly to the phone it replaces, the 10 III earned an 'Average' rating in our seven-track test, with the numerical loudness result being slightly better. The Galaxy A52 (4G) has stereo speakers and they proved louder than the Xperia's, and that likely applies to the A52 5G as well. The Poco F3, too, packs stereo speakers, and they're even louder.
The 10 III's output sounds a little different to the 10 II's - more full-bodied with a bit more presence in the low end but less vibrant mid-highs. It's decent, not great.
Use the Playback controls to listen to the phone sample recordings (best use headphones). We measure the average loudness of the speakers in LUFS. A lower absolute value means a louder sound. A look at the frequency response chart will tell you how far off the ideal "0db" flat line is the reproduction of the bass, treble, and mid frequencies. You can add more phones to compare how they differ. The scores and ratings are not comparable with our older loudspeaker test. Learn more about how we test here.