6-inch 21:9 OLED
Sony has stepped-up its display game for the second generation Xperia 10. Where the original had to make do with an LCD, the Xperia 10 II gets to enjoy an OLED panel. The dimensions are unchanged and so is the resolution. You still get and extra-tall and rather skinny 6 inches, at a 21:9 aspect and a FullHD+ resolution, with extra pixels - 1080 x 2520. With a density rating of 457 ppi, the panel looks perfectly sharp in person.
As for the odd aspect ratio - it has its pros and cons. Cinematic video content obviously is where it excels. The extra vertical screen real-estate also plays nicely with the large majority of the scrolling, list-style content we consume on the modern web and in things like social media apps built around infinite scrolling. Productivity tasks in a horizontal orientation, however, are a struggle, though.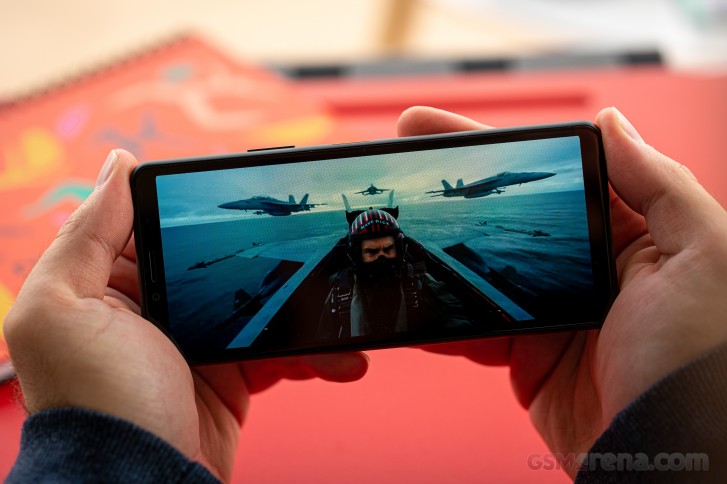 Performance wise, the panel holds up well but is nothing to phone home about. Its maximum brightness cap is on the lower-end at 379 nits. That's a bit dim to properly use in direct sunlight. Luckily, there is a max auto mode, which boosts the display to 520 nits. Again, hardly record-breaking, but good enough for reasonable outdoor use.
Display test
100% brightness
Black,cd/m2
White,cd/m2
Contrast ratio
Oppo Reno3 Pro (Max Auto)
0
892
∞
OnePlus 7T (Max Auto)
0
743
∞
Realme X2 Pro (Max Auto)
0
708
∞
Samsung Galaxy S10 Lite (Max Auto)
0
705
∞
LG G8 ThinQ (Max Auto)
0
655
:1
Samsung Galaxy Note10 Lite (Max Auto)
0
622
∞
Xiaomi Mi Note 10 (Max Auto)
0
597
∞
Sony Xperia 10 Plus
0.381
583
1530:1
Sony Xperia 10
0.362
549
1517:1
Sony Xperia 1 II (Max Auto)
0
538
∞
OnePlus 7T
0
525
∞
Oppo Reno3 Pro
0
522
∞
Sony Xperia 10 II (Max Auto)
0
520
∞
Realme X2 Pro
0
500
∞
Xiaomi Mi Note 10
0
427
∞
Samsung Galaxy Note10 Lite
0
410
∞
Samsung Galaxy S10 Lite
0
400
∞
LG G8 ThinQ
0
391
∞
Sony Xperia 10 II
0
379
∞
Sony Xperia 1 II
0
333
∞
Color accuracy is an interesting topic on the Xperia 10 II. Out of the box, it comes with two color profiles - Standard and Original. The former is the more "punchy" and vibrant, OLED-friendly one. Compared to the DCI-P3 color space, it produced an unimpressive average deltaE of 5.9 and a maximum of 10.6. It tends to skew colors towards the colder end of the spectrum.
Luckily, the Xperia 10 II does offer custom a white point adjustment. Not nearly on the same level as the Xperia 1 II, with its different color spaces on a slider, but still with plenty of manual control.
Trying to get a more accurate output out of the Standard profile turned out to be a futile effort. Though you can get rid of the blue hue it ships with by default. We had better luck with the Original color profile. In its default state, it managed an average deltaE of 2.9 and a maximum of 6.5 in pure white. A little bit of manual tuning later (150 gain to green and 150 gain to red), and we got a deltaE reading of 1.9 average and a maximum of 3.2. This can be considered a properly calibrated output.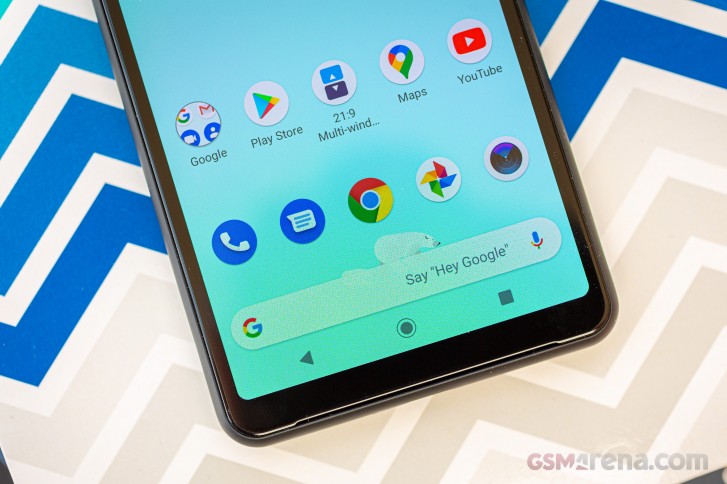 For one reason or another, it is overly reflective and also introduces quite a bit of color shift. We can't really say if it is coated sub-optimally, too thick or perhaps the display not fully laminated. Whatever the case may be, the issue does not show up with measurements, but is visible in person.
Sony Xperia 10 II battery life
On paper, the Sony Xperia 10 II comes a bit short in the battery department. In a space where 4,000 mAh has become, more or less, the norm, it has a 3,600 mAh pack to work with. Circling back to our earlier observations about the little bit of extra air between the back glass and the battery, we have to wonder if Sony could have pushed capacity just that tiny little bit further. That said, the Xperia 10 II still has a 25% bigger battery than its predecessor and the biggest pack on a Sony mid-ranger to date.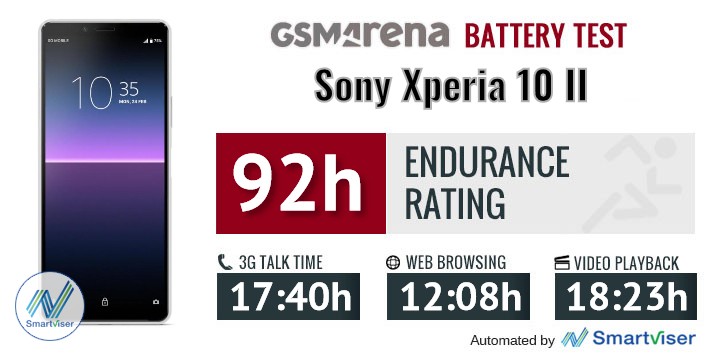 Raw battery capacity is far from the be-all and end-all of actual endurance. The Xperia 10 II held up its own surprisingly well in our proprietary battery endurance test. The 92-hour endurance rating is a really respectable score.
In terms of standby, the Xperia 10 managed to score comparably to other devices, rocking the same Snapdragon 665 chipset, like the Xiaomi Redmi Note 8, Note 8T, Realme 5, 5s and the Moto G8 Power, relative to its smaller battery, of course. Video playback endurance is great and web - respectable. Honestly, only the call performance could use some work.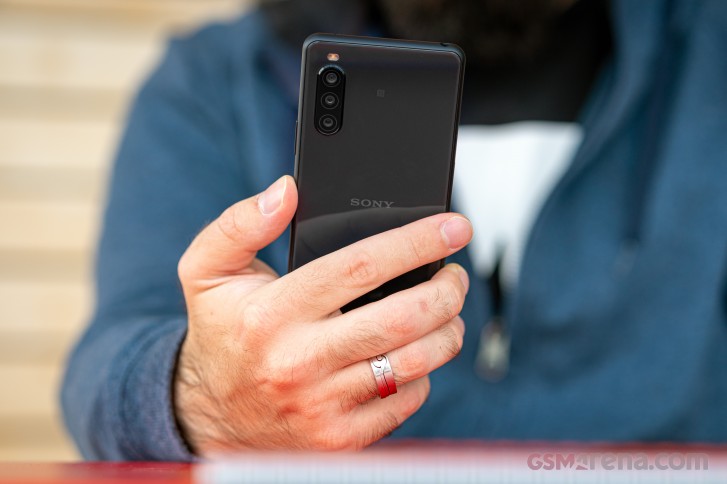 The Xperia 10 II can charge at up to 18W via Power Delivery. This is in line with the capabilities of its predecessor. Using a compatible PD charger, capable of 18W+, we were able to get the Xperia 10 II from dead to a full charge in about 1:30 hours. That falls in line well with the 1:51 the same process took on the Xperia 1 II with its bundled 18W charger. This is hardly a record-breaking charging rate, but is perfectly adequate.
As usual, the Xperia 1 II comes with Sony's Battery care feature. It aims to minimize the time your battery spends above 90% charge, a state which could be detrimental to its health in the long run. It does so by learning your charging habits and only topping it up immediately before you need the phone. It works best with overnight charging and a well-established daily (nightly) routine, obviously. Though you could set a custom time frame yourself.
Sony has done some research on the benefits of Battery Care, mainly used to advertise the Xperia 1 II, claiming that it would take twice as long for the battery capacity to degrade down to 80% of the original value when this feature is used regularly. Since this is a well-known trait of modern battery packs, we have no reason to doubt the benefits of Battery Care overall. Even if we can't verify any exact numbers - you are still better off with it, than without it, in the long run. If nothing else, that buys some extra time for the Xperia 10 II and its battery away from a landfill. We wish this was a more common feature.
Our battery tests were automated thanks to SmartViser, using its viSerDevice app. The endurance rating above denotes how long a single battery charge will last you if you use the Sony Xperia 10 II for an hour each of telephony, web browsing, and video playback daily. We've established this usage pattern so that our battery results are comparable across devices in the most common day-to-day tasks. The battery testing procedure is described in detail in case you're interested in the nitty-gritty. You can check out our complete battery test table, where you can see how all of the smartphones we've tested will compare under your own typical use.
Speaker test
The Xperia 10 II only has a single loudspeaker. It is positioned in the grill, in the bottom chin, below the display. Despite the ample room available above the panel, Sony did not include a second speaker and didn't use the earpiece for a hybrid stereo setup, either. This is a particularly unfortunate reality that drags down the otherwise great cinematic experience, offered by the 21:9 OLED display.
The loudspeaker itself isn't overly impressive either. It only managed an average loudness score of -28.8 lufs in our test. There is also no built-in system-wide equalizer to tune the output. Let alone something fancy, like Dolby Atmos like n the Xperia 1 II. There is a DSEE HX upscaler toggle for wired headphones and that's about it.
Use the Playback controls to listen to the phone sample recordings (best use headphones). We measure the average loudness of the speakers in LUFS. A lower absolute value means a louder sound. A look at the frequency response chart will tell you how far off the ideal "0db" flat line is the reproduction of the bass, treble, and mid frequencies. You can add more phones to compare how they differ. The scores and ratings are not comparable with our older loudspeaker test. Learn more about how we test here.
Audio output quality
We've recently discontinued our audio output quality test.
The reason for that is that most phones which arrive for testing are already excellent in this regard and whatever difference there is, it's marginal at best and probably indistinguishable to anything but our lab equipment.