Introduction
"It's a Sony" - that was the Sony Corporation tagline back in the day and it may be coming back as the success of its flagship Wireless Headphones (WH) and Wireless Free (WF) ranges made them the gold standard for Bluetooth headphones with active noise cancelation. The WF earbuds are now at version XM5 bringing a more compact design, new 8.4mm Dynamic Driver X drivers with better reproduction of low sound frequencies and claims of superior ANC compared to the two-year-old Sony WF-1000XM4 which we loved.
As you'd expect these flagship Sony earbuds don't come cheap, retailing for around $300/€300/£260. So are they worth the price when their predecessors are now offered with a sizeable discount? We've been using the WF-1000XM5s for nearly two weeks now and we hope we can answer that and many more questions in the following lines.
Design
Previous WF-1000XM buds were larger than most of their direct rivals, but Sony has now properly slimmed them down. The XM5s are 25% smaller and 20% lighter than their predecessors. Each earbud now weighs 5.9 grams while the case is 39 grams bringing the combined total weight to just over 50 grams - a far cry from the bulky XM3s we reviewed back in 2020.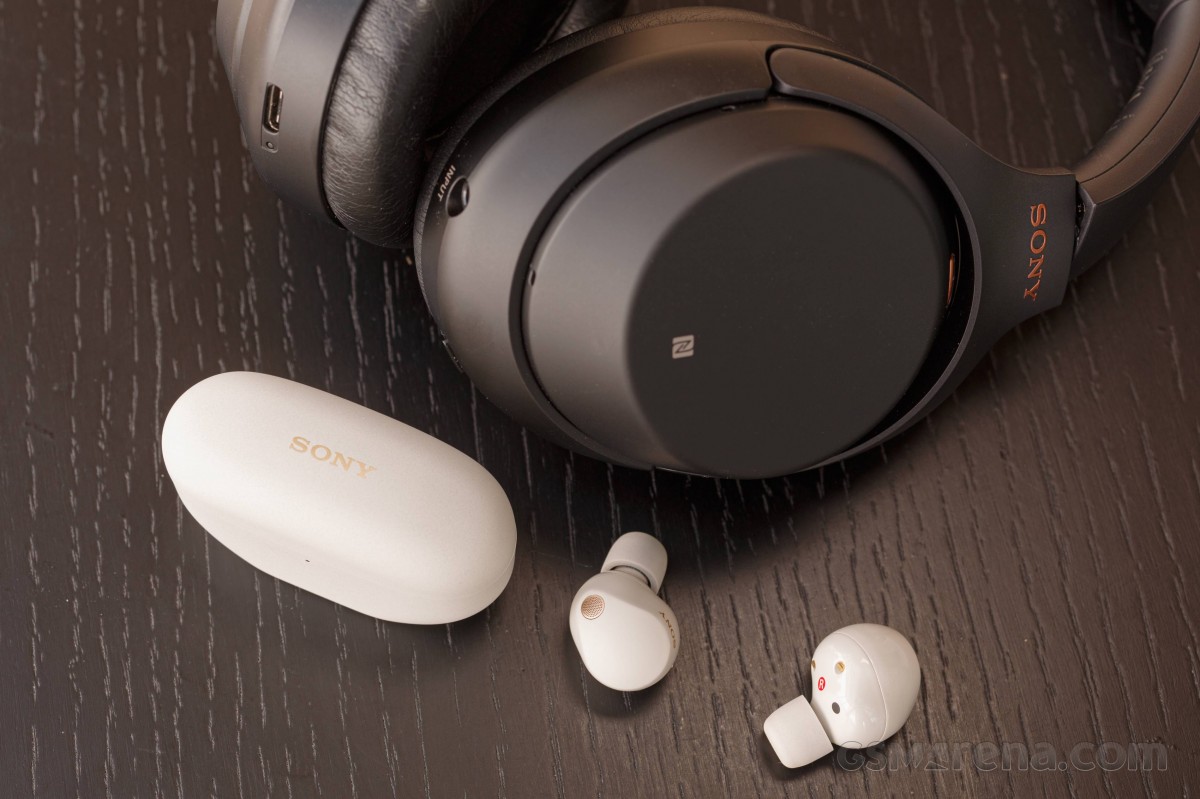 The design of the XM5s is still unmistakably Sony with gold accents for the Sony logos and microphone mesh cover as well as the lid cover on the charging case. The buds themselves feature a predominantly glossy finish with a matte texture on the outer where we have the touch controls. The case is reasonably compact and boasts a pairing button, USB-C port and support for Qi wireless charging. Our review pair comes in silver which handles smudges pretty well and the only other color you can currently get is classic black.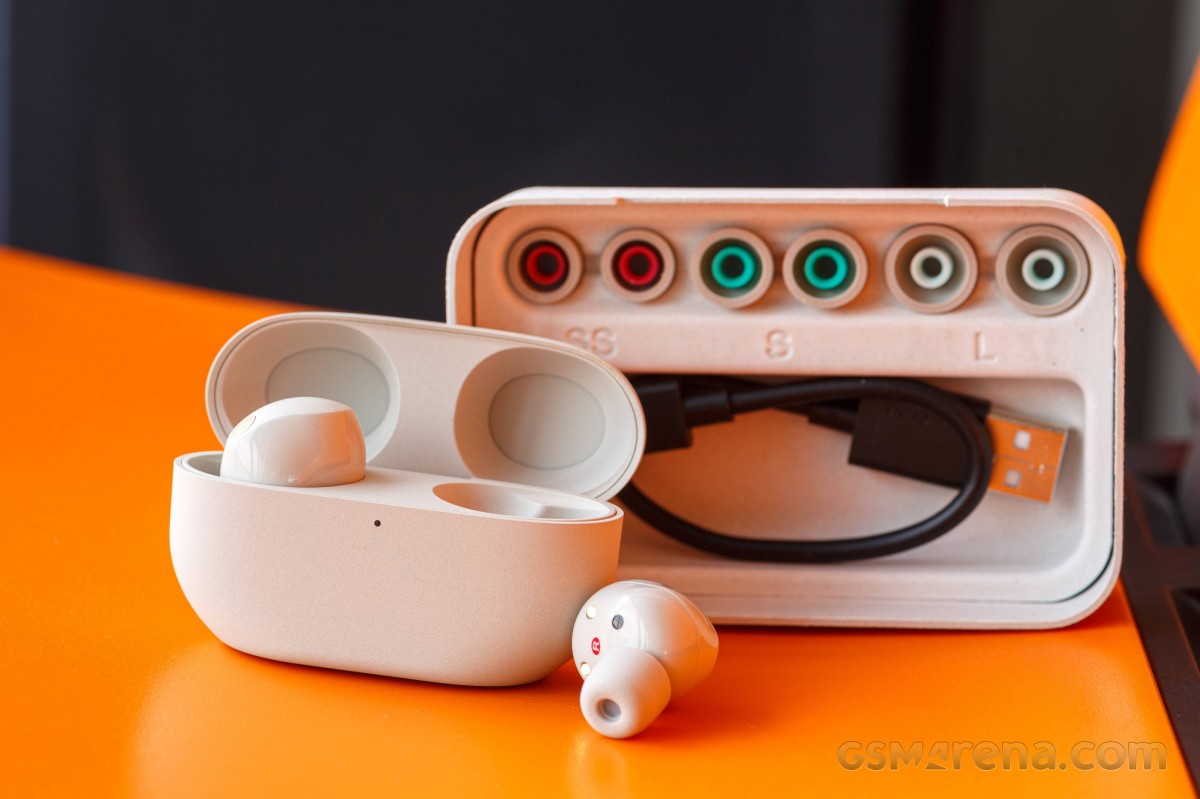 Last year's XM4 buds ushered in the new polyurethane foam tips which are carried over to the XM5s. The buds come pre-installed with size M tips while the packaging offers replacement XS, S, and L-sized tips. Sony's foam tips offer superior sound isolation compared to their silicone counterparts though they also tend to expand in your ears which may prove to be a problem for some users.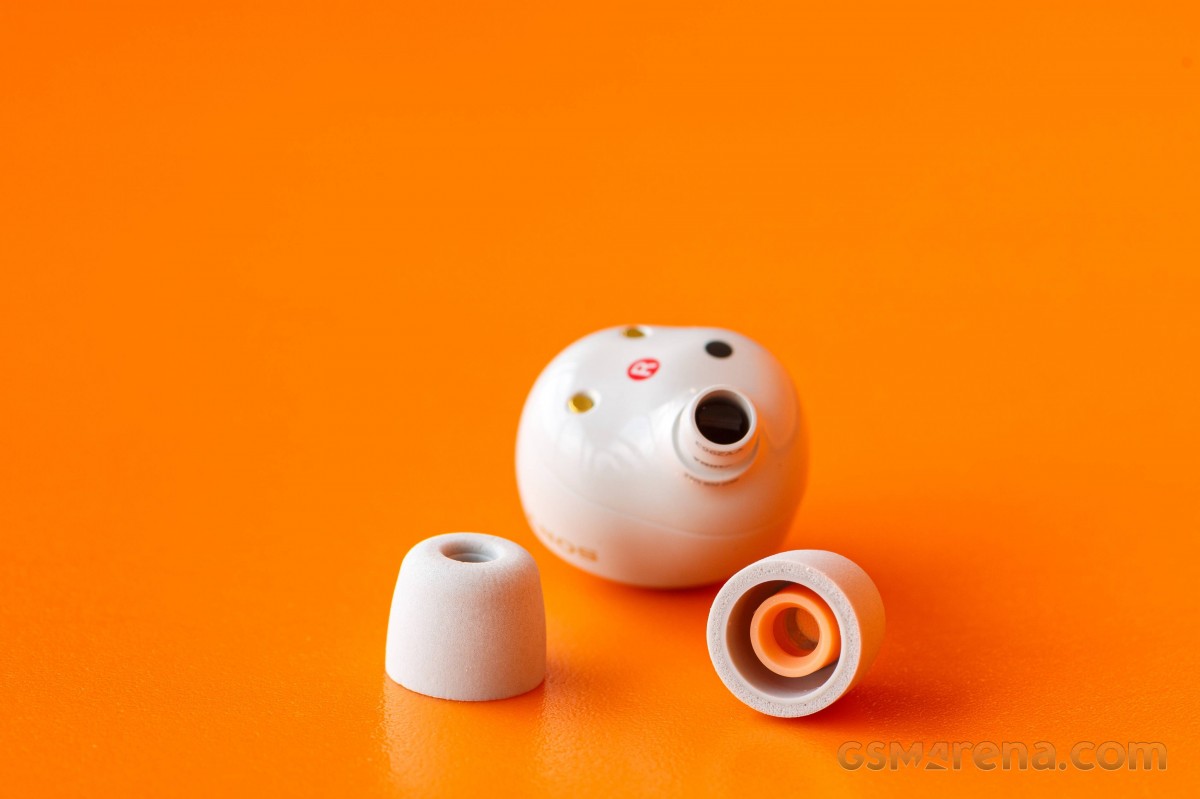 In my case, the default size M tips fit my ears a bit too snug so I resorted to the size XS tips which offered a better fit. I also tried switching to some regular silicone tips from another pair of earphones and they were more comfortable in my book.
The XM5s carry an IPX4 splash and sweatproof which is pretty standard for earbuds in 2023. The case does not feature any ingress protection so you'll have to keep it away from any liquids.
Features
Sony didn't spare anything when it came to the WF-1000XM5's spec sheet. There's the new Integrated Processor V2 which features 24-bit audio processing and analogue audio amplification as well as the QN2e HD Noice Cancelling processor which drives the ANC system and Bluetooth SoC. One new addition here is the Quick Attention feature which turns on transparency mode when you long press the left earbud for when you need to hear someone talking to you and then automatically switches back to ANC.
Sony claims the new 8.4mm Dynamic Driver X units offer improved reproduction of lower frequencies while covering a wider 20 - 40,000 Hz sound frequency with less distortion. The buds support the latest Bluetooth 5.3 standard with the new bit being the added support for the LC3 codec which promises lower latency and less power draw compared to the SBS and AAC legacy codecs.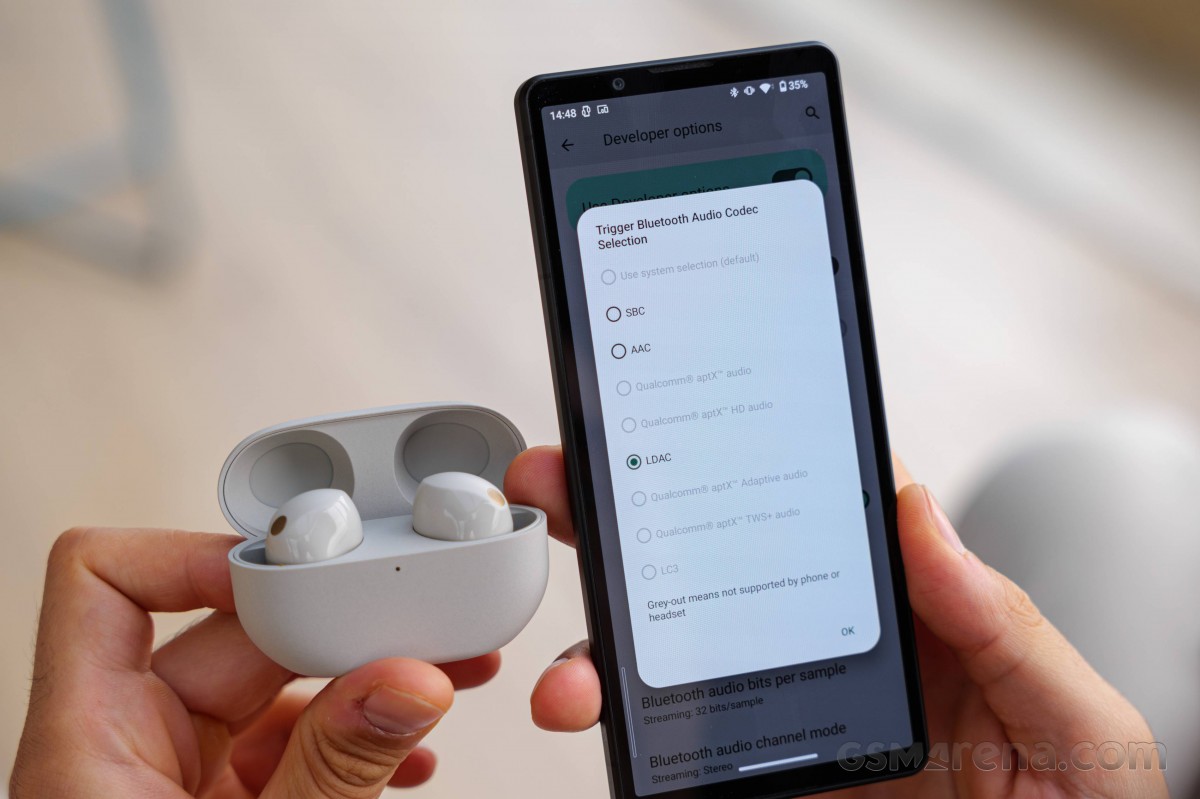 If your device and media app support the LDAC codec, you can stream higher bitrate audio at up to 990 kbps at 96kHz sampling. You also get 360 Reality Audio spatial audio with head tracking and multipoint pairing to two devices simultaneously out of the box. The latter bit is notable as the XM4s had to wait several months for a software update before they could handle multipoint pairing.
Each earbud now boasts three microphones and Sony added an AI machine-learning noise reduction engine and bone conductor sensors which should do a much better job at picking up your voice during calls. You also get Google Fast Pair on Android as well as Swift Pair for Windows 10 and 11 devices for effortless pairing to your devices. Hands-free Google Assistant and Amazon Alexa allow you to control all aspects of the earbuds as well as all of the other neat tricks offered by both virtual assistants.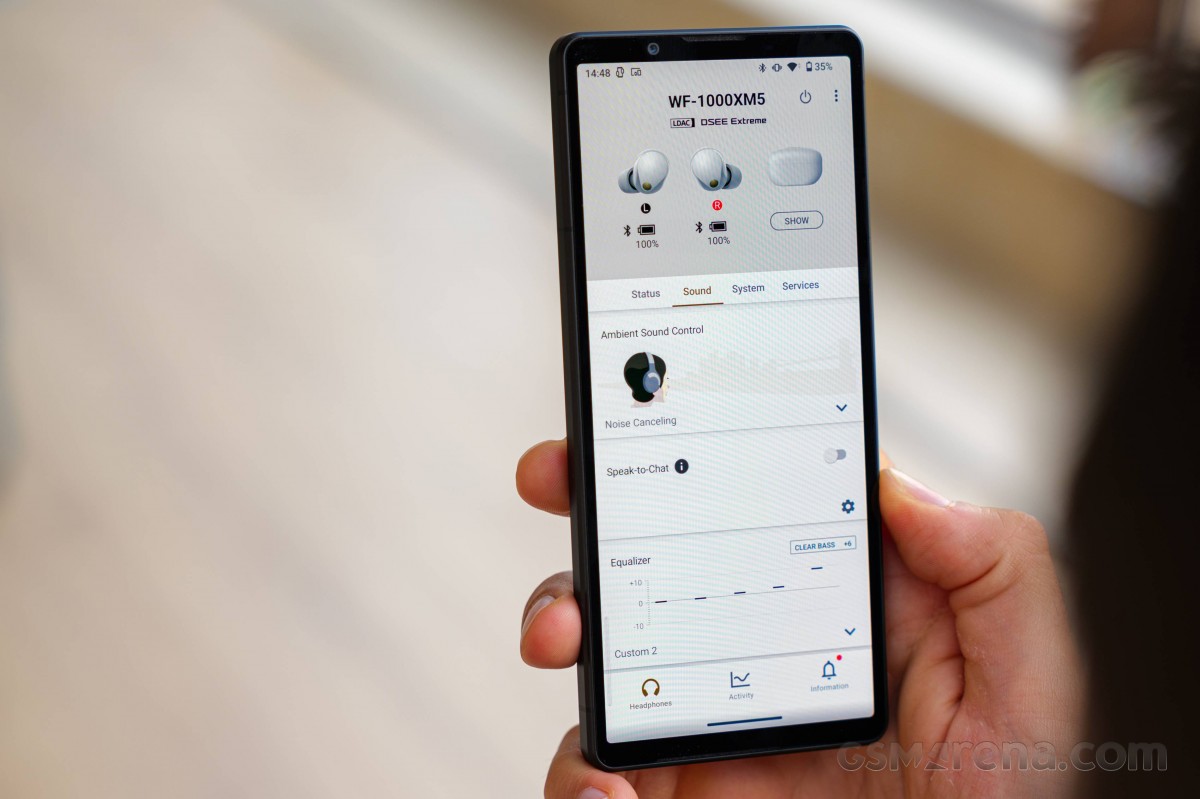 The XM5s bring standard touch controls on their outer shells though, they are not re-mapable so you're stuck with what Sony deemed optimal - four taps for volume adjustment is a bit of a hassle. Sony also added a Find Your Equalizer feature that guides you in creating a custom EQ tuned for your listening preferences.
The adaptive sound control feature automatically switches between the noise canceling and ambient modes based on your surroundings and activity. Running and walking will have Ambient mode on while transport and staying modes will bump noise canceling mode on. Speak to chat is another familiar Sony feature that instantly enables ambient mode so you can hold a conversation without stopping your music.
Sony's Headphones Connect app for Android and iOS is your one-stop shop for managing the bevy of features offered by the XM5s including the EQ and ANC modes.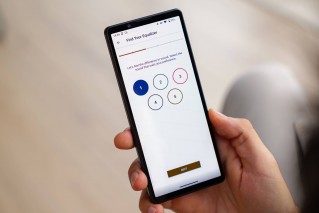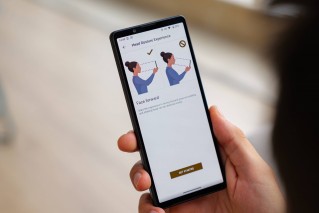 Sony's Find Your Equalizer and Head Gestures
Rounding out the feature section are some gimmicky additions like the new Head Gestures which allow you to accept incoming calls with a nod and reject them by shaking your head. There are some beta features too like AutoPlay which plays music based on your activity. You'll get uptempo music for your runs and soothing calm music at the end of your workday or after a long call. SpotifyTap is also here to let Spotify users jump directly to their tunes with a double tap on the touch control.
Performance and Sound quality
We tested the WF-1000XM5s back and forth with an iPhone 13, Sony Xperia 5 V (for the LDAC support) and a 14" MacBook Pro. The multipoint pairing works flawlessly and is a welcome addition out of the box without having to wait months for a software update like on the XM4s.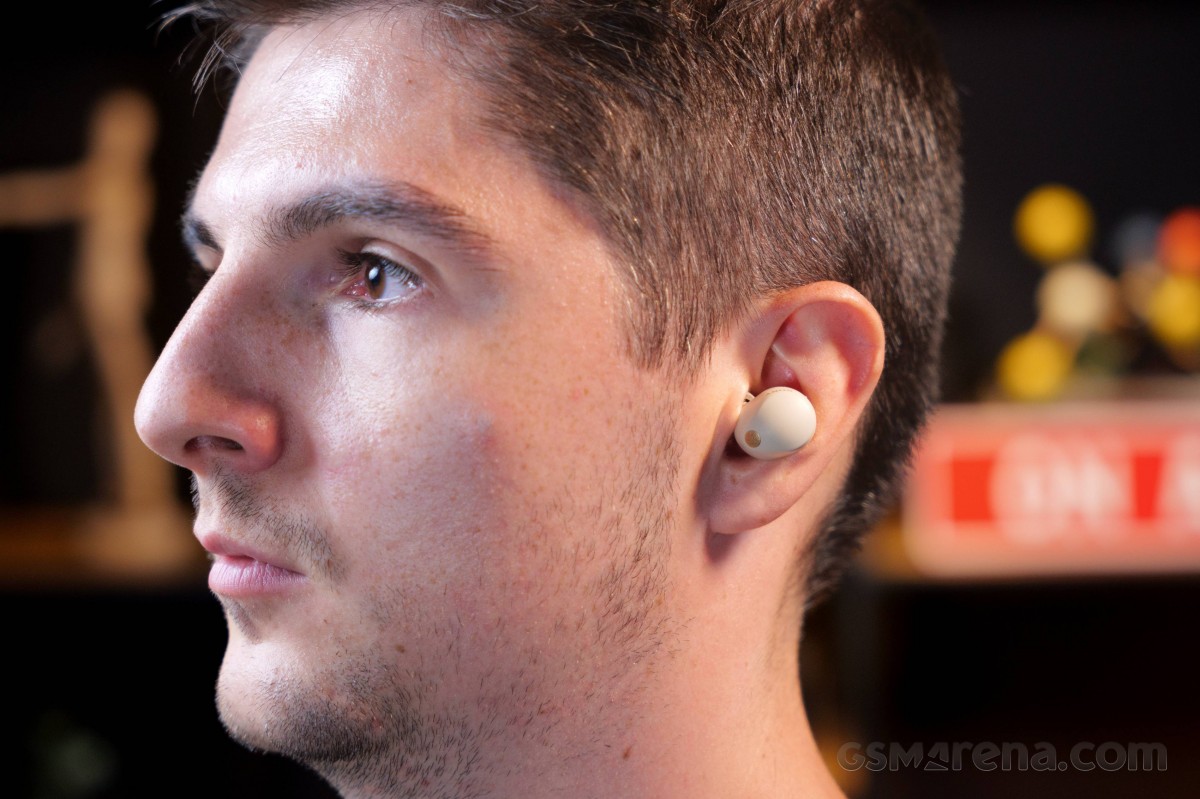 The XM5s offer a balanced audio profile out of the box with just the right amount of bass thrown in without overtaking the rest of the audio spectrum frequencies. Like their predecessor, these earbuds lean towards a warm sound stage with a fluid transition between the lower, midrange and higher frequencies. The sound coming out of the XM5s feels more mature compared to other popular in-ear offerings we've tested recently and we can confidently say it's also a step up from XM4s.
Mids are faithfully reproduced with vocals and instruments offering nuanced details that are harder to spot on more affordable in-ear buds. The treble response is also a step up from the XM4 with more clarity in the higher range. With that in mind, Sony's Headphone app allows you to tweak all aspects of the EQ to your specific liking.
The XM5s punch above their size in terms of loudness thanks to their updated 8.4mm drivers. Listening in LDAC mode proves to be a mildly better experience though, like my previous experience with the high bitrate codec, it's taxing on the battery life and it's only noticeable on specific occasions on the higher bass range and string instruments.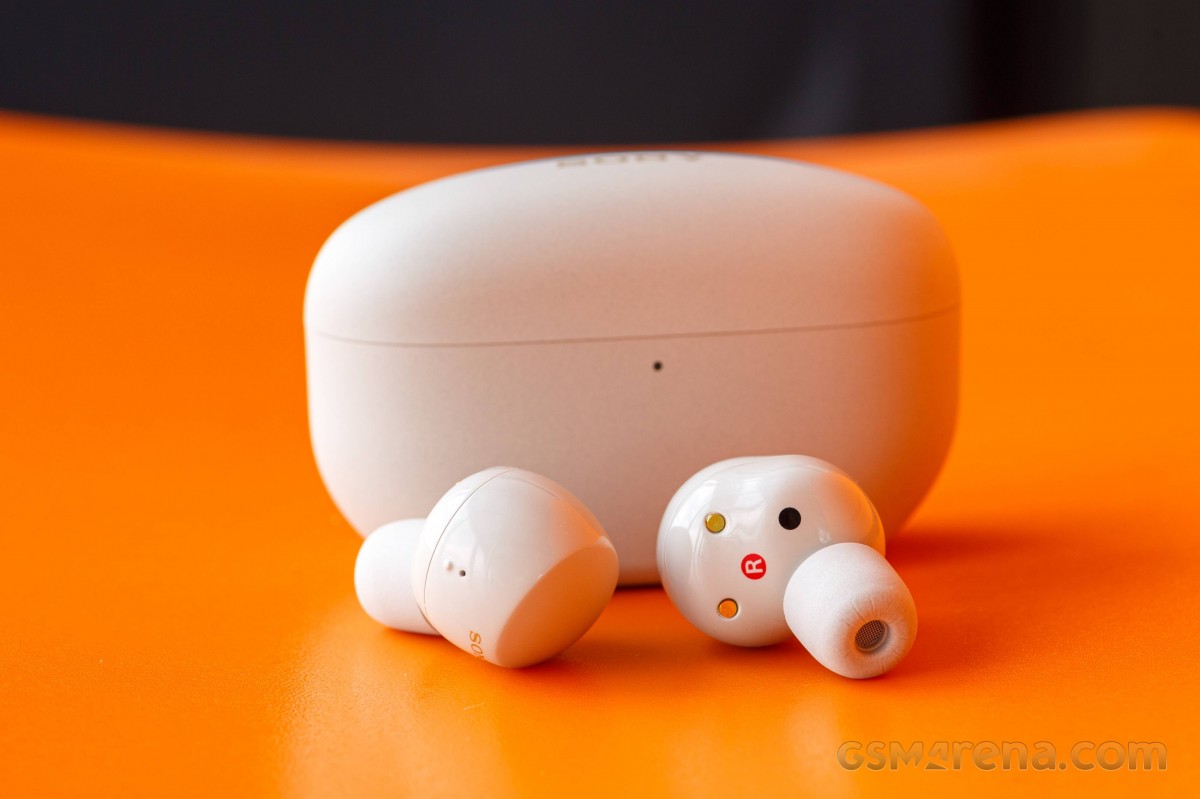 And then we get to noise canceling - the staple feature of the WF-1000XM series. The updated ANC system on the XM5s is by far the best implementation we've tested on a pair of in-ear buds. Part of this is likely due to the foam ear tips which offer great passive sound isolation on their own.
Air conditioners, water coolers and other mid-frequency noises are blocked out as soon as you put the XM5s on. More impressively, the XM5s handle busier environments just as well managing to block out a large chunk of sound across the noise frequency spectrum. While the ANC is not on the level of WH-1000XM5, we can consider the WF-1000XM5 the benchmark for in-ear noise canceling.
Ambient mode is executed to perfection allowing you to naturally hear your surroundings and voices which is usually a weak point for other wireless earbuds. You also don't get the vacuum effect that's usually associated with less expensive noise-canceling earbuds.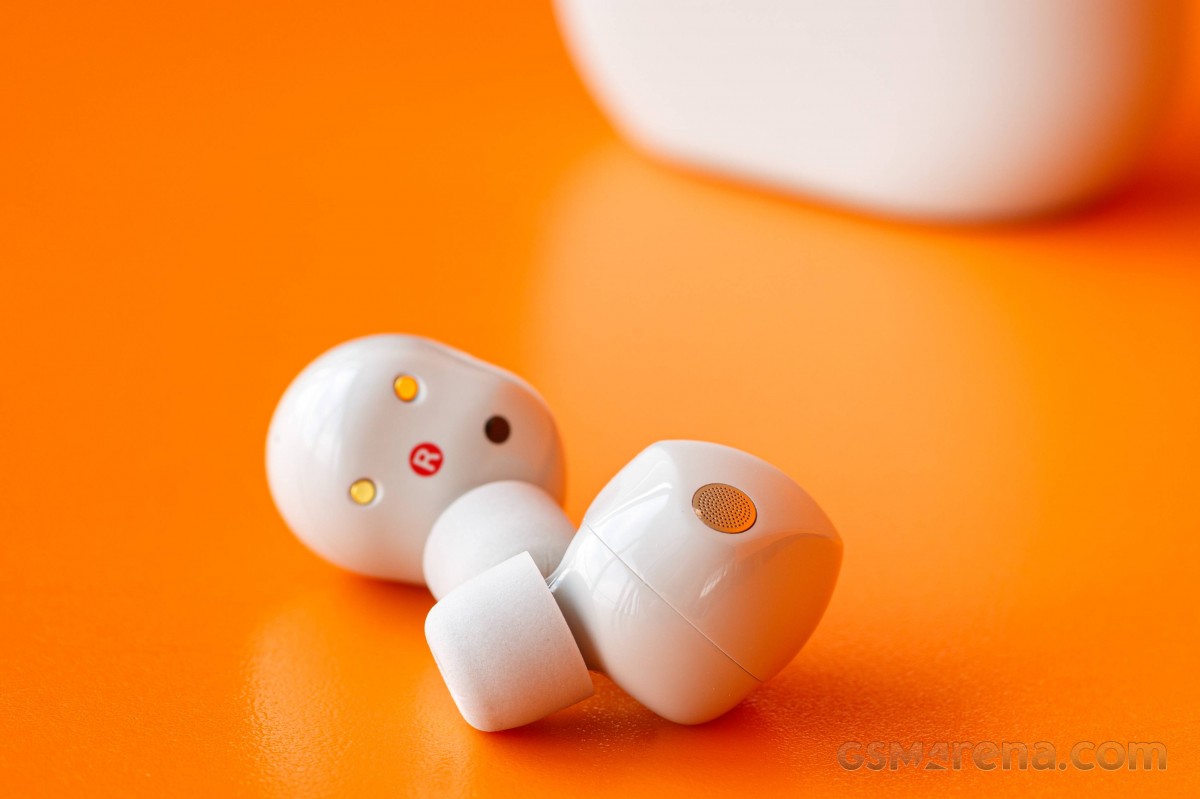 We were also impressed by the microphones which offer great voice pickup - a noticeable upgrade over the XM4s during our call tests. The XM5s managed to pick up my voice on busy streets with lots of car traffic and even handled moderate winds with people on the other end reporting clear reception of my voice.
Latency performance while watching video content exhibits minor delays - better than most wireless earbuds we've tested. You still notice audio lag while playing games but that's the case on all Bluetooth headphones. Connectivity was solid throughout my testing on all four test devices with no dropped connections or stutters.
Battery life
Sony claims that the XM5s are capable of 8 hours of battery life with ANC on while the case adds two full recharges, bringing the total playtime to 24 hours.
In our testing, we got up to 7.5 hours with ANC (on the SBS codec) which is good enough though a bit off from class-leading buds that offer over 11 hours on a single charge. It's also important to note that the high-res LDAC audio codec is even more taxing on the battery and we only got 6 hours of continuous playback which matches the XM4s. The charging case adds two full recharges of the buds which means the combined battery life tops out at 22.5 hours.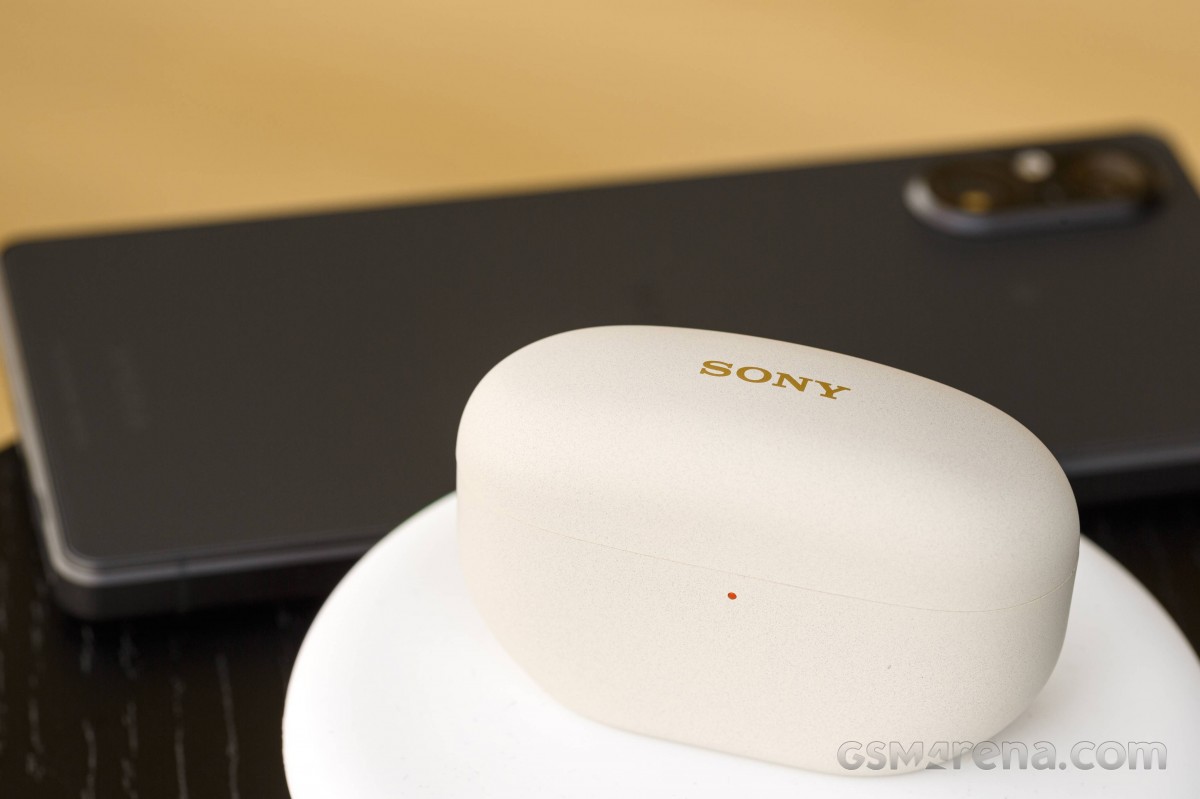 A full recharge cycle for the earbuds and the case takes 90 minutes via the USB-C port while the wireless route takes over 3 hours. A quick 3-minute charge via USB-C will net you up to an hour of playback.
Verdict
The Sony WF-1000XM5 are the best-sounding wireless earbuds we've tested to date. They also happen to offer superb noise cancelation, an extensive set of features and come in a lighter and more pocket-friendly design.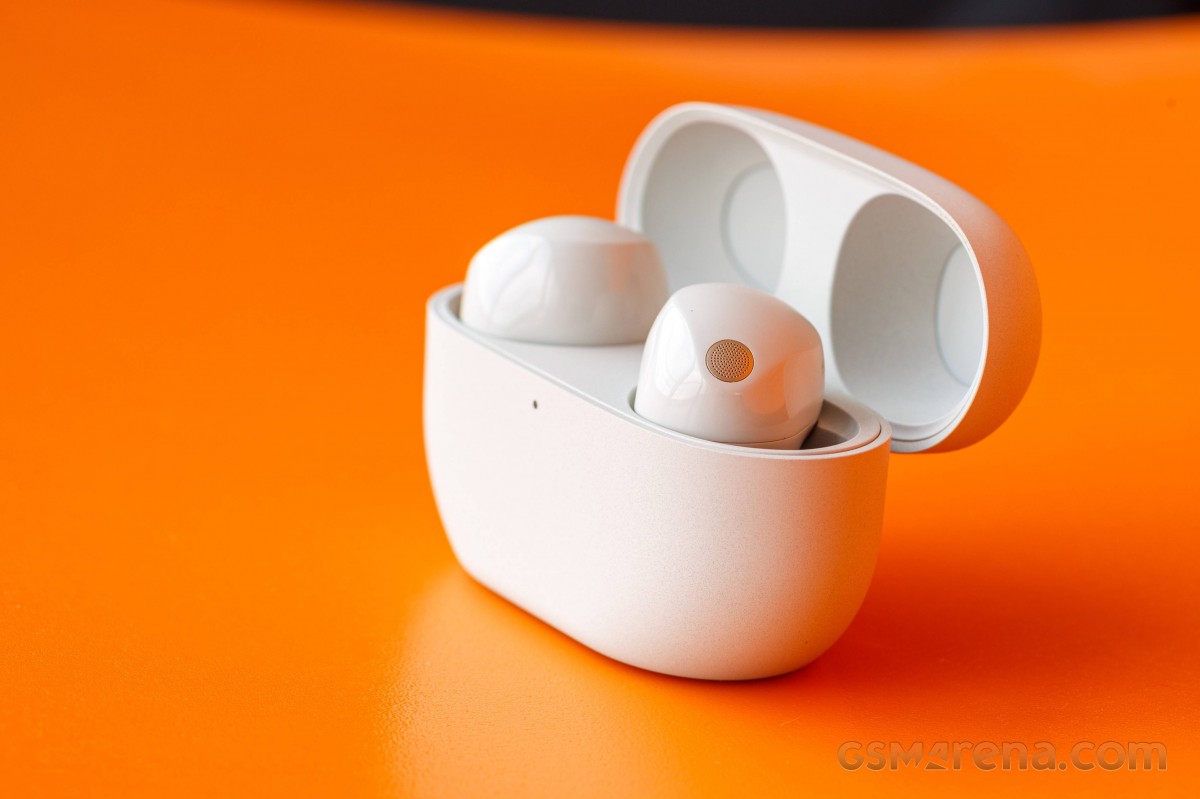 Sound quality benefits from the new 8.4mm drivers and the improved sound tuning fixes one of our only gripes from the XM4s - the muted upper treble. Noise-canceling is in a league of its own and blows past competitors from Apple and Samsung.
The only gripes we have with the XM5s are their non-remappable touch controls and the foam ear tips which are less comfortable than silicone tips for longer listening sessions.
If money is no object, then the XM5s are a resounding yes! We believe you can't go wrong with these earbuds, regardless of what smartphone ecosystem you're in.
We may get a commission from qualifying sales.
S
I wonder if Sony worked on allowing any USB C to charge their in ear cases! It's really a hassle finding out which of my premium cables/chargers work and which don't!
n
"we can consider the WF-1000XM5 the benchmark for in-ear noise canceling." Does this include the Bose QC Buds II? Most other reviews seem to point to the ANC on the XM5s not being quite as good?
s
Sony buds are actually very good quality both sound and build, not cheap but they do deliver
ADVERTISEMENT