The Sony WF-1000XM4 TWS earphones have been on the market for a while now and have built up a reputation for themselves. Widely praised for their audio quality and especially their active noise cancellation feature these quickly become an industry benchmark. Our review from last year echoed similar sentiments, with my colleague coming out very impressed from his experience with the earbuds.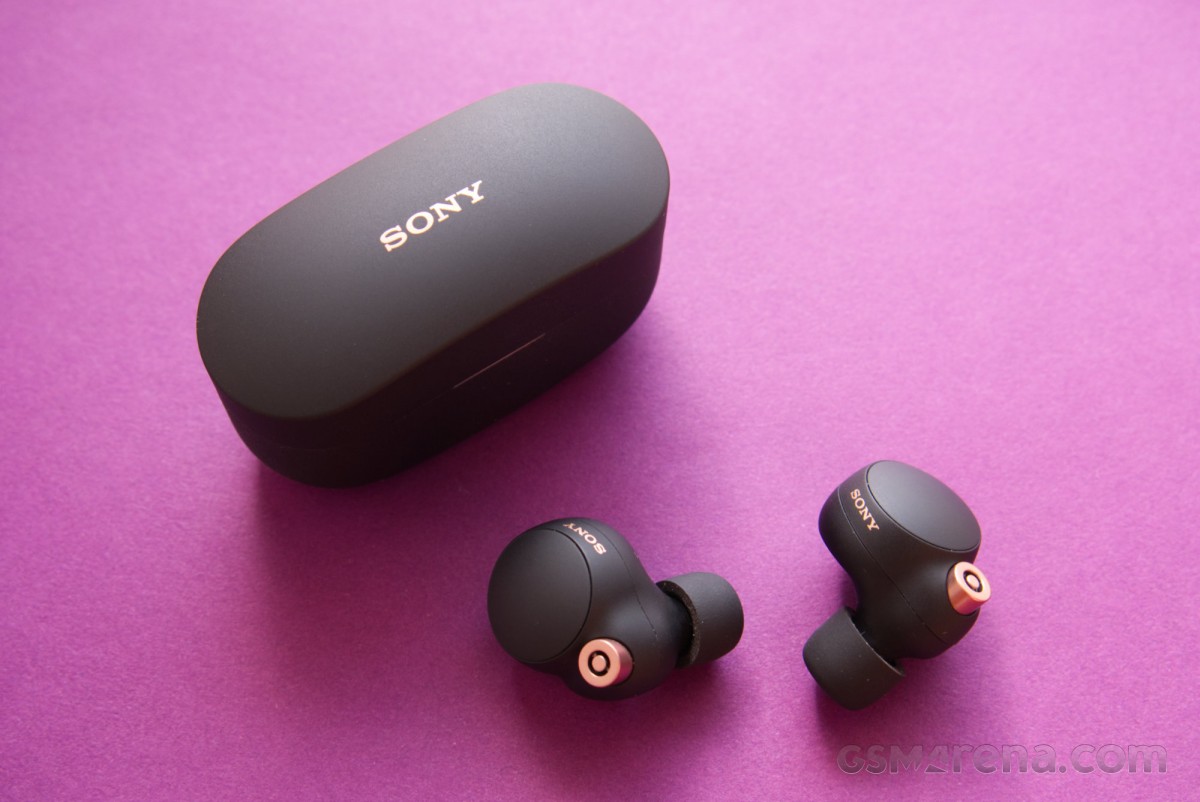 Having spent some time now with the WF-1000XM4, I had some thoughts to share myself. Like how there's no easy way to shorten the name; you can't just call them 1000XM4 because then someone will confuse them with the WH-1000XM4 over-the-ear headphones. And it's not like you can call them WF, either. Sony really doesn't make this easy for us. I wonder if regular users even acknowledge these names.
Aside from that, I do have some other thoughts on the WF-1000XM4 (sigh) as well, particularly related to the sound quality and comfort aspect of these earbuds. So read on to find out.
Design and comfort
The WF-1000XM4 continue Sony's tradition of oddly shaped earbuds. They have a strange globular design with steampunk gold vents for the microphones. It's certainly distinctive but whether it's attractive is something for you to decide.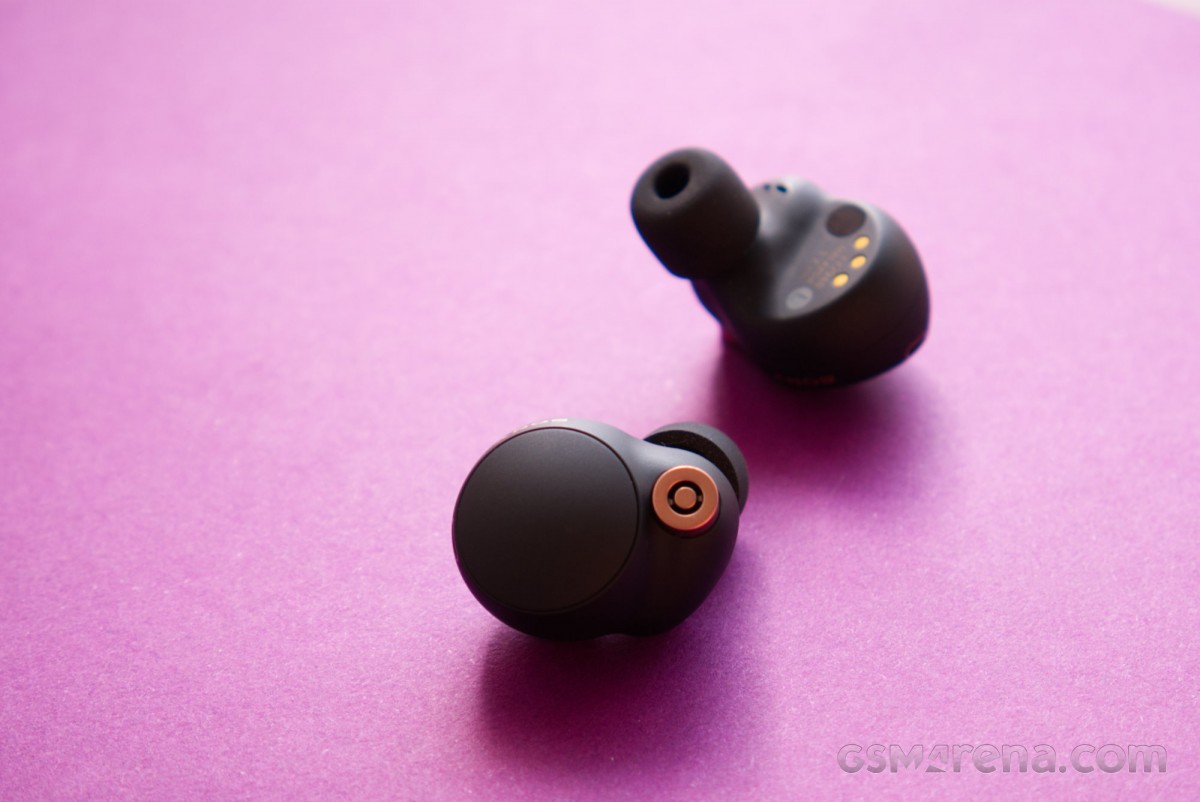 The outer shell of the earbuds have large touch-sensitive areas for gestures. You can just touch lightly on these to activate the gestures, which certainly beats prodding your ears the way most other earbuds require.
On the inner side of the earbuds are the optical proximity sensors that detect when the earbuds are placed inside your ears and play/pause the audio accordingly. Speaking of which, does anyone want to see a magic trick?
Yup, the location of the sensors on the back is such that if you place the earbuds a certain way on a surface it will block the sensor and make the earbuds think they are back inside your ears. I've often come back to the audio still playing when I had removed the earbuds and placed them on the desk even though I wasn't wearing them. Definitely an oversight on Sony's part.
As for the case, I found it surprisingly difficult to pull the earbuds out at times. Only part of the earbuds stick out and they are all smooth and rounded with little grip. There's not much room to maneuver your fingers as the case lid gets in the way and there's little gap between the earbuds. The earbuds are also held in place by surprisingly strong magnets. All of this leads to a fair bit of struggling every time I'm trying to take them out.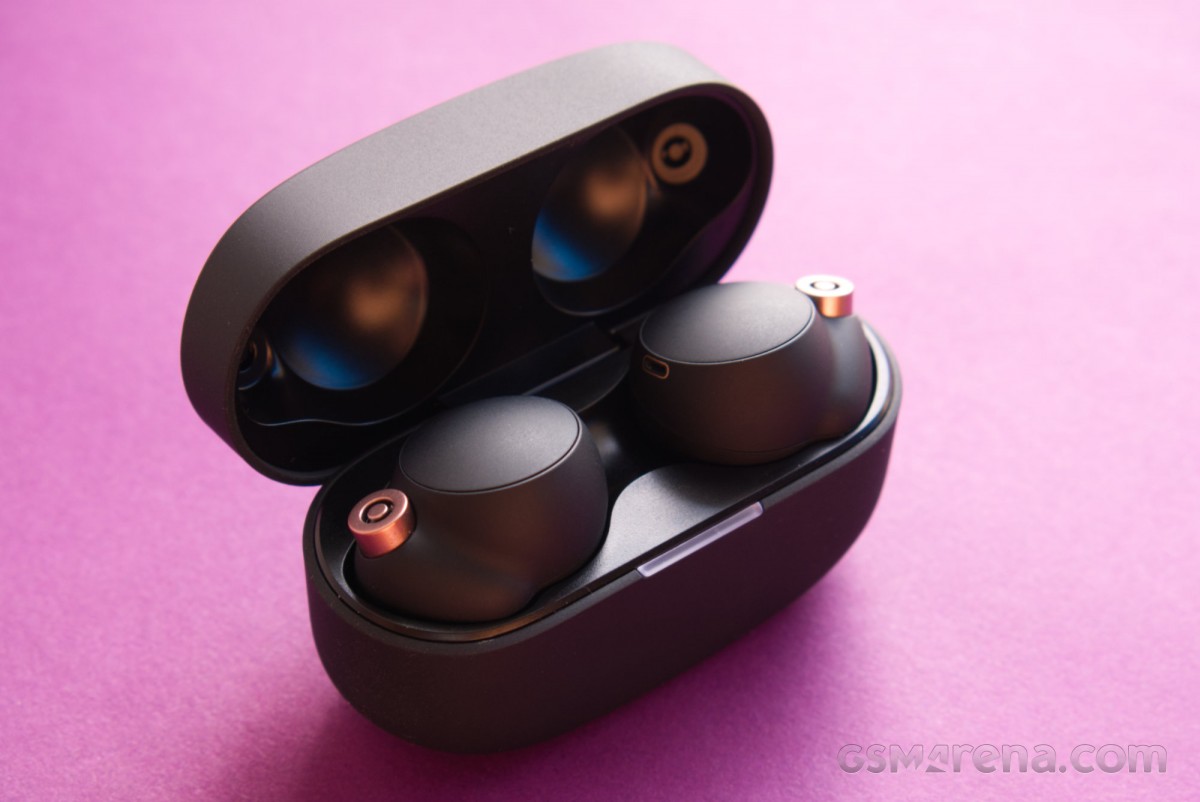 The WF-1000XM4 come in a very interesting minimal gray packaging that looks like a mini egg carton. It's all very eco-friendly and nice. Inside you get the earbuds along with a small USB-C charging cable and two additional pair of foam ear tips (small, large) alongside the one pair already applied on the earbuds (medium).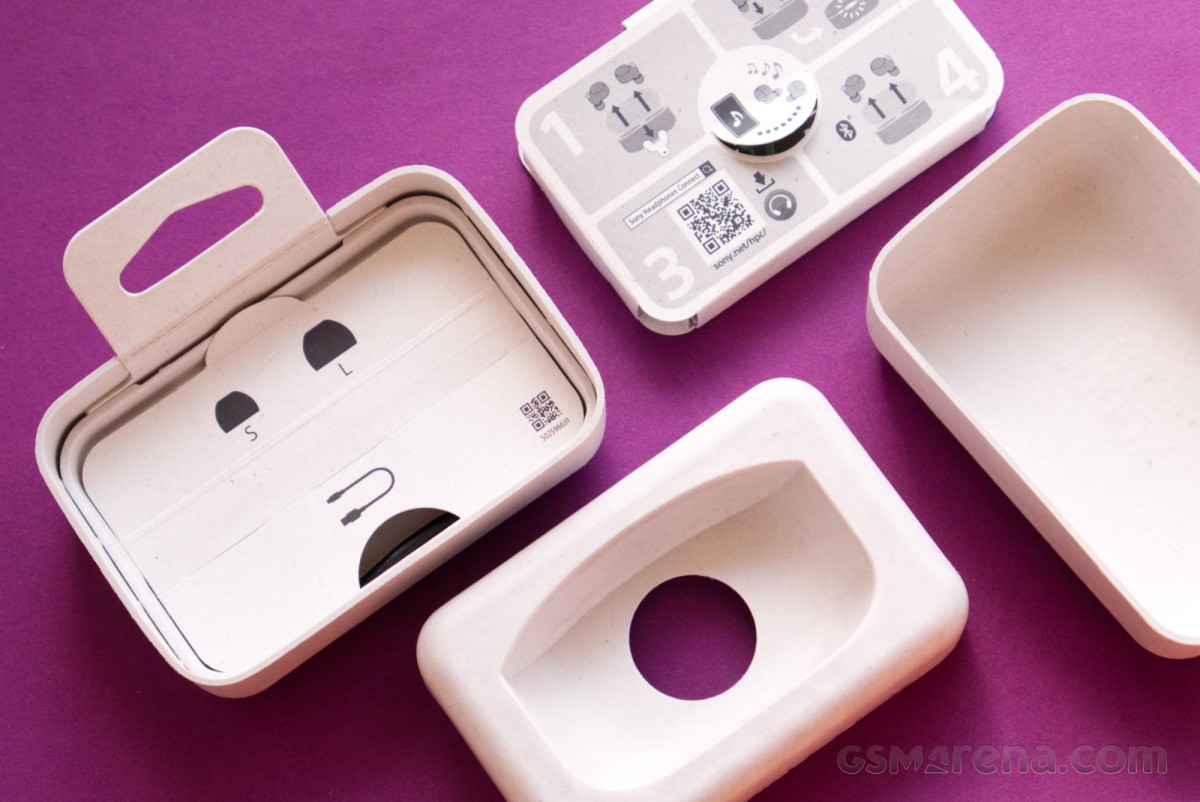 The packaging has specific indentations made to accommodate the small and large earbuds, which always amuses me because if you were to, say, swap the default medium tips with the small ones, then the now spare medium tips won't fit inside the indentation for the small tips so you'll just have to put them somewhere else.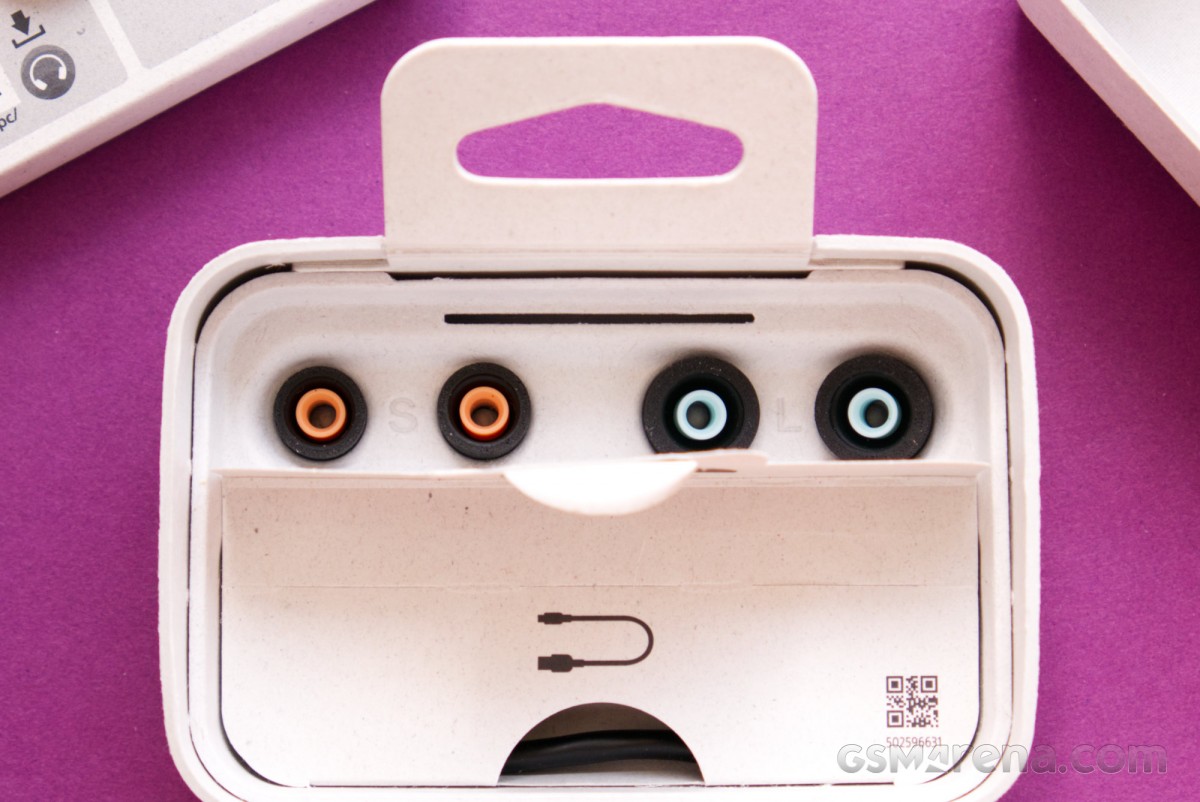 Since we are on the topic of tips, now is a good time to talk about comfort. Sony has made an interesting choice to ship the WF-1000XM4 with only foam ear tips. As mentioned before, you get three sizes but there's no silicone option. In comparison, the WF-1000XM3 came with three pairs of foam tips and four pairs of silicone tips in different sizes.
Unfortunately, I found the foam ear tips on the WF-1000XM4 to be quite uncomfortable. The default medium size swells up to be a bit larger than my ear canal and the small size just isn't big enough. This forces me to stick with the medium size, which tends to put quite a lot of pressure on my ears as it tries to expand.
The solution for this was rather simple. I just plucked the silicone ear tips from another pair of earbuds and put them on the WF-1000XM4. These tips provided just as good passive isolation as the foam tips and were light years ahead in terms of comfort.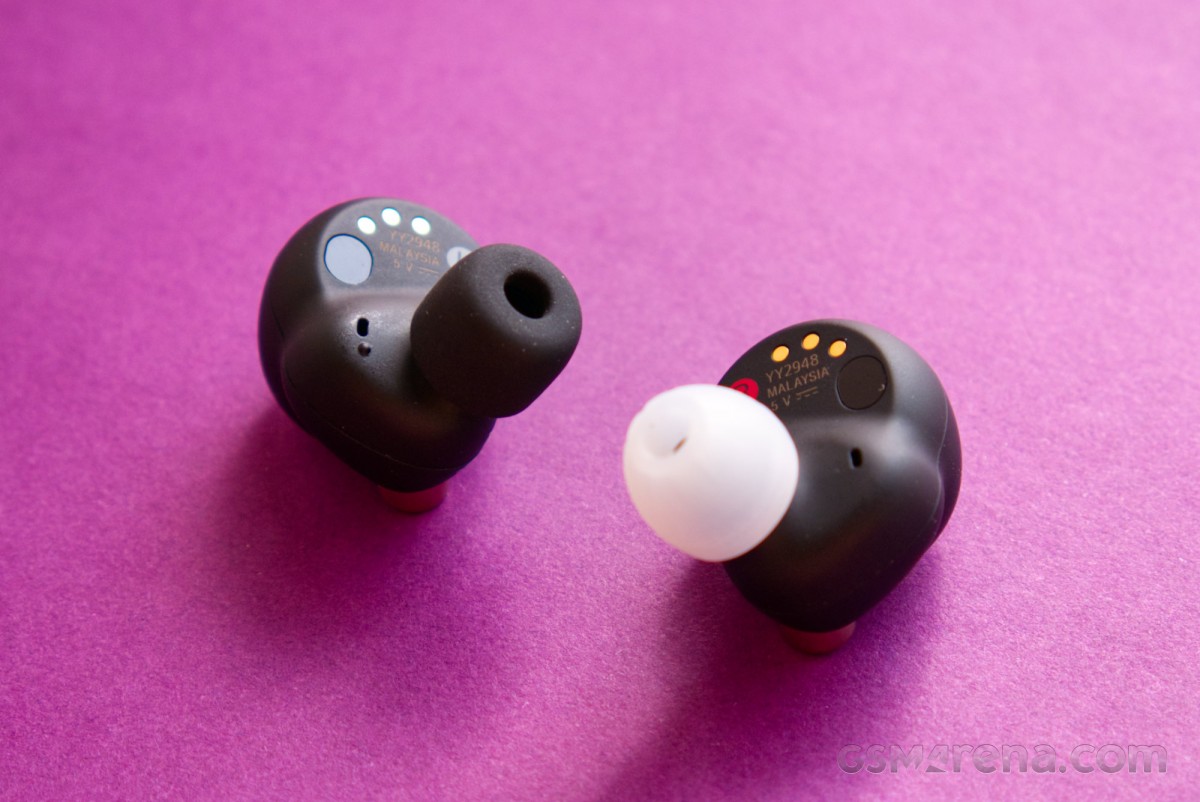 I always say in these reviews that comfort is a subjective topic and your mileage will vary. However, I've heard reports from other users and reviewers as well of the WF-1000XM4 being uncomfortable to use in the long run. Sony could have made things easier by either offering more sizes for the foam tips or offering silicone tips in addition. The sizes currently being offered simply aren't enough and the foam being used is too thick and stiff for comfort.
That aside, I didn't have issues with having the WF-1000XM4 in my ears. Despite the oddball shape, they don't put any undue pressure on any other part of my ears and after I swapped out the foam tips I was able to wear these for hours at a stretch.
Performance
Audio quality
The WF-1000XM4 use relatively small 6mm dynamic drivers. You get support for SBC, AAC, and LDAC along with Bluetooth 5.2 connectivity.
The tonality of the WF-1000XM4 is biased towards warmth. There is a greater emphasis on the bass region and a de-emphasis on the treble region.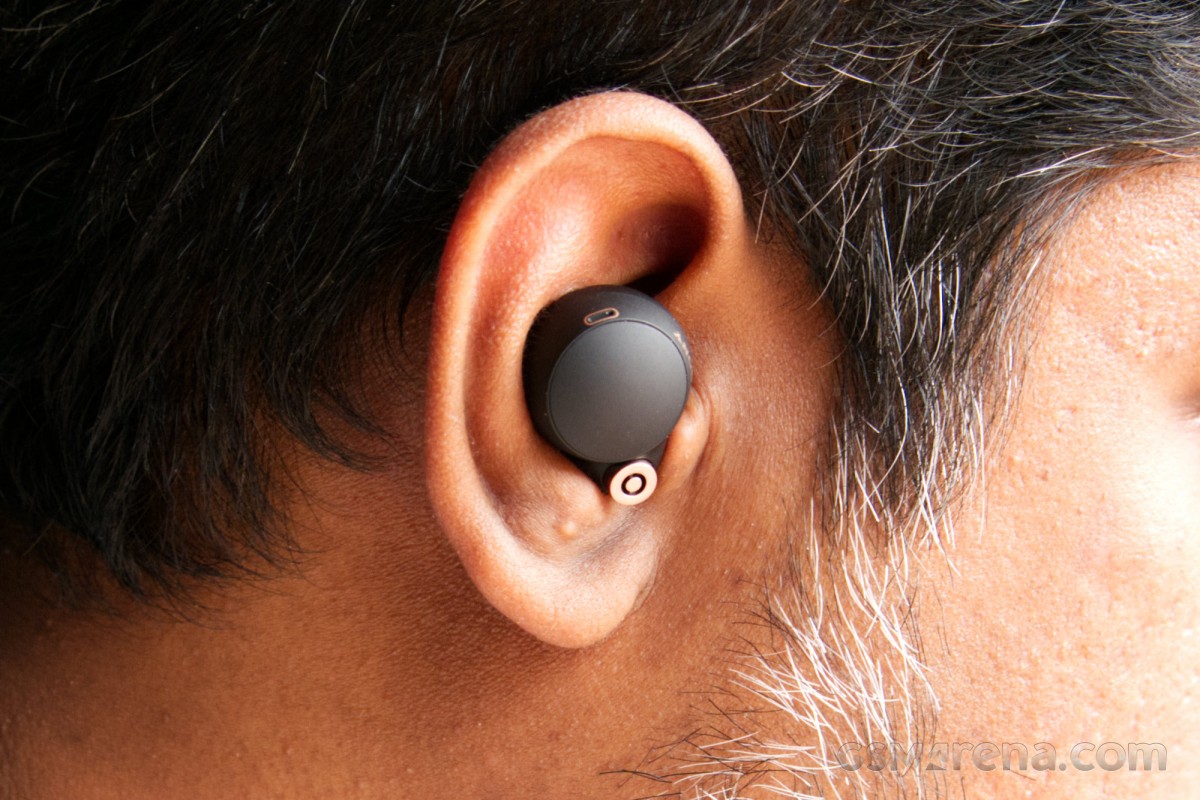 The bass has a gentler elevation than what we find in most Sony earbuds so it doesn't drown the sound in excessive bass energy. There is a more gradual bass shelf that starts off in the upper bass region and goes all the way into the lower octaves. The broader shelf prevents any peculiar boominess in any specific region and you get a more uniform boost to the bass overall.
The mid-range is much more balanced, especially in the lower ranges. Male voices do sound neutral and full-bodied as a result with just a hint of residual warmth from the bass boost. The mid-range does taper off a bit at the higher end as it goes into the treble, which can cause female vocals to be pulled back into the mix along with percussion and string instruments.
The rest of the treble then continues this downward slope and is noticeably quieter compared to the rest of the frequency range. Sony has de-emphasized this region compared to the WF-1000XM3, which causes the treble to come across as dull and muddy at times. This may not be an issue on recordings that tend to be hot, particularly pop music from the 70s and 80s, but modern, well-recorded tracks will lack the bite at the high end.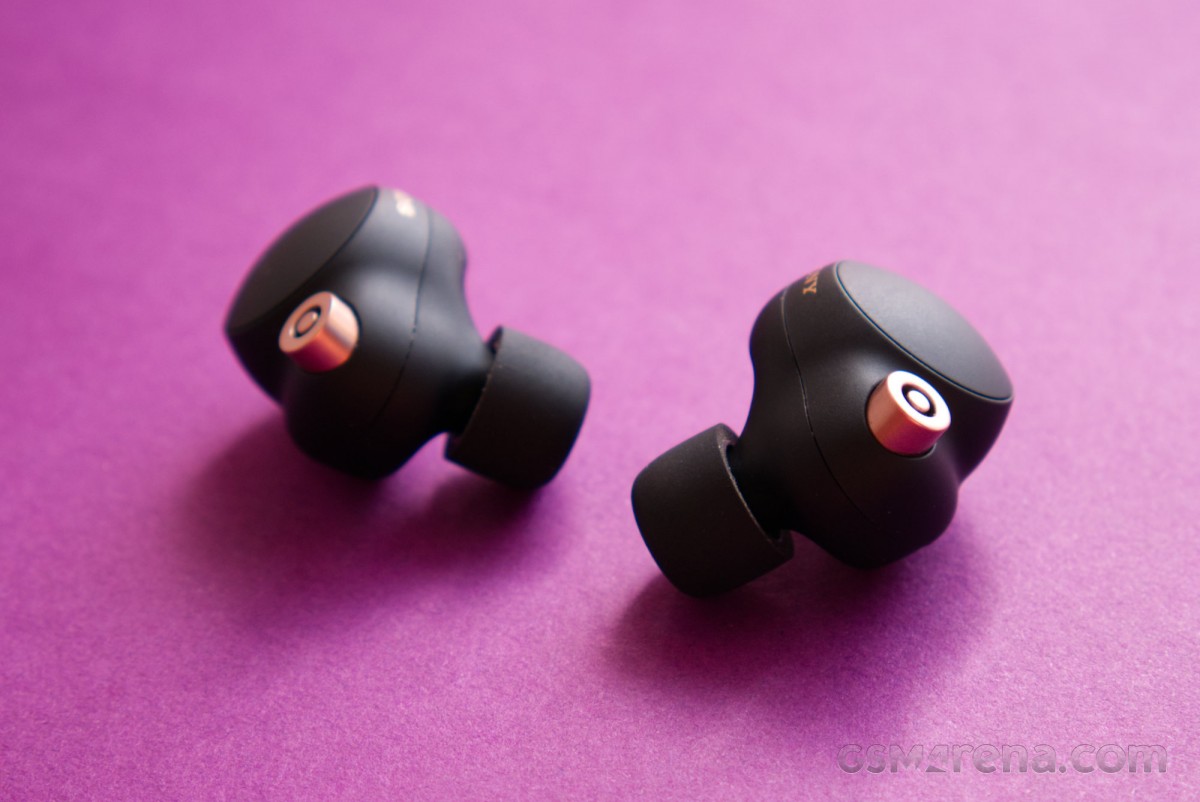 The overall sound thus has a darker edge and mostly just comes across as warm due to the bass tilt. The previous generation WF-1000XM3 had a more balanced sound in comparison, as it had slightly less bass boost and a much more filled-out treble response. In fact, it went a bit too far in the other direction at times and could be a bit sibilant in the high-end. I'd still personally pick the WF-1000XM3 tonality but the WF-1000XM4 doesn't sound bad, either. The dips in the treble aren't as severe as some other bass-focused earbuds and can thus still be enjoyable even if it's not as accurate.
In terms of technical performance, the WF-1000XM4 do okay. Detail and resolution are a step above most earbuds, particularly the more affordable offerings on the market, such as the OnePlus Buds Pro, although it's still not close to good wired IEMs. Imaging performance is decent but is affected negatively by the dull treble. Soundstaging is unremarkable and typical for in-ear products. It's mostly focused between your ears and never quite expands beyond it.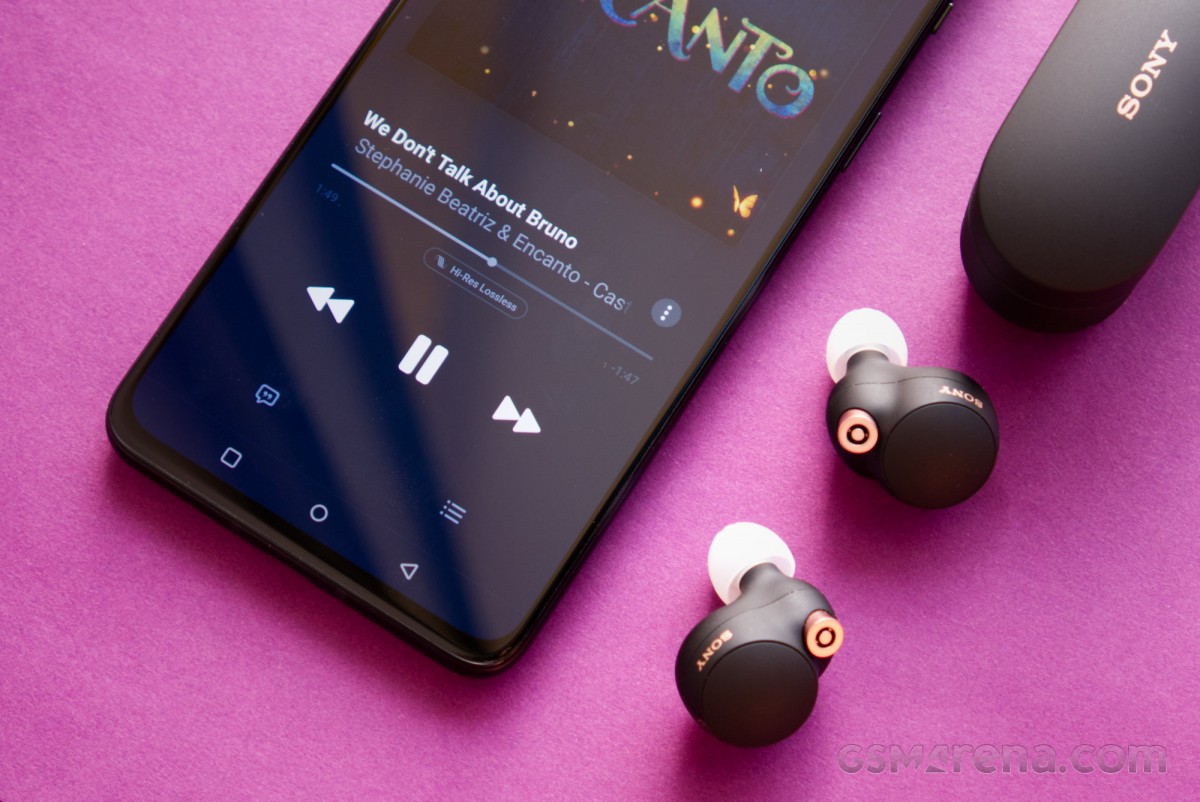 All things considered, the WF-1000XM4 are an enjoyable pair of earbuds to listen to and one of the best sounding wireless earbuds on the market even in 2022. Have I heard better at a fraction of the cost from wired earbuds? Absolutely. But WF-1000XM4 are also vastly more convenient with many other features that make it even in my opinion. More importantly, the gap isn't huge so you don't feel like you're sacrificing a lot in terms of audio quality to get those other creature comforts over wired IEMs.
Microphone
The WF-1000XM4 have above-average microphone performance. The audio sounds reasonably natural in a quiet room and remains audible even in a noisy environment. This is one area where wired earbuds definitely do have a commanding lead still but the WF-1000XM4 do a decent job and should be fine if you make a lot of voice calls.
Noise-canceling
Sony has come to be known for its exceptional digital noise-canceling performance and the WF-1000XM4 are no exception. Despite their diminutive stature, the earbuds do a fantastic job of blocking out most of the noise around you.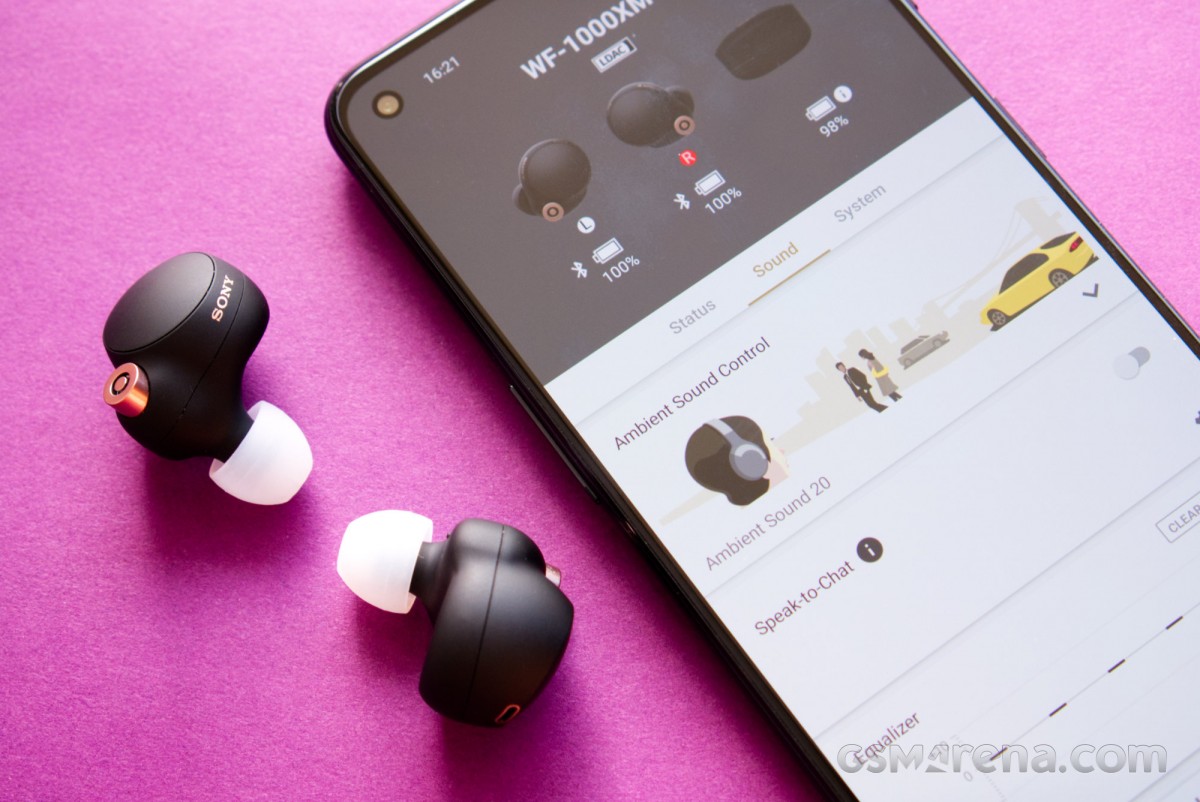 Compared to the cheaper earbuds on the market that also claim to have this feature, the WF-1000XM4 have a much more comprehensive noise filter. It tackles much more of the ambient noise audio spectrum, including the mids and the higher frequencies, while the cheaper models often tend to cover just the low frequencies. The end result is much more complete control over ambient noise.
Where the WF-1000XM4 take a backseat is in the quality of the transparency mode, which Sony calls Ambient Sound. It feels a bit tinny and artificial sounding compared to some of the alternatives out there, such as the AirPods Pro. Even the OnePlus Buds Pro have a more natural-sounding transparency mode, in comparison.
Latency
The WF-1000XM4 have good latency performance for video content. There is an extremely minor delay, which most people won't be able to notice, and is easy to adjust to even if you are sensitive to it as your brain bridges the gap over time.
While gaming, the latency is more noticeable so it's not quite ideal unless it's casual stuff. For more serious gaming you are always better off with wired audio, especially if you also need to use the mic.
Connectivity and reliability
The WF-1000XM4 performed mostly reliably in my testing. When testing with SBC and AAC codecs, there were no issues with the connection and the audio never dropped.
With LDAC, things tend to be a bit more variable. While 330kbps and 660kbps worked completely fine, 990kbps would occasionally cause pretty severe dips in sound, which would require dropping down to at least 660kbps. The odd thing, however, was that this didn't happen every time, as there were times when playing at 990kbps produced no issues at all.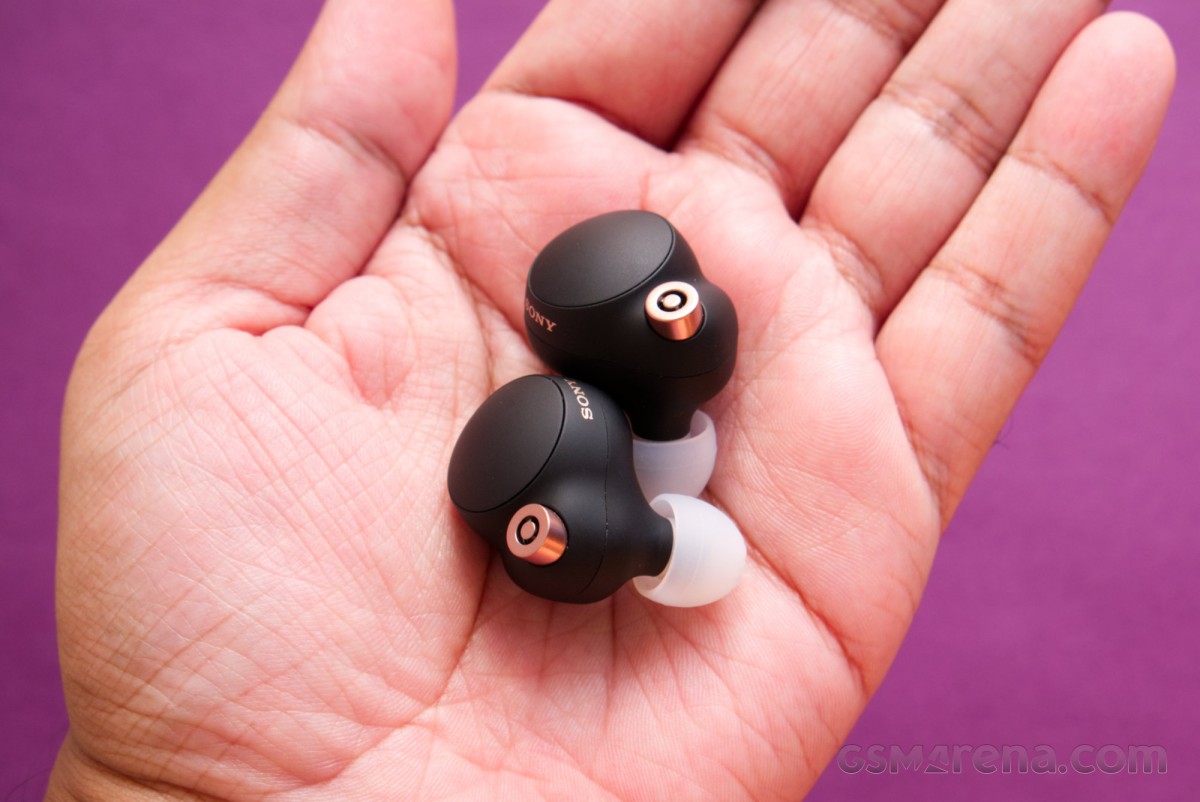 The issues with LDAC are something I noticed with the WH-1000XM4 as well while reviewing them back in 2020. It seems to be a recurring issue with Sony products, which is odd considering it's a Sony codec. However, this will only be an issue if you like to manually set the bitrate to 990kbps and if you just leave it at auto then you won't have any issues.
Battery Life
The WF-1000XM4 have a claimed battery life of up to 8 hours with ANC on for audio playback. That may be the case with either SBC or AAC but when I tested with the more demanding LDAC set to 990kbps, I was able to get only 6 hours of continuous playback. That's not too bad compared to other products on the market but a fair bit off from Sony's claim.
I also tested how long the earbuds would last on a quick 10-minute charge from flat and they went on for 2 hours at the same settings as before.
Conclusion
The WF-1000XM4 are a pair of high-quality wireless earbuds and continue to be a great option in 2022. They are certainly expensive but having tested a bunch of the cheaper options on the market today you are definitely getting what you pay for here. Key aspects such as the audio quality, the active noise canceling, the microphone quality, and even the battery life are head and shoulders above cheaper alternatives.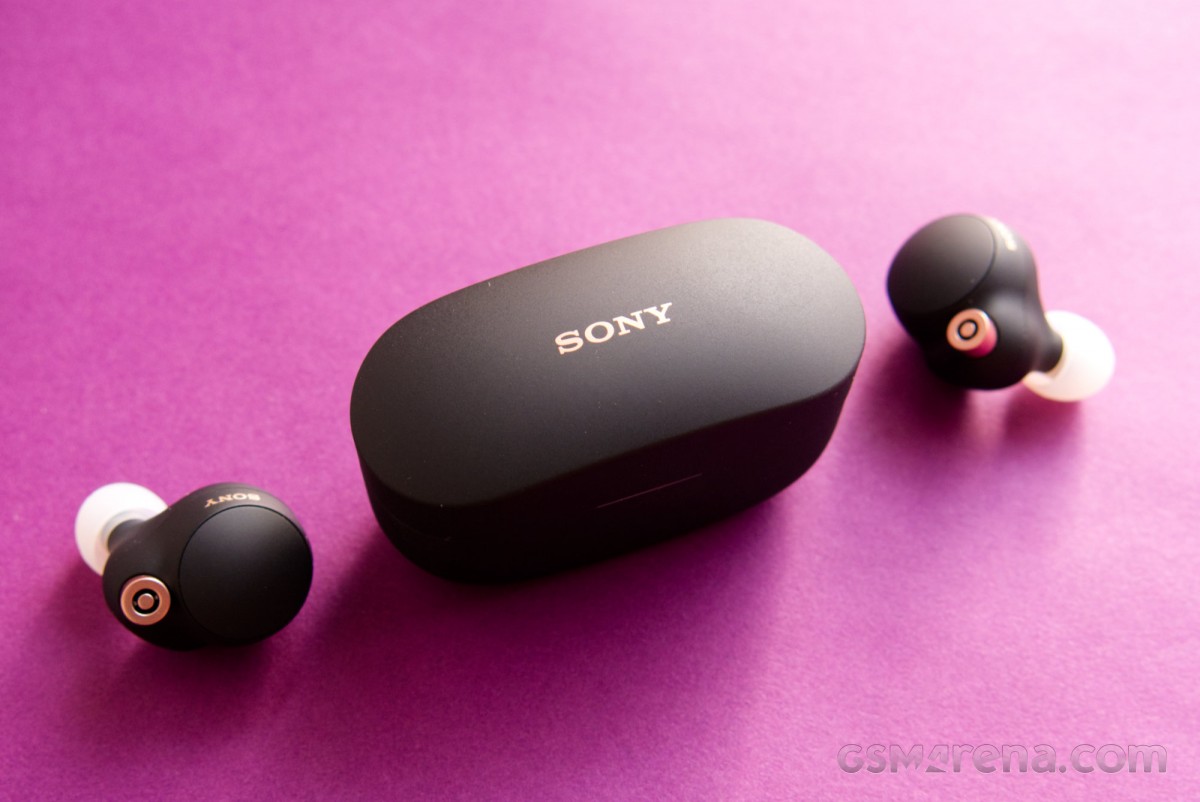 Where I'd like Sony to improve is in the comfort department. This was an issue with the previous WF-1000XM3 as well for different reasons and with the WF-1000XM4 it's the stiff foam tips that come in limited sizes that are the culprit. More size options or a choice of silicone tips would certainly be welcome and not too much to ask for the price.
There were also some other minor gripes, such as the stuttering when using 990kbps LDAC at times, and the transparency mode, which could sound more natural.
Aside from that, there really isn't much to complain about the WF-1000XM4. At around $250, you'll be spending a small fortune on these but it's an investment I'm comfortable recommending.
N
Same problem, firmware 2.01 does not help. Charging with red light after a while, heated up badly. Concern about safety of this product! Wonder why Sony does not recall them, really not something that I have expected of them, being a faithful custome...
M
Unfortunately, no luck after 2.0.1 update. Same problem persists. And I'm starting to believe that battery drain issue hasn't got anything to do with the software but simply first few batches of the product (mine are bought in Nov 2021) sim...
M
Firmware 2.0.1 is out. In release notes - not a single word about battery. My problem is not that bad - I still manage to pull off more than 4 hrs before my left bud dies (at that point the right one still has 30+% power left). Also noticing that som...
ADVERTISEMENT