Sony teaser describes upcoming Xperia as a camera attached to a phone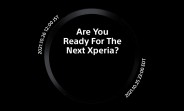 As you might have heard already, Sony is gearing up to introduce a new Xperia smartphone next Tuesday on October 26. There are zero clues to go by as to what this phone is but now Sony went ahead and released a teaser video hyping up its upcoming launch.
The video features several professional photographers who praise past Sony models like the Xperia 1 III, Xperia 5 II and Xperia Pro and then has some details for the yet to be announced model with one content creator describing it as a "camera with a phone attached" while a photographer shares it has a dedicated shutter button which is a "game-changer" for him.
Lastly, the device in question is touted as "the best smartphone camera ever used" by filmmaker Philip Bloom as the teaser video comes to an end. While we don't get an actual look at the device nor any of its specs we can expect a photography-oriented phone that should excel at stills and video. Hopefully, Sony clear things up before next week's event with some more teasers or else we'll be heading into the event virtually clueless.
w
Sony really needs to amp up their marketing budget, this teaser didn't look that professional.
A
Even with Pro app, Xperia is behind auto mode on pixel. Other Android flagships in their manual mode have left your Xperia in dust
i
There is imx800 announced on March this year, first phone to use it was huawei p50 pro but it uses harmony os and not 5g
ADVERTISEMENT