Sony is now pushing stable Android 12 to Xperia 1 III and Xperia 5 III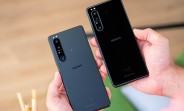 Sony is the latest company to update their latest flagships to Android 12. The Xperia 1 III and Xperia 5 III are now getting the latest OS by Google with a build number 61.1.A.1.149. First in line are dual-SIM variants (model numbers XQ-BC72 and XQ-BQ72), with other versions expected to follow very soon.
The update brings plenty of new features for Sony Xperia owners. The company posted a convenient guide on its website, introducing the best elements of the new A12 experience (or should we say xperia-nce). The OS offers long screenshots, one-handed operation and a notification, telling users when their mic and camera are used.
This major update comes from OTA and is suggested to be downloaded over a Wi-Fi connection. If there isn't a notification, users should head to the Software update section to see whether the package has arrived. Power users can already make the switch and download the firmware, but they have to use additional hardware for a manual flash and clean install.
m
will Xperia 5 ii get android 12?
?
These are all of the reasons why my next phone will be a Sony, except for the 4K screen. QHD would be enough for me, but it is hard to find a phone with a decent spec list with a clean-ish version of Android and expandable storage with a headphone so...
M
Hello all, same problem here in Xperia 5 iii, android 12, playback frozen, especially when recording in 4K with HDR enabled. 2 weeks already. Restart, record and playback will freeze again after one try. Problem persists after factory reset AND ...
ADVERTISEMENT