A developer called Dmitry Grinberg, has ported Marshmallow to run on the Samsung-built Nexus S. He made a post explaining how he was able to build the software to run on outdated hardware.
The Nexus S has a 1Ghz Samsung Hummingbird processor, 1GB of system partition (which was separate from the userdata partition), and 512MB of RAM - all of which presented as obstacles to supporting Marshmallow.
Android phones today share the total internal storage partition with apps and files. Early versions of Android had two different partitions for storing apps (system) and storing photos (userdata). This meant that while your phone had 16GB of storage, you only had more or less 1GB to store firmware and apps. The memory and storage partitions have come a long way since then.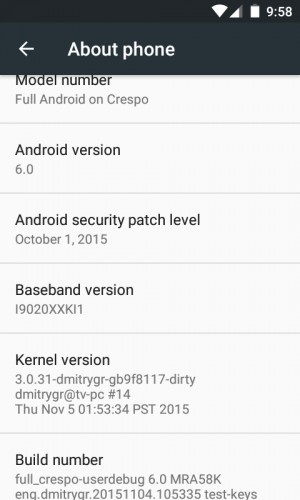 The ART runtime also was an obstacle since it kept timing out upon installation of apps (Facebook, in particular, was taking too long to compile and timing out). Grinberg also provided patches to increase the ART runtime timeout and graphics language.
Grinberg provides flashable ZIPs for those who want to experience Marshmallow on a 5 year old Nexus. Sensors, NFC, WiFi, Bluetooth, camera, GPS, cellular, and recovery were tested and working on these builds.
y
shut up and wait for the best android version to come , hail android 17 and 18
d
Samsung suks.... they only manufacture new phones months after months. Samsung has more phone than human on this planet. and all Samsung phone suks though m using it right now..
ADVERTISEMENT