Introduction
We've had an exciting year in the smartphone world and for those that haven't upgraded in a while, it's time to answer the question - what should you put in the letter to Santa? Sure, it might be a bit early for the holiday shopping, but we don't expect any new major phones launching to market this year so this buyer's guide will probably be the last one for 2016.
On the other hand, if you are not ready for your holiday shopping just yet, that doesn't mean you are not in the market for a new phone. Perhaps your old workhorse gave up the ghost or perhaps you were one of the millions that got a Galaxy Note7 and are mulling alternatives now. We already gave you a few pointers but you make sure to check out the €500+ chapter of this article as well.
Of course, this guide goes well beyond just flagship shopping. We start at the bottom, sub-€100 phones, and work our way up. Honestly, this time around the €100 or less phones did not excite, in large part because for €150 or so you can get a whopping good deal.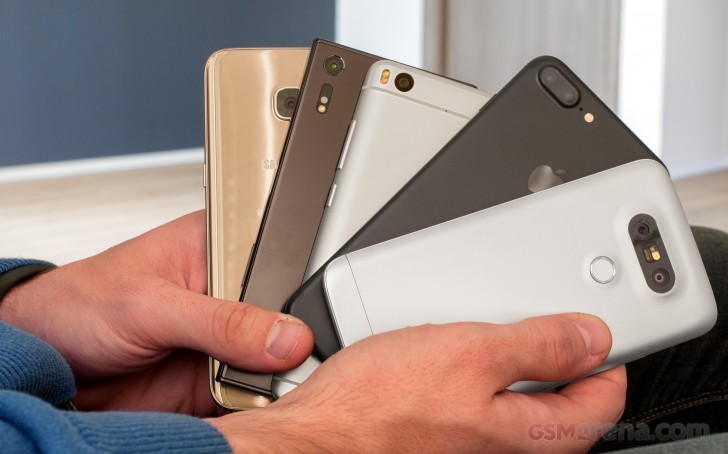 The other hot point was around the €400 mark, phones in that category have everything but the brand name (and the price premium that comes with it).
This is important - brand name counts when shelf space is limited and you have to grab the attention of shoppers. With online sales becoming the usual way to buy gadgets (after reading their reviews, naturally), shelf space is essentially as big as the Internet. Really, we'd be more worried about free shipping than sticking to a certain brand.
Before we set you loose in this zoo of phones, we should give you a few tips how to navigate the smartphone jungle.
For each phone, we've put down the most important specs so that you don't have to bounce between this page and the phone's specs page. We've also listed any potential issues we see with each phone. Those are certainly not deal breakers as otherwise the phone wouldn't have been listed in the first place.
We've reviewed many of the phones mentioned here and for them we can offer more details. This includes screen brightness, battery life, chipset performance, even the cons section is more detailed.
This should make it easier for folks who can't tell Cortex-A57 apart from Super AMOLED. Bigger numbers are better, so a direct comparison is a breeze even if you don't know the intricacies of mobile chipsets.
Normally, we advise you to pick a price category and also read through the category above and below. This way you make sure you're not spending too much for the features you want or you're not missing out on something great that's €20 or so above your target budget.
Here's the directory, take your pick:
Note that for the final category, we've decided it will be best to pit phones head to head. After all, if you're thinking of getting, say, an iPhone, obviously you won't be comparing it against other phones based solely on price. Instead, we're offering a handful of other options to consider.
Well, that's it. We hope you enjoy this guide, it's been a while since we've made one.
D
Hello folks, I know it's not really updated but please give your input on deciding what phone to buy: My LG G flex 2 died recently warranty is over, so need a new one, I'm thinking about one of these, their prices are in EUR: redmi note 4 X: 16...
m
i cant freaking believe the huawei nova is not on this list, firstly you HAVE to see the core processor itself work, its so FREAKING EFFICIENT,secondly that display and the design makes it look posh, thirdly,that camera is capable of being a 16mp , i...
D
Alright after the comments fighting i came to conclude some points about smartphones. first, i was looking for a phone at the 400$ price range and i came to choose the Honor 8 here's why .. maybe i can make you feel better buying it .. before ev...