Introduction
'Tis the season! Or rather, 'Twas the season, because the end of 2017 flew by us while we were putting the final touches on this buyer's guide. So, we are clearly a bit tardy for a holiday shopping guide but that was more or less intentional on our part. What better time for an overview of what are the best phones to get than the start of the year where all major announcements are well behind us and prices have settled after the holiday shopping frenzy.
As goes the tradition, in this guide we will examine all worthy purchasing options on the market grouped by price. We start at the bottom with sub-€100 phones and work our way up to the flagships. Some categories are downright overflowing with options, while others are less busy, but we think we have something for everyone here.
Hopefully, this will make the information really approachable and help even the most remedial smartphone shoppers out there. Normally, we advise you to pick a price category and also read through the category above and below. This way you make sure you're not spending too much for the features you want or you're not missing out on something great that's just a few bucks above your target budget.
If you are not sure how to make sense out of all the features offered by the smartphones this year, Angie quite recently prepared a nice video, where she explains which are the most important aspects to consider when getting a smartphone so you are not overpaying for features you might not need or appreciate.
The industry push towards mid-range value continues and we have some great phones in the €200, €300 and €400 categories. These get better and better with each passing year and are already at a point where they can all provide a really solid smartphone experience. Long forgotten are the days when mid-rangers all had glaring weaknesses that would drive even a less demanding user insane.
That said, the upper echelons are still where geeks and power users will be doing their shopping, and they have no shortage of options either. In fact, 2017 provided a surprisingly strong flagship roster. All major players have delivered stellar devices - there are no overheating issues, downright poor cameras or sub-par builds to limit the choice.
Still, there's a less exciting financial observation to be made as well. With top-tier devices officially breaking through the mental, as well as quite literal financial bar of $1,000 MSRP, there is no denying the smartphone realm is changing. One of the most notable smartphone trends of the year is the increase in the average price of the most popular phones.
However, while digging deep through listings and offers, we also noticed a disturbing trend of some older devices, becoming more expensive than they were six or so months ago. This means we might just be experiencing a very subtle price hike all throughout the industry, following in the footsteps of the new-found triple-digit flagship price tags.
Before we let you explore the jungle of phones - a few tips are in order. For each device, we've put down the most important specs so that you don't have to bounce between this page and the phone's specs page. We've also listed any potential issues we see with each phone. Those are certainly not deal-breakers, as otherwise the phone wouldn't have been listed in the first place.
We've reviewed many of the phones mentioned here, and for them, we can offer even more insight. This includes screen brightness, battery life, chipset performance, and the cons section is more detailed too.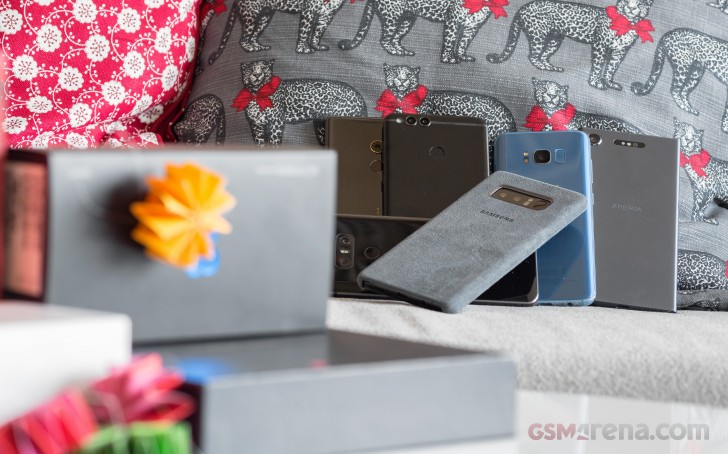 With that in mind, we hope you have all the information that you need to point you in the right direction. If you are all set, here's the directory of this edition of our buyer's guide. You can jump straight to your target price range:
Alternatively, follow us along as we explore the groups one by one. We start with the sub-€100 phones right after the jump.
T
having spent some more time with the device, i can't say that the camera is great and i don't any reason why dxomark gave it a better grade thana huawei mate 9,cause it is waay behind!! it overexposes a lot, photos lack contrast, no eay near those ta...
D
IKR. Mi Note 3 is possibly the most balanced phone of the year. Amazing camera like the HTC U11, good performance similar to OnePlus 3T, fast fingerprint scanner, good sound quality, etc.
D
A perfect phone in my opinion should have: A metal body and water resistance like the iPhone 7 Google Pixel 2's camera and LG V30's wide angle lens. Fingerprint scanner position like G6 and accuracy like the Mi 6 Front Firing speakers and 18:...