Introduction
It's the middle of the summer, which is traditionally a time in the year when the smartphone market settles down a bit. Manufacturers have already brought all their H1 flagships to the market and are focusing their efforts on their Fall and holiday quarter lineups. And without the turbulence of significant launches and announcements every week, this looks like a perfect time for a new buyer's guide.
As goes the tradition we will examine all worthy purchasing options on the market grouped by price. We start at the bottom with sub-€100 phones, and work our way up to the flagships. Some categories are downright overflowing with options, while others are less busy, but we think we have something for everyone here.
The industry push towards mid-range value continues and we have some great phones in the €200, €300 and €400 categories. These get better and better with each passing year, and can provide a really solid smartphone experience. Long forgotten are the days when mid-rangers all had glaring weaknesses that would drive even a less demanding user insane.
That said, the upper echelons are still where geeks and power users will be doing their shopping, and they will have no shortage of options either. In fact 2017 has arguably the strongest flagship lineup ever as all major players have delivered stellar devices - there are no overheating issues, downright poor cameras or sub-par builds to limit the choice.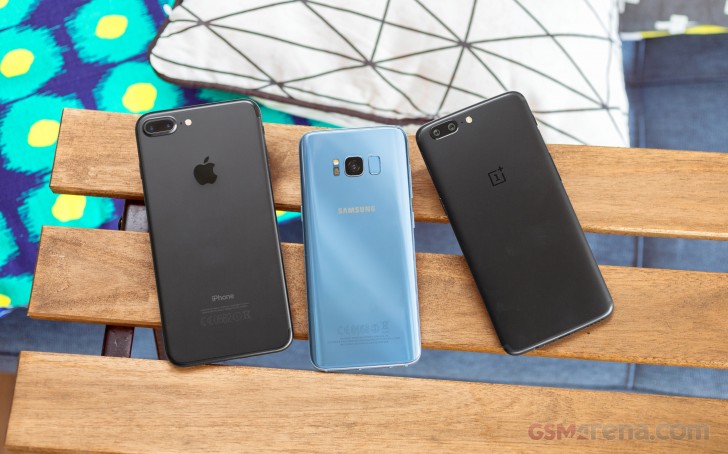 Before we let you explore the jungle of phones, we should give you a few tips how to navigate the smartphone jungle.
For each phone, we've put down the most important specs so that you don't have to bounce between this page and the phone's specs page. We've also listed any potential issues we see with each phone. Those are certainly not deal-breakers, as otherwise the phone wouldn't have been listed in the first place.
We've reviewed many of the phones mentioned here and for them we can offer more details. This includes screen brightness, battery life, chipset performance, and even the cons section is more detailed.
Hopefully, this will make the information really approachable and help even the most remedial smartphone shoppers out there. Normally, we advise you to pick a price category and also read through the category above and below. This way you make sure you're not spending too much for the features you want or you're not missing out on something great that's just a few bucks above your target budget.
Here's the directory, if you would like to jump straight to your price range:
Alternatively, follow us along as we explore the groups one by one. We start with the sub-€100 phones right after the jump.
D
A tablet buyer's guide would be very helpful for us...
D
The problem with the v20 (and V10) is, that there screens has a standard error...and the worst is, that LG knows that, but they are doing nothing against it...
D
I just missed the ZUK Edge / Z2 Pro from the list at the 200-300$ groop. If the axon makes itt,this two should too ;)