Samsung's limited Pokemon-themed accessories make a return in time for Pokémon Day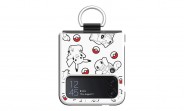 Back in November, Samsung announced three limited-edition Pokèmon themed accessories that sold out in about a day's time. In Honor of Pokémon Day, on February 27 (the day that the video games Pokèmon Red and Green were released in Japan in 1996), Samsung's Pokémon accessories for the Galaxy Z Flip4, Galaxy Watch5, and Galaxy Buds2 Pro are all being restocked.
On Pokèmon Day, Nintendo is expected to make a software-related announcement. There's some speculation that a DLC for the recently released Pokémon games Scarlet and Violet could be announced then.
In any case, the Samsung accessories include Pokémon Cover with Ring for Galaxy Z Flip4 ($50), Pokéball Cover for Galaxy Buds ($40), and Poké Ball Band for Galaxy Watch ($40). Although they're listed, you cannot purchase them until they go back on sale on February 27.
?
bro has beef with a day
?
This could've been sold as a special backplate or housing. But lol no, disassembled "modern" phones result in ip rating loss and sometimes costlier than buying a newer model.
ADVERTISEMENTS