Android 12 with OneUI 4.1.1
The Galaxy Z Flip4 runs on Android 12 with Samsung's One UI on top, a proprietary layer that most people seem to be okay with these days. The version that our review unit boots is 4.1.1, and that's .1 more than we have on the Galaxy S22s, a difference that's as minute numerically as it is in look and feel.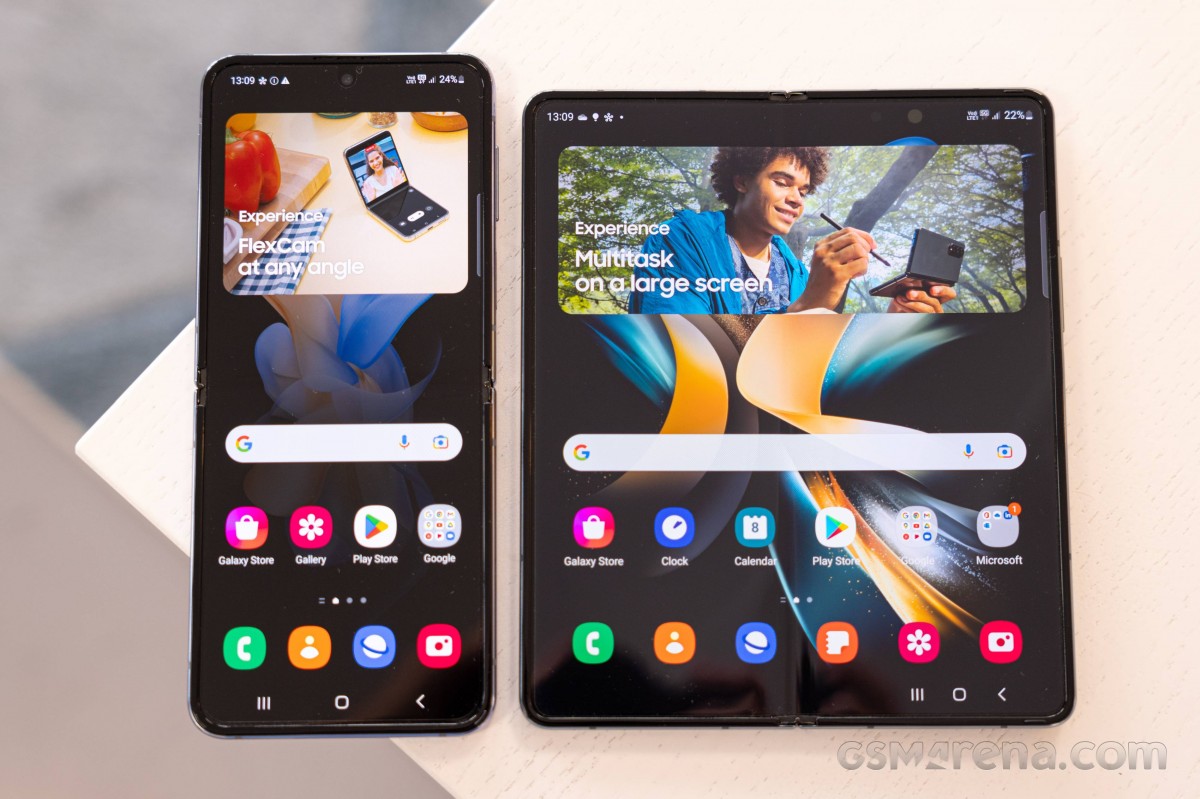 Let's start our software exploration with the cover display. You can have an always-on display feature active on the cover screen like you can have it on the main display - there is, in fact, no separate setting for the two. The cover screen does get its own specific clock designs, though, and you can match what's displayed there with the watch face on your, say, Galaxy Watch.
Swipes in all four directions on the cover screen do different things. Swiping up launches Samsung Pay, while swiping down brings up quick toggles - Wi-Fi, Bluetooth, Sound. Airplane, Flashlight, and a brightness setting for the cover screen.
Swiping to the right accesses the notifications through which you can then scroll up and down as well as expand. Swiping to the left brings up a selection of up to eight widgets - music player, weather, schedule, alarm, Samsung Health, voice recorder, direct dial, and timer.
Clicking on the power button twice when the Flip4 is closed will activate the rear camera, and the external screen will act as a viewfinder. Swiping in different directions switches between shooting modes and cameras. And if you double tap on the screen, you will get full-size photo mode and viewfinder - something that was not possible on the Flip3.
Always-on works on the internal display, too, if you are wondering. It's the familiar simplified version from One UI 3. You can choose between a few clock styles or opt for an Image Clock. Music info is also supported. The feature can be always-off, always-on, scheduled, shown only when new notifications are available, or you can opt for tap to show for 10s.
OneUI 4 looks even cleaner than v.3.x, but the basics remain the same - there are homescreen, widgets, notification center, task switcher and an app drawer.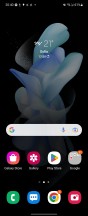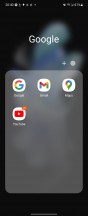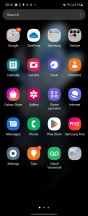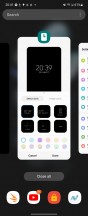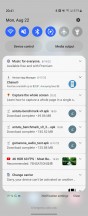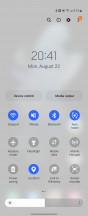 Homescreen • Folder view • App drawer • Task Switcher • Notifications • Quick toggles
Samsung's Smart Widgets can combine a few different pieces of data and take up less space. They are also much more customizable. The Samsung keyboard is now even more feature-rich and customizable than ever with the inclusion of more emoji and stickers.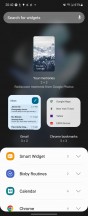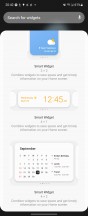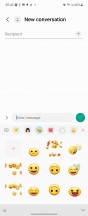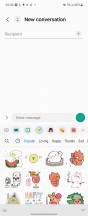 Smart Widgets • Smart Widgets • New emoji • Stickers too
One of the new One UI 4 features is Color Palettes, an implementation of the vanilla Android 12's Wallpaper colors. There are usually four Color Palette suggestions in addition to the default One UI Blue/Black one. Those are picked automatically by the software, depending on your current wallpaper. The color you choose will become the main one in the newly created theme (think Windows' "accent color").
These accent colors are applied on the dialer, the quick toggles, and other tiny UI bits. You can choose to apply them to the app icons as well.
The Settings menu contains a new Privacy Dashboard. Here you can easily see which apps are using some of the most important (for privacy) permissions. You can control the camera and control access across apps, opt for clipboard access alerts (useful if you copy passwords, social security numbers, IBANs, among others), and there is, of course, a full-blown permission manager if you like to dig deeper.
DeX is not supported on the Galaxy Z Flip 4. There is a Link to Windows feature, though, which provides you with an interface to your phone from your computer so you can exchange images, manage notifications on your PC or even make calls from it.
Another option along those lines but with more limited potential is Continue apps on other devices. This requires you to be logged in to your Samsung account on both devices, hook them up to the same Wi-Fi network with Bluetooth enabled and use Samsung Internet browser or Samsung Notes. You'll then be able to copy and paste text and images across and open the same tabs in the browser.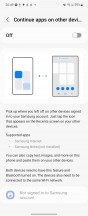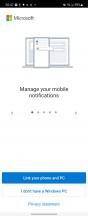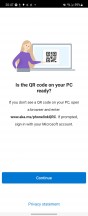 Continue apps on other devices • Link to Windows
Other long-time proprietary Samsung features include the Edge panels - the panes that show up when you swipe in from the side and provide tools and shortcuts to apps and contacts. Game launcher, the hub for all your games, which also provides options for limiting distraction when gaming is here to stay as well. There's an in-house browser (Samsung Internet), which is instrumental to a lot of the advanced S Pen capabilities, as well as a reasonably powerful File manager. The Samsung Gallery also somehow still persists.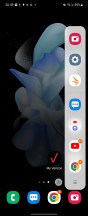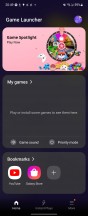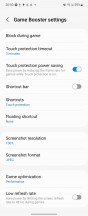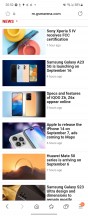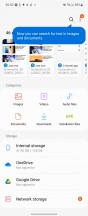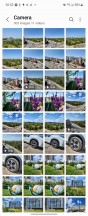 Edge panel • Game Launcher • Game Launcher • Internet • File manager • Gallery
Finally, when partially unfolded (between 75 and 115 degrees), the Flip3's Flex mode feature will split an app's interface by placing the 'consumption' portion in the top half and the 'interaction' part in the bottom half.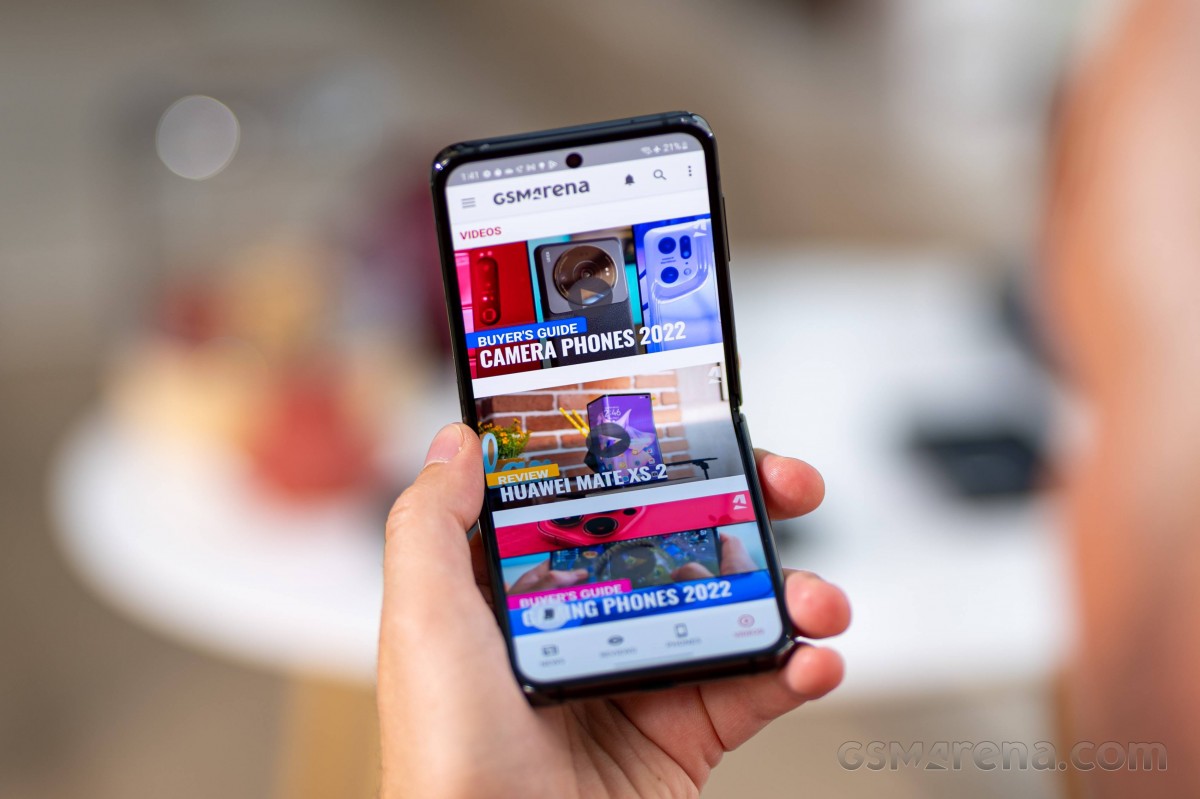 Some apps support it natively, like YouTube or Samsung's own Gallery and Calendar. For others, you can force a generic Flex mode control panel. We reckon that's a solution in search of a problem, though for video call apps like Google Duo, it can be sort of useful.
Performance and benchmarks
The Galaxy Z Flip4 runs on the most current Qualcomm chipset - the Snapdragon 8+ Gen 1 - a slight refresh over the non-plus version. Among the key improvements is the better efficiency and a minor bump in performance - we got to experience that on a bunch of devices, including an Asus-built engineering sample for the chip, as well as the ROG Phone 6 Pro, and the Xiaomi 12S Ultra.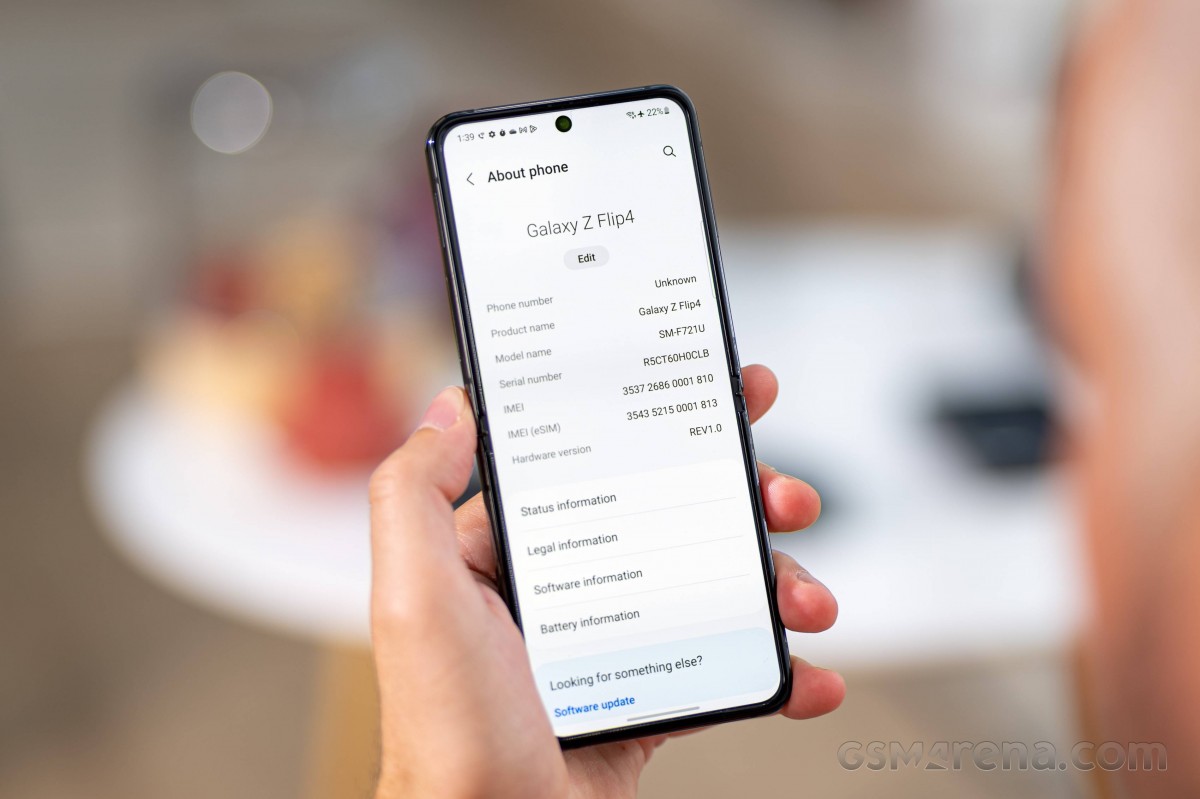 The Galaxy Z Flip4 always comes with 8GB of RAM, though you can purchase it with either 128GB, 256GB or 512GB UFS 3.1 storage.
So, the latest Snapdragon 8+ Gen 1 chipset is undeniably the fastest Android platform right now on the market, and it is a chart-topper when it comes to benchmarking.
Note that the Galaxy Z Flip4 has a lot less space than conventional smartphones for the motherboard and chipset and, hence, cooling solution, so we expect throttling along the way.
GeekBench 5 (multi-core)
Higher is better
Asus Zenfone 9 (High Performance)
4338
Xiaomi 12S Ultra
4300
Realme GT Neo3
4079
Samsung Galaxy Z Flip4
3913
Poco X4 GT
3719
Samsung Galaxy S22
3682
Xiaomi 12
3652
Asus Zenfone 9 (Dynamic)
3606
Samsung Galaxy Z Flip3 5G
3441
Poco F4
3190
OnePlus Nord 2T
2790
Samsung Galaxy Z Flip
2619
GeekBench 5 (single-core)
Higher is better
Xiaomi 12S Ultra
1324
Asus Zenfone 9 (High Performance)
1313
Samsung Galaxy Z Flip4
1270
Xiaomi 12
1187
Samsung Galaxy S22
1171
Samsung Galaxy Z Flip3 5G
979
Poco F4
975
Realme GT Neo3
968
Asus Zenfone 9 (Dynamic)
927
Poco X4 GT
917
Samsung Galaxy Z Flip
750
OnePlus Nord 2T
491
The same goes for graphics tests - the Adreno 730 is an outstanding performer.
GFX Car Chase ES 3.1 (onscreen)
Higher is better
Asus Zenfone 9 (High Performance)
89
Xiaomi 12
75
Samsung Galaxy Z Flip4
74
Samsung Galaxy S22
69
Asus Zenfone 9 (Dynamic)
66
Realme GT Neo3
53
Xiaomi 12S Ultra
51
Poco F4
49
Poco X4 GT
46
Samsung Galaxy Z Flip3 5G
40
OnePlus Nord 2T
40
Samsung Galaxy Z Flip
35
GFX Aztek Vulkan High (onscreen)
Higher is better
Asus Zenfone 9 (High Performance)
69
Samsung Galaxy Z Flip4
62
Xiaomi 12
59
Asus Zenfone 9 (Dynamic)
47
Samsung Galaxy S22
44
Realme GT Neo3
43
Xiaomi 12S Ultra
39
Poco X4 GT
38
Samsung Galaxy Z Flip3 5G
29
OnePlus Nord 2T
29
Samsung Galaxy Z Flip
18
3DMark Wild Life Vulkan 1.1 (offscreen 1440p)
Higher is better
Xiaomi 12S Ultra
10533
Asus Zenfone 9 (High Performance)
10469
Asus Zenfone 9 (Dynamic)
10178
Xiaomi 12
9535
Samsung Galaxy Z Flip4
8460
Samsung Galaxy S22
7526
Realme GT Neo3
5428
Samsung Galaxy Z Flip3 5G
5261
OnePlus Nord 2T
4577
Poco F4
4357
Poco X4 GT
4301
You may notice that the AnTuTu scores are somewhat lower than on other devices with similar hardware. That's because the Flip4 applies more throttling because of thermal constraints.
AnTuTu 9
Higher is better
Asus Zenfone 9 (High Performance)
1083092
Xiaomi 12S Ultra
1039412
Xiaomi 12
985115
Samsung Galaxy S22
881428
Realme GT Neo3
819348
Samsung Galaxy Z Flip4
800001
Asus Zenfone 9 (Dynamic)
783425
Poco X4 GT
747871
Poco F4
698586
Samsung Galaxy Z Flip3 5G
682223
OnePlus Nord 2T
604467
AnTuTu 8
Higher is better
Samsung Galaxy S22
745496
Samsung Galaxy Z Flip4
685754
Samsung Galaxy Z Flip3 5G
596866
Poco F4
590961
OnePlus Nord 2T
490545
Samsung Galaxy Z Flip
487908
So, the Galaxy Z Flip4 has the proper hardware to be a full-fledged flagship. We ran a few games for quite a bit, and they were able to keep excellent performance; some of them were even drawn with more than 60fps.
Of course, we ran the usual stability tests, and they are not good for the Z Flip4.
When working at 100% CPU load, the Z Flip4 is able to keep its maximum performance for about 5 minutes. And then it drops down to 41%.
The same goes for the 100% GPU load - after 5 minutes, the performance drops to 40% to prevent overheating.
The Galaxy Z Flip4 never gets hot, just warm below the camera setup.
No sugar coating here - the Z Flip4 has poor cooling due to space constraints, and it cannot support peak performance for more than 5 minutes. But no app or game really requires that. And the Flip4 is no gaming smartphone after all, though it can play all modern games rather well for long enough time.