The Flip4 has two screens, one is foldable
The Galaxy Z Flip4 has two displays, something that is typical for any flip phone - be it a recent one, or from the golden age of the GSMs. There is a small external OLED next to the camera setup for notifications and selfie purposes, while the primary one is a large foldable side-to-side OLED that reveals itself after you open the Flip4.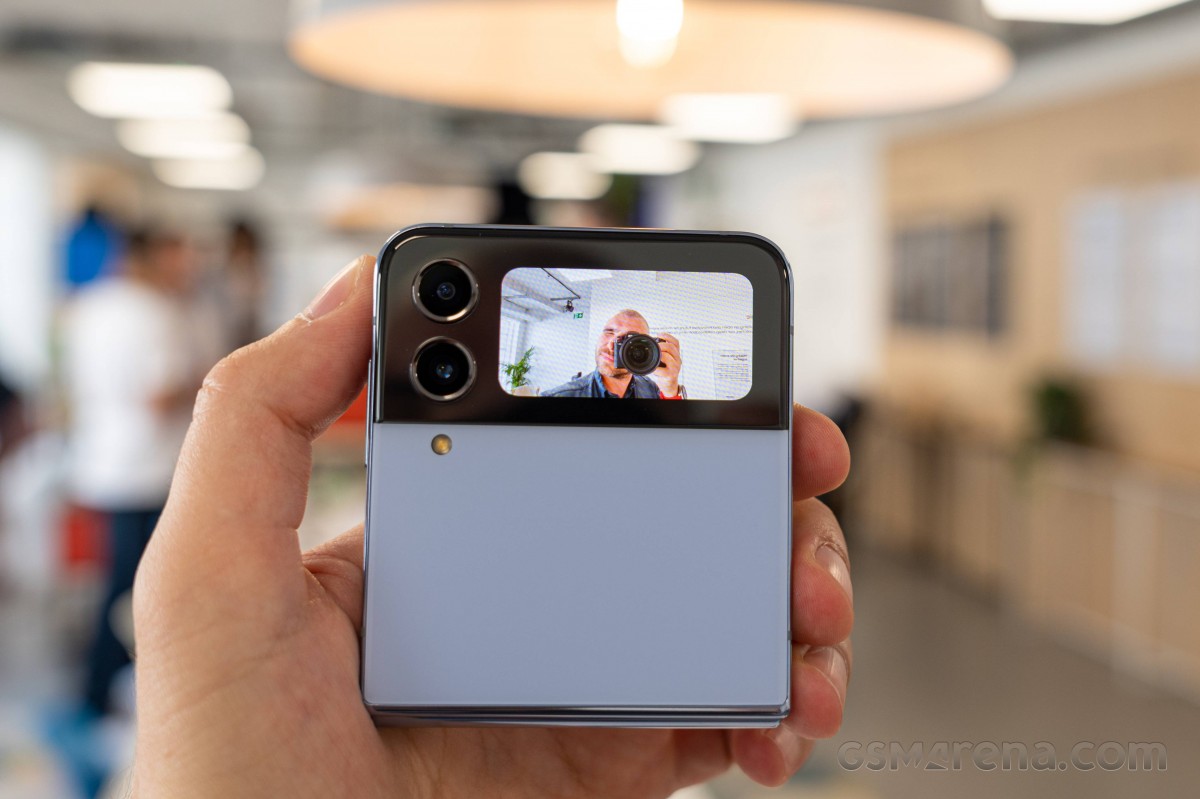 So, there is little to talk about the external 1.9-inch Super AMOLED - it is the same as seen on the Flip3 with a resolution of 512 x 260 pixels and 60Hz refresh. It supports touch control and can be always-on.
The internal display is also lifted from the Z Flip3 - it's a 6.7-inch Foldable Dynamic AMOLED 2X with the same 2,640 x 1,080 px resolution (426ppi, 22:9 aspect). It supports dynamic 120Hz refresh rate, HDR10+ and up to 1,200 nits peak brightness. One small update since the Flip 3 is that the screen's adaptive refresh rate is even more dynamic now with alleged support for as low as 1Hz.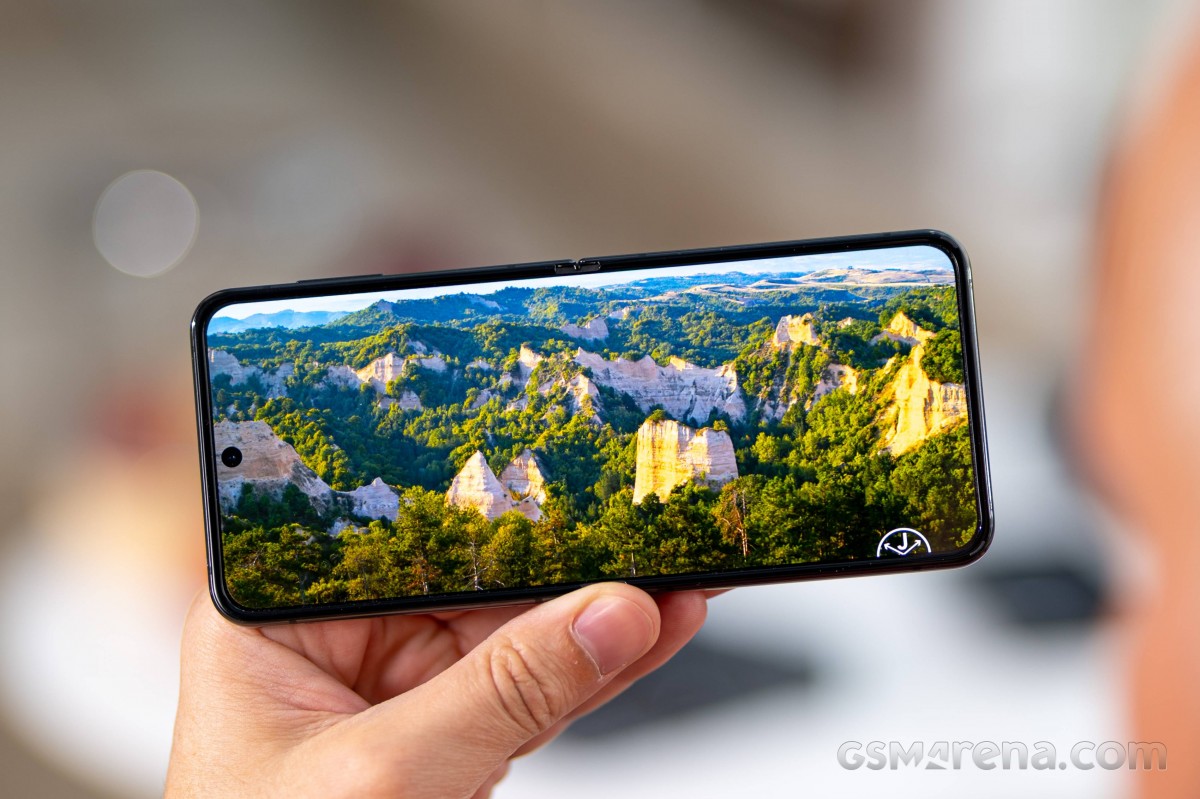 We've completed our display test and the results are in line with what we've captured on the Galaxy Flip3 one year ago. The maximum manual brightness we measured at the end of the slider was 505 nits - that is what most good OLEDs usually offer.
Just like the Galaxy S22 Ultra, the Z Flip4 offers this option called Extra Brightness - it increases the maximum brightness in manual mode, in the case of the Z Flip4 - up to 802 nits.
Finally, under bright light and with adaptive brightness enabled, we captured 919 nits - an excellent number.
And for those looking for the minimal brightness on the Z Flip4 - it's just 1 nit. The screen becomes so dark, that we needed to go to a dark room in order to find the brightness scrubber and change the setting.
Display test
100% brightness
Black,cd/m2
White,cd/m2
Contrast ratio
Samsung Galaxy Z Flip4
0
505
∞
Samsung Galaxy Z Flip4 (Extra Brightness)
0
802
∞
Samsung Galaxy Z Flip4 (Max Auto)
0
919
∞
Samsung Galaxy Z Flip3 5G
0
503
∞
Samsung Galaxy Z Flip3 5G (Max Auto)
0
935
∞
Samsung Galaxy Z Flip
0
377
∞
Samsung Galaxy Z Flip (Max Auto)
0
596
∞
Samsung Galaxy Z Fold4
0
505
∞
Samsung Galaxy Z Fold4 (Extra Brightness)
0
809
∞
Samsung Galaxy Z Fold4 (Max Auto)
0
1000
∞
Samsung Galaxy S22
0
465
∞
Samsung Galaxy S22 (Extra brightness)
0
757
∞
Samsung Galaxy S22 (Max Auto)
0
982
∞
Asus Zenfone 9
0
449
∞
Asus Zenfone 9 (Max Auto)
0
831
∞
Apple iPhone 13 Pro
0
856
∞
Apple iPhone 13 Pro (Max Auto)
0
1063
∞
Apple iPhone 13 mini
0
831
∞
Xiaomi 12S Ultra
0
512
∞
Xiaomi 12S Ultra (Max Auto)
0
1065
∞
Color accuracy
The color settings on most Samsung phones are handled in a similar fashion. There are two color modes on the Z Flip4 - Vivid and Natural and you can tune the color temperature in each. The default one is Vivid, which corresponds to DCI-P3 color space, and the accuracy is excellent with an average deltaE of 2.6.
The Natural color mode switches to sRGB and the accuracy here is outstanding with an average deltaE of 1.5.
Refresh rate
The Galaxy Z Flip4 display supports two Refresh Rate modes (called Motion smoothness) - Adaptive (up to 120Hz) and Standard (fixed 60Hz).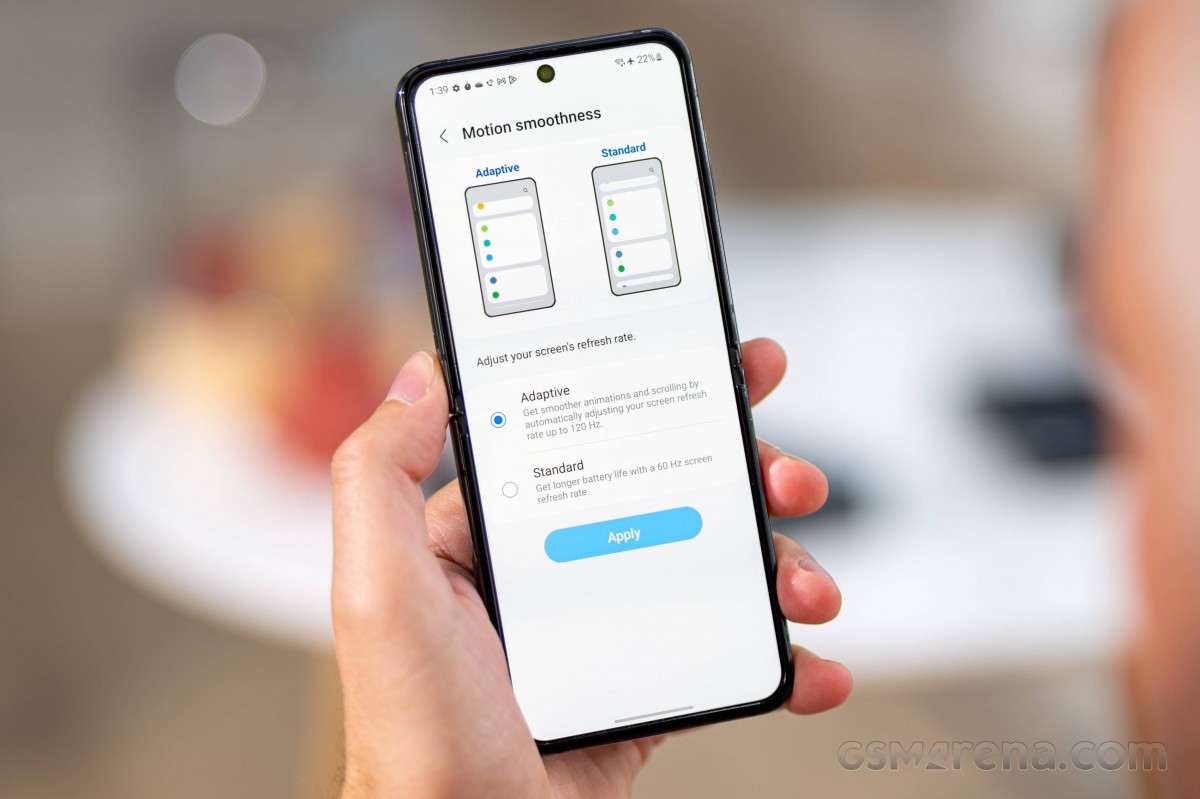 The Adaptive one is supposed to switch dynamically between 1Hz and 120Hz depending on the shown content. For example, 1Hz should be used for static picture for battery saving purposes.
The Android 12 support APIs on the Galaxy Z Flip4 list that the panel can refresh in one of the following modes: 10Hz, 24Hz, 30Hz, 48Hz, 60Hz, 96Hz and 120Hz. And the integrated refresh rate indicator showed 24Hz for static picture and movies, 60Hz across some apps that were incompatible with 120Hz, and we saw 48Hz for some specific videos. And, of course, 120Hz was available for One UI, most of the apps, games included.
This isn't the behavior described by Samsung, obviously. That led us to use the GPU Watch tool in developer options. It revealed that the refresh rate of the display and the frame rate at which the GPU outputs new frames aren't necessarily the same thing, and the phone varies both according to content and activity. And while we never saw the display go below 24Hz, the frame rate did drop down to 1fps for static content.
HDR and streaming
The Galaxy Z Flip4 supports HDR10+ content and has Widevine L1 DRM. Amazon Prime and YouTube had no issues streaming high-res HDR10 content.
Currently Netflix is incompatible with the Flip4, though the phone hasn't been released just yet. We have never had issues anu streaming app on high-profile Galaxy phones before, so we are pretty sure the Z Flip4 won't be an exception once it hit the shelves.
Samsung Galaxy Z Flip4 battery life
One of the most notable Flip4 updates since the Galaxy Z Flip3 is a larger 3,700 mAh battery. Even better, it can now be recharged faster at 25W.
Update, 05 August 2023: While testing the Galaxy Z Flip4's successor, the Z Flip5, we figured we'd retest the Z Flip4 as well. This produced lower results for the 2022 clamshell than what we got initially, which can be explained by many factors, but mostly the different software between the two tests. In any case, below are the latest results we have for the Galaxy Z Flip4 and it will be those numbers that go in future comparisons.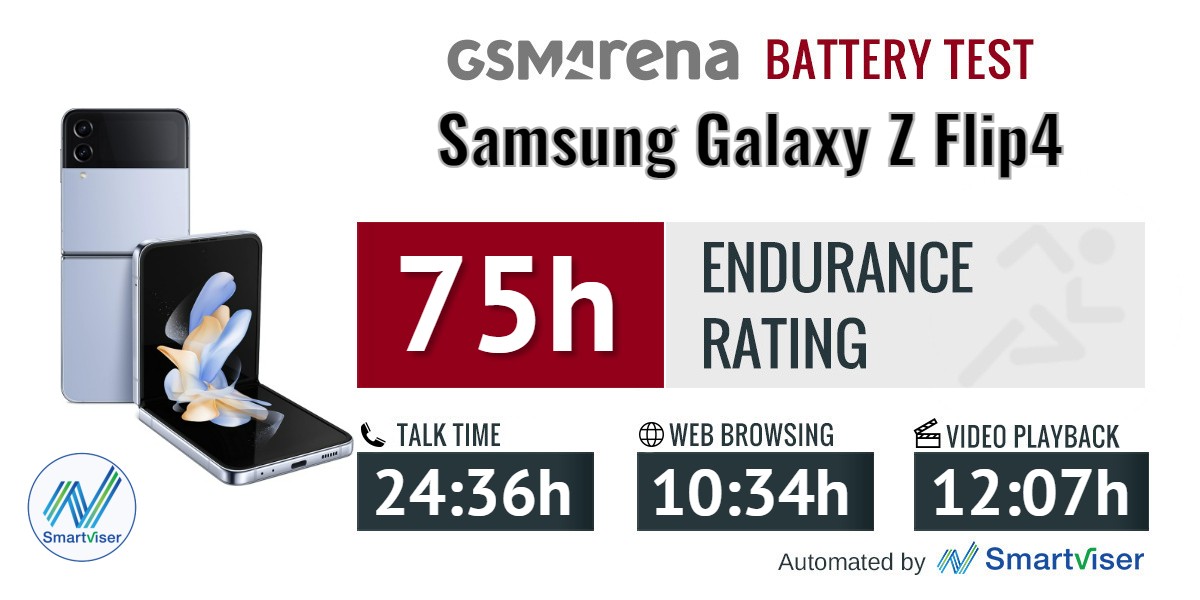 Our battery tests were automated thanks to SmartViser, using its viSerDevice app. The endurance rating denotes how long the battery charge will last you if you use the device for an hour of telephony, web browsing, and video playback daily. More details can be found here.
Video test carried out in 60Hz refresh rate mode whenever possible. Web browsing test done at the display's highest refresh rate whenever possible. Refer to the respective reviews for specifics. To adjust the endurance rating formula to match your own usage - check out our all-time battery test results chart.
Charging speed
The Galaxy Z Flip4 now supports up to 25W fast charging, you just need Samsung's 25W charger for that to work. The phone supports fast wireless charging at 15W, and it can also offer reversed wireless charging on its back.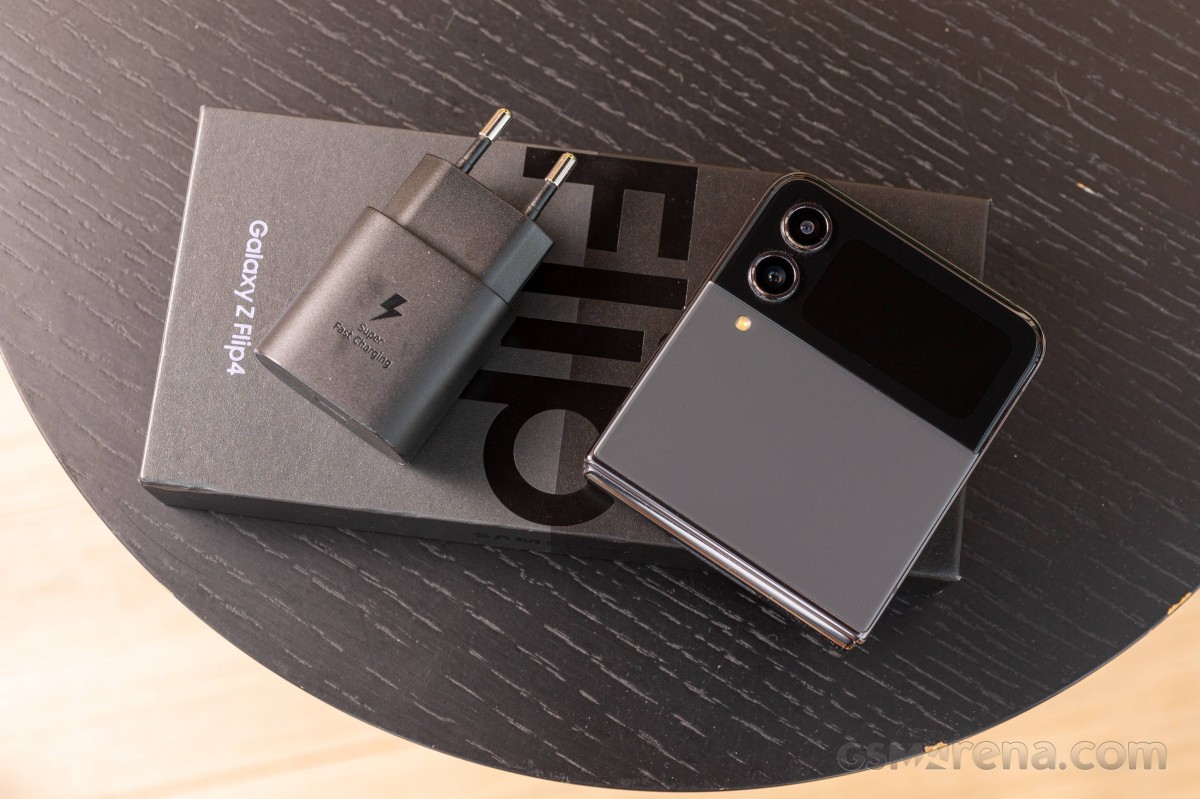 One of the most notable issues with the Galaxy Z Flip3 was the slow charging and we are happy Samsung has upgraded this rather crucial feature.
So, Samsung's 25W adapter gets the Galaxy Z Flip4 from 0% to 55% in 30 minutes.
30min charging test (from 0%)
Higher is better
Xiaomi 12
87%
Xiaomi 12S Ultra
73%
Samsung Galaxy S22
63%
Samsung Galaxy S22 Ultra (25W)
61%
Apple iPhone 13 mini
61%
Samsung Galaxy S22 Ultra (45W)
60%
Apple iPhone 13 Pro (20W Apple)
60%
Asus Zenfone 9
57%
Samsung Galaxy Z Flip4
55%
Asus Zenfone 8 Flip
53%
Samsung Galaxy Z Fold4
50%
Samsung Galaxy Z Flip3 5G
40%
Samsung Galaxy Z Fold3 5G
33%
A full charge requires 75 minutes - that is not exactly fast, but not bad either.
Time to full charge (from 0%)
Lower is better
Xiaomi 12
0:46h
Xiaomi 12S Ultra
0:50h
Samsung Galaxy S22 Ultra (45W)
0:59h
Samsung Galaxy S22
1:03h
Samsung Galaxy S22 Ultra (25W)
1:04h
Samsung Galaxy Z Flip4
1:15h
Asus Zenfone 9
1:15h
Apple iPhone 13 mini
1:24h
Samsung Galaxy Z Flip3 5G
1:30h
Apple iPhone 13 Pro (20W Apple)
1:38h
Asus Zenfone 8 Flip
1:40h
Samsung Galaxy Z Fold3 5G
1:46h
You can see that the Galaxy Z Flip4 charging times are not impressively faster than the Flip3's, but don't forget that the new Flip4 also comes with a larger battery.
Finally, just like many previous Galaxy phones, this one is also certified by the Wireless Power Consortium to adhere to the Basic Power Profile for wireless charging up to 4.4W. The 15W advertised by Samsung is achieved off-spec.
Speakers
The Galaxy Z Flip4 has the same audio setup as the Z Flip3. It offers stereo speakers where the earpiece is one of the speakers, while the other one is placed at the bottom of the phone.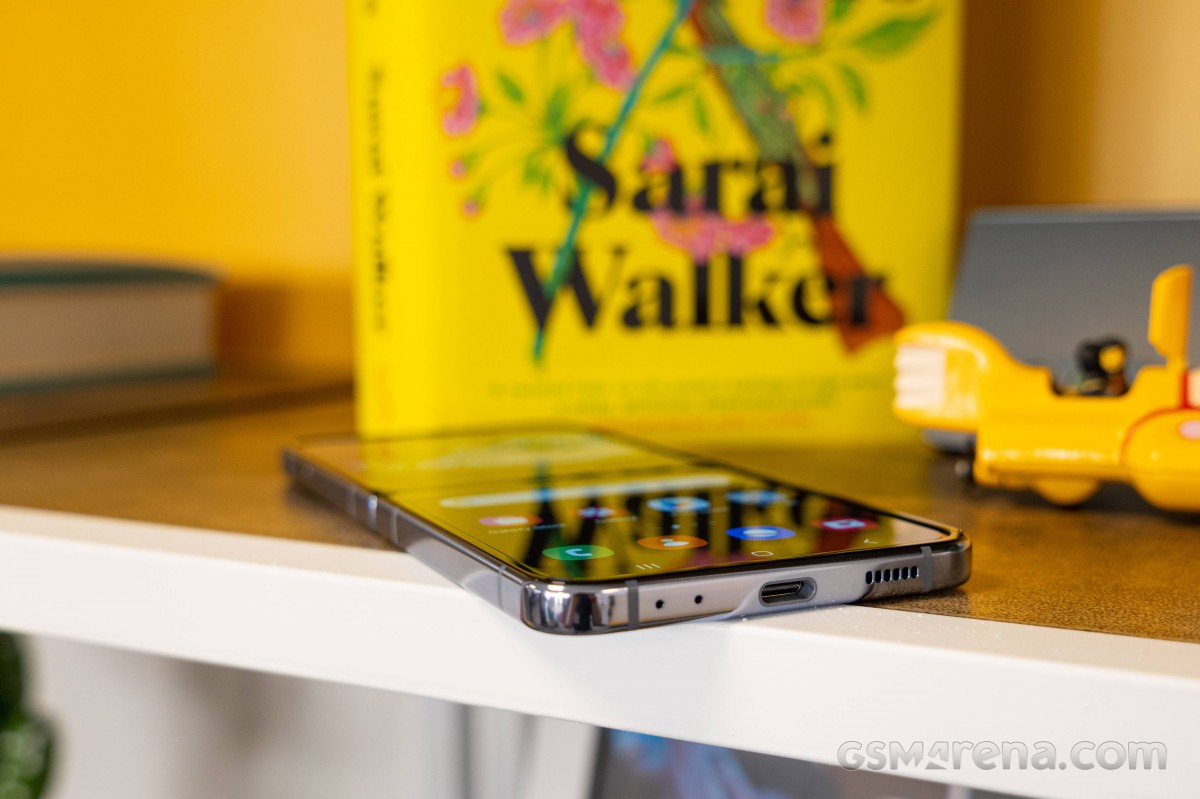 The phone dynamically switches between left and right channel depending on the phone's landscape orientation. If you are going to use in portrait mode, then the top speaker will play the left channel.
Oddly, the Galaxy Z Flip4 scored a Good rating on our loudness test, down from Very Good for the Z Flip3. If you listen carefully, you can hear a subtle drop in the loudness, but in non-studio environment both phones offer similar loudness for all intents and purposes.
Naturally, the top speaker is quieter and less bassy than the bottom one, but those are tuned just right, and the balance is great.
The audio quality through the speakers is satisfying - there vocals sound good, and so are the high tones. There is bass, though it's not as present as on some other phones.
Use the Playback controls to listen to the phone sample recordings (best use headphones). We measure the average loudness of the speakers in LUFS. A lower absolute value means a louder sound. A look at the frequency response chart will tell you how far off the ideal "0db" flat line is the reproduction of the bass, treble, and mid frequencies. You can add more phones to compare how they differ. The scores and ratings are not comparable with our older loudspeaker test. Learn more about how we test here.