Samsung Galaxy Xcover6 Pro scores high repairability rating in disassembly video
The Samsung Galaxy Xcover6 Pro is one of the more rugged phones on the market with an IP68 dust and water resistance, plus a MIL-STD-810H certified design. And yet its back comes off easily, giving you access to the user replaceable battery. A simple rubber gasket keeps water out of the compartment.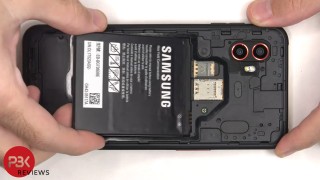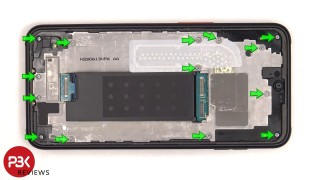 Samsung Galaxy Xcover6 Pro: swapping the battery is easy as pie • standard Phillips head screws
The video below shows PBKreviews taking one of these apart. The phone scores pretty highly on repairability – no surprises here, one of the most common repairs these days (replacing an old battery) is trivial.
Everything else is relatively easy too, Samsung used standard Phillips screws and didn't go wild with the glue. Also, not only does this phone have a 3.5mm headphone jack, it is a separate module held by a screw. It does take some disassembly to get to it, but it is not soldered to the board. The USB-C charging port is on a separate PCB, the pogo pins (which can also be used for charging) are below that and the speaker assembly.
Of course, at 9.9mm and 235g, the Galaxy Xcover6 Pro is thicker and heavier than most phones with 6.6" displays and 4,050mAh batteries out there, so this repair-friendly design comes with some compromises.
U
This repairability thing really sounds nice. The regional availability tho. Hmm, leaves something to be desired.
A
I hope some real hands on reviews in a week from reputable review sites. Tired of these wannabes with partial or fake reviews.
ADVERTISEMENT