One UI Watch 4.5 based on Wear OS 3.5
Samsung made the bold decision to migrate to Wear OS last year with its Galaxy Watch4 lineup, which has sparked a debate. On one end, the Tizen fans and older Tizen users were unhappy with the change, but there's no denying that moving to Google's Wear OS has its benefits. We used the Galaxy Watch4 Classic as a daily driver and the previous Galaxy Watch devices running Tizen, so we have already formed an opinion.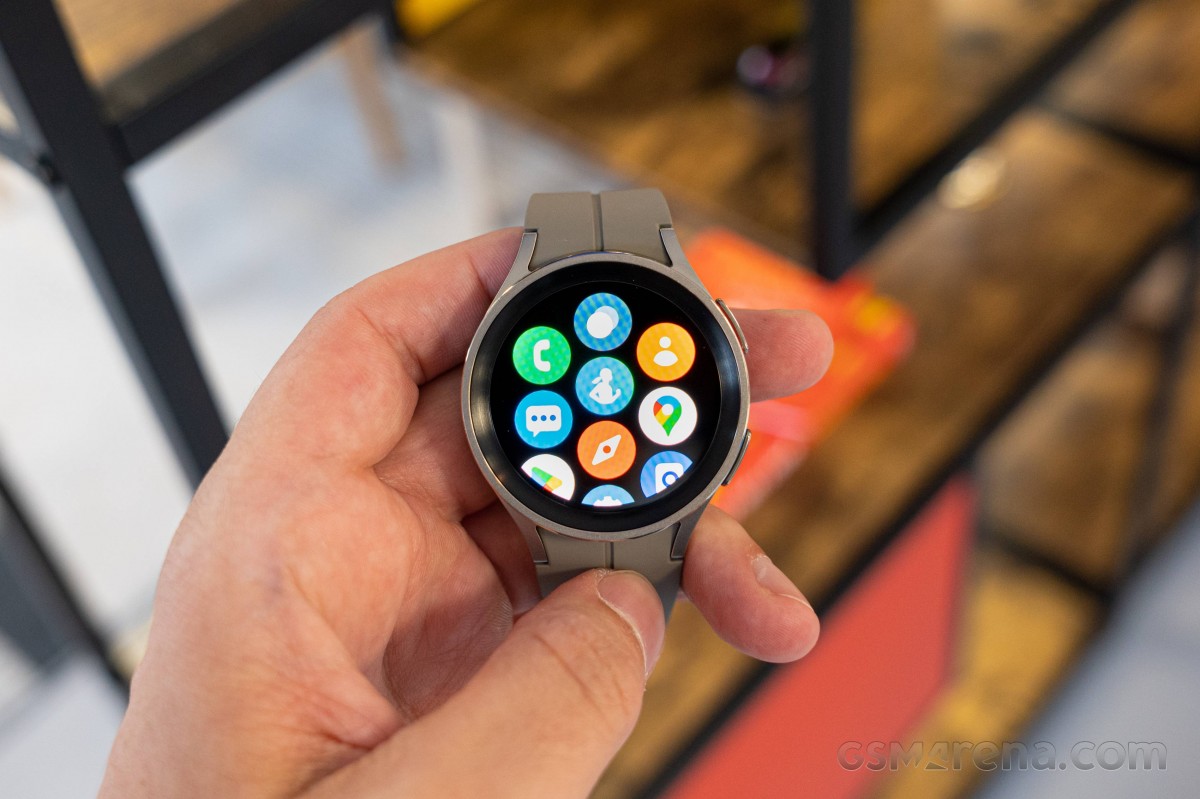 Now, with Wear OS, you don't have to own a Samsung smartphone to make the best out of your Galaxy smartwatch.
It also brings deeper integration with your Android smartphone as well as a large pool of apps. That's something Samsung's Tizen OS was unable to deliver. Spotify, Maps, Calendar, Camera remote control and various other non-Google apps offer seamless sync between the watch and your smartphone. For instance, you can use Maps' navigation on your watch, which is pretty accurate and comprehensive, and it vibrates every time you take a turn, for example. You can even set it up to launch on your watch only when using a bike or walking navigation. You can control all your media apps, including Spotify, YouTube and Netflix, even if it's playing on your PC or TV, as long as your smartphone is synced with those apps. Come to think of it, since Android is pretty smart at recognizing media apps, we haven't found an app that won't work with the watch. Last but not least, Google Pay can now be set up as long as it's supported by your regional banks.
The best part is that Samsung's take on Wear OS isn't very different from the Android OS running on your phone, and it's not a big departure from Tizen OS as well. Samsung was able to combine the best of both worlds so users from both camps will feel right at home.
The Wear OS implementation is not without its bugs. For example, we noticed that after a certain period, the Galaxy Wearable suite would deny notifications on all of our apps, so we had to enable them quite a few times. The workout screen widget will choose random favorite workouts almost weekly. That's something we've never had to deal with with Tizen OS.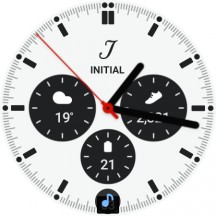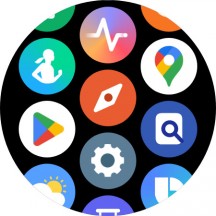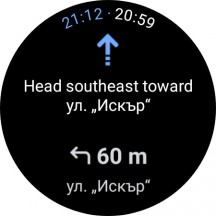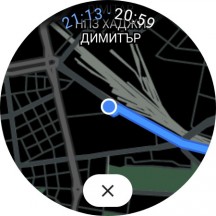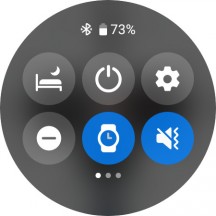 Home screen, app drawer, quick toggles, Maps navigation
There's the standard quick toggle panel, which you can pull down from the top edge of the screen, you have the app drawer by swiping from the bottom, and you have the notification panel on the left of the home screen (the home screen being the watch face of your choice).
You can add a lot of additional panels on the right, which are basically widgets that provide useful information and shortcut to certain apps and functionalities.
The recent apps menu is accessible via a double press of one of the buttons; it's usually the power button by default. There's also an icon in the app drawer for that.
Speaking of watchfaces, Samsung offers quite a bit of those and most of them can be customized - changing accent colors, arms, complications, etc. The bad news is that the Tizen ones are not compatible with Wear OS, but we were happy to see several of our favorite Tizen watch faces available on Wear OS.
Most of the settings and functionalities can be set up using the Galaxy Wearable app on the phone. Some gestures for answering and dismissing calls and alerts are available as well as a wrist gesture that launches an app of your choice. We've also noticed that you can now choose the button and screen orientation in case you prefer using the watch on your right wrist.
Notification handling is by far the best we've experienced on a smartwatch. Each and every app has its own icon (it even syncs the icons with the ones on your phone), and the person writing to you has the avatar centered, so you know who's messaging in an instant. Quick replies are also an option. You can also sync your Do Not Disturb or Bedtime modes, so once you turn them on either device, they will be active on the other.
Talking through the Galaxy Watch5 and Watch5 Pro's loudspeaker is a mixed bag. Since the speaker is loud enough, you can hear the other side pretty clearly but due to the lack of a noise-suppression mic, the recipient will have a hard time hearing you even when there's the slightest ambient noise.
All in all, Samsung's take on Wear OS is definitely a good one. It may take some polishing to iron out some minor bugs, but for the most part, it's reliable, snappy and very capable. Considerably more capable than the older Tizen OS.
Samsung Health and fitness tracking
One of watches' main appeal is Samsung's Health. The device can track pretty much everything you do throughout the day, from workouts and walks to sleep and heart rate. There are even automatic workout and walk detections - the latter works great, but the former doesn't seem as accurate as Tizen's. We often didn't get an automatic detection, and sometimes the watch would run an automatic workout alongside the manual one you've started.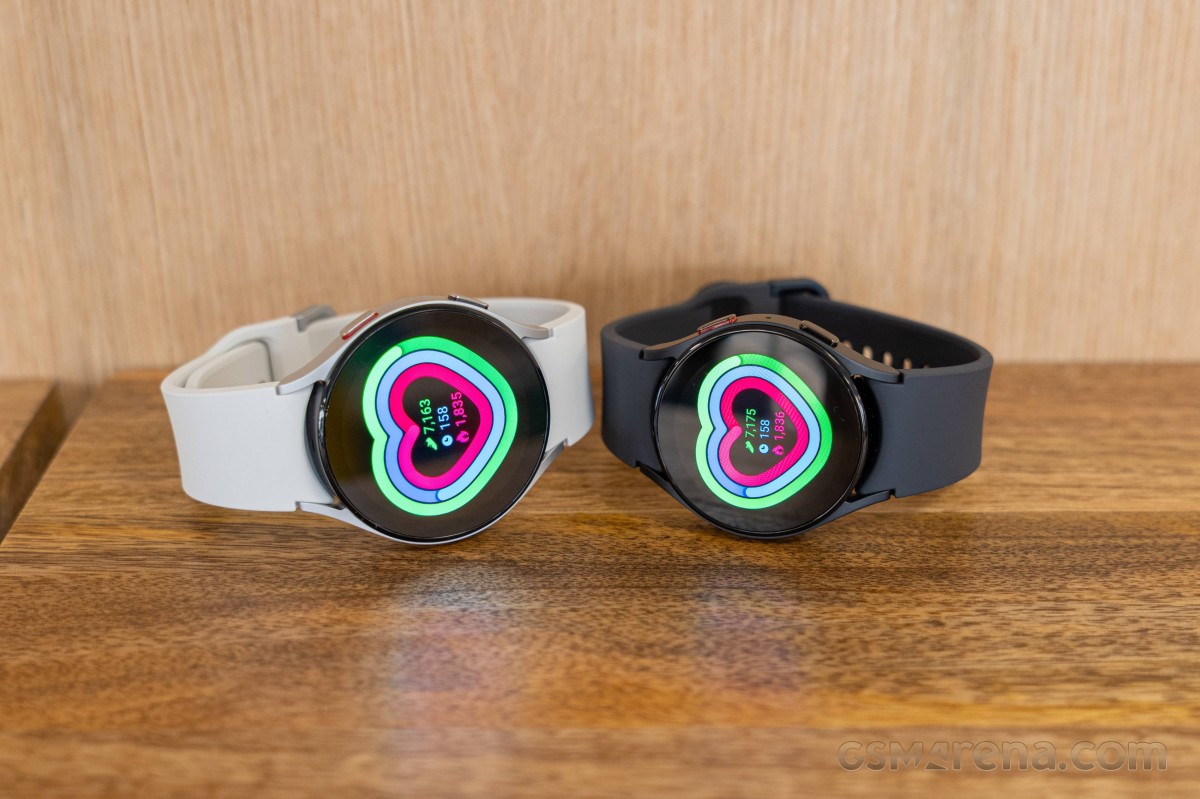 For outdoor workouts, the watch has a GPS and barometer so you can later check out a plethora of stats during your bike ride or hike. We are talking top and average speed, minutes spent in certain cardio zone, elevation, route and calories burnt (not the most accurate measurement). The app on your phone will also neatly organize all of your apps in a calendar and show you what the weather was like on that day.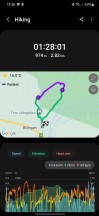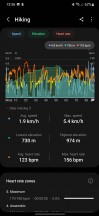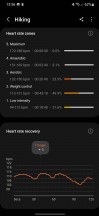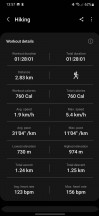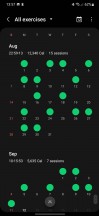 Hiking stats and workout calendar history
When it comes to vital signs and body composition measurements, there are a couple of caveats to consider. Firstly, the ECG and blood pressure monitor only works with Samsung phones. Secondly, the heart rate monitor may show some deviation during certain activities - smartwatches are notorious for providing inaccurate measurements when lifting weights at the gym (during exercises) and cycling on uneven terrain. Thirdly, the BioActive sensor just isn't as accurate as some professional equipment for body composition measurements, like a DEXA scan, for example.
In any case, if you start using the watch as a reference once you start exercising and dieting, you can get a pretty good idea of your progress. The watch will put your BMI (body mass index), muscle, fat and metabolic rate and combines them into a score.
On the other hand, sleep tracking has come a long way. There's still a lot of guesstimation going on there, but it appears to be a lot better than Galaxy Watch4 Classic. It breaks down your sleep into deep, light, restless and REM sleep, each category with some average values you should aim for. This part, in particular, is a bit hard to track, so we wouldn't count on the data too much.
Actual sleep time has always been recorded accurately. We are really impressed with the sleep and wake-up time accuracy.
You can also allow the watch to track your blood oxygen while you sleep, which, when combined with the snoring tracker data, can help spot a potential issue with sleep apnea. The actual snoring is tracked by the phone, though, and the feature requires it to be placed near you for the microphones to pick up any snoring.
All in all, there's a lot of useful data you can get from the Galaxy Watch5 and Watch5 Pro, and Samsung has found a way to store it in a rather neat way using the Samsung Health app. You can see your workout, sleep and walking history with plenty of details.