Hardware
The new Galaxy Watch5 lineup has little to no difference compared to the older Galaxy Watch4 generation. Both series are powered by the same Exynos W920 chipset based on the 5nm manufacturing process and it's designed with wearables in mind. It was first introduced last year and it offers a significant upgrade in performance and efficiency compared to the older Exynos W9110 chipset that powers the Galaxy Watch3 and older.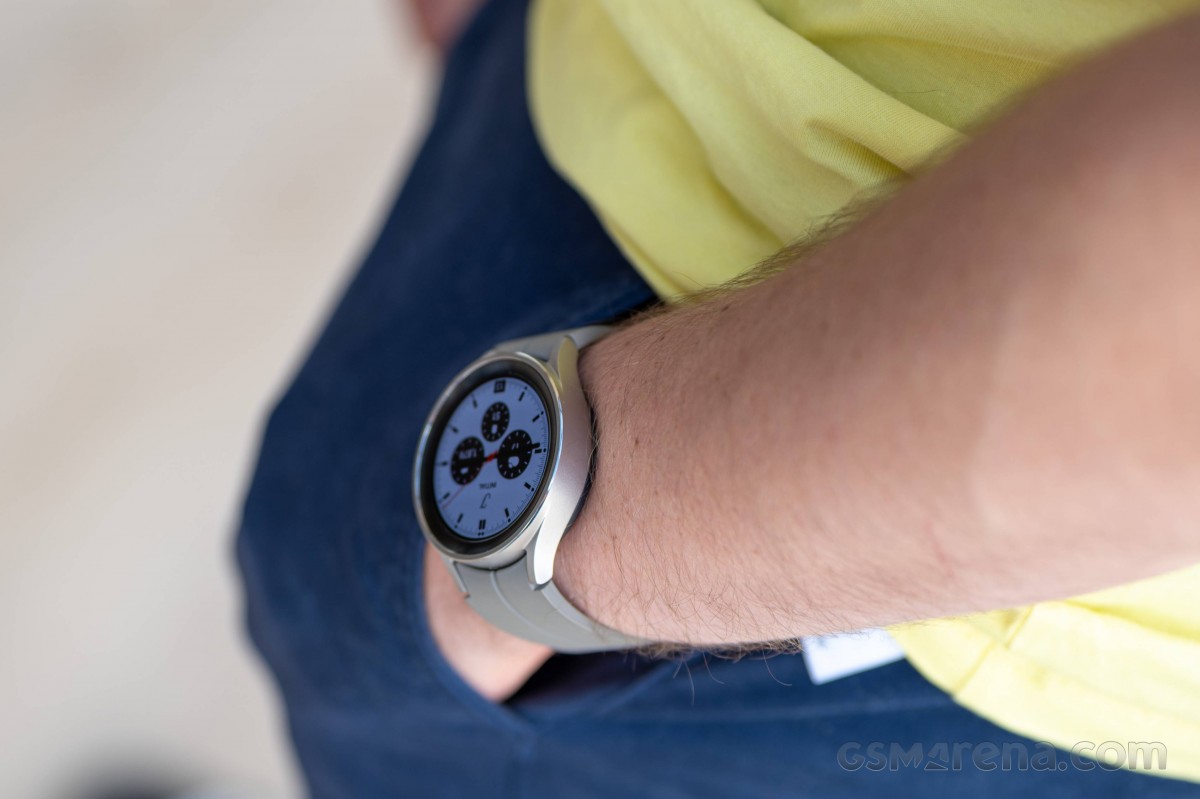 Samsung Galaxy Watch5 Pro
The CPU is dual-core with 1.18 GHz maximum clock speed. And as far as memory goes, the Galaxy Watch5 and Watch5 Pro both run on 1.5GB of RAM and 16GB of internal storage. In other words, there's no change in the memory configuration from last year as well.
Nothing has changed in the display department either. Both the Galaxy Watch5 and the Watch5 Pro, are built around the same 1.4-inch OLED display with 450 x 450px resolution. The display itself is super sharp and bright enough for any lighting condition. Our only complaint would be the automatic brightness control, which can sometimes act up, and the screen may appear a bit dimmer than it should.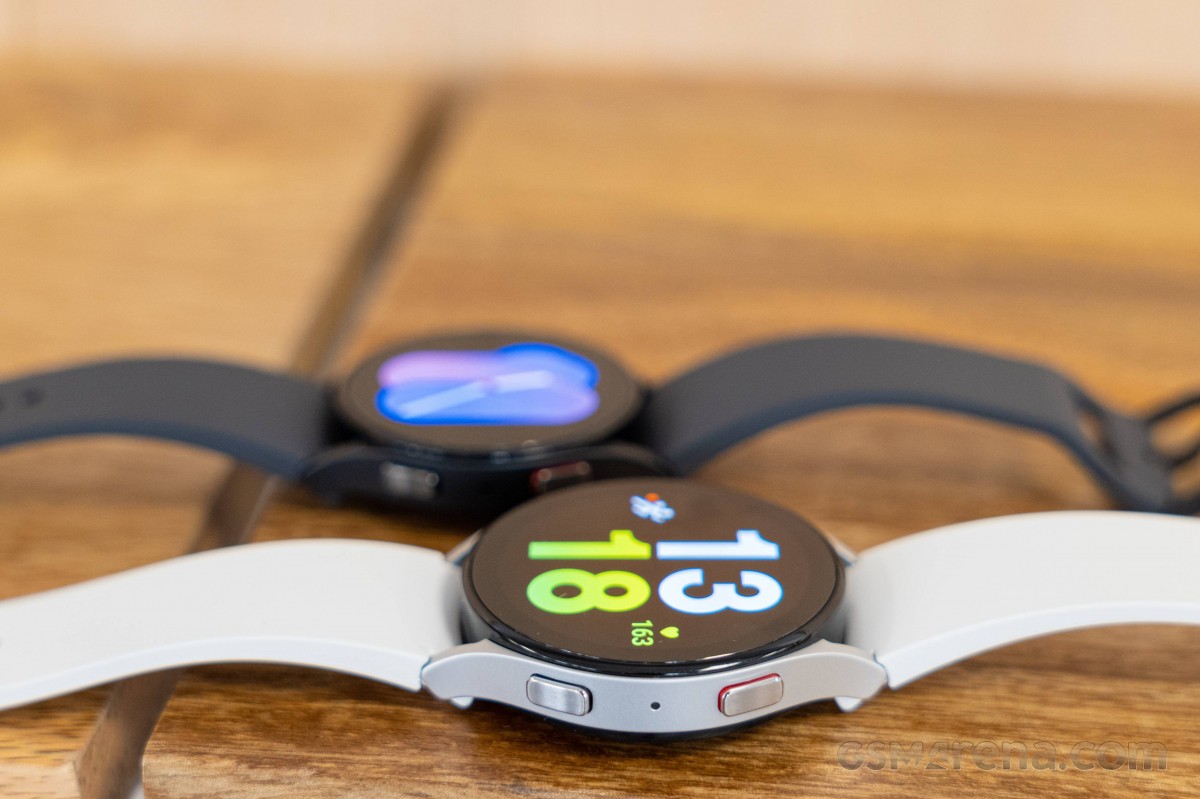 Samsung Galaxy Watch5
In addition to all the usual sensors you'd expect from a smartwatch or even a fitness tracker/band, the Galaxy Watch5 and Watch5 Pro make use of the so-called BioActive sensor, which debuted with the Watch4 series. Electrodes on the bottom of the watch and inside the two buttons help measure water through impedance and ultimately measure your body composition - lean mass, body fat percentage, water weight, BMI and even basal metabolic rate. It takes just 15 seconds to do 2,400 measurements to figure out those.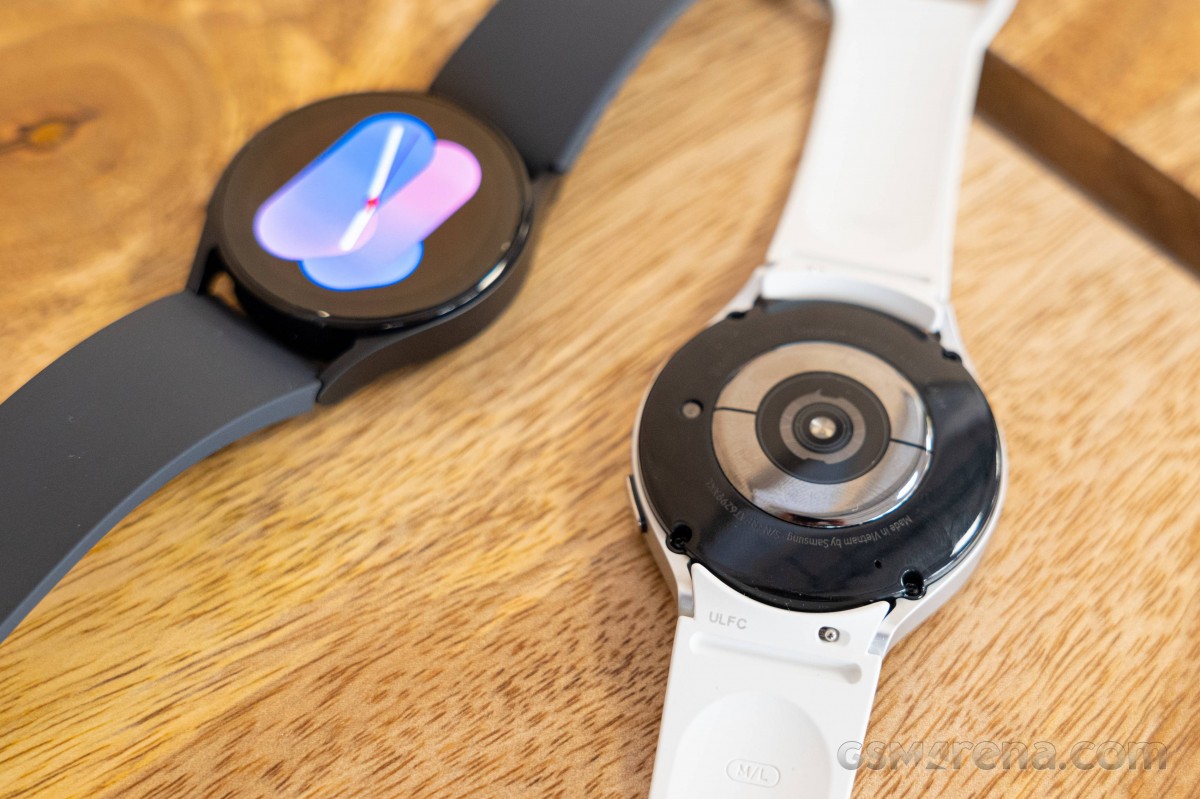 Samsung Galaxy Watch5
However, it's worth noting that these measurements are highly inaccurate and can't be used to assess your body composition or your daily calorie needs. It's just another tool you may want to take into consideration but not base your diet and lifestyle around it. One would argue that if you track your BMI and body fat percentage using the watch, you can somewhat accurately assess your progress over the course of your diet and workout plan. That may be true to an extent, but the measurement can vary wildly based on how hydrated you are, so make sure you drink a large amount of water before any measurement to eliminate this variable.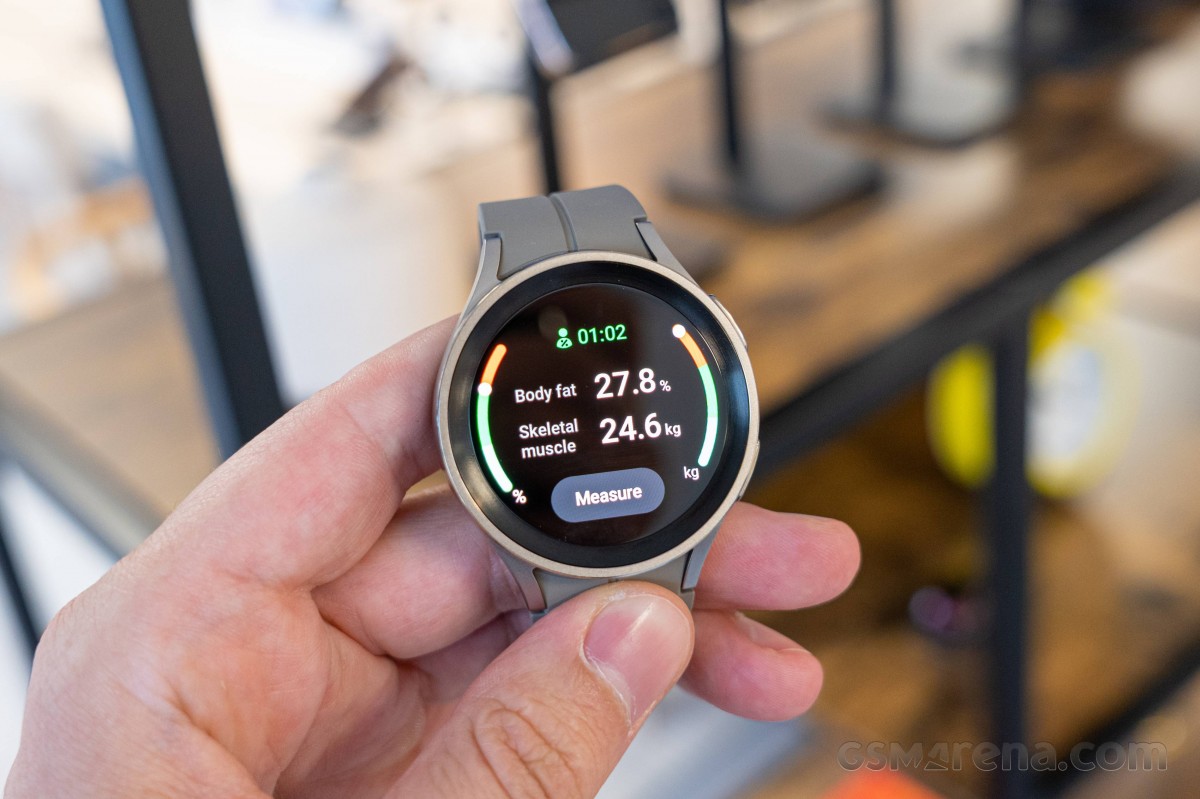 Samsung Galaxy Watch5 Pro
The same BioActive sensor is used for heart rate monitoring as well as ECG, which is now available in most markets - USA, South Korea and Europe are on the list. Blood pressure readings are also on the menu.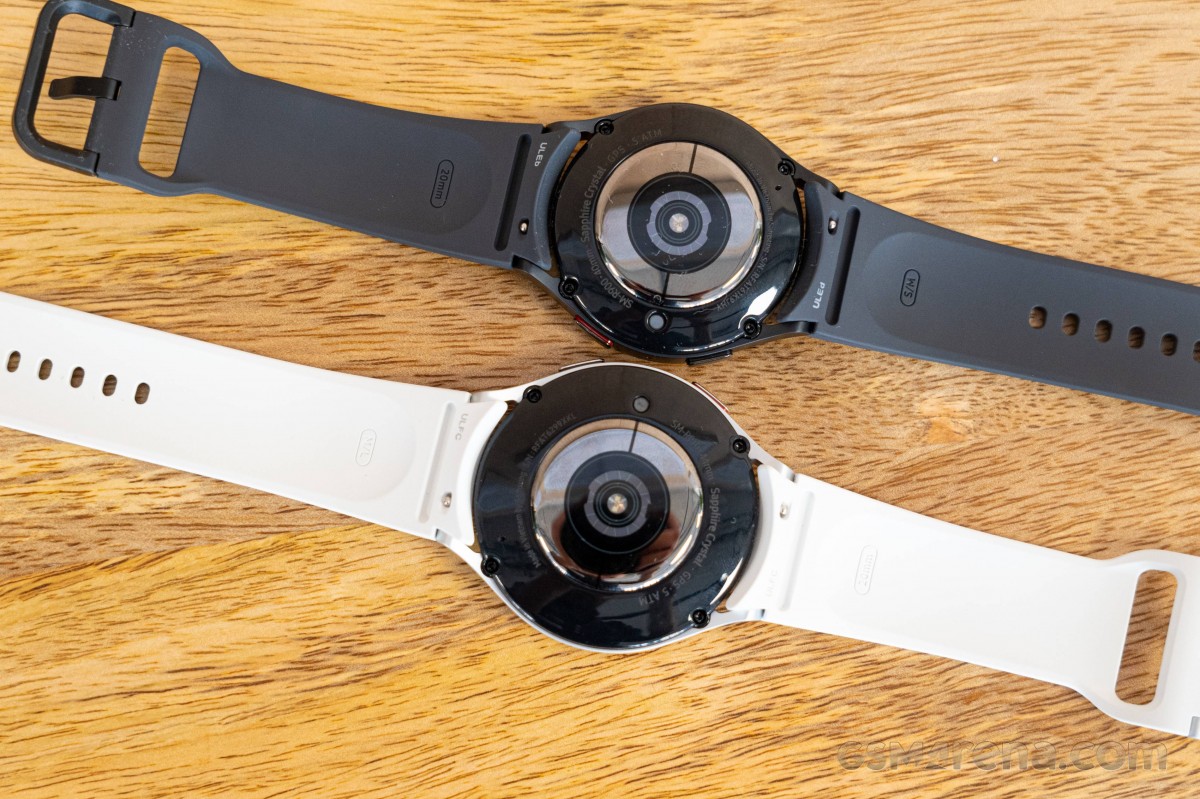 Samsung Galaxy Watch5
Last, but not least, a few good words about the vibration motor. It seems to be pretty strong, crisp and precise. Samsung has worked on the haptics, and it shows - over the course of our testing, we were able to distinguish the different taps and buzzes from the watch - when using the virtual bezel, notifications, incoming calls, navigation through the menus, etc.
Battery life
The Galaxy Watch4 series had one big drawback, and that was battery life. Even the bigger 46mm Watch4 Classic had underwhelming endurance. However, with the Watch5 series, the significant increase in battery capacity has directly improved the battery life on both versions.
The Pro flavor has a 590 mAh battery as opposed to the 361 mAh battery on the Watch4 Classic, and we were able to squeeze a full 72 hours out of a single charge. During that time, we had two non-GPS workouts of at least an hour and a half each, two short walks of about 30 to 60 minutes and overnight sleep tracking. Heart rate measurements every 15 minutes were also active. We didn't resort to the battery-saving mode either; we just let the watch battery last as much as possible without sacrificing functionality.
Turning on the Always-On Display cuts down on the battery life, and the best result we got out of it was 60 hours of runtime (three days and two nights).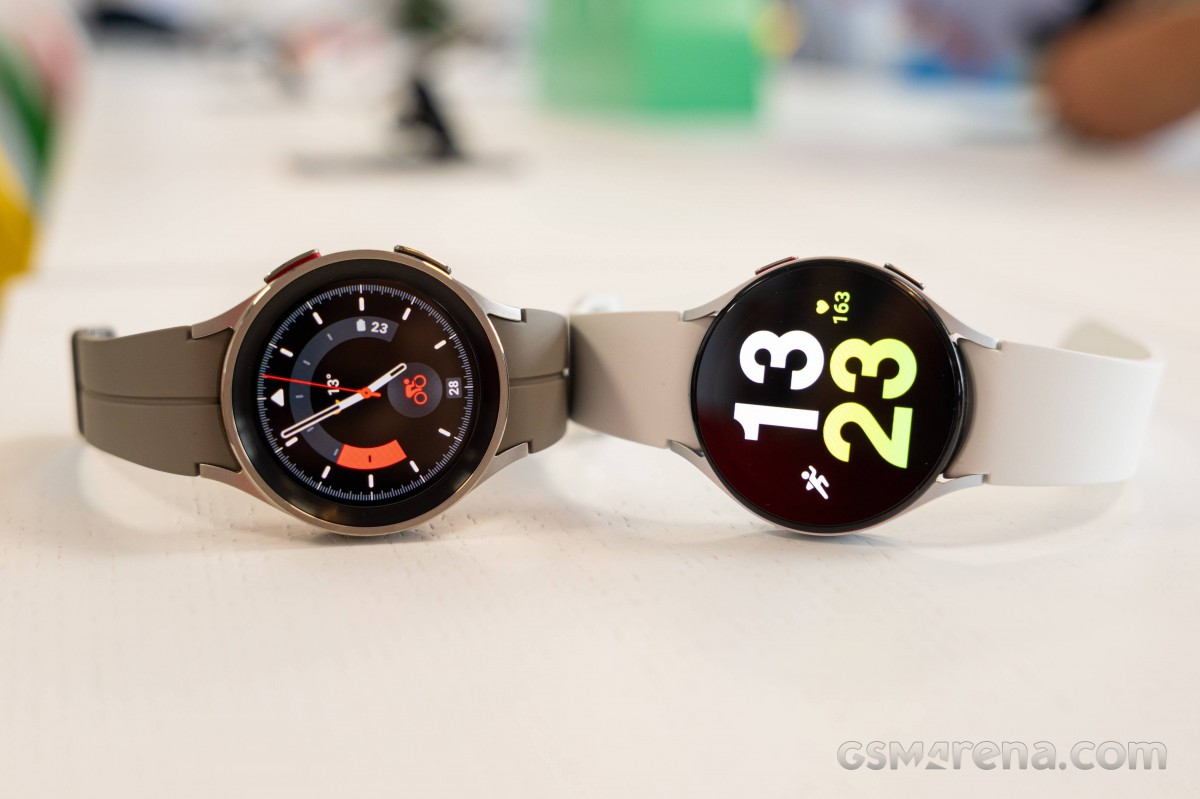 Samsung Galaxy Watch5 Pro and Watch5
To put that into perspective, we've been using the Galaxy Watch4 Classic as a daily driver and can confirm that it can barely make it past 30 hours of use without the always-on display. In other words, the Watch5 Pro's battery life is excellent, and it does hold up pretty well against other smartwatches. And by smartwatches, we mean actual smartwatches running a full-fledged OS, not glorified fitness trackers.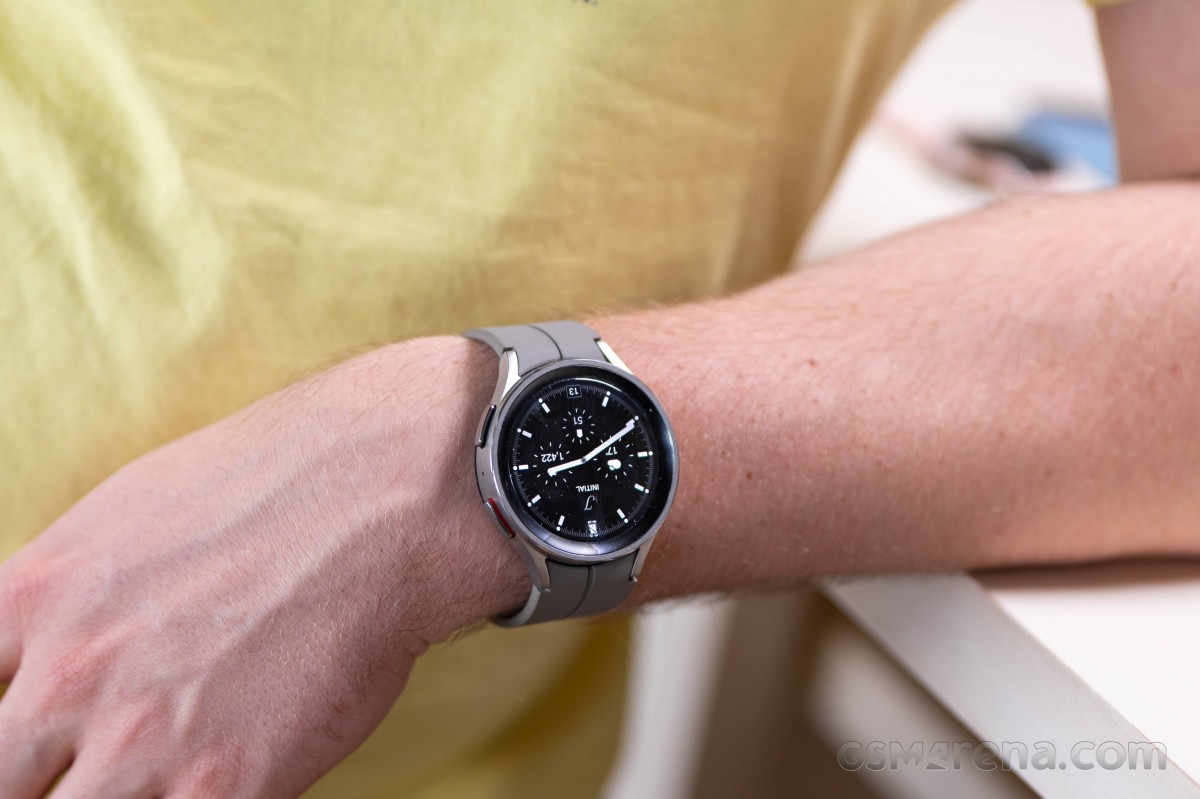 Samsung Galaxy Watch5 Pro with Always-on display
The vanilla Galaxy Watch5, on the other hand, can't offer the same battery endurance, but it's a huge step up from last year's Watch4. The new battery is 410 mAh, up from 361 mAh, and can do the full 48 hours without the always-on. The latter cuts that time to a day and a half.
When it comes to charging, the Watch5 does 0 to 100% in 1:17 hours, while the Watch5 Pro takes almost 1:40 hours for a full charge. The first 30 minutes will get you just 37% back, although it's going to be enough to cover your daily needs before going to bed.