Android makers don't seem to put a lot of effort in tablets these days and the Apple iPad has become the default choice for those looking for anything beyond entry-level devices. There are still somethat are worth a look and this one is one of them - the Samsung Galaxy Tab S6 Lite.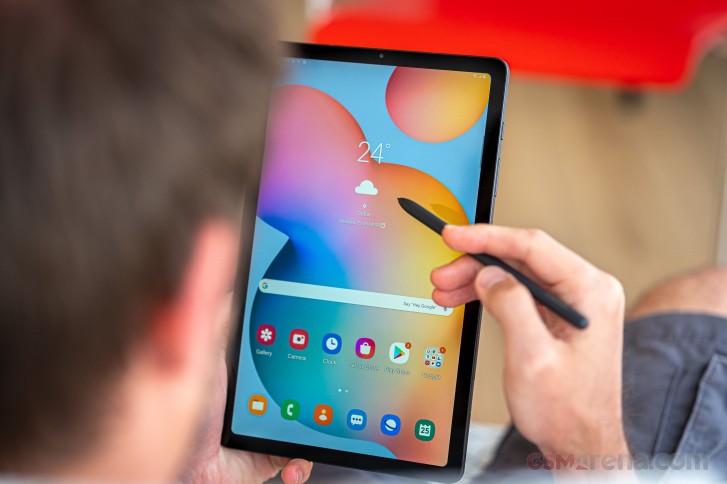 Priced the same €379 as the 7th gen Apple iPad, the Galaxy Tab S6 Lite has a clear purpose, and in typical Samsung fashion brings more bang than the Apple product. For starters it comes with 64GB of storage, whereas the iPad starts at only 32GB. The Android tablet also supports memory expansion on the cheap through microSD cards. It also comes with an S Pen stylus - Apple's Pencil will set you back an additional €99.
The Galaxy Tab S6 Lite has a USB-C port for charging (15W) and file transfer and has a speaker on the top and bottom in portrait orientation and on each side, when held in landscape. The iPad also has two speakers, but they're both located on the bottom side, so you'd get a better stereo effect with the Samsung slate. The S Pen attaches magnetically to the side or the back of the Galaxy Tab S6 Lite but it can easily fall off so be careful when you're carrying the slate.
The tablet has an all metal back with a smooth finish that feels great to the touch. Ours is the Oxford gray color and it looks stealthy. However it attracts a lot of fingerprints and frequent cleaning is in order if you are to maintain its looks.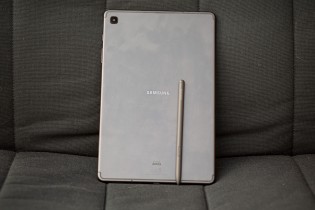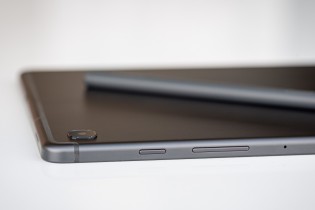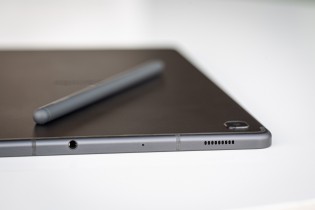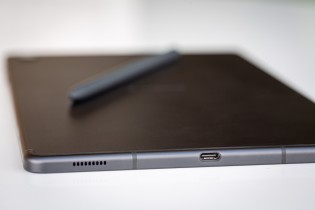 Samsung Galaxy Tab S6 Lite ports
Then there's the display. Here the entry-level iPad has the upper hand on the Galaxy Tab S6 Lite. Samsung has gone with a 10.4-inch 1200x2000px LCD with a 5:3 ratio. It has thin bezels and delivers adequate sharpness but is a bit bland. Its colors aren't as lively and saturated as we've come to expect from Samsung devices and viewing angles are poor. Tilt the screen 45-degrees from your face and the screen's contrast takes a dive. The iPad's screen is just better to look at.
However when looked at straight on the 10.4-inch screen on the Galaxy Tab S6 Lite is perfectly adequate. It offers good brightness in well-lit environments and is great indoors.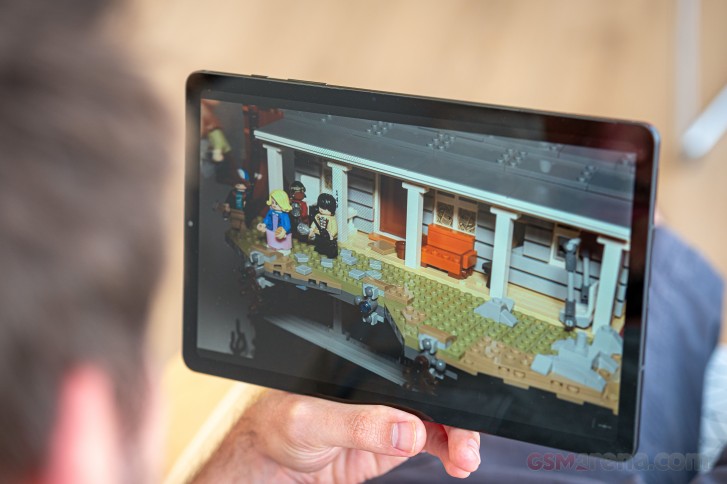 Watching videos or listening to music on the Galaxy Tab S6 Lite is a treat as the stereo speakers have an impressive oomph to them. There's so much bass that the entire tablet vibrates, which accentuates certain types of music. Interestingly the Dolby Atmos enhancement was disabled by default. Enabling it added some clarity to the vocals and instrumentals.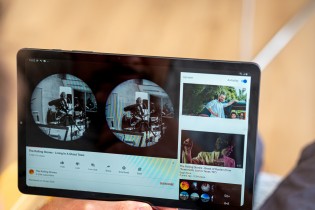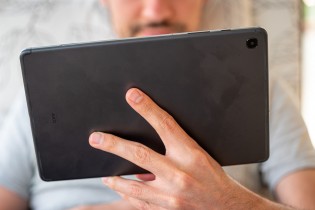 Watching videos is a treat, thanks to the stereo speakers
OneUI 2.1 on a tablet isn't much different from its phone counterpart. Some UI elements have been redone to make better use of the bigger screen, but you get the same experience. By default the Galaxy Tab S6 Lite came flaunting the oh-so-2015 three-button navigation bar. We immediately opted for the gesture navigation, which makes it feel much more up to date instantly.
There are a few notable omissions on the Galaxy Tab S6 Lite, compared to OneUI on phones. There are no Galaxy Themes and no Game Launcher, for what those are worth. There's also no desktop-imitating DeX mode, which could be due to the Exynos 9611's limitations.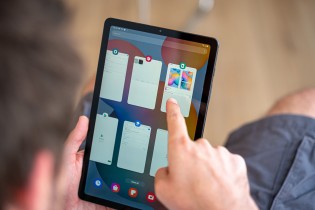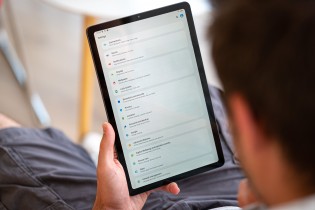 OneUI 2.1 on the Galaxy Tab S6 Lite
That leads us nicely into one major fault with the Galaxy Tab S6 Lite - performance. You can't go too long without a stutter or even the occasional 2-second lag. It's noticeable and a bit frustrating. Using two apps at the same time was really laggy and the YouTube app crashed a few times.
It must be an issue with software as the Exynos 9611 can certainly do better. Hopefully Samsung will address it with an update, because while no deal-breaker it's certainly annoying.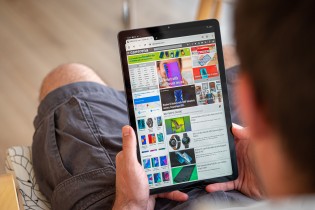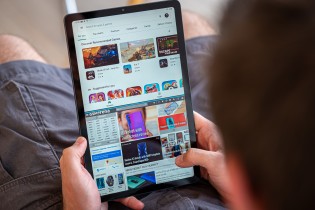 Browsing the web and using two apps at once
The S Pen is fully-featured. It doesn't have a built-in battery nor Bluetooth, so you can't use it as a remote trigger. But it is always on and upon a tap of its button brings up the familiar menu with options to create a note, take a screenshot and write on it, access to the PENUP app and more.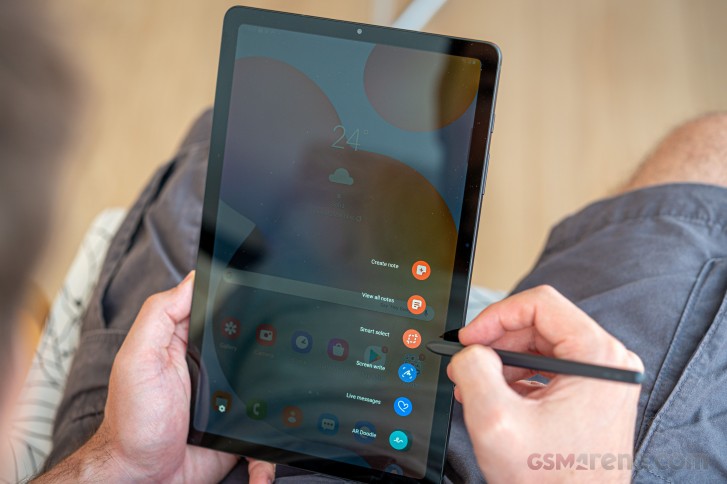 You can scribble notes, color pre-made illustrations with different virtual pens, play around with brush opacity and texture. It's a fun way to spend a few hours and if you're serious about note-taking and drawing on a tablet this is among the best devices to do it.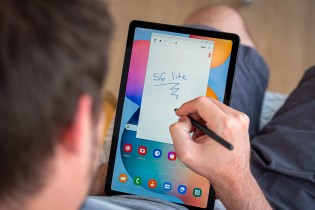 Typing and drawing with the S Pen
In terms of battery life, the Galaxy Tab S6 Lite is amazing. It can easily hang on for an entire day of media consumption. We easily got past 10 hours of screen-on time and even more than 11 when just watching YouTube with headphones on.
Charging the 7,040mAh battery back up took a while at 15W, though, but seeing how this tablet will rarely leave you couch we doubt it's a big deal.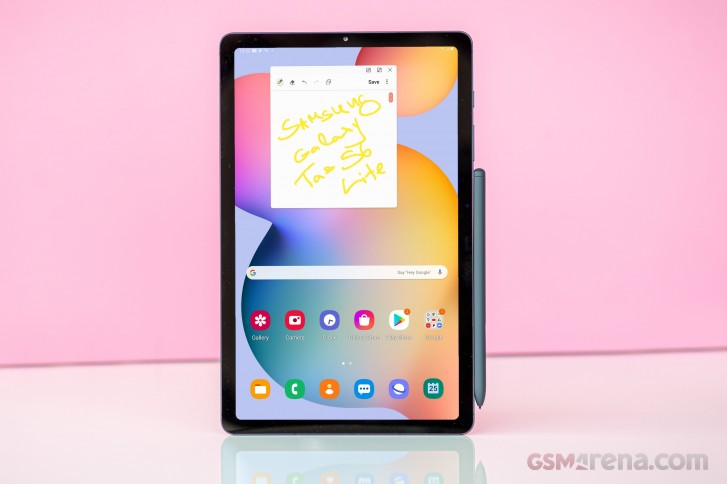 Ultimately if you want an affordable tablet, the Galaxy Tab S6 Lite is a great choice. It's well made, it has amazing battery life, an overall good screen, acceptable performance and is the cheapest and best way to get an Android tablet with a stylus.
Thanks to its OS of choice, the Galaxy tab S6 Lite could also be a clear choice over the Apple iPad 10.2 for multimedia consumption - it's just easier to upload a variety of video formats on Android than on the iPad, and the higher storage for the price helps a lot.
Apple's tablet is faster, has a higher-quality display and is the most streamlined tablet on the market. Deciding between the two should be quite easy once you have your priorities figured out.
?
Whay short product in market?,I need a Table s6 lite.
This isn't true, Samsung states OS upgrade support time and security update length separately. My Tab S6 Lite has Android 12. It will also get Android 13 as Samsung clearly said at launch.
T
you need to empty your recycle bin
ADVERTISEMENT