Introduction
Samsung has the Plus, Sony has the Compact, but the two companies see the base size differently. It's these regular versions that we'll now be taking a closer look at - this is the Galaxy S9 versus Xperia XZ2 camera comparison.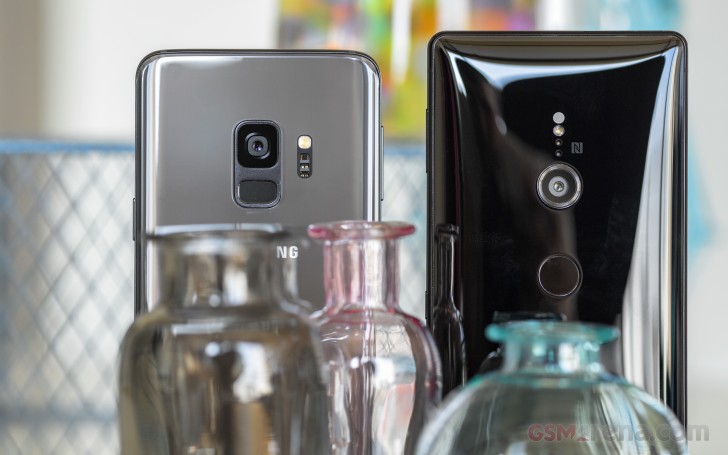 One could argue that the chunky XZ2 is best pitted against the S9+, but such a battle wouldn't be entirely fair to the Xperia - the larger Galaxy has a pair of cameras versus just one on the XZ2. Why not have the XZ2 Compact take on the Galaxy S9 then? Well, we figured display size is a major factor when choosing a phone, and if you're looking at the 5.8-inch S9, then probably the 5.7-inch XZ2 is more up your alley than the 5-inch Compact is. In any case, whatever we establish about the XZ2's camera is equally true about the one on its smaller brother.
And what exactly are these cameras? Sony is sticking with the multi-aspect sensor introduced with the Xperia XZs that takes 19MP 4:3 photos and 17MP 16:9 ones. This year's implementation has a much improved noise reduction and image processing. And the 960fps slo-mo videos are now captured in 1080p.
Samsung's joining the super slo-mo madness this year, and matches the 720p/960fps mode of the Xperia (with better software implementation, at that), but it can't do 1080p/960fps. What it does better than the Sony is 4K recording where the Xperia maxes out at 30fps, while the Galaxy can do 60fps.
The S9 is a little short on pixels in stills, however, its 12MP camera being outresolved by the Xperia XZ2. The Galaxy does have the upper hand in the selfie game with a larger, higher-res sensor and a brighter lens with autofocus.
For a quick round up of the key numbers take a look at this handy cheatsheet.
| | Samsung Galaxy S9 | Sony Xperia XZ2 |
| --- | --- | --- |
| Main camera | 12MP, 4032 x 3024px | 19MP, 4032 x 3024px |
| Sensor | 4:3 aspect, 1/2.55" sensor size, 1.4µm pixel size | multi-aspect, 1/2.3" sensor size,1.22µm pixel size |
| Lens | f/1.5-2.4, 26mm, OIS | f/2.0, 25mm |
| Focus | Dual Pixel PDAF | Laser+PDAF |
| Flash | Single LED | Single LED |
| Video recording | 2160p@60/30fps, 1440p@30fps, 1080p@60/30fps | 2160p@30fps, 1080p@60/30fps |
| Video IS | OIS+EIS | EIS only |
| Slo-mo | 1080p@240fps, 720p@960fps | 1080p@120fps, 1080p@960fps |
| Video features | Stereo audio | Stereo audio |
| Front camera | 8 MP, 1/3.6", 1.22µm, f/1.7, 25mm, 1440p@30fps | 5MP, 1/5", f/2.2, 23mm, 1080p@30fps |
We like comparing numbers as much as the next guy, but we also like taking photos and looking at them up close. We'll be doing a lot of that, but not before we go over the hardware and software of the two phones. Click away.
E
Nevertheless, Galaxy S9 is the best in all because its shots reflect mostly reality to the object colour and atmosphere. And, that's kind of reasons it's in contrast to the latest S23 itself. You can also compare their photos to confi...
Z
Is Xperia a good phone??