Assorted software
Game Launcher has been given some polish but is again essentially the same thing. It groups all your games in one place, so they stay handy instead of being scattered in the app drawer, and then makes sure your gaming sessions remain as uninterrupted as possible. The in-play Game tools can disable notifications during a game and disable touch sensitivity around the edges, as well as the pressure sensitive Home area. You can grab screenshots, and record gameplay too, up to 1080p resolution.
Samsung still insists on using its own Gallery app and it's quite full-featured. It's big on Stories - shareable, collaborative albums where your friends can add their own photos from the party or just a Story on a shared theme (e.g. sunsets). The Albums pane gives you a sorted view of your images by origin - camera, screenshots, downloaded images by default, but you can also create your own. The Pictures pane is effectively a timeline - it aggregates all of your images and arranges them chronologically.
Several image editing tools are available - from basic cropping, to collage making, to a more capable editor (which supports image correction, effects and drawing).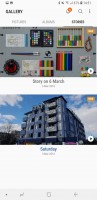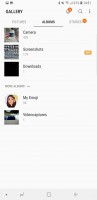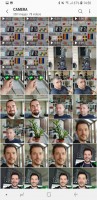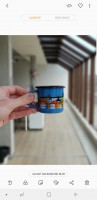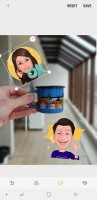 Gallery: Stories • Albums • Pictures (Timeline) • Single image • Editor
Unlike the in-house Gallery, music playback is left in the hands of Google's own Play Music. The player and service is ubiquitous and it can play your local files, as well as stream music from the cloud.
Samsung's extensive sound enhancements do come as standard and they include the SoundAlive tool - essentially an equalizer with either two simple dials for basic users or a manual 9-band equalizer for more advanced tweaking. UHQ sound resolution enhancer is available as well for upscaling compressed audio. There are also features such as Surround sound emulation and Tube Amp Pro simulator. Adapt Sound tunes the EQ to your hearing and your particular pair of ears and headphones by playing multiple frequencies and asking how well you hear them.
Dolby Atmos is the new bit here, with sound optimizations for movie, music and voices, plus an Auto mode that does the selection for you.
AR Emoji
AR Emoji is Samsung's answer to Apple's Animoji - there's no point in trying to call it something else. It's different, but it's the same, and also different. It uses the selfie cam to take a photo of your face, which it then turns into an animated character that you can further customize with hairstyles, skin tones and eye glasses, and dress up in different sets of clothes. It also creates a set of GIFs which you can use in any messenger app you choose - GIFs are universal like that. You can create AR videos in the camera app and switch your avatar with a number of animals and fictional creatures. It's cool, to a point, but it's not terribly accurate, and it's also not as customizable as one might want.
No offence, but are you still here, Bixby?
One of the most universally disliked features introduced with the Galaxy S8 generation, Samsung's personal assistant Bixby returns on the S9 and S9+. As if Samsung acknowledges you might not be super hyped to use it, the option for disabling the hardware button is the only one you get under the gear settings menu. It's not like you can use it for anything else, but you can turn it off right away and forget about it.
If you keep an open mind and choose to give Bixby a chance, it'll do stuff around the phone for you with a decent level of proficiency. Bixby Home is one of the assistant's alter-egos - a homescreen pane similar to the older Google Now experience. It's the leftmost homescreen pane (though you could disable that), but you can also evoke it with a triple press on the Bixby button, and it delivers a feed of contextually relevant information.
Cards can be hidden, pinned to the top or turned off. There is no apparent rearrangement option beyond that. As for the cards themselves, they actually come courtesy of various apps which are installed on the phone.
It is also worth noting that Bixby can put cards on your lockscreen as well. Of course, that all depends on whether you permit it to do so, again on a convenient per-app basis.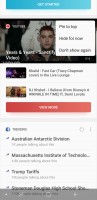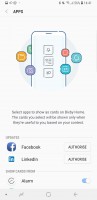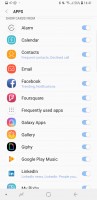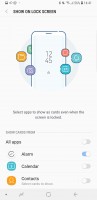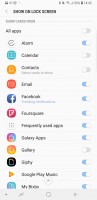 Editing cards • Apps that can push cards
Reminder is a particularly convenient part of Bixby. It is a calendar and a task app rolled into one, that is also location- and context-aware. Once you enable the feature, it manifests itself as a separate app. In it, you can input content the old-school way.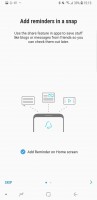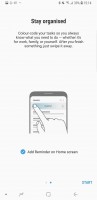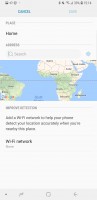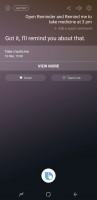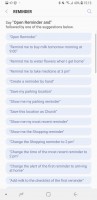 Reminder offers time and location-based conditions
Bixby Vision is there for you to recognize stuff you point your camera at and help you out accordingly. This year's novel feature is food recognition - counting calories, reimagined. It could tell that a pizza (a bit sad-looking as it may be) is not a hotdog and quoted an energy value which we obviously have no way of verifying. Same with the brownies. It wouldn't recognize the mayo, but that has its nutritional values on the jar, so we're safe. We pulled a bottle of wine and presented it to Bixby for recognition and that worked too.
Image recognition turned out iffier. A fire extinguisher ended up being paint primer from one angle, and shampoo from another - wonder how fire extinguishers look in other parts of the world.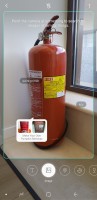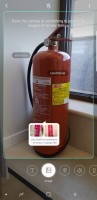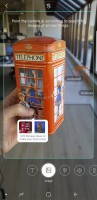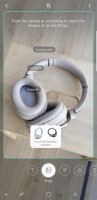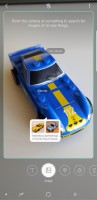 Bixby Vision: Image recognition
The Google Translate-powered translation doesn't look much too great either. While it is Google providing the service, somehow the results ended up different between Bixby's take and the Translate app (on a Pixel, but still). Additionally, Samsung's rendition does a worse job with superimposing the translation over the object.
Bixby Voice is the third major use of the assistant and it's perhaps the one that makes the most sense. It can access all the in-house apps and execute commands within them so for example you don't need to fumble through the menus to find the settings of the current Wi-Fi network.
It's not all-powerful though. We never managed to make it switch to the telephoto camera, for one. Or let's say your phone is locked, and summon Bixby telling it to turn Bluetooth on. That's one of those requests that require the phone to be unlocked, so you unlock it only to find out Bluetooth was already on. Perhaps in a year or two those kinks will all be ironed out.