Bargain bin
Samsung Galaxy S7 vs. Galaxy A5 (2016): Bargain bin
Cheaper price, but just as good?
Companies usually push their premier product hard, but that leaves other models slightly overlooked. The Samsung Galaxy A5 (2016), for example, is in the shadow of the Galaxy S7 and its massive marketing campaign.
Their price difference is not quite double as in Samsung's portfolio, Samsung's A-series is second only to the Galaxy S lineup, but it offers compelling alternatives at a competitive price.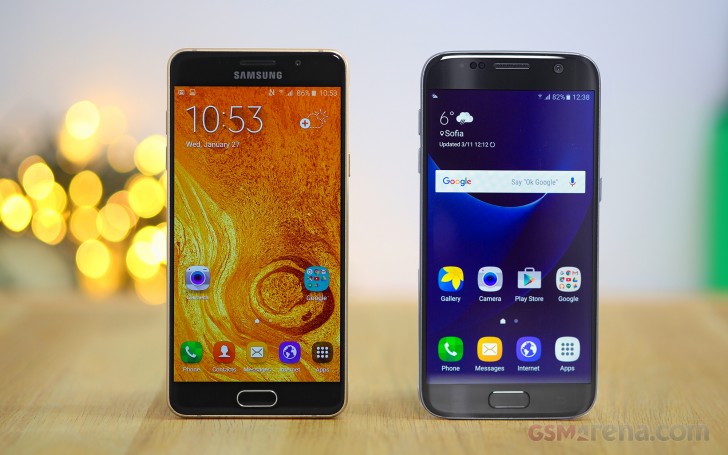 Both phones deliver the trademark of a premium Samsung phone - an amazing Super AMOLED display. The two phones even have fairly similar designs (it's entirely subjective which one looks better) and both are fully equipped for Samsung Pay.
The list goes on - cameras with OIS and bright apertures, large batteries in slim bodies, the bodies themselves are built with glass on a metal frame. The list goes on until it hits a snag, namely the processing power.
With only a Snapdragon 615 or Exynos 7580 (both with just 2GB of RAM and 16GB storage), the Samsung Galaxy A5 (2016) is just no match for the Galaxy S7 in terms of speed. Worse still, it caps the video recording to 1080p, we might have been more lenient if it supported 4K 2160p.
Obviously, something had to give - this isn't Company A vs. Company B which sell the same specs at different prices because one runs on lower margins. Instead this is Samsung vs. Samsung, it's a question of whether you truly need the full flagship experience or if its advantages will go unused.

Samsung Galaxy A5 (2016)

Samsung Galaxy S7
$
€270
€460
Glass/Aluminum
7.3mm thick, 155g
Glass/Aluminum
7.9mm thick, 152g
5.2" Super AMOLED
1080p (424ppi)
5.1" Super AMOLED
1440p (577ppi)
13MP
1080p
12MP
2160p
1.5GHz (octa) Snapdragon 615/
1.6GHz (octa) Exynos 7580
2.15GHz (quad) Snapdragon 820/
2.3GHz (octa) Exynos 8890
2GB RAM
16GB memory
4GB RAM
32GB/64GB memory
2900mAh
3000mAh
Availability
Both phones are widely available both online and in brick and mortar stores. The holiday promotions have ended, but the Galaxy A5 (2017) is already official and the Galaxy S8 is months away so both phones are due for a drop in price.
I
About what you said you can adjust the flashlight while holding on it
R
s7's high battery capacity, low light camera and its good ergonomics takes it to the peak compared to the A5 (2017)
N
try uninstalling it and install it again