Time-saver edition
Samsung Galaxy S7 review: Time-saver edition
Introduction
The Galaxy S6 was Samsung's plunge into premium materials for its flagship line, which had long since suffered ridicule for its extensive use of plastic. The Galaxy S7 is the evolutionary upgrade that follows, building upon the S6's foundations.
Key specifications

5.1"1440x2560 pixels

12MP 2160p

2.3GHz Exynos 8890 Octa

4GB RAM 32/64GB memory

3000mAhLi-Po
Design has been refined, with clues taken from the Note5 which split in half the year between the two S-models' releases. Under the hood, the latest silicon churns higher numbers, but the headlines are in other areas - a brand new dual-pixel 12MP camera, the return of environmental sealing and microSD expansion, plus an extra-large battery. In other words - the Galaxy S6, only better.
Design and build quality
Galaxies were all made of plastic, Samsung S-series flagships, that is. Then came the Galaxy S6, Samsung's response to plastic-hating users and reviewers, and it brought materials, look and feel up to the standard required in the segment. Samsung committed to the dual-glass design and on the S7 we see it taken a step up.
The Galaxy Note5 has generously loaned its curved back to the S7, alongside with its outer aluminum frame. This has made the S7 feel quite a lot slimmer than it actually is - measuring 142.4 x 69.6 x 7.9mm, the new model is 1.1mm thicker than the outgoing S6.
The "huge" difference, however, brings more good than it does harm. An extra millimeter means extra juice (3,000mAh battery vs. the S6's 2,550mAh), and it also helps make the camera hump less of an eye-sore - it only sticks out by 0.46mm now. There's no hiding the added heft - at 152g the S7 is precisely 10% heaver than the S6, and it shows in side-by-side comparisons. Not really an issue in daily use, though.
There's also no escaping the fact that glass collects fingerprints, and the S7 is a pain to keep clean. That's less of an issue with white paint jobs, but in all other cases, it's likely to be covered in smudges most of the time.
While the rear comes from the Note5, the front is entirely S7's. The side edges of the glass fade out nicely towards the frame at a more gradual angle than the top and bottom - a different take on the 2.5D glass concept, and one that detail freaks will rave about. It's not the S7 edge's curves, no, but the S7's face does indeed have a character of its own.
Those minute differences aside, the Galaxy S7 shares a lot of the hallmark properties of the range. Controls are where they're supposed to be, there's a fingerprint sensor inside the Home button, which requires a press to wake up, ports are where they were last time.
Well, the IR blaster is nowhere to be found, but then the card tray will now accept a microSD card beside the nanoSIM - yes, Samsung reintroduces expandable storage, which it mercilessly took away last generation.
Oh, and in case the rain drops on the photos weren't enough of a hint - the Galaxy S7 is IP68 certified for water resistance up to 1.5m deep for up to half an hour, and it's also dust tight.
Display
Quite expectedly, the Galaxy S7 comes with a 5.1-inch QHD display of the Samsung signature Super AMOLED variety.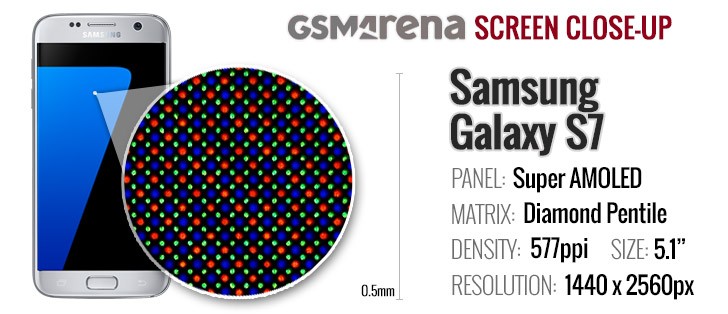 AMOLED has come to mean infinite contrast, stellar viewing angles, and vivid colors, but color accuracy is no longer out of the question if you pick the right display mode. Maximum brightness doesn't suffer either, but Auto needs to be checked in order to get the best in brightly-lit conditions. And the S7 does indeed excel in direct sunlight, posting one of the highest scores in our dedicated test.
Allways On is the display feature of the season, and on AMOLED it gets the most straightforward implementation - only the required pixels need to be lit up. The S7 lets you have a clock, a calendar, an image, or a combination of those, displayed during standby. Basic notifications will also show up, like missed calls and texts, but nothing more.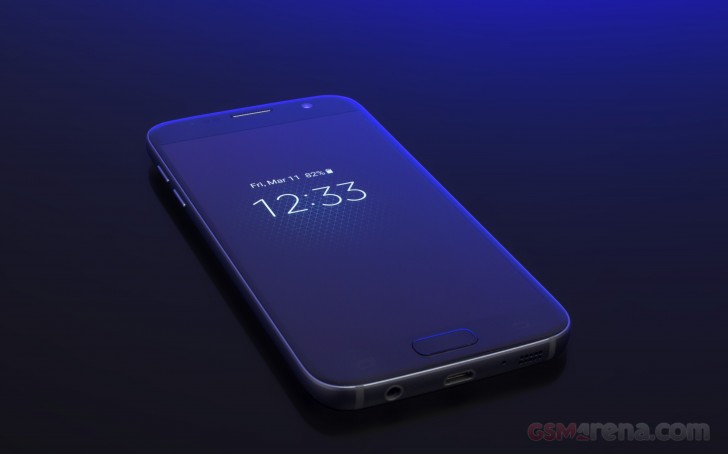 All that will eat up roughly a percent of your battery life every hour, which Samsung argues is still better than waking up the phone and lighting the entire display just to check the time on a few dozen occasions a day. It's your call whether the trade-off is worth it, and if it isn't, you can just pull the plug on it.
Battery life
One of the best received changes over the previous generation is the S7's increased battery capacity, at 3,000mAh. The power pack is again not user-replaceable, but Samsung hopes that the more juice on board, coupled with the existing fast wired and wireless charging, will make that less of a pain point.
In our battery tests, the Galaxy S7 performed rather well with excellent longevity in both video playback (close to 15 hours) and 3G voice calls (23h). Surfing the web was less impressive, but still just short of the 10-hour mark.
All that worked out to a combined endurance rating of 80 hours - about 10% more than the S6. Turn the Always On display feature on though, and that number plummets by some 30 hours, an effect of increased standby battery draw.
The endurance rating is an estimation of how long the phone would last if you use it for an hour each of calling, browsing and video playback a day. Such usage pattern may not be relevant to your own usage scenario, but we've established it so our battery results are comparable across devices. You can adjust the formula to better match your own usage pattern, by visiting our dedicated battery test results page.
Audio
Loudspeaker volume on the Galaxy S7 isn't impressive, the phone ranked in the Below Average category in our test. It uses a single driver too, so it doesn't score points for stereo speakers, but it does produce quality output with no distortions, so at least there's that.
Examining the Galaxy S7's sound output through the 3.5mm jack, we found the smartphone to deliver excellently clean output with above average volume when connected to an external amp. Headphones introduced a bit more stereo crosstalk than the S6, but the readings still remained better than the competition, and volume didn't take a hit.
Photo camera
On the Galaxy S7 Samsung introduces a brand new camera with a lower pixel count, but that's about all that's been downgraded. The 12MP shooter has dual-pixel technology -there's a phase-detection agent at every pixel, while competitors only have one at about 5% of photosites. What that means to you is insanely fast autofocusing, both in daylight and in the dark.
The lens has also gotten brighter, actually the brightest on a smartphone at f/1.7. Add to that the larger individual pixels (1.4 micron vs. 1.12 on the S6), plus OIS, and the S7 is very well equipped for shooting in less than ideal lighting. And in pitch black you have the flash to save the day (night), though it still uses a single LED.
Double-press on the Home button to launch the camera works here too, and once you're in the app, it's the familiar simple interface with shortcuts to basic functions. If you want more control, you can launch the Pro mode, which gives you access to manual exposure settings. RAW capture is available too.
Photos are packed with detail, dynamic range is good with highlight preservation is on top of the S7's priority list. Color rendition is similar to the S6 - consumer grade accuracy with a touch of warmth. Night shots are very good (within the laws of phisics), detail is abundant, noise is kept to a reasonable amount.
The selfie snapper remains at 5MP, only this time it has the f/1.7 aperture to match the primary camera. Samsung has also added a screen fill flash to assists when there's practically no other light source. It has somewhat limited dynamic range, and tends to clip highlights, but produces pleasing skin tones
Video camera
The Galaxy S7 has a feature-rich camcorder, capable of high-res 4k/30fps video, high frame rate 1080p/60fps, and slow motion at 720p/240fps, among others.
Ultra HD videos are nice and detailed, and exhibit largely the same excellent properties as still images. The fast autofocus sure hepls, but on occasion, and particularly in 60fps FullHD video, the S7 hunts for focus for no apparent reason.
Software
Marshmallow works side by side with TouchWiz on the Galaxy S7. It's the latest installment in Samsung's strife for a lighter Android build than the widely criticized company overlays of old.
Samsung shot for ease of use this time, and made the default grid size 4x4, making for large easily tappable icons, but 4x5 and 5x5 options are also available. Additionally, an experimental mode is also available as part of Galaxy Labs, which lacks an app drawer and all your apps are located on the homescreens, iOS-style. Themes aren't news anymore, but just so you know, they are present on the S7.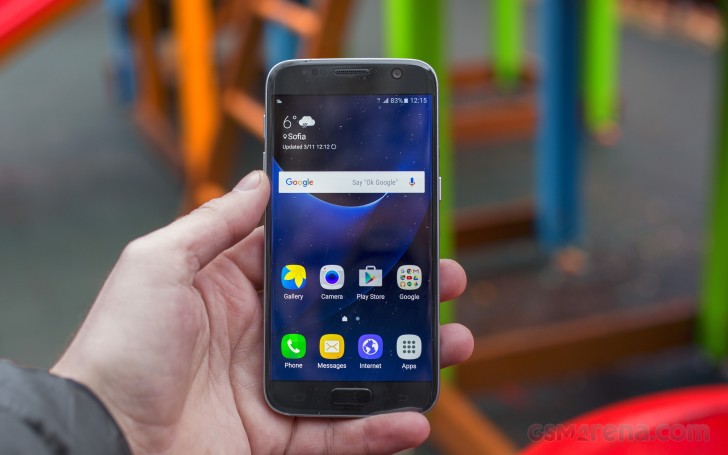 Samsung's take on split-screen multitasking is probably the best there is. The two windows can be resized and swapped and plenty of apps are supported. Alternatively, you can shrink just about any app to a smaller windowed view by swiping diagonally from one of the top corners. Admittedly, that all makes more sense on a larger screen, but it's nice to have on the 5.1-inch S7 as well.
The truly new feature this year is Game Launcher. Targeted at, well... gamers, the app lets you disable the capacitive keys to avoid unwanted taps mid-game, cuts off notifications and has screenshot and screen record features. A couple of power-saving modes cap frame rate at 30fps, and set two levels of progressively lower resolution.
Benchmark performance
The Galaxy S7 is powered by either the in-house Exynos 8890, or the Snapdragon 820, depending on region. Each of them comes with the respective GPU, Mali-T880 MP12 in the Exynos flavor, Adreno 530 in the Snapdragon, and 4GB of RAM is standard equipment.
Single-core CPU tests put the Snapdragon variant slightly ahead, while the Exynos pulls ahead in multi-core thanks to more and higher-clocked cores. In graphics benchmarks the S820 generally has a marginal advantage. In the end, both are top-tier chipsets and no matter which one you get, you can expect exemplary performance.
Wrap-up
It may be an iterative upgrade on the outside, the Galaxy S7, but if you remotely liked the S6, chances are you're gonna love the S7. Design has gotten an extra polish and S6's sharp edges have been replaced with more fluid shapes. The water resistance returns with a splash, as does the microSD expansion, and the increase in battery capacity does actually translate into longer battery life.
Then there's the new dual-pixel camera with unrivaled autofocus speed, bright lens and OIS. High-quality output across the board from 12MP stills to 4K video position it up there with the best smartphones money can buy. And, naturally, the S7 also churns out top numbers in the benchmarks no matter how hard you stress it, but that's nothing new.
Samsung Galaxy S7
Pros
Cons

Premium design and build quality
Superb 5.1-inch QHD AMOLED display
Powerful chipset, great performance
Impressive camera output both stills and video
Very good battery life, fast charging, both wired and wireless

Glass accumulates fingerprints, fragile
Non-removable battery, no IR blaster
Also consider
Prettier, with larger dual-edge display, longer battery life, but also more expensive.

Modular design with a host of accessories available, removable battery, dual rear cameras, one with extra wide angle FOV.
The rest of this season's top-shelf models will have a hard time competing with the Galaxy S7. It's another exceptional all-round performance from a Samsung flagship, which takes the best from the company's recent high-end phones and puts it all in a single device.
Samsung Galaxy S7
Total GSMArena score
4.5 / 5
| | | |
| --- | --- | --- |
| Design and build quality | | 4.5 |
| Display | | 5.0 |
| Battery life | | 4.5 |
| Audio | | 3.5 |
| Photo camera | | 4.5 |
| Video camera | | 4.5 |
| Software | | 5.0 |
| Benchmark performance | | 5.0 |
| Coolness | | 4.5 |
K
Before i Switched to iPhone 14, i Had The Galaxy S7, My Review, Very Good Phone, It's Kinda Outdated Now and Runs An OS made by Google, But i Used it For 3 Years and now keep it as a collection phone, the major advantage of this phone is its battery ...
A
Using a second hand s7 I like it.