Display
Just like the Galaxy Note5, Samsung Galaxy S6 edge+ packs a 5.7" Super AMOLED display with diamond pentile matrix and QHD (2560 x 1440 pixels) resolution. The latter delivers a pixel density of 518ppi on the 5.7" screen.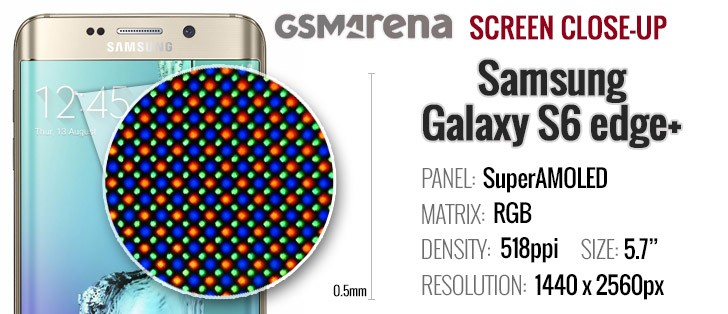 Samsung's flagship smartphones have always boasted some of the best displays in the business and the tradition continues with the latest iteration. Alongside the usual infinite contrast, the screen boasts accurate colors (you can still make them saturated in the settings), as well as top notch brightness and viewing angles.
If you boost the brightness slider you can reach the brightness levels of a good LCD. Keep in mind that in very bright light, the auto brightness mode can push the screen brightness well above what is achievable manually with the slider (up to 540nits). It's not as much as, say, the Note5 (620nits), but the difference is readily visible compared to the regular max screen brightness (410nits).
This sort of brightness levels can be easily beaten by the competing smartphones with LCD screens, but the amazingly low reflectivity of Samsung's SuperAMOLED displays means you can keep the brightness slider down even in bright sunlight conditions and still enjoy legible screen contents.
Viewing angles are great though you might see a minor blue/green tint at steeper angles (it's not uncommon with OLEDs).
Display test
50% brightness
100% brightness
Black, cd/m2
White, cd/m2
Contrast ratio
Black, cd/m2
White, cd/m2
Contrast ratio
Samsung Galaxy S6 edge+
-
172
∞
-
410
∞
Samsung Galaxy S6 edge+ max auto
-
-
-
-
540
-
Samsung Galaxy S6 edge
0.000
208
∞
0.000
311
∞
Samsung Galaxy S6 edge max auto
-
-
∞
0
601
∞
Samsung Galaxy S6
0
208
∞
0
363
∞
Samsung Galaxy S6 max auto
-
-
∞
0
619
∞
Samsung Galaxy Note5
-
-
-
-
439
∞
Samsung Galaxy Note5 max auto
-
-
-
-
620
-
Samsung Galaxy Note 4
0
291
∞
0
399
∞
LG G4
0.09
108
1240
0.43
532
1238
OnePlus Two
0.158
180
1139
0.299
399
1334
HTC One M9
0.15
175
1180
0.44
534
1221
Samsung Galaxy Note Edge
0
179
∞
0
351
∞
Apple iPhone 6 Plus
0.17
208
1197
0.52
705
1361
Sunlight legibility is once again superb - the second best we've seen to date. The Korean giant has tuned the display to go above the brightness level that's available to the user when in bright environment and it even managed to beat its previous achievement with the Galaxy S6 edge. This means you will be able to use your display even under direct sunlight with as little loss of legibility as possible.
Sunlight contrast ratio
Nokia 808 PureView
4.698
Samsung Galaxy S6 edge+
4.615
Samsung Galaxy E7
4.485
Samsung Galaxy A3
4.241
Samsung Galaxy S6
4.124
Samsung Galaxy S6 edge
4.124
Samsung Galaxy Note 4
4.033
Samsung Galaxy Note 3
3.997
Apple iPhone 5
3.997
Samsung Galaxy A5
3.895
Samsung Galaxy A8
3.859
Apple iPhone 6
3.838
Motorola Moto X (2014)
3.816
Samsung Galaxy Note Edge
3.799
Vivo X5Pro
3.706
Samsung Galaxy A7
3.679
Oppo R5
3.678
Samsung Galaxy K zoom
3.675
Nokia Lumia 930
3.567
Apple iPhone 5s
3.565
Samsung Galaxy S5
3.549
Nokia Lumia 735
3.547
Motorola Nexus 6
3.543
Alcatel Idol X+
3.527
Apple iPhone 5c
3.512
Samsung Galaxy Alpha
3.509
Samsung Galaxy Note 3 Neo
3.487
vivo X5Max
3.472
LG G Flex2
3.465
YotaPhone 2
3.453
Motorola RAZR MAXX
3.42
Samsung I9300 Galaxy S III
3.419
Samsung Galaxy S5 Active
3.406
Nokia Lumia 925
3.402
Gionee Elife S5.5
3.386
Samsung I9505 Galaxy S4
3.352
Oppo R7
3.32
Samsung Omnia W
3.301
Samsung Galaxy S5 mini
3.174
Samsung I9000 Galaxy S
3.155
Samsung Ativ S
3.129
Samsung I9190 Galaxy S4 mini
3.127
Samsung Galaxy S4 zoom
3.118
Nokia N9
3.069
Microsoft Lumia 640 XL
3.065
Apple iPhone 6 Plus
3.023
Samsung Galaxy Note
2.97
Samsung Galaxy Premier
2.958
Sony Xperia Z1
2.95
HTC One S
2.901
Lenovo S90 Sisley
2.892
Samsung I8730 Galaxy Express
2.861
BlackBerry Q10
2.856
Samsung I9100 Galaxy S II
2.832
Sony Xperia Z3+
2.824
HTC Desire Eye
2.815
Gionee Elife S5.1
2.812
Samsung Galaxy S II Plus
2.801
BlackBerry Z30
2.79
Meizu MX4 Pro
2.765
Sony Xperia ZR
2.672
Huawei Ascend P1
2.655
Xiaomi Mi 4i
2.641
Sony Xperia Z3
2.618
Sony Xperia Z3 Compact
2.616
Sony Xperia T3
2.609
BlackBerry Passport
2.595
Microsoft Lumia 640
2.563
Nokia Lumia 900
2.562
Motorola Moto G 4G
2.546
HTC One Max
2.537
Nokia Lumia 720
2.512
HTC One
2.504
Sony Xperia M4 Aqua
2.503
Motorola Moto G
2.477
vivo Xshot
2.465
Sony Xperia Z
2.462
Xiaomi Mi 4
2.424
Samsung Galaxy S III mini
2.422
Lenovo Vibe Z2 Pro
2.416
LG G Flex
2.407
Huawei Honor 7
2.406
HTC Desire 820
2.372
HTC One (M8)
2.371
Motorola RAZR i
2.366
Meizu MX4
2.366
Meizu m1 note
2.362
Sony Xperia ZL
2.352
HTC One M9
2.334
LG G4
2.317
Samsung Galaxy Note II
2.307
HTC One E9+
2.305
HTC One (M8) for Windows
2.291
Oppo R1x
2.281
Oppo Find 7a
2.279
Alcatel One Touch Hero
2.272
Apple iPhone 4S
2.269
HTC Desire 600 dual sim
2.262
Nokia Asha 311
2.25
Sony Xperia C4 Dual
2.235
Xiaomi Mi Note
2.234
Motorola Moto G (2014)
2.233
LG Nexus 5
2.228
Huawei P8
2.196
Nokia Lumia 820
2.193
HTC One (E8)
2.185
Oppo N3
2.181
Nokia Lumia 920
2.17
Huawei Honor 6
2.169
OnePlus Two
2.165
HTC One X
2.158
Asus Zenfone 2 ZE551ML
2.149
LG Aka
2.145
Nokia N8
2.144
Nokia Lumia 620
2.142
Nokia 515
2.134
Archos 50 Diamond
2.134
HTC Desire 500
2.129
Sony Xperia C3 Dual
2.12
Sony Xperia acro S
2.119
Xiaomi Redmi Note
2.119
Nokia Lumia 1020
2.103
Oppo Find 5
2.088
Huawei P8lite
2.078
Sony Xperia SL
2.078
Nokia Lumia 630
2.056
BlackBerry Z10
2.051
Moto G 3rd gen max manual
2.026
Huawei Ascend Mate7
2.024
Samsung I9295 Galaxy S4 Active
2.022
Apple iPhone 4
2.016
HTC One mini
2.003
Xiaomi Mi 3
2.001
Huawei Ascend P7
1.992
LG G2
1.976
Sony Xperia E4g
1.972
OnePlus One
1.961
Oppo R819
1.957
Sony Ericsson Xperia ray
1.955
Lenovo Vibe X2
1.952
Sony Xperia Z2
1.944
Sony Xperia E3
1.943
Nokia Lumia 1320
1.941
HTC One mini 2
1.94
Samsung Galaxy Camera
1.938
Samsung Galaxy Grand Prime
1.935
Sony Xperia J
1.932
Acer CloudMobile S500
1.931
ZTE Blade S6
1.927
LG Nexus 4
1.926
LG G Pro 2
1.922
Samsung Galaxy Mega 6.3
1.913
Nokia Asha 308
1.911
HTC Butterfly 2
1.905
Sony Xperia T
1.894
BlackBerry Leap
1.892
Meizu m2 note
1.892
Nokia Lumia 830
1.887
HTC Desire X
1.878
HTC Butterfly
1.873
HTC Windows Phone 8X
1.873
HTC Butterfly S
1.867
Huawei Ascend P6
1.865
Huawei Ascend Mate
1.845
LG G2 mini
1.838
LG G3
1.82
Nokia Lumia 1520
1.813
HTC Desire 616 dual sim
1.797
Sony Xperia V
1.792
HTC Desire 816
1.783
Sony Xperia Z1 Compact
1.772
HTC Desire 700 dual sim
1.769
ZTE Nubia Z9 mini
1.759
Sony Xperia U
1.758
Meizu MX3
1.754
LG Optimus G
1.753
Sony Xperia T2 Ultra
1.74
Sony Xperia Z3 Tablet Compact
1.735
Acer Liquid Jade S
1.734
Sony Xperia SP
1.733
Oppo Find 7
1.691
LG Optimus 4X HD
1.691
HTC One V
1.685
BlackBerry Q5
1.682
LG Optimus Vu
1.68
Motorola Moto E (2nd Gen)
1.675
Xiaomi Mi Pad 7.9
1.672
LG Optimus GJ
1.666
ZTE Nubia Z9
1.659
LG Optimus 3D Max
1.658
HTC Desire V
1.646
Samsung Galaxy Xcover 2
1.632
Samsung Galaxy Ace 3
1.622
Microsoft Lumia 532
1.615
Jolla Jolla
1.605
Microsoft Lumia 435
1.598
Sony Xperia Z Ultra
1.578
Sony Xperia go
1.577
Samsung Galaxy Ace 2 I8160
1.566
Samsung Galaxy Core
1.563
LG Optimus G Pro
1.552
Motorola Moto E
1.545
LG Optimus 3D
1.542
Nokia Asha 302
1.537
Samsung Galaxy Core Prime
1.507
BlackBerry Curve 9320
1.488
Sony Xperia M
1.473
Oppo N1
1.47
Sony Xperia E4
1.467
Meizu MX 4-core
1.462
Nokia Lumia 610
1.432
Samsung Galaxy S Duos
1.4
Microsoft Lumia 535
1.393
Samsung Galaxy Grand Neo
1.393
Sony Xperia M2
1.393
Samsung Galaxy Grand 2
1.38
Sony Xperia E1
1.372
Nokia Lumia 625
1.371
Gigabyte GSmart G1355
1.361
Sony Xperia L
1.351
Xiaomi Redmi 1S
1.35
Samsung Galaxy Mega 5.8
1.35
HTC Desire 510
1.34
Sony Xperia M2 Aqua
1.331
Sony Xperia miro
1.324
Samsung I9082 Galaxy Grand
1.321
Samsung I8530 Galaxy Beam
1.315
Xiaomi Redmi 2
1.311
HTC Desire C
1.3
Nokia X
1.291
Sony Xperia C
1.283
Nokia Asha 503
1.281
Nokia Asha 501
1.27
LG Optimus L7
1.269
Nokia Lumia 510
1.268
Samsung Galaxy Fame
1.245
LG Optimus L9
1.227
Meizu MX
1.221
Samsung Galaxy Young
1.22
Sony Xperia E
1.215
Nokia XL
1.204
Sony Xperia E dual
1.203
Asus Memo Pad 7 ME176C
1.198
Samsung Galaxy Pocket
1.18
Nokia Asha 305
1.178
Nokia Asha 306
1.175
Sony Xperia neo L
1.169
Sony Xperia tipo
1.166
Nokia Lumia 520
1.161
Samsung S6802 Galaxy Ace Duos
1.148
Samsung Galaxy mini 2
1.114
The Screen mode setting allows you to choose a color temperature, contrast and saturation preset that best matches your preferences. We found the Basic setting to provide the most accurate colors (average DeltaE 2000 of 2.5 means a factory calibrated display), though at this mode you might find the screen images lacking some contrasty punch.
If the screen looks too bland to your taste at Basic mode, we suggest you go for the AMOLED photo mode, which is nearly as accurate (average DeltaE 2000 of 5) but boosts the contrast along with the saturation of some colors. AMOLED video pushes colors even further, so it would be up to your preference which one you would use.
Battery life
Samsung Galaxy S6 edge+, like the Galaxy Note5, features a 3,000mAh non-removable battery. We put the smartphone through the rounds of our battery test and it achieved an endurance rating of 83 hours.
This means you can rely on the S6 edge+ for three and a half days on a single charge, if you are to use if for an hour each of calls, web browsing and video playback daily. Such usage pattern is of course entirely artificial, but we've established it so our battery results are comparable across devices. In this case, the endurance rating of the S6 edge+ shows it will last you quite close to what the Note5 would with its 85h endurance rating.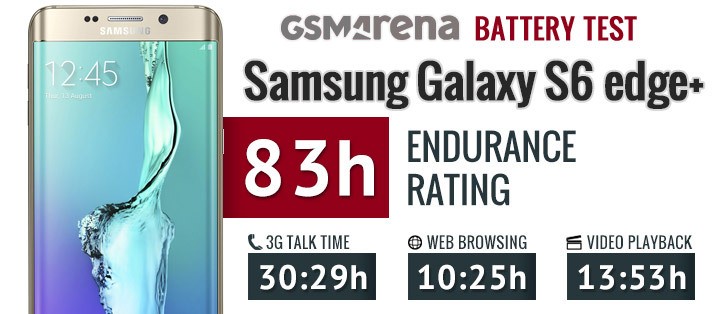 Samsung's quick charger can top up the battery in less than 90 minutes from empty, so it is incredibly convenient to use. Wireless charging, on the other hand is so fast and so liberating, that once you try its convenience, there'll be no turning back. You're fully charged in just 120 minutes.
As always, there are two battery saving modes available to the user - Power Saving and Ultra Power Saving. The latter turns off all, but the most crucial phone features and allows the phablet to last for hours with single percentage digits of battery left.
Combined with the plethora of options to rapidly charge the phablet, we reckon that the battery endurance of Samsung Galaxy S6 edge+ should be good enough for even a seasoned power user. Yes, a removable battery would have been a great thing to have, but we find the sleek metal/glass body of the handset to be a fair tradeoff.
There is always the option of getting an external powerbank as these accessories have been at their cheapest lately.
Connectivity
Samsung Galaxy S6 edge+ packs a kitchen sink full of connectivity options, headed by Cat. 9 LTE connectivity with support for download speeds of up to 450 MB/s. If you have access to an HSPA network only, you'll get a maximum download speed of 42Mbps.
The phablet supports Wi-Fi ac networks for fast local networking. Wi-Fi a/b/g/n at 2.4GHz and 5GHz networks are also supported, of course.
Then there's Bluetooth 4.2 LE with apt-X codec support (for high-quality audio streaming). Wired connectivity takes place over microUSB 2.0 port.
The USB has MHL 3.0 functionality, which allows it to output 2160p video at 30fps, coincidentally the top mode for the camera. The port also supports USB HID devices, like a keyboard and a mouse.
There is also NFC, which is used for Samsung Pay, which lets the device replace the credit cards in your wallet. It's also used for pairing with other devices and reading NFC tags as well.
Oddly, Samsung opted to leave the IR blaster off the Galaxy S6 edge+, so remote controlling your home appliances is a no-go this time around.
Samsung has also released an updated version of their SideSync app, which allows you to share content between a Samsung smartphone and PC or a Samsung tablet and smartphone, as well as remotely control the smartphone from the bigger device (including mouse and keyboard input). It's also the easiest way to transfer multimedia (or any kind of content) with just drag and drop.