Quad HD display
The display of the Samsung Galaxy S6 is the highlight feature alongside the new design and chipset. The diagonal remains unchanged at 5.1", but the resolution got a massive boost to QHD - 2560 x 1440 pixels. This means that despite its ample surface, the Super AMOLED panel offers a mind-blowing 577ppi.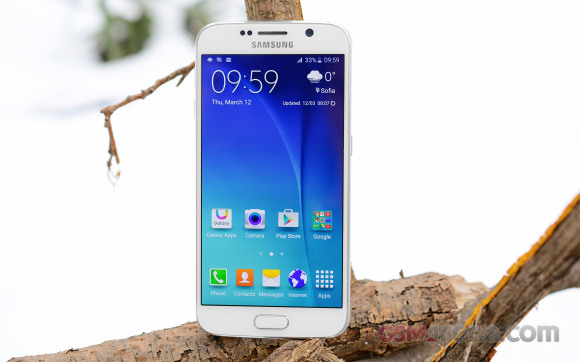 Samsung has again went for the diamond-shaped PenTile matrix, although given the sheer number of pixels the sub-pixel arrangement will hardly affect the perceivable sharpness of the screen.
Here's how the layout looks under a microscope. The diamond-shaped PenTile uses OLED sub-pixels of different sizes as each color has different levels of power efficiency and longevity. Sub-pixel rendering is employed to properly distribute each of the primary colors.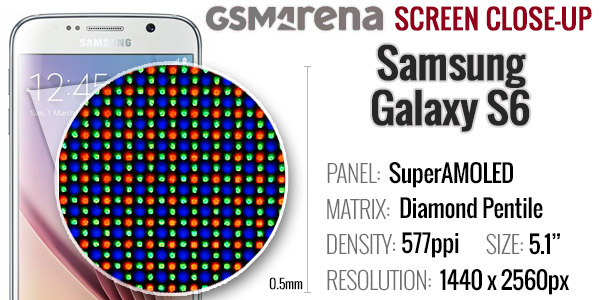 The default screen mode comes to underline the Super AMOLED panel's key strength, high contrast, by producing overly saturated colors that make every image look like it's about to pop out of the frame. Yet if you are a professional that requires the color accuracy or simply dislike the unrealistic images, the professional photo mode gets colors as true to life as possible.
The Samsung AMOLED panels have been improving with each new generation and this latest effort is further proof of that. Giving you a choice between saturation and accuracy, and comfortably beating its rivals at either end is an impressive achievement, but with the inherent AMOLED strengths in the equation, you get arguably the most impressive screen in the market.
Yep, the practically infinite native contrast and the low reflectivity that makes sure you enjoy most of it in brighter environments are still here, alongside the impeccable viewing angles. There isn't much else one can wish for.
But enough words, let's look at the numbers. The Samsung Galaxy S6 has a practically unlimited contrast ratio, as it's capable of displaying black by simply turning off individual pixels - AMOLEDs light up only the parts of the screen that display a color different than black.
The Super AMOLED panel on the Galaxy S6 isn't particularly bright, especially compared to some LCDs, but it can go higher than the Galaxy Note 4.
Update, March 16: As it turns out the Auto Brightness mode can push the brightness higher than manually adjusting the brightness slider would allow you to. It's not something limited to the Galaxy S6 but it's customary for Galaxy smartphones with AMOLED screens. We confirmed that under bright light the Galaxy S6 display can light up to 70% brighter than the maximum allowed by the slider.
Display test
50% brightness
100% brightness
Black, cd/m2
White, cd/m2
Contrast ratio
Black, cd/m2
White, cd/m2
Contrast ratio
Samsung Galaxy S6 (Manual brightness)
0
208
∞
0
363
∞
Samsung Galaxy S6 (Auto brightness)
-
-
-
0
619
∞
Samsung Galaxy S5 (Manual brightness)
0
274
∞
0
529
∞
Samsung Galaxy S5 (Auto brightness)
0
274
∞
0
617
∞
HTC One (M8)
0.2
245
1219
0.46
577
1256
Apple iPhone 6
0.17
207
1230
0.61
740
1213
Samsung Galaxy Note 4
0
291
∞
0
399
∞
LG G Flex2
0
152
∞
0
398
∞
Meizu MX4 Pro
-
-
-
0.69
775
1127
Xiaomi Mi Note
0.09
130
1450
0.43
626
1453
LG G3
0.14
109
763
0.72
570
789
Under direct sunlight, the Galaxy S6 retains excellent contrast and stays legible even in the most brightly lit environments.
Sunlight contrast ratio
Nokia 808 PureView
4.698
Samsung Galaxy A3
4.241
Samsung Galaxy S6
4.124
Samsung Galaxy Note 4
4.033
Apple iPhone 5
3.997
Samsung Galaxy Note 3
3.997
Samsung Galaxy A5
3.895
Apple iPhone 6
3.838
Motorola Moto X (2014)
3.816
Samsung Galaxy Note Edge
3.799
Samsung Galaxy A7
3.679
Oppo R5
3.678
Samsung Galaxy K zoom
3.675
Nokia Lumia 930
3.567
Apple iPhone 5s
3.565
Samsung Galaxy S5
3.549
Nokia Lumia 735
3.547
Motorola Nexus 6
3.543
Alcatel Idol X+
3.527
Apple iPhone 5c
3.512
Samsung Galaxy Alpha
3.509
Samsung Galaxy Note 3 Neo
3.487
LG G Flex2
3.465
YotaPhone 2
3.453
Motorola RAZR MAXX
3.42
Samsung I9300 Galaxy S III
3.419
Samsung Galaxy S5 Active
3.406
Nokia Lumia 925
3.402
Gionee Elife S5.5
3.386
Samsung I9505 Galaxy S4
3.352
Samsung Omnia W
3.301
Samsung Galaxy S5 mini
3.174
Samsung I9000 Galaxy S
3.155
Samsung Ativ S
3.129
Samsung I9190 Galaxy S4 mini
3.127
Samsung Galaxy S4 zoom
3.118
Nokia N9
3.069
Apple iPhone 6 Plus
3.023
Samsung Galaxy Note
2.97
Samsung Galaxy Premier
2.958
Sony Xperia Z1
2.95
HTC One S
2.901
Lenovo S90 Sisley
2.892
Samsung I8730 Galaxy Express
2.861
BlackBerry Q10
2.856
Samsung I9100 Galaxy S II
2.832
HTC Desire Eye
2.815
Gionee Elife S5.1
2.812
Samsung Galaxy S II Plus
2.801
BlackBerry Z30
2.79
Meizu MX4 Pro
2.765
Sony Xperia ZR
2.672
Huawei Ascend P1
2.655
Sony Xperia Z3
2.618
Sony Xperia Z3 Compact
2.616
Sony Xperia T3
2.609
BlackBerry Passport
2.595
Nokia Lumia 900
2.562
Motorola Moto G 4G
2.546
HTC One Max
2.537
Nokia Lumia 720
2.512
HTC One
2.504
Motorola Moto G
2.477
Sony Xperia Z
2.462
Xiaomi Mi 4
2.424
Samsung Galaxy S III mini
2.422
Lenovo Vibe Z2 Pro
2.416
LG G Flex
2.407
HTC Desire 820
2.372
HTC One (M8)
2.371
Motorola RAZR i
2.366
Meizu MX4
2.366
Sony Xperia ZL
2.352
HTC One (M8) for Windows
2.291
Oppo Find 7a
2.279
Alcatel One Touch Hero
2.272
Apple iPhone 4S
2.269
HTC Desire 600 dual sim
2.262
Nokia Asha 311
2.25
Xiaomi Mi Note
2.234
Motorola Moto G (2014)
2.233
LG Nexus 5
2.228
Nokia Lumia 820
2.193
HTC One (E8)
2.185
Oppo N3
2.181
Nokia Lumia 920
2.17
Huawei Honor 6
2.169
HTC One X
2.158
Nokia N8
2.144
Nokia Lumia 620
2.142
Nokia 515
2.134
HTC Desire 500
2.129
Sony Xperia C3 Dual
2.12
Sony Xperia acro S
2.119
Xiaomi Redmi Note
2.119
Nokia Lumia 1020
2.103
Oppo Find 5
2.088
Sony Xperia SL
2.078
Nokia Lumia 630
2.056
BlackBerry Z10
2.051
Huawei Ascend Mate7
2.024
Samsung I9295 Galaxy S4 Active
2.022
Apple iPhone 4
2.016
HTC One mini
2.003
Xiaomi Mi 3
2.001
Huawei Ascend P7
1.992
LG G2
1.976
OnePlus One
1.961
Oppo R819
1.957
Sony Ericsson Xperia ray
1.955
Lenovo Vibe X2
1.952
Sony Xperia Z2
1.944
Sony Xperia E3
1.943
Nokia Lumia 1320
1.941
HTC One mini 2
1.94
Samsung Galaxy Camera
1.938
Samsung Galaxy Grand Prime
1.935
Sony Xperia J
1.932
Acer CloudMobile S500
1.931
ZTE Blade S6
1.927
LG Nexus 4
1.926
LG G Pro 2
1.922
Samsung Galaxy Mega 6.3
1.913
Nokia Asha 308
1.911
HTC Butterfly 2
1.905
Sony Xperia T
1.894
Nokia Lumia 830
1.887
HTC Desire X
1.878
HTC Windows Phone 8X
1.873
HTC Butterfly
1.873
HTC Butterfly S
1.867
Huawei Ascend P6
1.865
Huawei Ascend Mate
1.845
LG G2 mini
1.838
LG G3
1.82
Nokia Lumia 1520
1.813
HTC Desire 616 dual sim
1.797
Sony Xperia V
1.792
HTC Desire 816
1.783
Sony Xperia Z1 Compact
1.772
HTC Desire 700 dual sim
1.769
Sony Xperia U
1.758
Meizu MX3
1.754
LG Optimus G
1.753
Sony Xperia T2 Ultra
1.74
Sony Xperia Z3 Tablet Compact
1.735
Sony Xperia SP
1.733
Oppo Find 7
1.691
LG Optimus 4X HD
1.691
HTC One V
1.685
BlackBerry Q5
1.682
LG Optimus Vu
1.68
Xiaomi Mi Pad 7.9
1.672
LG Optimus GJ
1.666
LG Optimus 3D Max
1.658
HTC Desire V
1.646
Samsung Galaxy Xcover 2
1.632
Samsung Galaxy Ace 3
1.622
Jolla Jolla
1.605
Sony Xperia Z Ultra
1.578
Sony Xperia go
1.577
Samsung Galaxy Ace 2 I8160
1.566
Samsung Galaxy Core
1.563
LG Optimus G Pro
1.552
Motorola Moto E
1.545
LG Optimus 3D
1.542
Nokia Asha 302
1.537
Samsung Galaxy Core Prime
1.507
BlackBerry Curve 9320
1.488
Sony Xperia M
1.473
Oppo N1
1.47
Meizu MX 4-core
1.462
Nokia Lumia 610
1.432
Samsung Galaxy S Duos
1.4
Microsoft Lumia 535
1.393
Samsung Galaxy Grand Neo
1.393
Sony Xperia M2
1.393
Samsung Galaxy Grand 2
1.38
Sony Xperia E1
1.372
Nokia Lumia 625
1.371
Gigabyte GSmart G1355
1.361
Sony Xperia L
1.351
Xiaomi Redmi 1S
1.35
Samsung Galaxy Mega 5.8
1.35
HTC Desire 510
1.34
Sony Xperia M2 Aqua
1.331
Sony Xperia miro
1.324
Samsung I9082 Galaxy Grand
1.321
Samsung I8530 Galaxy Beam
1.315
Xiaomi Redmi 2
1.311
HTC Desire C
1.3
Nokia X
1.291
Sony Xperia C
1.283
Nokia Asha 503
1.281
Nokia Asha 501
1.27
LG Optimus L7
1.269
Nokia Lumia 510
1.268
Samsung Galaxy Fame
1.245
LG Optimus L9
1.227
Meizu MX
1.221
Samsung Galaxy Young
1.22
Sony Xperia E
1.215
Nokia XL
1.204
Sony Xperia E dual
1.203
Asus Memo Pad 7 ME176C
1.198
Samsung Galaxy Pocket
1.18
Nokia Asha 305
1.178
Nokia Asha 306
1.175
Sony Xperia neo L
1.169
Sony Xperia tipo
1.166
Nokia Lumia 520
1.161
Samsung S6802 Galaxy Ace Duos
1.148
Samsung Galaxy mini 2
1.114
You can find all about our display testing routines here.
Battery life
The battery life was a bit of a question mark hanging over the Samsung Galaxy S6, considering the screen resolution has nearly doubled and the battery capacity was downgraded to 2,550 mAh. It still sounds like a pretty ample battery, but we were curious how it compares to the stellar Lollipop endurance of its predecessor.
As it turns out, we were right to be worried as the Galaxy S6 posted lesser performance on all of our test compared to the Galaxy S5.
The battery scores aren't that bad and are in fact higher than average. The S6's battery had enough juice to last just under 20 hours on 3G calls. That's less than the Galaxy S5 managed, however the new model beats it at both web browsing and video playback.
In the end the new flagship managed to achieve of respectable rating of 73h, which might not be as impressive as the 83h mark of Galaxy S5, but it still means your Galaxy S6 will last three days if you are using it for an hour of calls, web and video playback each day.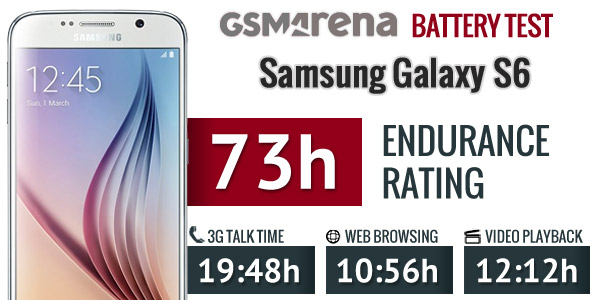 Our testing procedure includes a standby battery endurance test, which is not shown in the scorecard above, but is a part of the overall rating. You can learn more about our standardized routine here.
Update, April 3: We received a retail unit and re-ran the benchmark. The numbers improved noticeably compared to the initial tests with the pre-production unit.
Connectivity
The Samsung Galaxy S6 is armed to the teeth in connectivity terms. The mandatory 2G/3G/4G LTE is present with Cat. 6 downlinks thanks to Samsung's latest Exynos 7420 chipset. This gives you download speeds of up to 300Mbps, with 50Mbps worth of uploads. If you missed it in the specs section, the Galaxy S6 uses nano-SIM cards.
In terms of local connectivity, there's dual-band Wi-Fi a/b/g/n/ac, so you can make the best of your home's Internet connection. DLNA is supported in multimedia apps for sharing content across compatible devices.
Speaking of, the Galaxy S6 makes it easy to share the Wi-Fi hotspot info with nearby devices (detected via Bluetooth) using the Quick Connect feature. This saves you the trouble of typing in the Wi-Fi password.
Bluetooth has been bumped up to version 4.1. There aren't any easily noticeable changes since 4.0 but, among the more important ones, Low Energy mode is now supported for connecting to smart watches and some sport sensors. ANT+ is available for such sensors too, so the Galaxy S6 will happily talk to whatever sports sensor you have.
NFC is on board for quick pairing and sharing and there's an IR blaster for controlling home appliances. Samsung's default app mostly handles your AV setup, but third party apps can be used for a wider range of devices.
The Samsung Galaxy S6 features a microUSB 2.0 port. It's slower at transferring data than the USB 3.0 port used in a few Samsung devices, but it has a standard size plug and it offers Quick Charge 2.0 and MHL 3.0. With the right adapter, you get 2160p@30fps output so you can watch videos you shot with the phone in their full resolution. There's 7.1 surround sound output, if the video player supports it (sadly, the pre-installed one does not).
Finally, there's a GPS/GLONASS/Beidou SatNav receiver on board. GPS alone is enough on its own but GLONASS provides extra precision, especially in dense urban settings as it also uses Russian satellites. Beidou is currently available only in China and neighboring regions, but China is an important market for Samsung so it's a nice thing to have on board.
Samsung Pay is available by default on the Galaxy S6. The new service works with NFC and a newly developed technology called MST - Magnetic Secure Transmission. The MST will allow the Galaxy S6 owners to use their phones on most of the existing terminals and merchants won't need to upgrade their payment solution.
Samsung has acknowledged the mobile wallet adoption is going very slowly and the company has built-in a new solution to this problem inside the Galaxy S6 with the MST tech that requires little to no upgrade from current card readers already installed at retailers.
Samsung Pay has already been certified by Visa and MasterCard. Samsung is teaming up with key financial institutions around the world such as American Express, Bank of America, Citi, JPMorgan Chase, and U.S. Bank, in order to provide more flexible services and coverage.
Samsung Pay is KNOX-secured, which means the Galaxy S6 users should be getting government-grade protection of their personal data.