'Hi, can you send me that?'
Samsung's camera promo video was all about how everyone wants you to send them your Galaxy pics - as if Samsung only just now started making some of the best cameraphones. It's quite the opposite, of course - the S23 Ultra builds on a long-standing legacy of great picture-taking devices and brings an all-new (and exclusive) primary unit, plus some extra refinement.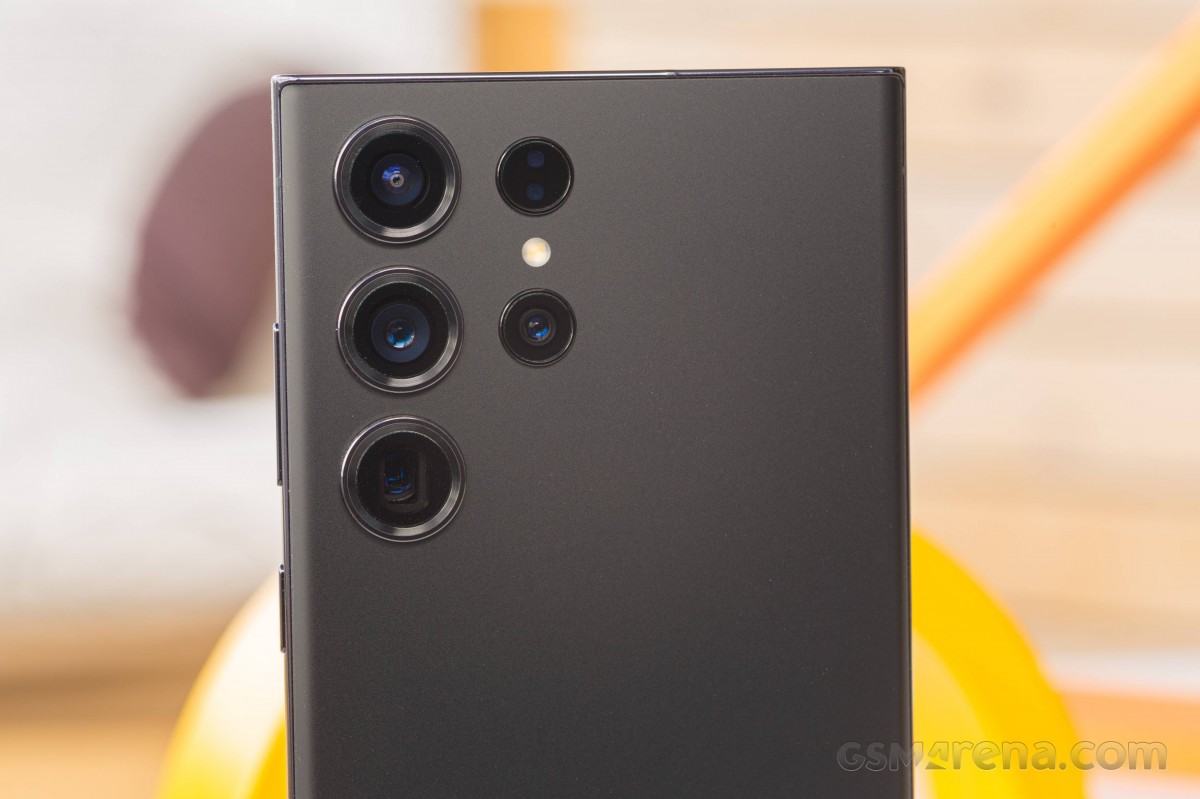 The main camera uses the Samsung HP2 sensor - a 200MP monstrosity that they somehow managed to fit in a 1/1.3" optical format thanks to tiny pixels (0.6µm). Somewhat curiously, this imager is smaller than the HP1 (200MP, 1/1.22", 0.64µm), which Samsung sells to other makers like Motorola, but we don't doubt Samsung kept the best to itself.
The sensor has what the company calls Tetra2pixel RGB Bayer Pattern color filter, which is to say it groups 16 pixels into 1 and effectively outputs 12MP images by default. You'd think that 200/16 equals 12.5, and you'd be right, but the reality is that the photos come out at 4,000x3,000px instead of 4,080x3,060px - with a minor crop. There is, of course, a 200MP full-res mode (16,320x12,240px) as well as an intermediate 8,160x6,120px 50MP option, both of which we'll also explore.
The HP2 has 'Super QPD' autofocus, which is Samsung's way of saying it can detect phase changes in both the horizontal and vertical direction, giving you more dependable autofocus across a wider range of subjects and use cases. That's one area where the HP1's 'Double Super PD' is inferior, since it only works in the horizontal direction.
The lens that's in front of that 200MP HP2 has a 23mm equivalent focal length - Samsung's main cameras have been getting wider but seem to have settled on 23mm. The lens has an f/1.7 aperture, and it's also stabilized.
The rest of the rear cameras are unchanged in their specs, and for the teles - in their underlying hardware as well. The ultrawide replaces the IMX563 of the old model with an IMX564, and it's still a 1/2.55" sensor with 1.4µm pixels and dual pixel autofocus - another generation, another year where only the Ultra of all Galaxies gets to have autofocus on its ultrawide. The lens has an aperture of f/2.2 and covers a field of view of 120 degrees.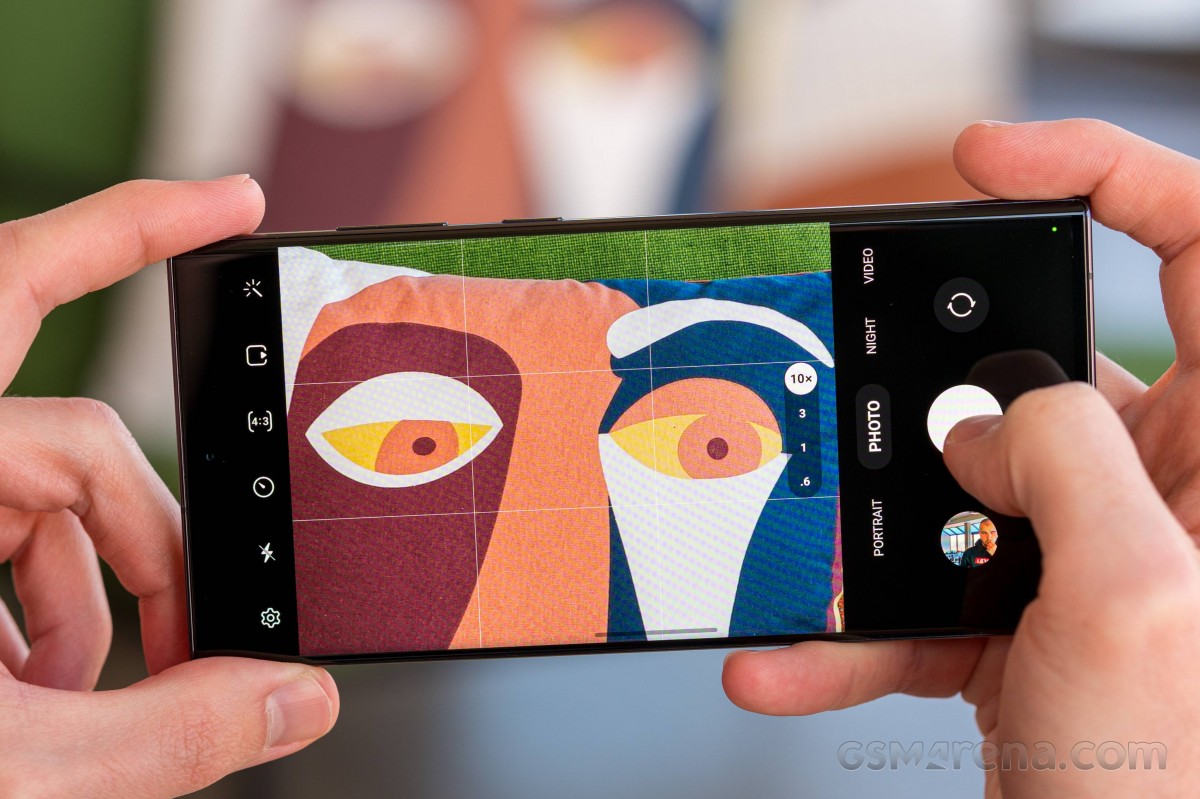 The teles have an IMX754 each - a 10MP sensor (1/3.52", 1.12µm) from which the Ultra squeezes 12MP images, as usual. The aperture on the 3x zoom (69mm equivalent) module is f/2.4, while the periscope 10x (230mm) tele's is f/4.9. Both lenses are stabilized.
There's one more new sensor on the Ultra - it's not just the 200MP main unit - all S23s get a new selfie camera. It's got 12MP of resolution from the S5K3LU imager (1.12µm, likely 1/3.24"), while the lens has an equivalent focal length of 26mm (going by Samsung's specified 80-degree coverage) and an f/2.2 aperture. As has been the case with high-end Galaxy selfie cameras for years, this one too has autofocus.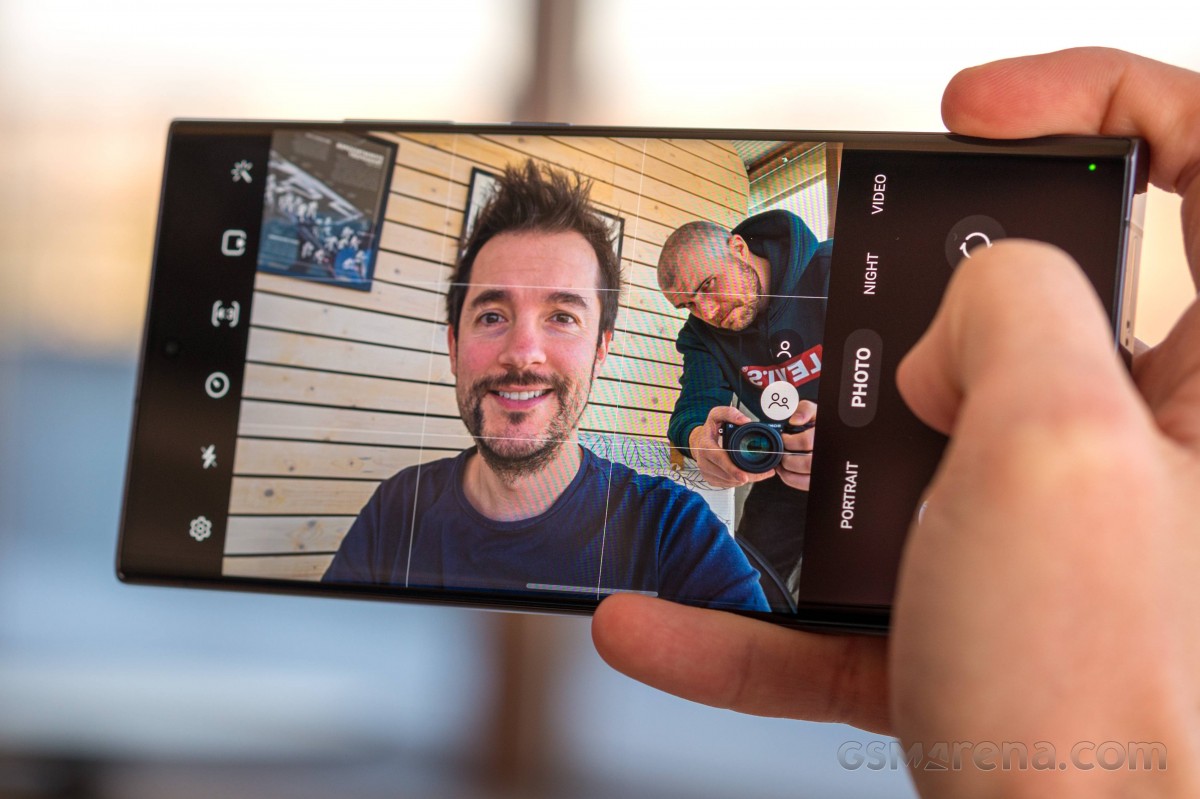 The camera app is the same as you'd find on every Samsung phone these days. Swiping left and right will switch between all available modes, and there's an option to re-arrange or remove some of the modes from the viewfinder. Vertical swipes in either direction will switch between front and rear cameras.
There are four zoom shortcuts on the viewfinder - .6x, 1x, 3x, and 10x. Tapping on any of them will reveal more zoom levels - 2x, 30x, and 100x.
The full resolution mode on the primary camera is triggered from the aspect options, which is a rather unintuitive bit, if you're coming from other brands, but that's been Samsung's way.
The settings icon is located in the upper left corner of the screen and gives you fine control over the cameras. You don't get separate setting screens for photo and video since the options aren't that many in total. Like grid lines, location data, etc., the usual stuff can be found there. You can also turn on and off the Scene optimizer.
The selfie viewfinder offers two zoom modes - wide and standard (cropped). This is quite common among Galaxy phones.
All cameras support Night Mode, including Auto Night Mode, which works the same way as on the iPhones and Xiaomi devices.
There's a Pro mode, too. You get granular exposure controls and manual focus with peaking, up to 30s shutter speed control for all cameras.
Expert RAW mode is available, too - and now, it's sort-of built into the main camera app as a mode instead of being a separate app. You still have to unlock your phone to use it though (quick launch camera shortcut doesn't work), and you can't set it as a mode on the mode carousel - you have to run it from the 'More' tab (that's an odd limitation if we've ever seen one).
It does, however, unlock full manual control and the ability to retain both the built-in camera app's multi-frame processing and the raw image data for further edits. It can capture images with all five cameras and outputs both JPEG and DNG files.
Those DNG files can be edited in Lightroom Mobile, which has Samsung's full image data embedded through the built-in lens profile. You can do some great things using Expert RAW but should know its limitations too. It gives you the ability to play with the color and dynamic range to a much greater extent than with the default jpeg or heic files.