Same superb display as last year
The Galaxy S23 Ultra has the same display as last year's model, going by the specs and promised numbers. Theoretically, it's likely a different SKU, if for no other reason than the changed edge curvature. But don't take the lack of change as something bad, because the S22 Ultra's display was already superb.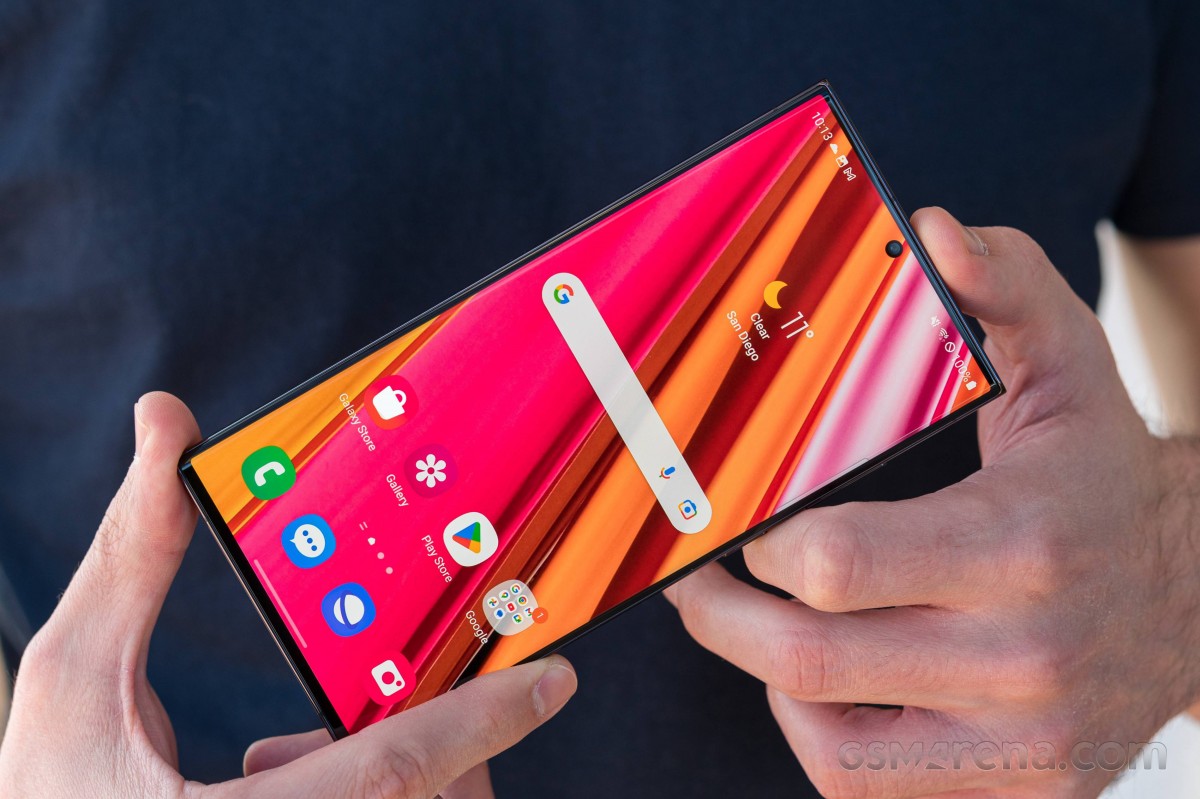 What we have here is a 6.8-inch QHD+ panel with a 19.3:9 aspect ratio and a 1440x3088px resolution which works out to a pixel density of 501ppi. It's a Dynamic AMOLED 2X display and that alludes to its 120Hz maximum refresh rate (which is also very adaptive) and its HDR10+ certification. There's also the S Pen support which is indeed more a functionality of the display, rather than the stylus itself.
Samsung promises 1200nits of maximum brightness in high brightness mode (HBM) and 1750nits of peak brightness. Those are the same figures we read on last year's specsheet and the S22 Ultra did deliver them.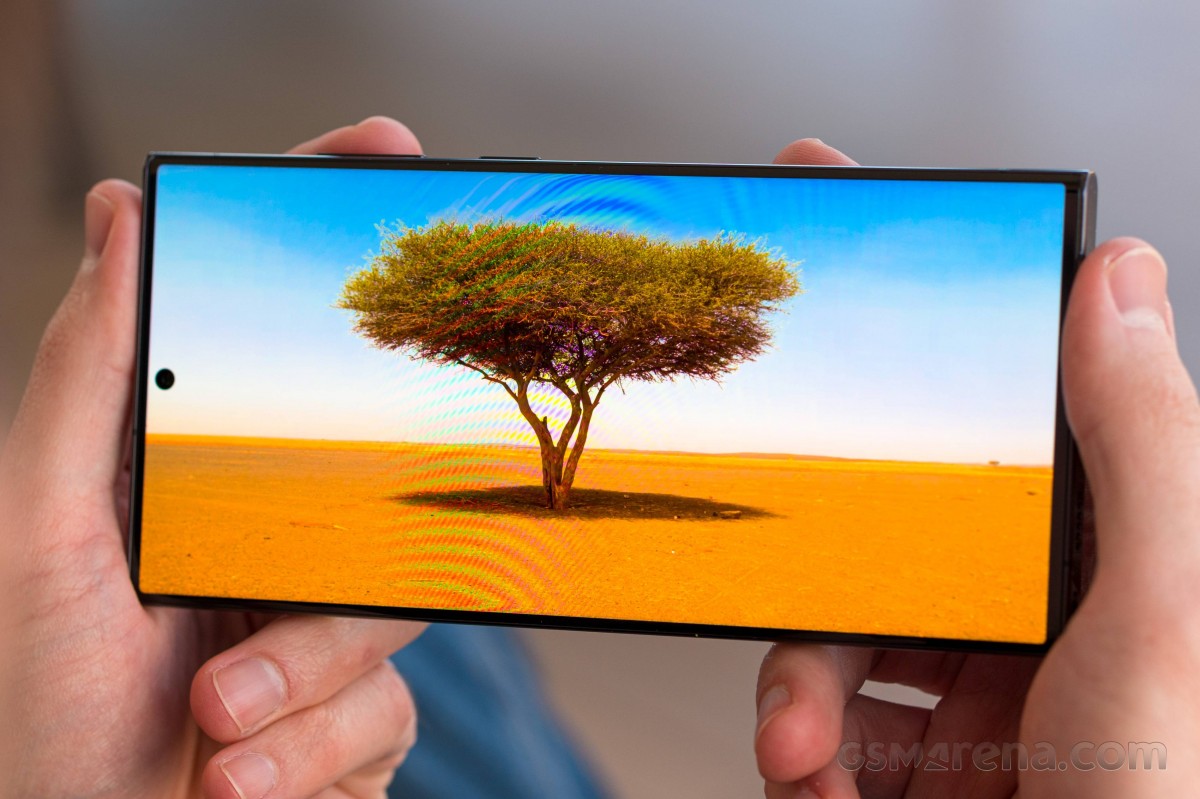 So does the S23 Ultra - we got 1274nits with adaptive brightness enabled for our standard 75% lit up area, but also 1747nits with a small patch of white that takes up only 10% of the screen. A minor bump in the manually available nits sees the S23 Ultra value go up to 517, and the Extra (manual) brightness toggle will get you up to 831nits - even with no sun in sight.
Now, while we wouldn't for a second think that 1274nits is not enough, between the S22 Ultra's release and this new model Apple introduced the iPhone 14 family. And on the 14 Pro Max we measured a good 1760nits of max brightness - and that's for the standard swatch size where the Galaxy is some 500nits below. Is it that Samsung's making brighter screens for Apple than it is for its own models, or is it that Apple has just uncapped the brightness on the iPhones for outdoor conditions and Samsung is just being more conservative here? We can only guess.
Display test
100% brightness
Black,cd/m2
White,cd/m2
Contrast ratio
Samsung Galaxy S23 Ultra
0
517
∞
Samsung Galaxy S23 Ultra (Extra Brightness)
0
831
∞
Samsung Galaxy S23 Ultra (Max Auto)
0
1274
∞
Samsung Galaxy S22 Ultra
0
494
∞
Samsung Galaxy S22 Ultra (Extra Brightness)
0
829
∞
Samsung Galaxy S22 Ultra (Max Auto)
0
1266
∞
Samsung Galaxy S23+
0
471
∞
Samsung Galaxy S23+ (Extra Brightness)
0
768
∞
Samsung Galaxy S23+ (Max Auto)
0
1205
∞
Samsung Galaxy Fold
0.002
370
185000:1
Samsung Galaxy Fold (Max Auto)
0.006
557
92833:1
Apple iPhone 14 Pro Max
0
828
∞
Apple iPhone 14 Pro Max (Max Auto)
0
1760
∞
Google Pixel 7 Pro
0
588
∞
Google Pixel 7 Pro (Max Auto)
0
1090
∞
Xiaomi 12S Ultra
0
512
∞
Xiaomi 12S Ultra (Max Auto)
0
1065
∞
OnePlus 11
0
487
∞
OnePlus 11 (Max Auto)
0
767
∞
iQOO 11
0
488
∞
iQOO 11 (Max Auto)
0
1174
∞
A new development this year can be found in the Vision booster feature introduced with the S22 generation, which analyzes the images being displayed and, based on the amount of light hitting the display, it applies different tone mapping to boost shadows and color. Well, on the S23s it's now a three-level implementation, according to the keynote presentation.
In practice, Vision booster does improve legibility in bright conditions, but it tends to skew colors dramatically, so any color-critical applications will suffer. Then again, color-critical applications aren't best viewed in the mid-day summer sun to begin with.
Color accuracy
Speaking of color, it's the same two-mode implementation we're used to seeing from Samsungs. The default Vivid mode supports a wide color gamut and delivers a pleasingly lively output. It wasn't super accurate for our DCI-P3 test swatches, but it was accurate enough. Bumping the five-position temperature slider a notch to warm improves things and gets rid of the cold shift in the whites. You can also play around with RGB sliders if you want to adjust colors in this mode.
The Natural mode, on the other hand, is spot-on for sRGB content and it comes with no further tweaking possibilities.
Refresh rate
The Motion smoothness menu on the S23 Ultra gives you two options - Adaptive and Standard. The names don't mean much, because there will be adaptive behavior in both modes, and Standard won't be 60Hz all the time. Effectively, you can treat the modes as different ceilings - up to 120Hz and up to 60Hz - whichever one you prefer.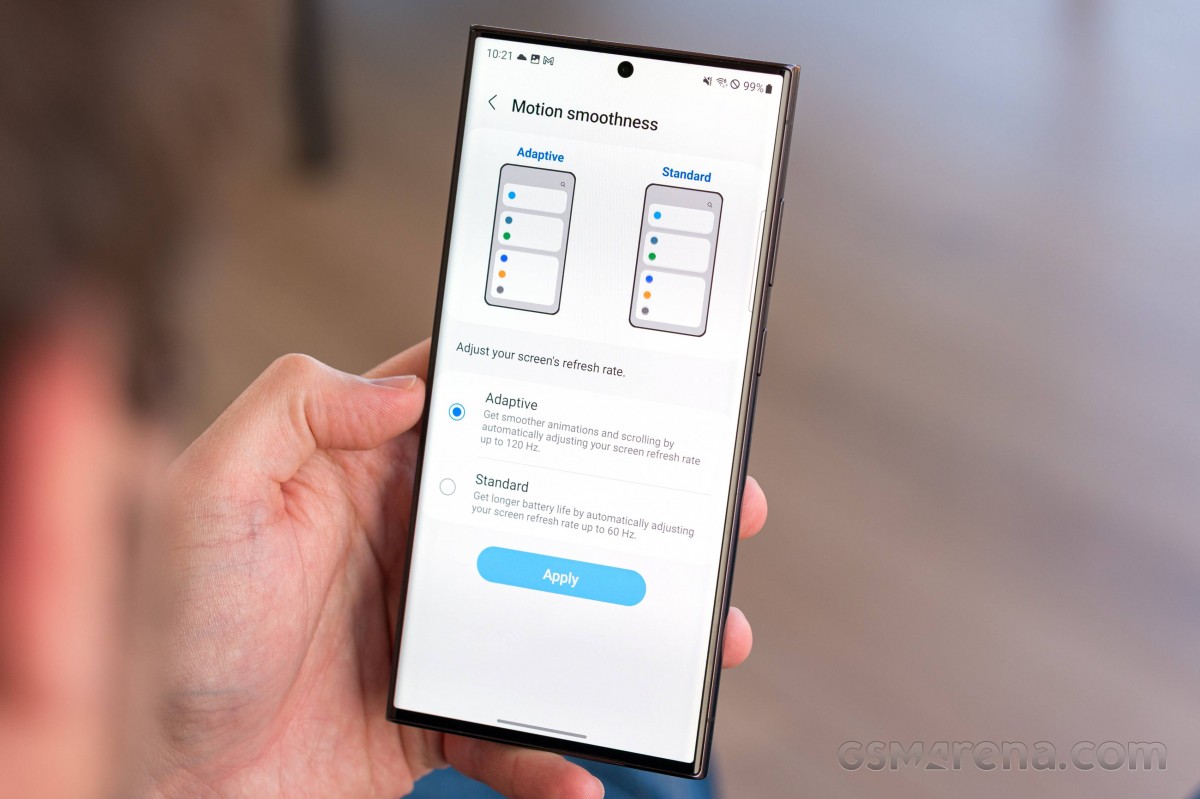 Within those boundaries, we observed very predictable and logical adaptive behavior. If you're touching the phone, you get the ceiling, if not - you get 24Hz. Unless there's moving content on the screen, in which case the phone will maintain whatever refresh rate is most appropriate - up to 60Hz for browsers or to match a video's frame rate in video playback (24, 30, 48, 60 fps/Hz are supported).
Mind you, some previous implementations wouldn't drop the refresh rate from the maximum, if the screen brightness is itself below certain levels (or would drop it, but not below a specific higher threshold). That didn't appear to be the case on the S23 Ultra and it would go to 24Hz even with minimum brightness set on the slider.
Now, we didn't observe values below 24Hz, but that could very well be another case of our observing the phenomenon actually altering the phenomenon. Then there's the matter of frame rate vs. refresh rate and the phone could be rendering at a lower rate than the screen is refreshing at, as was the case on the S22 Ultra. The thing is, Samsung proudly advertises that he screen can go as low as 10Hz, but there is no way for us to verify that claim.
There's also the matter that while a lot of games do run at high frame and refresh rates, there were instances where the screen would switch down to 60Hz for titles that we know for a fact support high frame rates (Alto's Odyssey, Dead Trigger 2).
HDR and streaming
As expected, the S23 Ultra's HDR10+ capability is recognized by popular streaming apps and they serve the appropriate files. Naturally, the Widevine L1 support means FullHD streams from DRM-dependent apps like Netflix.
Somewhat of a blemish on the S23 Ultra's otherwise stellar display specsheet is that the panel is an 8-bit one, meaning just 16 million colors. That 'just' might read like a joke and for some this may be an academic argument, but a 10-bit panel with its 1 billion color gradations will be better at displaying smooth color gradients without introducing banding. How many people will notice it and how many will care are questions we can't answer, though. We're just here to point out this shortcoming, as there are phones out there with 1B color displays.
Samsung Galaxy S23 Ultra battery life
While the non-Ultra S23s come with battery capacity upgrades over the previous generation, the S23 Ultra maintains the same 5,000mAh number of last year's model. With the more efficient Snapdragon 8 Gen 2 inside it, however, and few obvious changes elsewhere, we were expecting better longevity than what the 2022 model could muster.
The Galaxy S23 Ultra managed a great Active Use Score of almost 13:30 hours. It did very well in both off-screen and on-screen tests. It did better than some other flagship devices like the Google Pixel 8 Pro and the Sony Xperia 1 V. However, the iPhone 15 Pro Max still has it beat in the battery department despite rocking a smaller battery pack.
Expand to reveal our legacy battery test (Endurance rating). How we test now.
While the non-Ultra S23s come with battery capacity upgrades over the previous generation, the S23 Ultra maintains the same 5,000mAh number of last year's model. With the more efficient Snapdragon 8 Gen 2 inside it, however, and few obvious changes elsewhere, we were expecting better longevity than what the 2022 model could muster.
And that's what we got. In our testing, the S23 Ultra was good for over 39h of voice calls, which is pretty great. More impressive still were the results in the onscreen tests where we clocked over 21h of Wi-Fi web browsing and over 23h of offline video playback. Throw in the very reasonable standby efficiency, and the Ultra's overall Endurance rating worked out to 126h.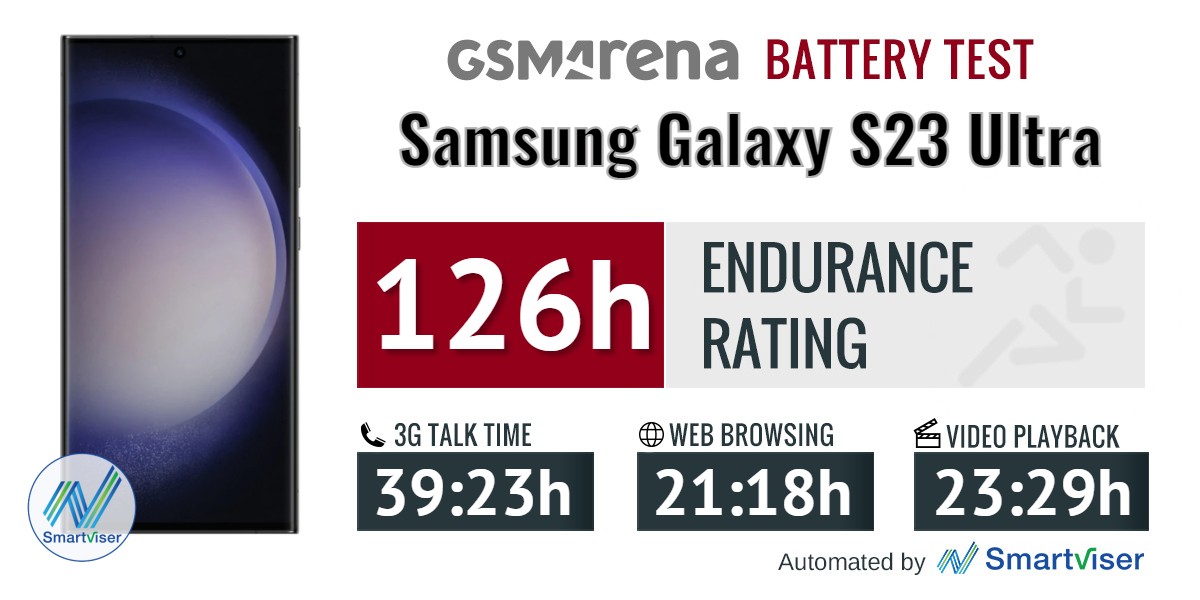 Our battery tests were automated thanks to SmartViser, using its viSerDevice app. The endurance rating denotes how long the battery charge will last you if you use the device for an hour of telephony, web browsing, and video playback daily. More details can be found here.
With all that said, the iPhone 14 Pro Max still has an advantage in onscreen tests, but it traditionally suffers in the voice call and standby sections of our routine. The Pixel 7 Pro, meanwhile, is significantly behind the other two. As a side note, the Galaxy S22 Ultra results shown here for comparison are for the Exynos variant.
Video test carried out in 60Hz refresh rate mode whenever possible. Web browsing is carried out at the display's highest refresh rate whenever possible. Refer to the respective reviews for specifics. To adjust the endurance rating formula to match your own usage - check out our all-time battery test results chart.
Charging speed
Charging speed on Samsung's flagships has been a hotly debated topic in the office. While we'd be quick to point out that Galaxies typically charge noticeably quicker than their Pixel or iPhone counterparts, it's also true that much faster charging solutions have been available on high-end phones from the Chinese brands, phones sold internationally too.
There was also some miscommunication in previous years about the 45W charging capability on some of Samsung's models - the 45W adapter made next to no difference against the 25W in our testing. All of this is why we approached our charging test with a hefty dose of skepticism.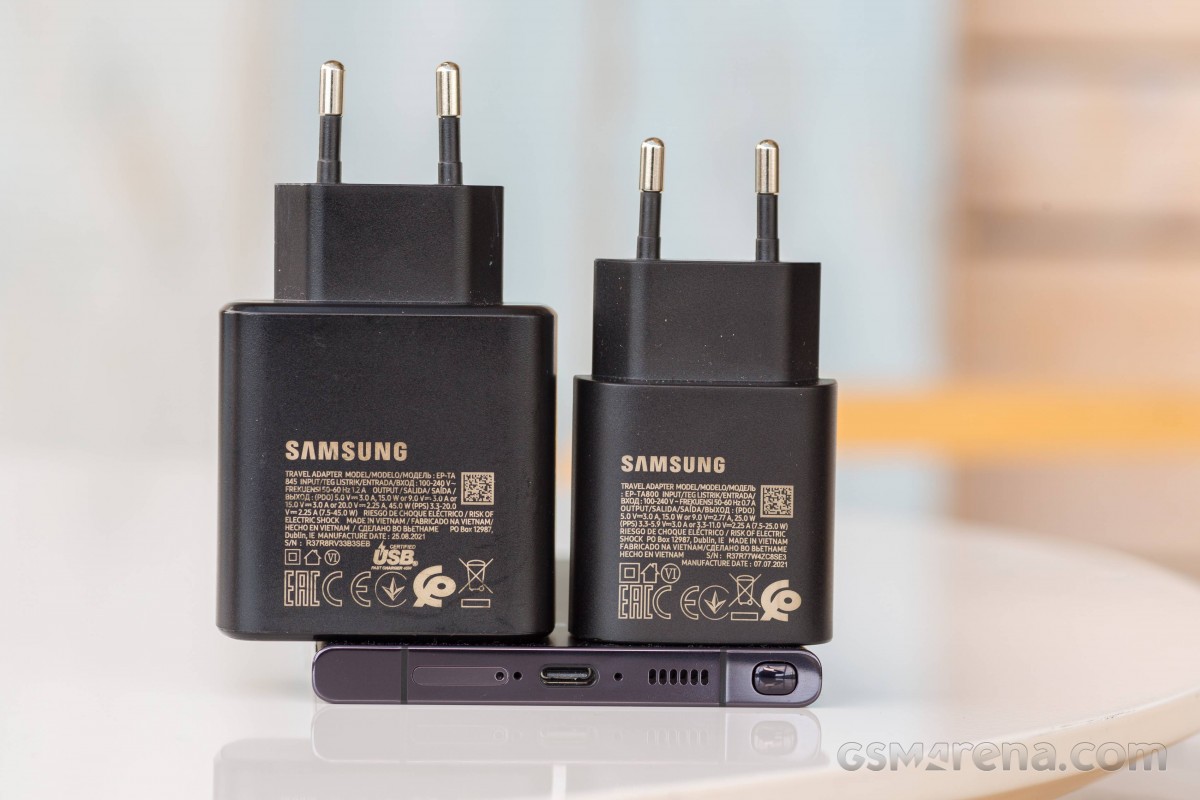 As it turned out, it wasn't all that warranted. We tested with the Samsung 45W adapter and that got us to 100% in just under an hour, but more importantly, the battery indicator was showing a healthy 68% at the half-hour mark. It may not be a substantial improvement over the S22 Ultra, but it's some improvement. Also, S23 Ultra posted significantly better numbers than we recorded on either the iPhone 14 Pro Max or the Pixel 7 Pro, in both disciplines, but especially in the time it takes for a full charge.
We'd also like to point out that we did observe an advantage when charging with the more powerful third-party adapter, compared to the Samsung first-party 25W - and by a bigger margin than we measured last year.
30min charging test (from 0%)
Higher is better
| | |
| --- | --- |
| OnePlus 11 | 100% |
| Motorola Edge 30 Ultra | 95% |
| ZTE Axon 40 Ultra | 80% |
| Xiaomi 12S Ultra | 73% |
| Galaxy S23 Ultra (45W) | 68% |
| Galaxy S22 Ultra (25W) | 61% |
| Galaxy S22 Ultra (45W) | 60% |
| Galaxy S23 Ultra (25W) | 56% |
| Apple iPhone 14 Pro Max | 48% |
| Google Pixel 7 Pro | 46% |
* Tap/hover over the device names for more info
Time to full charge (from 0%)
Lower is better
| | |
| --- | --- |
| OnePlus 11 | 0:22h |
| Motorola Edge 30 Ultra | 0:33h |
| ZTE Axon 40 Ultra | 0:47h |
| Xiaomi 12S Ultra | 0:50h |
| Galaxy S23 Ultra (45W) | 0:59h |
| Galaxy S22 Ultra (45W) | 0:59h |
| Galaxy S22 Ultra (25W) | 1:04h |
| Galaxy S23 Ultra (25W) | 1:11h |
| Google Pixel 7 Pro | 1:49h |
| Apple iPhone 14 Pro Max | 1:52h |
* Tap/hover over the device names for more info
There's also a side note here. We happened to test with a good third-party 65W USB PowerDelivery brick we had handy. That got us to 100% in an hour and one minute (so slower than the Samsung 45W unit), but the S23 Ultra was showing 74% at the half-hour mark (6% more than the Samsung adapter). Both the Samsung and the third-party adapter maintained 43W until the phone got to a 23% state of charge at which point both dropped to 35W of power output.
With all that said, the Galaxy S23 Ultra is still not the phone you can charge in the amount of time it takes to have a quick shower and get dressed, should you realize in the morning that you've forgotten to put it on the charger overnight and you've woken up to a dead battery.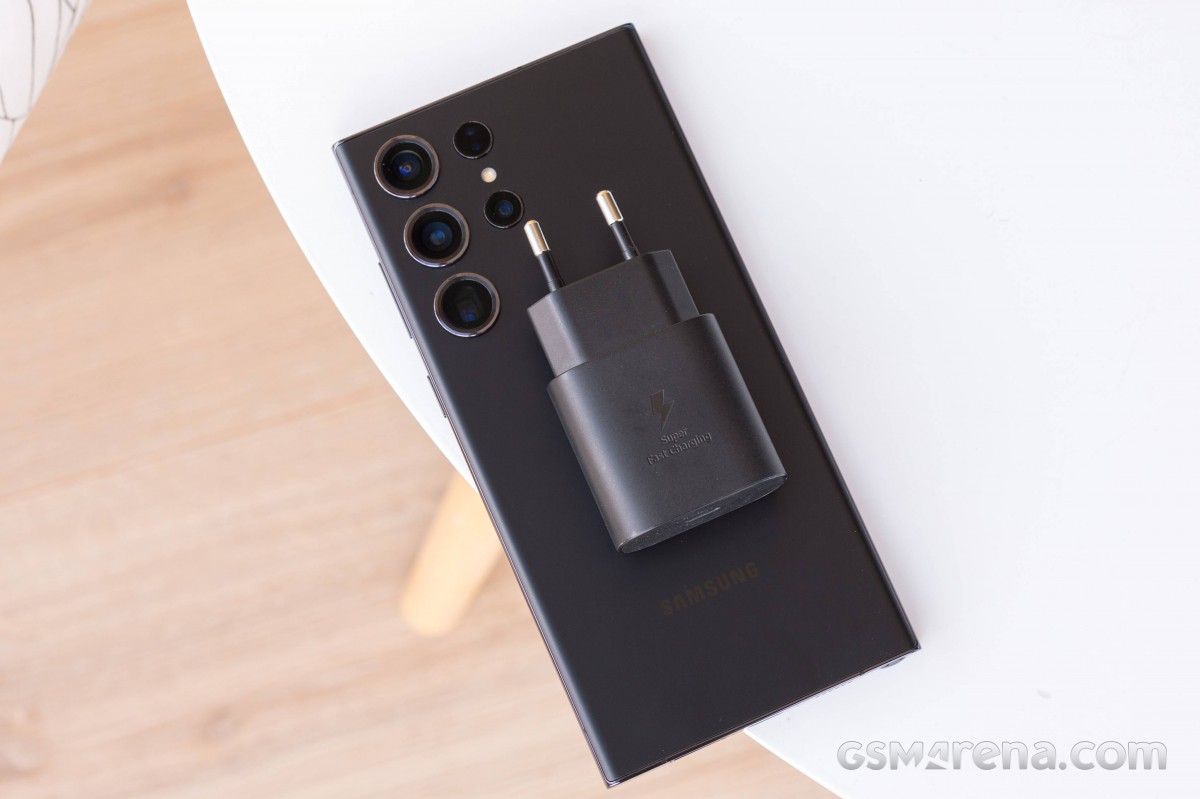 The Galaxy S23 Ultra supports wireless charging, both in and out. The certification listing at the WPC states that the phone complies to the Basic Power Profiler for power transfer up to 4.4W. As is normally the case with Samsungs, that's not really-really the maximum power it can take - the Ultra's specs insist it can do up to 15W with compatible pads.
Somewhat related to charging is the option to bypass the battery when you're gaming and you have the phone plugged in. The Ultra will then draw just enough power to keep going without charging the battery, which will minimize heat buildup and reduce battery wear in those heated game sessions. The setting is enabled by a toggle in the Game Booster menu in the Game launcher utility, called Pause USB Power Delivery. The setting was, however, missing on our unit at the time of reviewing so we're expecting it to arrive with an update later on.
Speaker test
The speaker system on the Galaxy S23 Ultra is your conventional hybrid arrangement where the earpiece joins the 'main' bottom speaker to make up a stereo pair. There's no outsourcing of frequencies from one to the other, so each only plays its respective channel, and in fact the earpiece does not sound underpowered in comparison to the bottom unit. The channels are switched on the fly to correspond to the phone's orientation in space, while the earpiece gets the left channel in vertical orientation.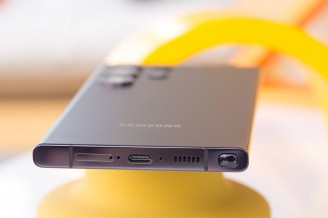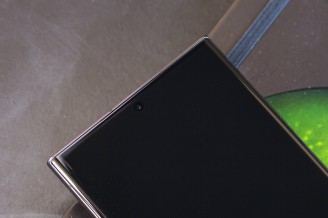 Bottom speaker • Earpiece/top speaker (the thinnest of slits between the glass and the frame)
The S23 Ultra earned a 'Very Good' rating for loudness in our test, a notch above last year's model and on par with the iPhone 14 Pro Max and the Pixel 7 Pro. Alongside the increase in decibels, there's a marked generational improvement in sound quality - where the S22 Ultra was merely okay and had a distinct 'small speaker' output, the S23 Ultra has 'bigger' presence and delivers rich, full sound with low-end rumble, clear vocals and nice treble response. We'd rank it on par with the iPhone, both better than the Pixel.
The phone also supports Dolby Atmos enhancement - it can be turned on from Settings. There you can choose between Auto, Movie, Music, or Game sound mode. We did our test with Dolby Atmos OFF and ON (Auto) and we found the output to be mostly identical. The posted samples here are with Dolby Atmos turned off.
Use the Playback controls to listen to the phone sample recordings (best use headphones). We measure the average loudness of the speakers in LUFS. A lower absolute value means a louder sound. A look at the frequency response chart will tell you how far off the ideal "0db" flat line is the reproduction of the bass, treble, and mid frequencies. You can add more phones to compare how they differ. The scores and ratings are not comparable with our older loudspeaker test. Learn more about how we test here.