The Samsung Galaxy S23 series launch is expected to take place in February and while we wait Geekbench revealed yet another test run from the compact Galaxy S23 prior to its announcement.
Samsung Galaxy SM-S911B whose identifier corresponds to the model meant for the international market brings a Snapdragon 8 Gen 2 chipset and 8GB RAM. The phone managed 578 points in the single-core test and 2,118 points in the multi-core department.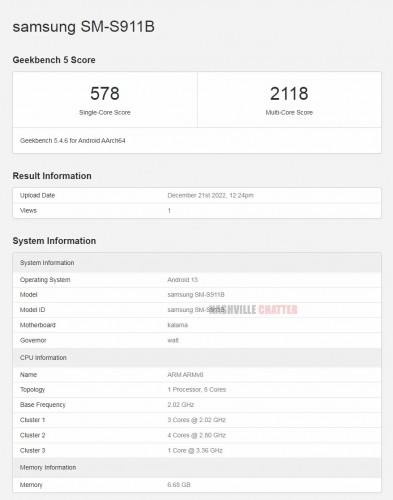 Galaxy S23 (SM-S911B) Geekbench scorecard
These scores are notably lower than the previous test runs seen for the Galaxy S23 but then again these are likely test devices so discrepancies are normal.
Samsung is expected to finally bring an-all Snapdragon lineup of Galaxy S phones this year with all regions getting the Snapdragon 8 Gen 2 chip inside the S23. There are rumors that European units may get an overclocked version of the flagship Qualcomm chipset which managed impressive 1,504 single-core and a 4,580 multi-core scores on Geekbench.
Great ans. These apple fans are mostly mkbhd, mrwhotheboss, and max tech lethal viewers. No wonder these people don't even know the process of a modern computing system
?
A16 better? Not sure! About CPU, that's right...but A16 is a system on chip, not only a CPU...if you compare to a PC, System on chip is like your motherboard+CPU+GPU... Many things are better on both 8 Gen 2 and Dimensity 9200...GPU and Ram ...
ADVERTISEMENT