OneUI 5.1 on top of Android 13
The Samsung Galaxy S23 is the first smartphone we encountered using the new One UI v.5.1. The new version is based on the latest Android 13 OS, and it builds on the One UI with new widgets and various improvements in the gallery, connectivity options, and DeX mode. Other than these, it's the same as the One UI many Samsung phones have received over the past couple of months.
Core Android features are sometimes neglected by other manufacturers when they update their proprietary OS versions, but Samsung diligently implements them to its One UI. This year's intrinsic Android 13 features aren't many, and most of them are focused on the visual aspect of Android's Material Design looks. And since those are not applicable to Samsung's own take on how Android should look, this leaves us with privacy and notification-focused improvements.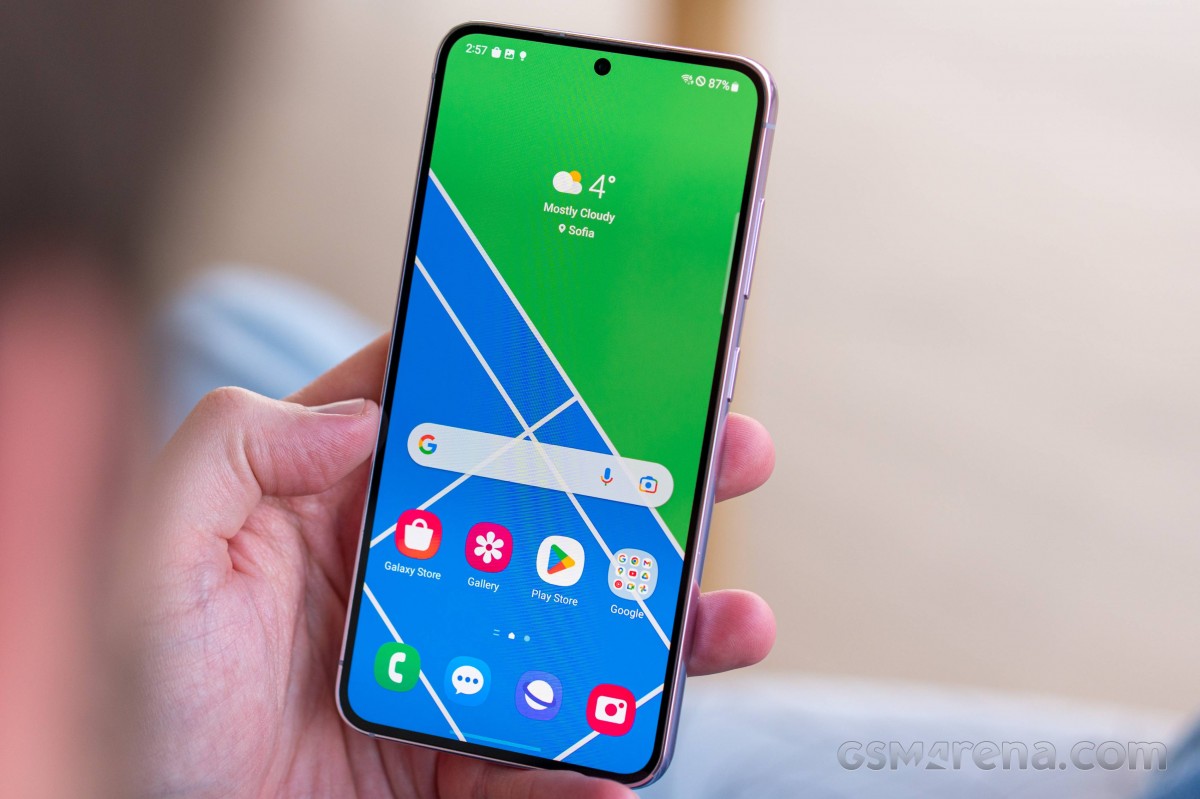 Once you install an app and launch it for the first time, the system will ask whether you want it to send you notifications or to keep them disabled by default. Notification-related controls are now easier to access and will always appear around the top of the system menu. A direct shortcut to the app's internal notification settings can be found at the bottom of the notification panel. More granular control over what types of notifications apps can send - badges, floating notifications and notification cards on the Lock screen.
Separate language control for each app is also available, which makes us wonder why such a basic feature wasn't available before.
Privacy-wise, Android 13 now deletes clipboard data after a while because malicious apps were often exploiting the clipboard as users oftentimes copy sensitive data like phone numbers, emails, credit card numbers and even passwords.
Now, let's talk about One UI 5.
One of the biggest improvements on One UI 5 is the overall performance of the OS. Ever since the ancient TouchWiz, Samsung's software has been infamous for its rather sluggish performance. And even though One UI is a lot better than its predecessors, it's still lagging behind its rivals in this regard. Literally and figuratively speaking. One UI 5.0 aims to fix that, and it does so up to a certain degree. Samsung has optimized animations and transitions, and they are sensibly faster and smoother. Everything feels more natural.
Other visual changes include better contrast, new app icons and illustrations across the system menus so that it's easier to recognize apps and read text.
Once again, the accent color palette is automatically generated based on your wallpaper, but this time around, the system gives you a wider choice of color combinations and that palette can also be applied to app icons.
Widgets can now be stacked, and you can switch between stacked widgets with a simple swipe. Keep in mind that not all widgets support stacking, so app developers might have to get around that pretty soon.
Last but not least, the default dialer now picks animated backgrounds for each contact by default, so it's kind of easier to see at a glance who's calling. Unless, of course, you assign an AR emoji, a sticker or a photo of your choice.
There are also a few improvements brought by the One UI 5.1 - new widget and wallpaper options, improved connectivity, multi-tasking and DeX experience, and we will discuss those on the fly.
The logic of One UI is unchanged. The lock screen looks the same as before, with two monochrome shortcuts - dialer and camera. The under-screen ultrasonic fingerprint reader will likely be the primary method of unlocking for most, as it is quite fast and reliable. You can still use face unlock either instead of or alongside it. It can be more convenient in certain situations, but it generally is less secure since it's just using the selfie camera.
Always-on display is available - it's the simplified version from One UI 3. You can choose between a few clock styles or opt for an Image Clock. Music info is also supported. The feature can be always-off, always-on, scheduled, shown only when new notifications are available, or you can opt for tap to show for 10s.
The lock screen is largely unchanged, as mentioned, and has a lot of customization options available.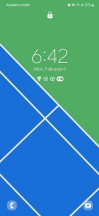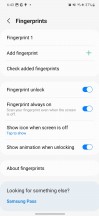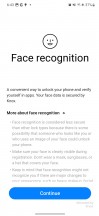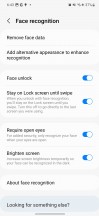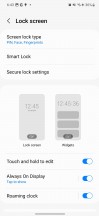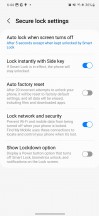 Lockscreen and security options
You populate homescreens with app shortcuts, folders and widgets. The leftmost homescreen is Google's, as usual. App Drawer is present, too.
The new version of One UI - 5.1 - introduces a new battery widget, which combines the battery information for all Galaxy devices connected to your phone. An improved weather widget is also available.
There is an easier way to launch two apps in split screen mode - a short swipe up from the bottom edge of the display with two fingers. The same action can be done through the recent apps menu.
And while we are talking about quick access, there are also new quick shortcuts for minimize/maximize floating windows - just drag on of the corners of the pop-up.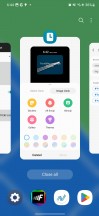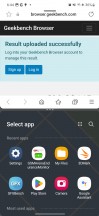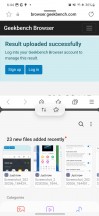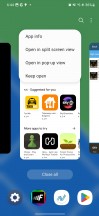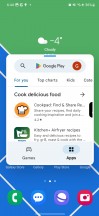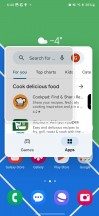 Multi-tasking and pop-up windows
We've already touched upon the new notification features that come bundled with Android 13, but Samsung took the extra mile to offer some small improvements of its own. The first thing you'll notice is that notification cards in the drop-down menu appear with a bigger icon of the app and a corresponding color. The text alignment in those notification cards is also optimized for better readability.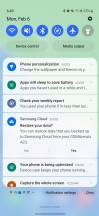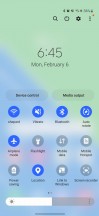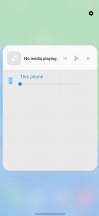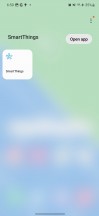 Notification area and controls
Samsung is introducing Modes and Routines, a feature similar to Apple's Focus. You can choose a mode based on what you are doing right now and execute certain actions, change sound profiles, display settings, notifications, etc. For instance, the Driving Mode can be set up to turn on DnD mode and launch Spotify automatically, for example. You can even trigger certain Modes with actions of your choice, such as turning on the hotspot or airplane mode - these you set up from the Routines menu.
One UI 5.1 also allows you to change the wallpaper with each Mode - an option that wasn't available before.
Samsung also made connecting with nearby devices a tad easier. In the Connected devices sub-menu, you will find available devices for Smart View connection (read screen cast) or Samsung DeX, where available. Chromecasts are easier to discover and stream audio too. When you play sound from your phone, nearby Chromecasts will appear on the quick panel.
And once you cast the phone's screen on a TV, for example, you can choose to hide your notifications so others won't be able to read sensitive information from your phone.
One UI 5.1 also introduces Continue browsing on PC - if you use Samsung's Internet mobile web browser, you can set up a hand-off of sorts to your PC's default web browser.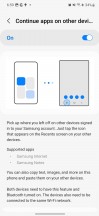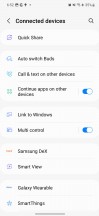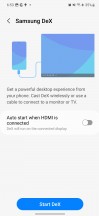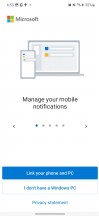 Continue Browsing on PC • Connectivity options
Familiar proprietary Samsung features present in One UI 5 include the Edge panels - the panes that show up when you swipe in from the side and provide tools and shortcuts to apps and contacts. Game launcher, the hub for all your games, which also provides options for limiting distraction when gaming is here to stay as well.
The Game Booster, part of the Game Launcher, has one new option this year regarding battery charging. It is the ability to bypass charging altogether and simply power the phone via the USB port without charging the battery. This is great for gaming which is probably why the option is buried in the Samsung Game Booster settings rather than the battery menu. Our review unit still doesn't have the option, but we read about its announcement online and are expecting it shortly.
Otherwise, the software package is similar to other Samsung phones, with an in-house Gallery app, the Game Launcher app, and a proprietary file manager. Naturally, Samsung's Internet web browser is also available.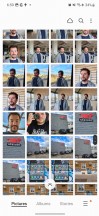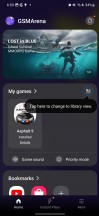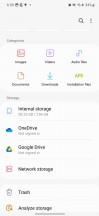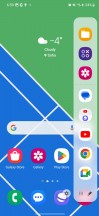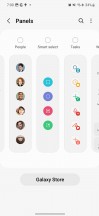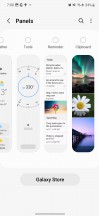 Gallery • Game Launcher • File manager • Edge panel
The built-in photo and video editors get a couple of new functionalities. You can create a cutout sticker from any object from your photos; there are more ways to edit GIFs now, draw perfect shapes on top of videos and photos using the pen tool, and you can find 60 new emoji stickers to add to your stills and clips.
There is also a new AI Image Clip option in the gallery in addition to text lookup. It is quite similar to Apple's Visual Lookup. You can tap and hold on an object from a photo, and then either copy it, save it as an image, or share it.
Some small new functionalities spread across the system include exceptions for DnD mode (apps of your choice won't be affected by DnD), RAM Plus can be completely disabled through Device care, auto background optimization that keeps the system running smoothly, set up more timers simultaneously, expanded search in the My Files app, redesigned Digital Wellbeing, etc.
Speaking of the Device Care menu, it is worth noting that the "Processing speed" menu within advanced battery settings has been reworked and now only features two performance profiles – normal and lite, instead of the previous three ones. This might also have something to do with the switch to Qualcomm chipsets this generation.
There is a new additional Expert RAW mode for the camera - easy zoom with one hand and a highly customizable watermark.
Finally, the Galaxy S23 supports the complete DeX experience and its One UI 5.1 allows for easy work with the Split Screen multi-tasking mode.
Performance and benchmarks
The Samsung Galaxy S23 is powered by the Snapdragon 8 Gen 2 chipset with a twist - it's a Samsung-exclusive version with overclocked CPU and GPU compared to mainstream SD8G2. We suspect this version will become available as a Snapdragon 8+ Gen 2 later this year. Oh, and there is no more Exynos version this year - all Galaxy S23 models use the Qualcomm SoC.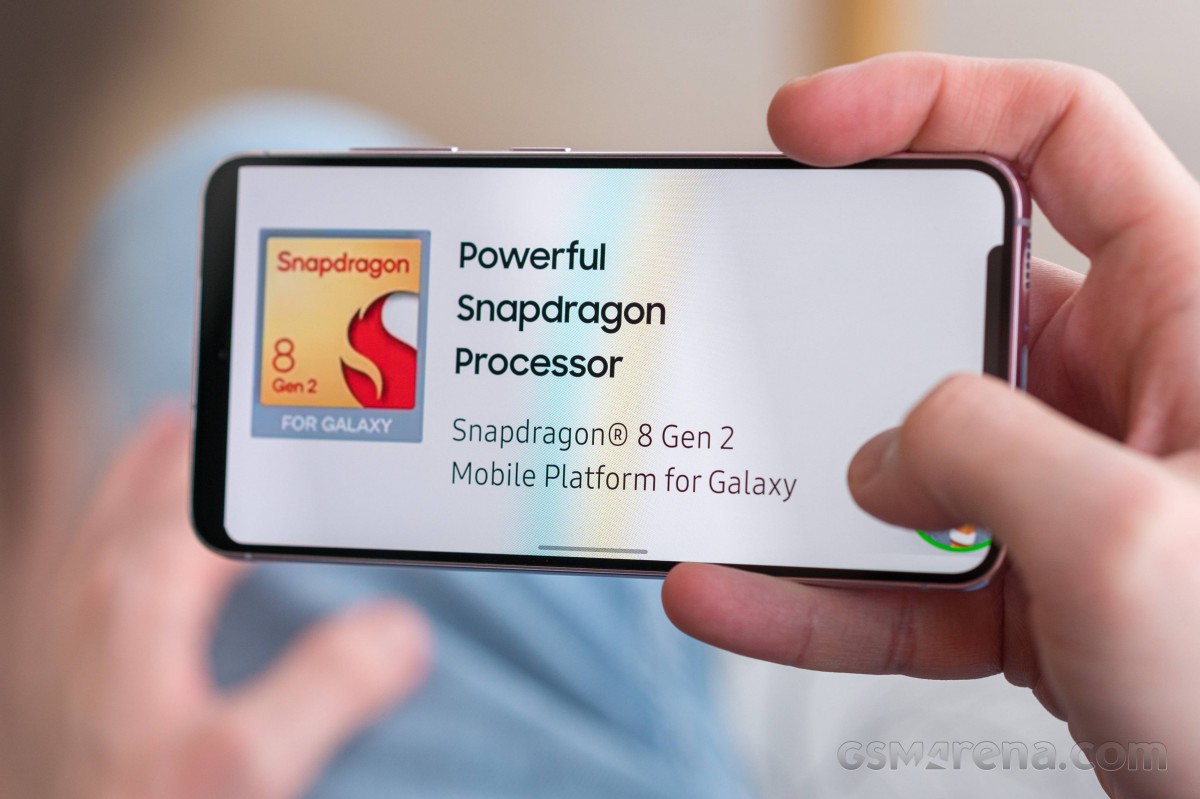 The key improvements over the Gen 1 model are 35% higher performance and 40% improved efficiency of the CPU thanks in no small part to a reworked core configuration (1+2+2+3 in place of the 1+3+4 of before), 25% and 45% performance and efficiency bumps on the GPU side, and support for new, faster memory technologies (LPDDR5X and UFS 4.0).
This Samsung exclusive version has 1x3.36 GHz Cortex-X3 & 2x2.8 GHz Cortex-A715 & 2x2.8 GHz Cortex-A710 & 3x2.0 GHz Cortex-A510. The prime Cortex-X3 core is what's faster compared to the regular chipset, where it is clocked at 3.2GHz.
The Adreno 740 GPU is clocked at 719MHz in the Galaxy S23 phones, compared to 680MHz in the rest of the SD8G2-powered smartphones.
All Galaxy S23 phones use LPDDR5X RAM, 8GB in the case of the Galaxy S23, no matter the storage option. But speaking of storage, the 256GB and the 512GB version rely on faster UFS 4.0 chips, while the 128GB base model is based on the older UFS 3.1 standard. And since Samsung is offering the 256GB S23 at the same price as the 128GB S23 at launch, we strongly recommend getting the higher-tier storage version before it runs out of stock.
And now, let's run some benchmarks.
The Galaxy S23 has the most powerful mobile processor across the Android market, and the benchmarks do tell that story. The Red Magic 8 Pro has a much better cooling system - hence the higher total score.
GeekBench 5 (multi-core)
Higher is better
ZTE nubia Red Magic 8 Pro
5211
Samsung Galaxy S23
4950
OnePlus 11
4899
Asus Zenfone 9
4338
Xiaomi 12S Ultra
4300
Galaxy S22
3682
Xiaomi 12
3652
Sony Xperia 5 IV
3448
OnePlus 10T
3401
Galaxy S20 FE
3296
Galaxy S21 5G
3238
Google Pixel 7 Pro
3187
Xiaomi 12X
3168
Galaxy S21 FE 5G
3049
The Galaxy S23 has its Cortex-X3 clocked higher than the regular one available inside the Red Magic 8 Pro and the One Plus 11, and that's why it sits on top of the single-core test, which always uses the fastest (prime) core.
GeekBench 5 (single-core)
Higher is better
Samsung Galaxy S23
1550
ZTE nubia Red Magic 8 Pro
1486
Xiaomi 12S Ultra
1324
Asus Zenfone 9
1313
Sony Xperia 5 IV
1233
Xiaomi 12
1187
Galaxy S22
1171
OnePlus 11
1150
Galaxy S21 FE 5G
1096
Google Pixel 7 Pro
1056
OnePlus 10T
1043
Galaxy S21 5G
1032
Xiaomi 12X
943
Galaxy S20 FE
906
The overclocked Adreno 740 is an outstanding performer, especially under a 1080p display. It can handle high frame rate content like a champ.
GFX Aztek Vulkan High (onscreen)
Higher is better
Samsung Galaxy S23
98
ZTE nubia Red Magic 8 Pro
79
Asus Zenfone 9
69
OnePlus 10T
60
Xiaomi 12
59
Sony Xperia 5 IV
55
OnePlus 11
53
Galaxy S22
44
Xiaomi 12S Ultra
39
Galaxy S21 FE 5G
38
Xiaomi 12X
35
Galaxy S20 FE
30
Galaxy S21 5G
29
Google Pixel 7 Pro
25
GFX Car Chase ES 3.1 (onscreen)
Higher is better
Samsung Galaxy S23
110
ZTE nubia Red Magic 8 Pro
97
Asus Zenfone 9
89
Xiaomi 12
75
Galaxy S22
69
Sony Xperia 5 IV
63
OnePlus 10T
60
OnePlus 11
57
Galaxy S21 FE 5G
56
Galaxy S21 5G
54
Xiaomi 12S Ultra
51
Xiaomi 12X
47
Galaxy S20 FE
45
Google Pixel 7 Pro
34
GFX Manhattan ES 3.0 (offscreen 1080p)
Higher is better
ZTE nubia Red Magic 8 Pro
328
OnePlus 11
327
Samsung Galaxy S23
320
Asus Zenfone 9
277
OnePlus 10T
274
Xiaomi 12S Ultra
268
Xiaomi 12
236
Sony Xperia 5 IV
187
Galaxy S22
173
Google Pixel 7 Pro
170
Galaxy S21 5G
143
Galaxy S21 FE 5G
133
Galaxy S20 FE
127
Xiaomi 12X
127
3DMark Wild Life Extreme (offscreen 1440p)
Higher is better
Samsung Galaxy S23
3852
ZTE nubia Red Magic 8 Pro
3643
OnePlus 11
3594
Google Pixel 7 Pro
1835
Then comes the compound AnTuTu benchmark, where the Galaxy S23 scored the second-best score, outdone only by the Red Magic 8 Pro, but as we established - that one has a better cooling solution for its chipset and allows for better-sustained peak performance.
AnTuTu 9
Higher is better
ZTE nubia Red Magic 8 Pro
1288866
Samsung Galaxy S23
1231075
OnePlus 11
1140661
Asus Zenfone 9
1083092
Xiaomi 12
985115
Galaxy S22
881428
Sony Xperia 5 IV
835038
Google Pixel 7 Pro
796369
OnePlus 10T
786238
Galaxy S21 5G
714395
And speaking about that, we ran our usual stress tests on the Galaxy S23, and the results are mediocre.
The S23 scored 68% CPU stability - the performance drops after 15 minutes down to about 70%, and it can continue this way for an hour or more.
The GPU performance, on the other hand, drops after just 6 minutes of peak usage and keeps it stable at 60% after that.
These scores are about the average - not bad, but not impressive either.
The Galaxy S23 gets borderline hot when running at peak CPU/GPU performance, after prolonged benchmarks. Other than that, the S23 is warm after half an hour of gaming, or when shooting photos and videos for a while. It won't burn your hands in either case, though we suspect a case would drop its stability even further as it would stop the normal heat dissipation.
Overall, the Galaxy S23 has the best Android hardware, but the cooling is rather average, which is not unexpected, especially on a compact smartphone. There is really nothing to complain about the Galaxy S23 performance - just on the contrary, but you should have in mind the peculiarities we said about stability and storage.