A gorgeous 6.6-inch Dynamic AMOLED 2X display
Samsung is unquestionably the leader in the mobile display space. Its OLED panels are second to none, and the Korean giant is far from complacent in its leading position. Quite the contrary. Samsung Display is constantly innovating, and the Galaxy S22 gets to reap the benefits of the latest and greatest up on offer. This is actually one aspect in which the trio of Galaxy S22 devices differs rather significantly. Unfortunately, Samsung has been struggling a bit to properly communicate the subtle display performance nuances within the Galaxy S22 line and has been forced to clarify certain points multiple times already.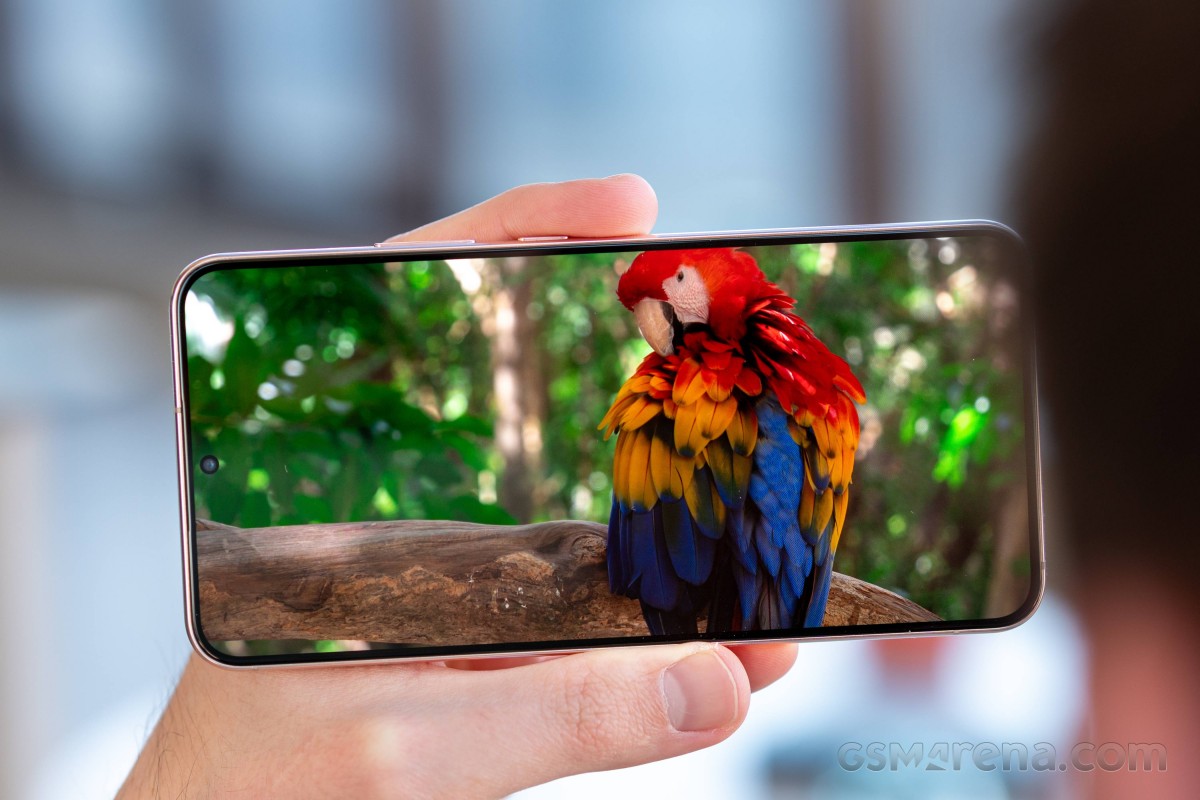 Let's start with brightness. There are major brightness improvements across the board on the Galaxy S22 phones. However, the S22+ and S22 Ultra are expected to reach higher max brightness values than the vanilla S22. Specifically, Samsung claims both phones should be capable of a whopping 1,750 nits of peak brightness. This is obviously not achievable while the entire display is shining white. That's just how OLED panels work in general.
Then there is another interesting aspect regarding how brightness control works on the S22+ and the entire S22 line. Samsung has added a separate display option, called "Extra brightness". It is different from the absolute maximum brightness achievable in sunlight and only works with auto-brightness turned off. It is meant to unlock some extra "manual brightness" on the slider. Samsung's own measurements claim the S22+ and S22 Ultra should be able to reach 1,200 nits in Extra brightness mode. Again, without sharing what portion of the display is engaged in said scenario.
As confirmed in our own testing, the Galaxy S22+'s Dynamic AMOLED 2X screen is capable of outputting some impressively high brightness levels.
First, we measured just under 470 nits in Vivid mode on the slider. Turning on Extra brightness mode results in a max of just over 780 nits. That is already quite impressive. Turning Extra brightness off and auto-brightness back on and then maxing out the reading on the light sensor of the S22+ allowed us to actually measure the whopping 1,213 nits of absolute maximum brightness. This is nothing short of a chart-topping result.
Display test
100% brightness
Black,cd/m2
White,cd/m2
Contrast ratio
Samsung Galaxy S22 Ultra (Max Auto)
0
1266
∞
Samsung Galaxy S22+ (Max Auto)
0
1214
∞
Apple iPhone 13 Pro (Max Auto)
0
1063
∞
Apple iPhone 13 Pro Max (Max Auto)
0
1050
∞
Samsung Galaxy Note20 Ultra 5G (Max Auto)
0
1024
∞
Samsung Galaxy S21 Ultra 5G (Max Auto)
0
1023
∞
vivo X70 Pro+ (Max Auto)
0
1022
∞
Xiaomi Mi 11 Ultra (Max Auto)
0
943
∞
Samsung Galaxy Z Flip3 5G (Max Auto)
0
935
∞
Samsung Galaxy Z Fold3 5G (Max Auto)
0
922
∞
Samsung Galaxy S20 Ultra 5G (Max Auto)
0
894
∞
Samsung Galaxy S21+ 5G (Max Auto)
0
883
∞
OnePlus 9 Pro (Max Auto)
0.038
871
22921:1
Google Pixel 6 Pro (Max Auto)
0
860
∞
Samsung Galaxy S21 5G (Max Auto)
0
856
∞
Apple iPhone 13 Pro
0
856
∞
Apple iPhone 13 Pro Max
0
852
∞
Google Pixel 6 (Max Auto)
0
846
∞
Asus ROG Phone 5s Pro (Max Auto)
0
840
∞
Samsung Galaxy S22 Ultra (Extra brightness)
0
829
∞
Samsung Galaxy A72 (Max Auto)
0
825
∞
Samsung Galaxy S20 FE (Max Auto)
0
823
∞
Realme GT Explorer Master (Max Auto)
0
805
∞
Samsung Galaxy A52s 5G (Max Auto)
0
800
∞
Samsung Galaxy S20+ (Max Auto)
0
797
∞
Samsung Galaxy S21 FE 5G
0
792
∞
Samsung Galaxy S22+ (Extra brightness)
0
782
∞
Huawei P50 Pro (Max Auto)
0
754
∞
Sony Xperia Pro-I (Max Auto, Creator mode)
0
644
∞
Sony Xperia 1 III (Max Auto, Creator mode)
0
620
∞
Huawei P50 Pro
0
609
∞
Oppo Find N (Max Auto)
0
582
∞
OnePlus 9 Pro
0
525
∞
Xiaomi Mi 11 Ultra
0
514
∞
Asus ROG Phone 5s Pro
0
511
∞
Samsung Galaxy Note20 Ultra 5G
0
504
∞
Realme GT Explorer Master
0
504
∞
Samsung Galaxy Z Flip3 5G
0
503
∞
Google Pixel 6 Pro
0
497
∞
Samsung Galaxy S22 Ultra
0
494
∞
Oppo Find N
0
490
∞
Samsung Galaxy Z Fold3 5G
0
489
∞
Google Pixel 6
0
477
∞
Samsung Galaxy S22+
0
468
∞
Samsung Galaxy S21+ 5G
0
459
∞
Samsung Galaxy S21 Ultra 5G
0
458
∞
vivo X70 Pro+
0
458
∞
Samsung Galaxy S21 5G
0
416
∞
Sony Xperia Pro-I
0
406
∞
Samsung Galaxy S20 FE
0
404
∞
Samsung Galaxy S20 Ultra 5G
0
398
∞
Samsung Galaxy A72
0
396
∞
Samsung Galaxy A52s 5G
0
383
∞
Samsung Galaxy S20+
0
379
∞
Sony Xperia 1 III
0
354
∞
Mind you, our testing methodology is standardized for comparability and differs from Samsung's own. We have no doubt that the advertised 1,750 nits figure is achievable when the brightness output is measured with a smaller active screen area.
It is a bit hard to say exactly what made this feat of engineering possible. Official resources are a bit scarce too. Best we can gather, Samsung is using a new generation of LED emitters, which some sources refer to as the M12 OLED panel (as opposed to the M11 found in the Galaxy S21 Ultra and allegedly, the iPhone 13 Pro and Pro Max). This new generation of OLED pixels manages higher brightness and better efficiency. About 16% better if this one slide we found is to be believed.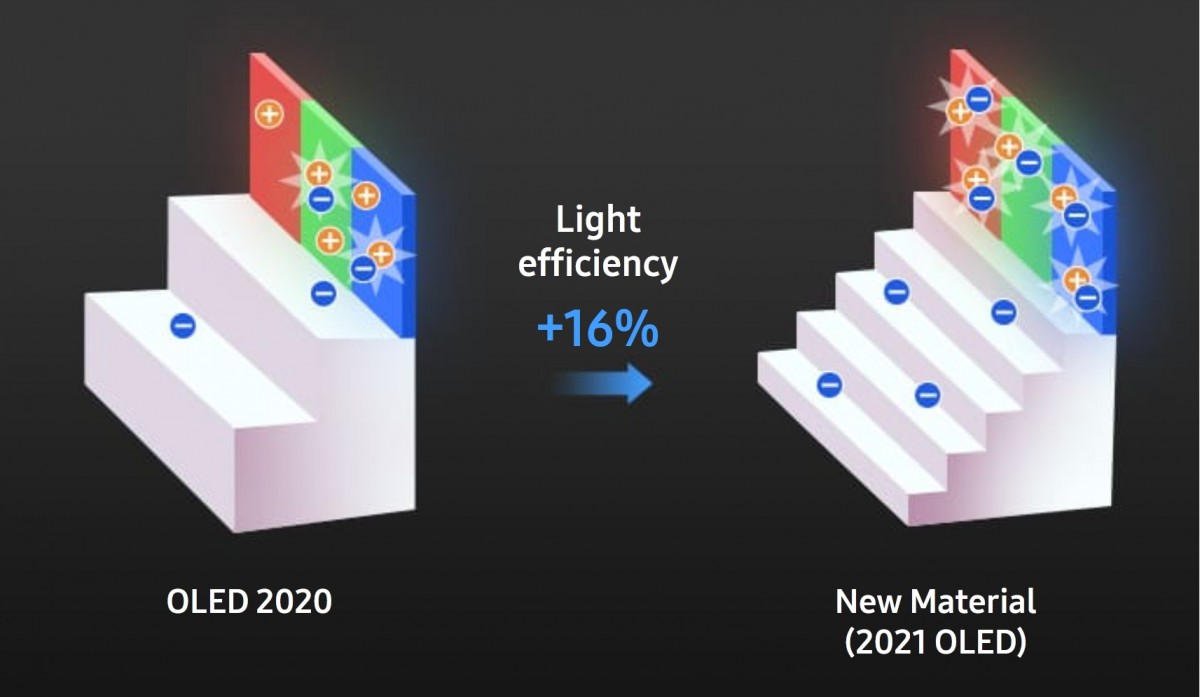 But simply shining brighter is just part of the battle to make the display more legible under bright sunlight. Samsung also aims to deliver the best possible picture in terms of contrast and colors. For this, the S22 family debuts a technology called Vision Booster.

It uses data from the phone's light sensor to determine the properties of the surrounding ambient light and then does per-pixel tone mapping to get the best possible picture. Said picture will, by definition, be extremely distorted color and contrast-wise in absolute terms, but the goal is to counteract the ambient light in any way possible.
It is hard to judge the effectiveness of Vision Booster in any quantifiable terms, but we did notice a slightly better image on the S22+ compared to the Galaxy S21 outdoors in broad daylight. We can't say how much the placebo effect of actually knowing about Vision Booster is, but in any case, the difference is not game-changing. Let's say it's a nice to have rather than a revolutionary feature.
On the subject of colors, we expect nothing short of excellence from Samsung's flagships and, for the most part, were not disappointed by the Galaxy S22+. The S22+ has just two color modes in typical Samsung fashion - Vivid and Natural. The first aims for the DCI-P3 color space and gets pretty close to what we would consider color-accurate. The color volume is there, but the default palette is just a bit too cold. Using the manual slider to warm up the colors by one move on the slider results in deviation within what we would consider DCI-P3 color accurate.
We know we are kind of nitpicking here, and even without tweaking the color accuracy is plenty great, but Samsung's own website does feature the following text: "The Dynamic AMOLED 2X display with Vision Booster on Galaxy S22 and S22+ received a certification from VDE Germany for 100 percent Mobile Color Volume in the DCI-P3 color range, which means your images aren't washed out, and you'll get unbelievably vivid colors regardless of differing levels of brightness". We guess it kind of stands, though, since the color volume is indeed there.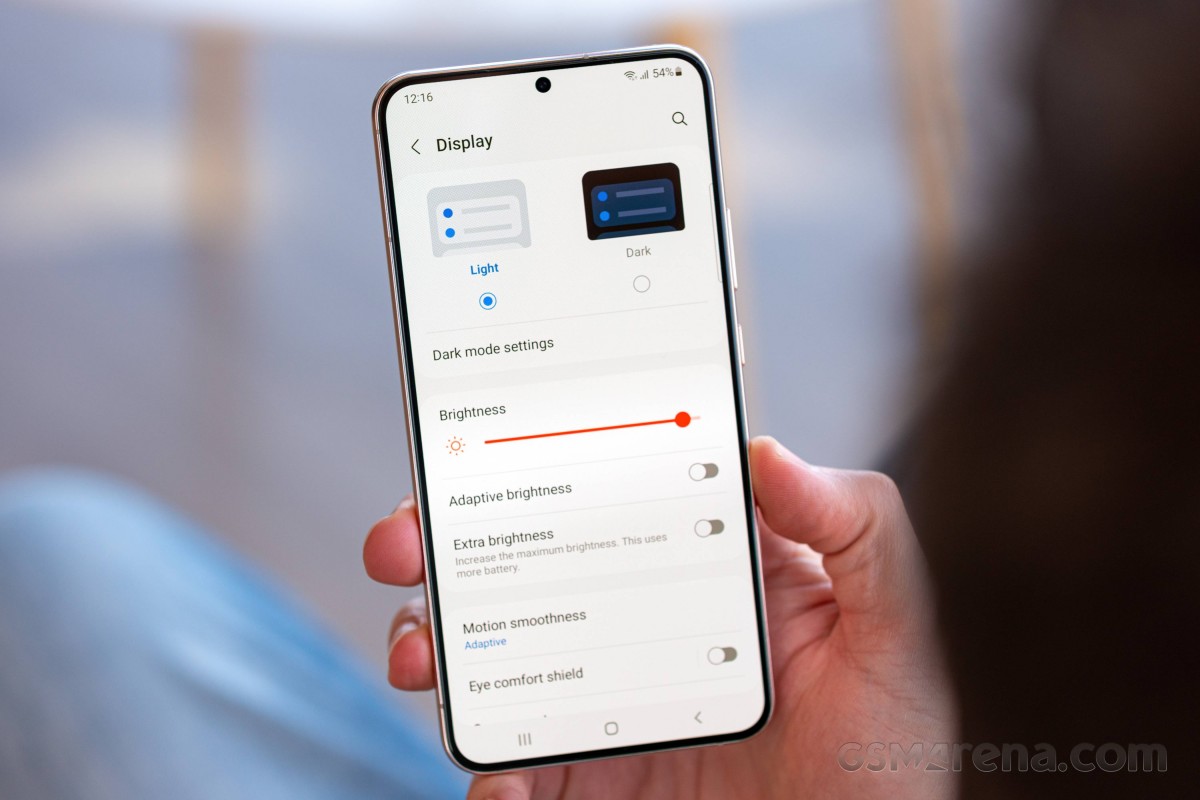 Then there is the natural mode, which aims for sRGB and basically nails that on the head with max deltaE values of just 2. The S22+ is incredibly color-accurate against sRGB.
While on the topic of colors, the S22+ has industry-leading HDR support, arguably second only to the S22 Ultra. The S22+ reports HDR10, HDR10+ and HLG support in software. The only standard that is missing is Dolby Vision. Naturally, it also has Google's highest Widevine L1 DRM certification that allows it to stream high-definition video from services like Netflix.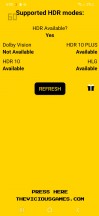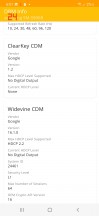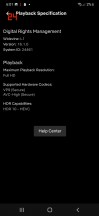 HDR support • Widevine DRM • Netflix playback capabilities
Netflix was more than happy to serve us the maximum 1080p resolution needed to saturate the native 1080p+ resolution of the S22+ in gorgeous HDR, which, as you can imagine, really pops thanks to the incredible maximum brightness of its panel.
Even with its relatively small diagonal, the Galaxy S22+ delivers an HDR experience like few other devices can, not just mobile phones.
High refresh rate handling
The Galaxy S22+ has a Dynamic AMOLED 2x display that can refresh at up to 120Hz. There is also automatic refresh rate switching. Both parts are true for the entire S22 lineup. However, this is another area in which Samsung kind of dropped the ball while communicating just how the refresh rate works and how it is handled on the S22 and S22+, which are in fact different from the S22 Ultra in this respect.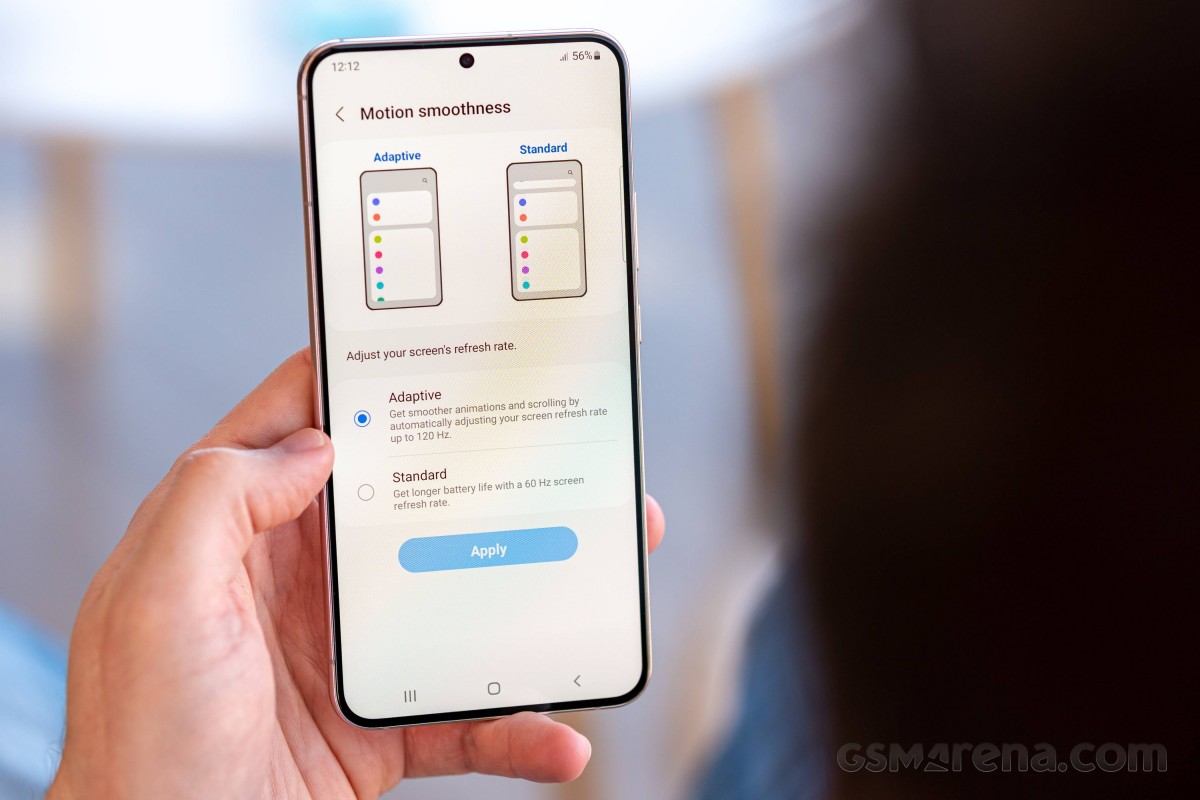 To quote the latest official Samsung statement first:
We would like to clarify any confusion relating to the display refresh rate for Galaxy S22 and S22+. While the display component of both devices support between 48 to 120Hz, Samsung's proprietary technology offers adjustable display refresh rates, where data transfer rates from AP to display can be minimized to as low as 10Hz in order to save power consumption. The display refresh rate was originally listed between 10 and 120Hz (10 to 120 frames per second), and we later opted to update how we communicate this specification in order to be in line with the more widely-recognized industry standard. Consumers can be assured there has been no change of hardware specifications, and both devices support up to 120Hz for super-smooth scrolling.
From what we managed to gather, only the S22 Ultra actually uses an LTPO 2.0 substrate for its OLED panel, allowing it much better flexibility in automatic refresh rate adjustment. The S22+ and vanilla S22 rely on the simpler LTPS tech, which Samsung still managed to expand for this generation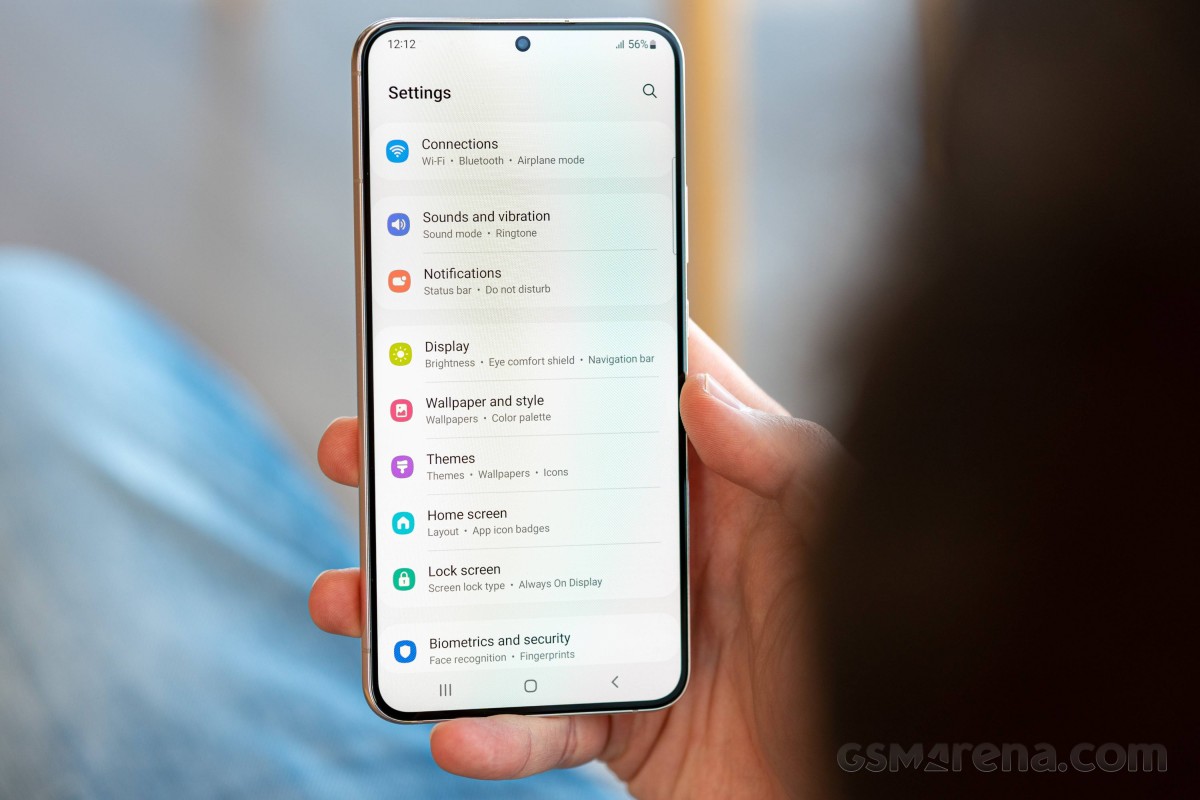 In order to properly explain our findings, we need to make a distinction between screen refresh rate and UI rendering or framerate. Checking the Android 12 support APIs on the S22+ reveals that its panel can refresh in one of the following modes: 10Hz, 24Hz, 30Hz, 48Hz, 60hz, 96Hz and 120Hz. The actual fps the UI is being rendered at is not the same figure as the ones quoted above. In order to monitor that, Samsung has included a nifty tool in the Developer menu called GPU Watch, which exposes an overlay for what the Android SurfaceFlinger is outputting to the graphical buffer. In other words, this is an fps counter rather than a refresh rate setting for the display.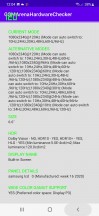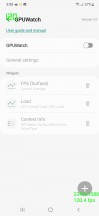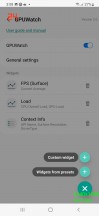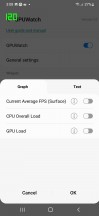 Supported refresh rate modes • GPU Watch
Keeping all of this in mind in our testing, we discovered that the S22+ does a very efficient job of managing the refresh rate of its display. The basic logic is that whenever you interact with the display in any way, the refresh rate instantly shoots up to 120Hz for the best possible responsiveness. Leaving the phone alone almost instantly drops the refresh rate to a suitable one to accommodate the fps of what is happening on screen.
The lowest refresh rate the S22+ reaches while idling on a static image is actually 24Hz. Despite the phone's display reporting in software that it can switch down to 10Hz, we never actually managed to get that figure in any scenario during our testing. What we did manage to see, however, were fps readings from the Android SurfaceFlinger as low as 1fps, though not officially advertised. Oddly, this falls in line reasonably well with Samsung's revised statements regarding the behavior of the S22+ and how it achieves battery savings. What is happening in practice is a refresh rate drop to as low as 24Hz accompanied by an fps drop to as low as 1fps in order to save power.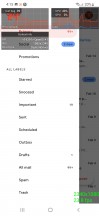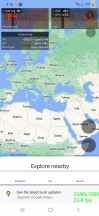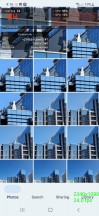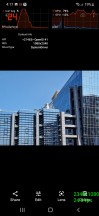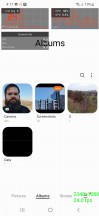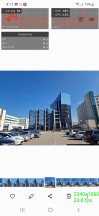 24Hz or 60Hz in most apps once left idle
Beyond that, the algorithms in place do a very decent job of actually matching screen refresh rate to the fps occurring on screen. Once left idle and with a static image on the screen, most apps drop the refresh rate to 24Hz. If they are displaying something, that number is most often 60Hz to accommodate movement. 120Hz is triggered upon interaction for the smoothest possible animations and best responsiveness.
While this generally works well, we found it unfortunate that we couldn't lock certain apps to 120Hz, like web browsers. All of the ones we tried dropped down to 60Hz while not touching the display. This is easily testable by running the excellent UFO test by BlurBusters.
Then again, we can't think of any actual practical scenarios where the browser would be showing something at higher than 60fps without the user interaction with the display, so Samsung might have actually made the right choice.
Refresh rate handling while playing video is particularly nifty and tends to actually follow the fps of the video that is being played. Play a 24 fps clip - the S22+ is smart enough to run its display at 24Hz. 30fps results in 30Hz, and 60fps does 60Hz - you get the point. We only rarely managed to trip up this logic. It works impressively well.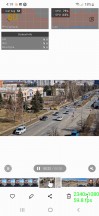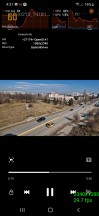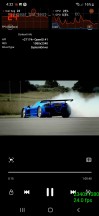 Display refresh rate following video fps
Better still, we verified this behavior is present and working just as well with local video playback and while streaming video from the likes of YouTube or Netflix.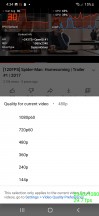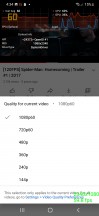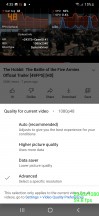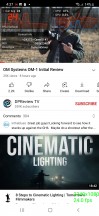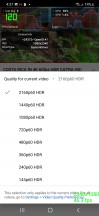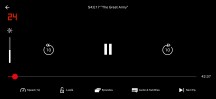 Display refresh rate following video fps while streaming
One exception to the norm we noticed was related to HDR video playback in particular. Once HDR gets actually triggered and the display enters "HDR mode," its refresh rate gets locked to 120Hz regardless of the fps of the HDR content being played. This is not ideal for battery savings, but it seems to be a limitation of the hardware rather than software, since the S22 Ultra maintains its refresh rate switching logic during HDR playback, likely thanks to its LTPO 2.0 tech. This, however, is a case of the S22 Ultra excelling at what it does, rather than a deficiency to attribute to the S22+.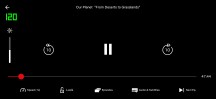 HDR playback pins the display refresh rate at 120Hz
Finally, we tried a few games we know can render at over 60fps. These all worked as expected, with the S22+ switching its display to 120Hz to get the highest fps number possible.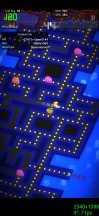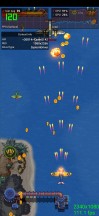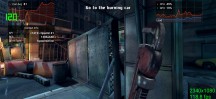 Games making the most out of the 120Hz refresh rate
Thanks to Samsung's new GPU Watch overlay, we can actually now get what is effectively an in-game fps counter or at least a close approximation as well to prove that the games are indeed running at over 60fps. Previously we had to rely on a visual estimate.
The Samsung Galaxy S22+ handles the high refresh rate and adaptive refresh rate nearly perfectly based on the actual content that is being displayed and the user's needs. Display refresh rate can now drop even lower. Samsung has created some unfortunate commotion with its marketing communication, but besides that, we can only praise what we see here.
Battery life
In one of Samsung's more controversial decisions this generation, the Galaxy S22+ and S22 have both lost battery capacity over last year - 300mAh each, to be exact. That has left the S22+ with 4,500 mAh instead of the 4,800 mAh in the S21+. Samsung's hope was likely to make the difference up through its more efficient 4nm chipsets, as well as software and specifically adaptive refresh rate tricks.
Unfortunately, the S22+ does not excel in the battery department, scoring 97 hours in our standardized test. To be clear, that's a solid, even if unimpressive, showing from the S22+, which in practice managed to get us through about a day and a half on a single charge.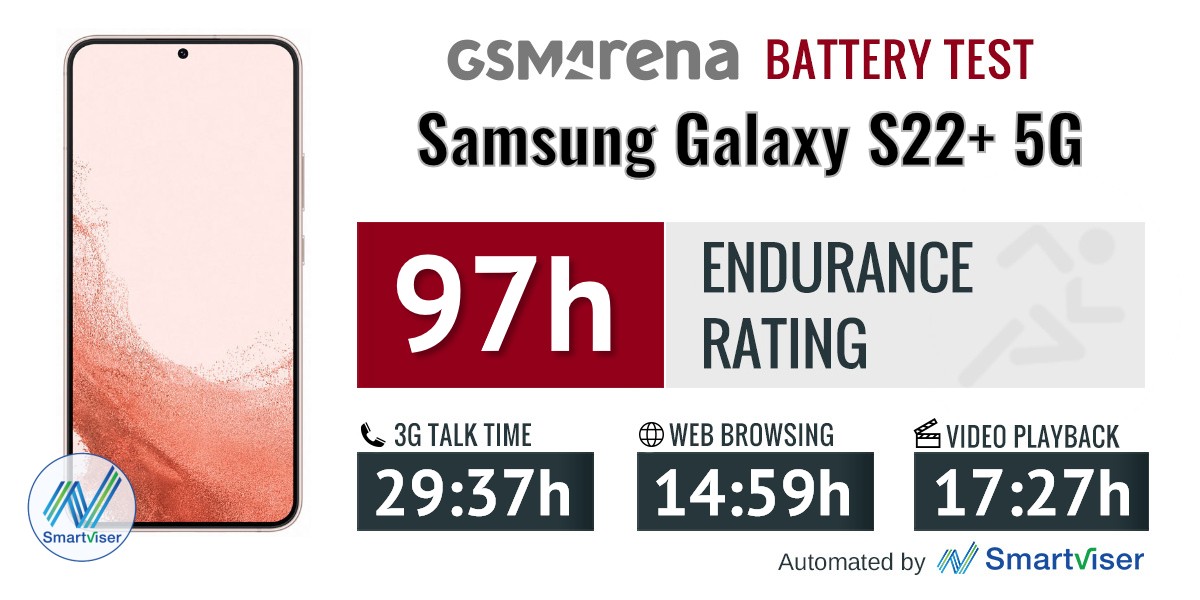 All of the on-screen numbers are solid, and so is the in-call endurance. The weakest link we found was honestly 3G standby, which is a bit lacking on the Exynos 2200. Then again, it is a new chipset, and standby performance could potentially be improved through software. At least we can hope.
In any case, the S22+ does still manage better overall endurance than the Galaxy S21 FE on the same battery capacity even if it does fall notably behind the Galaxy S21+ with its 114 hours on a 4,800 mAh battery.
Speaking of potential software updates and improvements, we did experience a bit of weirdness related to the dynamic refresh rate on the S22+ and the S22 Ultra, for that matter, that we hope gets ironed out. Currently, using the automatic refresh rate for our video playback test behaves as it should and runs the display at 24Hz, but still somehow manages to waste more power than playing the same video at 60Hz. The results are all over the place, and it might be an app-compatibility issue with our SmartViser testing suite or some system-wide issue. Either way, there is room for improvement.
Our battery tests were automated thanks to SmartViser, using its viSerDevice app. The endurance rating denotes how long the battery charge will last you if you use the device for an hour of telephony, web browsing, and video playback daily. More details can be found here.
Video test carried out in 60Hz refresh rate mode. Web browsing test done at the display's highest refresh rate whenever possible. Refer to the respective reviews for specifics. To adjust the endurance rating formula to match your own usage patterns check out our all-time battery test results chart where you can also find all phones we've tested.
Charging speed
Samsung has been working hard to streamline its charging technology for a few years of models now and, for the large part, succeeding in the process. The name of the game for Samsung charging has been standardization and not just internal, but rather adopting forward-thinking and futureproof industry-charging standards, namely Power Delivery 3.0 with PPS (Programmable Power Supply) support.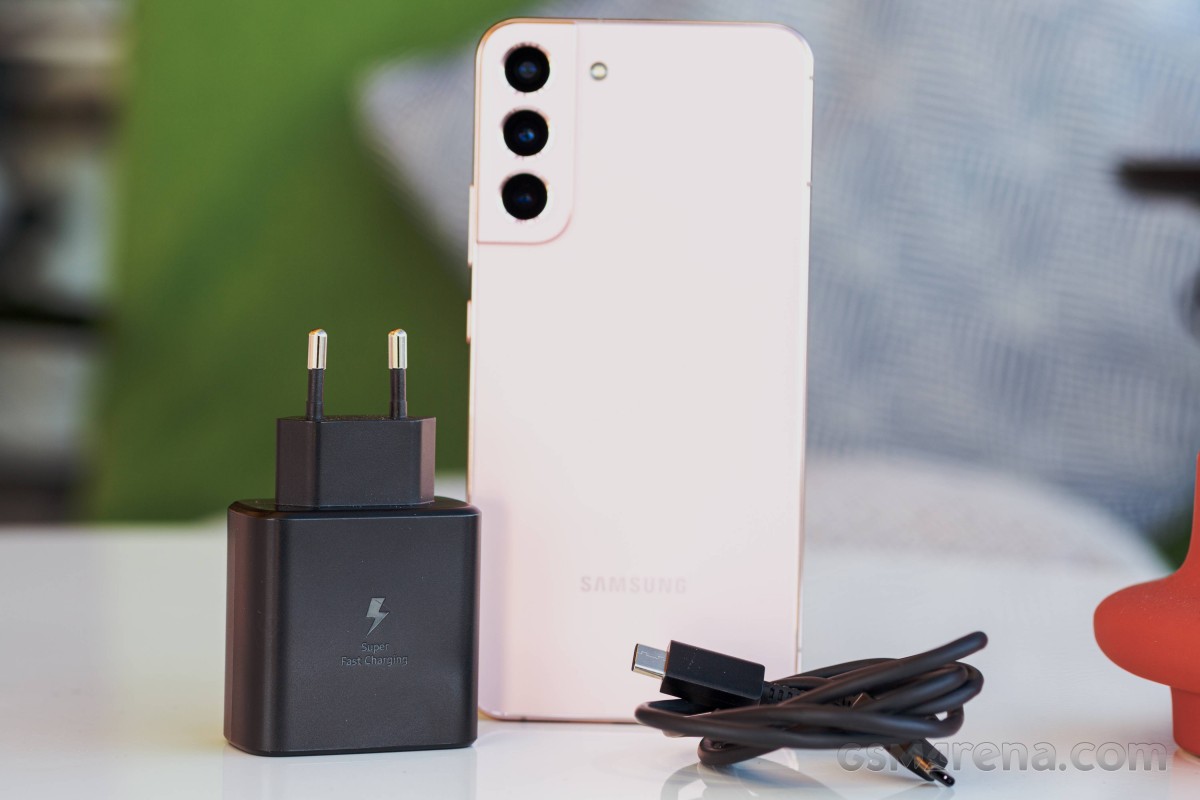 While a move to industry standards is generally a great thing, Samsung has admittedly been struggling a bit with its adoption, particularly when it comes to wattage ratings. To be fair, that's a PR issue more than anything else since 25W of fast charging doesn't exactly pop on a modern flagship specs sheet, given the industry's rather unfortunate race towards bigger numbers. This is why Samsung has decided to rate the Galaxy Note10+ and other devices like the S20 Ultra at 45W at fast charging and, after some backlash, backtracked on that decision and left the S21 generation with a 25W charging. In the meantime, the Korean giant also elected not to bundle chargers at all with some of its phones, which kind of piled on top of the unfortunate realization that its 45W and 25W charging on devices that supported it basically made no practical difference in charging times.
This is the weird situation the Galaxy S22 generation finds itself in. For whatever reason, Samsung once again reversed its mostly marketing-driven decision and re-introduced 45W fast charging support into the S22+ and S22 Ultra specs sheets. The vanilla S22 is still rated at 25W.
After testing the S22+, as well as the Ultra with genuine Samsung 25W and 45W chargers available at the time of writing this, we can confirm that nothing has really changed, and in practice, these chargers still top-off the battery at effectively the same rate. That is to say, a full charge takes right around an hour.
This is still slightly faster than some other recent Samsung phones, like the S21 FE, the Z Fold3 and Z Flip3, as well as last generation's S21 line, but only marginally and not an industry-leading charging pace by any stretch of the imagination.
It is also worth noting that Samsung currently has a new 45W charger (EP-T4510) released alongside the S22 family, but at the time of writing this review, it is still on pre-order. We also tried using a 65W PD PPS charger and got the same one-hour charging speed. So, there's that.
30min charging test (from 0%)
Higher is better
Oppo Find X3 Pro
100%
Xiaomi 11T Pro
100%
Realme GT Explorer Master
96%
Xiaomi Mi 11 Ultra
89%
Realme GT 5G (65W)
87%
Xiaomi Mi 11
83%
vivo X70 Pro+
80%
Huawei P50 Pro
73%
Asus ROG Phone 5s Pro
71%
Realme GT 5G (50W mini)
68%
Samsung Galaxy S22 Ultra (65W PD, no PPS)
65%
Samsung Galaxy S22+ (45W)
64%
Samsung Galaxy S20+
62%
Samsung Galaxy S22+ (25W)
62%
Samsung Galaxy S22 Ultra (25W)
61%
Samsung Galaxy S22 Ultra (45W)
60%
Apple iPhone 13 Pro (20W Apple)
60%
Samsung Galaxy S20 FE (25W)
57%
Oppo Find N
57%
Apple iPhone 13 Pro Max (65W PD)
55%
Samsung Galaxy S21 Ultra 5G
54%
Samsung Galaxy S21+ 5G
54%
Samsung Galaxy A72
54%
Apple iPhone 13
54%
Samsung Galaxy A52s 5G
53%
Sony Xperia Pro-I
53%
Samsung Galaxy S21 FE 5G
51%
Sony Xperia 1 III
50%
Google Pixel 6 Pro
48%
Google Pixel 6 (65W)
48%
Samsung Galaxy Note20 Ultra 5G
43%
Apple iPhone 13 Pro Max (20W Apple)
42%
Google Pixel 6 (18W)
41%
Samsung Galaxy Z Flip3 5G
40%
Samsung Galaxy S20 FE (15W bundled)
37%
Samsung Galaxy Z Fold3 5G
33%
Time to full charge (from 0%)
Lower is better
Xiaomi 11T Pro
0:21h
Oppo Find X3 Pro
0:28h
Realme GT Explorer Master
0:33h
Xiaomi Mi 11 Ultra
0:37h
Realme GT 5G (65W)
0:39h
vivo X70 Pro+
0:48h
Xiaomi Mi 11
0:50h
Huawei P50 Pro
0:50h
Samsung Galaxy S20+
0:57h
Realme GT 5G (50W mini)
0:57h
Samsung Galaxy S22 Ultra (45W)
0:59h
Samsung Galaxy S22+ (45W)
1:01h
Samsung Galaxy S22+ (25W)
1:02h
Samsung Galaxy S22 Ultra (65W PD, no PPS)
1:02h
Asus ROG Phone 5s Pro
1:03h
Samsung Galaxy S22 Ultra (25W)
1:04h
Oppo Find N
1:05h
Samsung Galaxy S20 FE (25W)
1:10h
Samsung Galaxy S21 Ultra 5G
1:11h
Samsung Galaxy S21+ 5G
1:12h
Samsung Galaxy A72
1:15h
Samsung Galaxy S21 FE 5G
1:15h
Samsung Galaxy Note20 Ultra 5G
1:23h
Samsung Galaxy A52s 5G
1:28h
Samsung Galaxy Z Flip3 5G
1:30h
Samsung Galaxy S20 FE (15W bundled)
1:35h
Apple iPhone 13 Pro (20W Apple)
1:38h
Samsung Galaxy Z Fold3 5G
1:46h
Apple iPhone 13
1:46h
Apple iPhone 13 Pro Max (20W Apple)
1:46h
Sony Xperia Pro-I
1:49h
Sony Xperia 1 III
1:50h
Google Pixel 6 (65W)
1:50h
Google Pixel 6 Pro
1:52h
Google Pixel 6 (18W)
1:53h
Apple iPhone 13 Pro Max (65W PD)
1:54h
Having said that, we still maintain that an hour for a full charge is plenty fast for most people, and while singling out any particular charging rate as the optimal one would effectively be drawing a line in the sand, there is no question that the quest towards insanely fast charging is detrimental to the longevity of current Li-Ion cells. Hence, we maintain that Samsung is actually doing the more responsible thing here both towards the planet and its users by not participating in the rat race of fast charging.
That being said, we also think that advertising 45W of charting support on devices that is effectively not faster than 25W is not a great practice either and would prefer that official specs went back to the 25W rating instead. That's definitely not what Samsung PR would want, though, so we have to make peace with the situation.
While on the topic, we definitely appreciate the addition of the new option (even if well-hidden) to limit battery charging to 85% on top of the already available toggles for turning off Fast Charging. Still, there is room for improvement in this department. We would love to see some sort of smart charging system be implemented, akin to Qnovo or Apple's relatively new Optimized Battery Charging option as ways to safely overnight charge. But, we digress.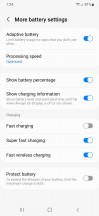 Battery charging limiters and options
Rounding off this section - a few quick words on chargers, since there is no longer one inside the box of the S22+, and you might end up purchasing one. As we said, Samsung has adopted Power Delivery 3.0 with PPS support for its charging needs. While an established industry standard, it still has its nuances, particularly in the complexity and extent of implementation of the PPS standard.
What the potential issue boils down to is that there is no easy way to definitively know if any particular third-party charger will work well with the S22+ and charge it at full speed, even if the charger is technically PD + PPS with enough wattage. This is not a new issue either. We discussed it in depth all the way back in 2019 when the Galaxy Note10+ was relevant with its 45W charging.
Our recommendation is to just stick to Samsung's official chargers for the best possible experience. At the time of writing, Samsung.com lists a 25W unit, 45W one and potentially in the pipeline - a 65W brick with three USB outputs. For just charging the S22+ optimally the 25W is enough while you could consider the 65W one once it comes out as a good replacement for a combo laptop, phone and similar travel all-in-one charger if reviews are favorable and the price is right.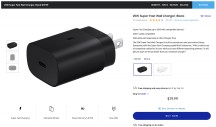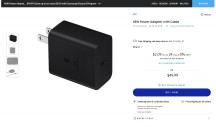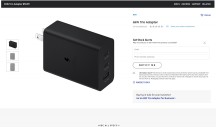 Samsung chargers: 25W • 45W • 65W
If you do insist on going down the third-party road and can at least test the charger, there are some clues to tell if it is charging the S22+ at the maximum speed. When you connect it on a 1% battery, the estimate for a full charge should be around an hour. Also, the charging text changes according to the kind of charging speed the S22+ has negotiated with the charger. While there is no official info on this, according to our testing, a charging rate of 12W or less will simply say Charging. The text Fast Charging appears with a charging of around 15W to 18W. These figures could potentially be higher, but some of Samsung's own "Super Fast Charging" conditions aren't met.
The official 25W charger and a good third-party PD PPS charger did result in the S22+ indicating Super Fast Charging status with an estimate of about an hour.
And connecting Samsung's own 45 charger with its matching cable was the only way we got a Super Fast Charging 2.0 message to appear, with essentially the same 1-hour charging estimate, though. We are just sharing our limited experience, though, in hopes of providing some potentially helpful clues. There might be more to the matter as well.
Speakers
The Galaxy S22+ has a hybrid stereo setup. Its amplified earpiece acts as the second channel - a pretty common setup. The S22+ managed a "Very Good" rating in terms of loudness, which is about what we would expect from a phone of its size. The S21+ narrowly outpaced it in this respect, but not really in an appreciable real-world way.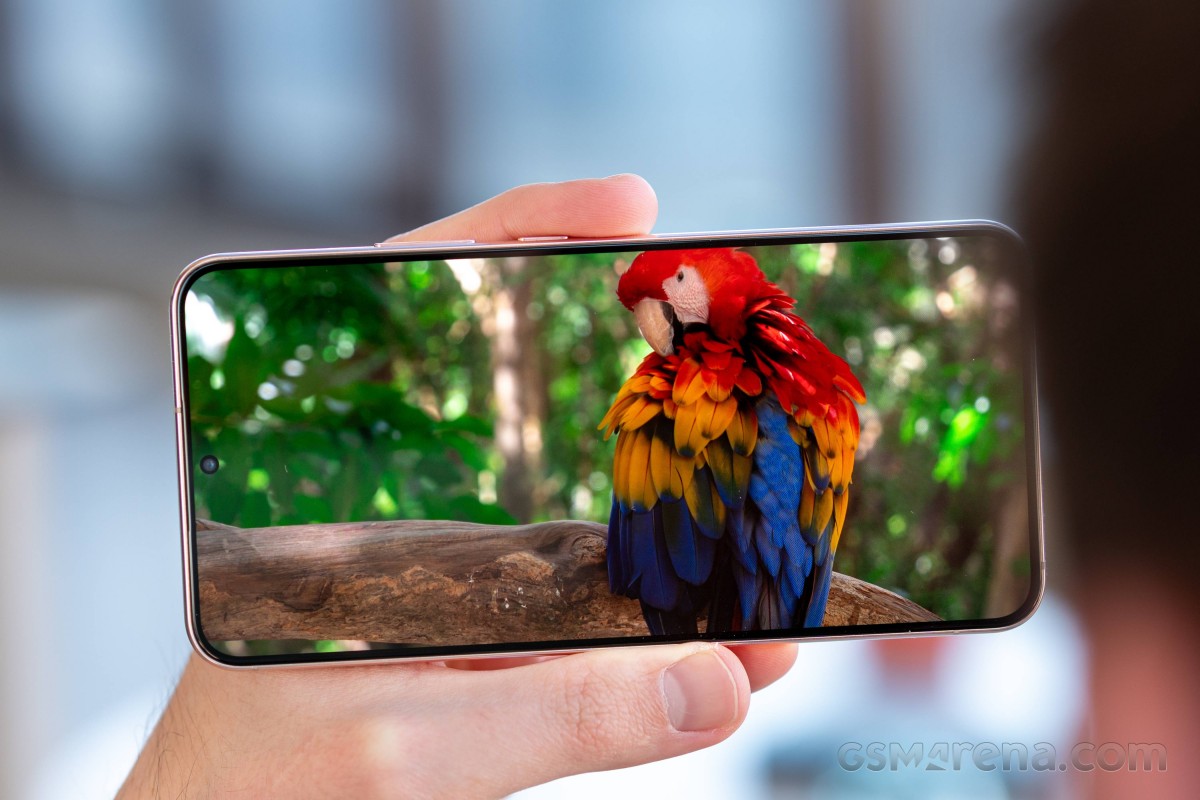 Samsung did a decent job balancing the two speakers, but there is only so much that can be done given their major difference in size, both internally with the earpiece barely having an echo chamber, as well as the size of their output "holes", for lack of a better term.
The bottom speaker ends up producing most of the sound has a wider sound stage and better frequency response. Without purposefully covering any of the two, though, in practice, the setup sounds really impressive.
Speaking of sound quality, the S22+ lives up to its flagship pedigree and even offers a slightly tighter response curve in mids compared to some older Samsung flagships. The sound stage is nice and wide in general. Lows sound a bit better to use on the S22+ compared to the S21+ as well. Even so, the iPhone 13 and 13 Pro seem to have the S22+ beat in that department.
In terms of additional options, the S22+ is packing Dolby Atmos with general multimedia profiles, as well as a version specifically for games. Both do take away from the max loudness of the phone, though. There is also an equalizer, an UHQ upscaler and Adapt sound that lets you tune the sound to your liking or hearing needs. Separate app sound is a particularly nifty trick that lets you play the sound from just a given app on a separate audio device like a Bluetooth speaker or headset while the phone is free to play other audio.
Use the Playback controls to listen to the phone sample recordings (best use headphones). We measure the average loudness of the speakers in LUFS. A lower absolute value means a louder sound. A look at the frequency response chart will tell you how far off the ideal "0db" flat line is the reproduction of the bass, treble, and mid frequencies. You can add more phones to compare how they differ. The scores and ratings are not comparable with our older loudspeaker test. Learn more about how we test here.